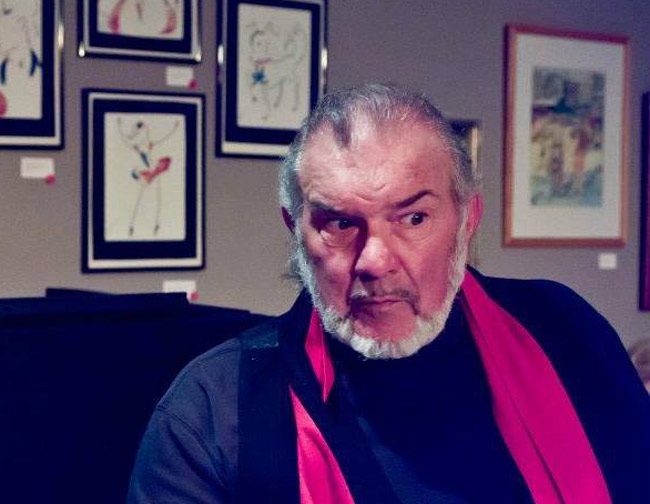 Petruchio, Shakespeare's greatest male chauvinist pig, is coming to City Repertory Theatre.
Or, some would say, Petruchio – Shakespeare's equally matched male combatant in the Bard's most famous battle of the sexes — is coming to City Rep.
It's no surprise that Palm Coast-based City Rep – always willing to do a Capt. Kirk and boldly go where few community theaters have gone before – would make Shakes' "The Taming of the Shrew" its shit-stirring centerpiece of yet another season that mixes edgy theatrical outliers with more familiar fare.
City Rep will stage "Shrew" as its second annual Shakespeare in the park production on Feb. 21-24. The play will be presented in conjunction with the Palm Coast Arts Foundation on its outdoor pavilion at Town Center in Palm Coast.
City Rep will open its six-play 2018-19 season – its eighth year – with "The Rocky Horror Show" from Oct. 5-28 at its home venue in City Market Place. Other plays include the 2001 Pulitzer- and Tony-winning drama "Proof," a staged-reading production of Clare Booth Luce's 1936 comedy "The Women," the 1966 musical "Dames at Sea" and the season-concluding black comedy "Hand to God" from May 3-11.
True, the lascivious, Satan-possessed hand puppet that takes over a Christian church's morality play in "Hand to God" might give "Shrew's" dysfunctional sweethearts a run for their money in the controversary department.
And no doubt some Church Lady types still see "Rocky Horror's" Dr. Frank-N-Furter, that "sweet transvestite from transsexual Transylvania," as the devil incarnate, even as some in the LGBTQ community have begun to raise eyebrows at the doctor's embodiment of gay stereotypes.
But it's the Bard's 426-year-old comedy that may most fulfill City Rep's reputation of being an agent provocateur in area theater.
Shakespearean scholars and college English lit students desperate for a research paper topic have long expounded about the Bard's so-called "problem plays," an amorphous term that usually refers to a handful of works that vacillate between tragedy and comedy.
But various critics have added other plays to that sub-canon, and that happened to "Shrew" most overtly with the rise of feminism in the late 1960s. The play, which detractors see as a blatant exercise in misogyny, has retained that dubious problem-play ranking ever since (that is, long before the current #MeToo movement of women speaking out about sexual abuse and harassment).
"Shrew" depicts the relationship of Petruchio and Katherina (also called Kate), who is no doormat – rather, she's quite strong-willed, insulting and combative herself. After they are hastily married with virtually no courtship stage, Petruchio begins to "tame" – some say subjugate — his wife via deprivation (long periods of no food or water), while also tormenting her with perverse mind games, to the point where Kate agrees with her husband's every absurd assertion, as revealed in this scene:
Petruchio: "Good Lord, how bright and goodly shines the moon!"
Katharina: "The moon? The sun. It is not moonlight now."
Petruchio: "I say it is the moon that shines so bright."
Katharina: "I know it is the sun that shines so bright."
Petruchio: "Now, by my mother's son, and that's myself, it shall be moon, or star, or what I list, or ere I journey to your father's house. Go on, and fetch our horses back again. Evermore cross'd and cross'd; nothing but cross'd!"
Hortensio: "Say as he says, or we shall never go."
Katharina: "Forward, I pray, since we have come so far, and be it moon, or sun, or what you please. And if you please to call it a rush-candle, henceforth I vow it shall be so for me.
Petruchio: "I say it is the moon."
Katharina: "I know it is the moon."
Petruchio: "Nay, then you lie: It is the blessed sun."
City Rep co-founder and director John Sbordone is aware of "Shrew's" detractors, who surfaced long before 20th-century American feminism and include George Bernard Shaw. The Irish playwright opined that "no man with any decency of feeling" can sit through the play's final scene "in the company of a woman without being extremely ashamed."
"Shrew" also has its champions, Sbordone among them.
"I've always seen the battle between Petruchio and Katharina as a battle of equals," says Sbordone, who played Lucentio in a college production of the play in the mid-1960s. "Certainly the society in which Katharina is brought up and lives, the father and the suitors are certainly ones who subjugate women.
"But I think Petruchio is quite another matter. I think he liberates her, and I think that's what they come to understand about each other. They acquiesce to each other, and that final speech of Katharine, "I bow to my husband," comes out of an understanding that their relationship as equals liberates each of them to address the world as a couple."
If City Rep's production provokes strong reactions, Sbordone is fine with that.
"I can only hope, you know?" he says. "Do we need another production of 'A Midsummer Night's Dream?' My philosophy, and I think it's the philosophy of most artists, is: What is the point of art if it does not provoke us to think? If it does not move us to think, to engage, to become alive to ideas? That's what art is about, as far as I'm concerned.
"I'll paraphrase Mark Twain: An educated person is someone who can disagree and argue and still remain civil. That's what we (at City Rep) look for, and in this age where there's so much incivility, that kind of discourse is even more important."
As outrageous as Petruchio may be, the Bard's shrew-taming tormentor may be outdone by Tyrone, the gleefully fiendish hand puppet of Robert Askins' "Hand to God."
The 2011 black comedy is set in a fundamentalist Christian church in Texas that uses a puppet ministry club to teach biblical-based righteousness to young kids. Teenaged Jason, whose father has recently died and whose mother runs the club, discovers he has a talent for puppetry. The club also includes Jessica – Jason's secret crush – and the ne'er-do-well Timmy.
All hell breaks loose when Jason's hand puppet, Tyrone, announces he is Satan and takes on a life of its own, leading all into temptation and chaos.
"I was reading a quote, probably from the (New York) Times, that the puppet Tyrone 'becomes the impish embodiment of Jason's unmoored id,' and it's so true," Sbordone says with a laugh that sounds, well, quite devilish itself. "That puppet is crazy. This is the kind of play that CRT does well, I think."
City Rep's season opener, "The Rocky Horror Show," boasts another brand of outrageousness. The 1973 musical, with music, lyrics and book by Richard O'Brien, is a wacky, campy parody of vintage science fiction and horror B movies. The play, which became a movie in 1975, tells the tale of an engaged couple who seek refuge from a storm in the mansion of Dr. Frank-N-Furter, a mad, transvestite scientist with a host of minions and who, akin to Frankenstein, is working to artificially create a perfect human.
"Rocky Horror" is "one of those rare shows that allows the audience to release all of their inhibitions," Sbordone says. "It provides a forum for – I'm going to use this big word – expiation."
Sbordone hesitates and then corrects himself: "That's not a good word for here." Rather, he says, "The play provides a forum to allow a freedom that you don't often get in a theater. We will break down all of the barriers between audience and actor. So, what is its appeal? The appeal is that it's about nothing. It's totally meaningless. It is raunchy. It is sexy, sinuous, bawdy. It's all of those kind of things that we may have driven inside of us, and this piece of fluff allows us to fly.
"From Frank-N-Furter's stilettoes to Rocky being born in our midst, to these marvelous characters of Riff Raff and Magenta and Columbia and the whole idea of a time warp that takes us out of ourselves and out of our universe into an alien theater – it's just fun, fun, fun."
–Rick de Yampert for FlaglerLive

All City Rep performances except "The Taming of the Shrew" will be staged at CRT's home venue in City Market Place at 160 Cypress Point Parkway, Suite B207, Palm Coast. Season tickets are $115 (which includes "Shrew"). Individual adult tickets (except for "Shrew") are $20 for non-musicals and $25 for musicals. Students tickets are $15 for all productions except "Shrew." For more information or tickets (except for "Shrew"), call the CRT box office at 386-585-9415 or go online at crtpalmcoast.com.
As with last season's partnership between City Rep and the Palm Coast Arts Foundation on "Macbeth," "The Taming of the Shrew" will be performed Feb. 21-24 on an outdoor stage under an enclosed tent at PCAF's pavilion in Town Center, 1500 Central Ave., Palm Coast.
Single tickets for "The Taming of the Shrew" are available by calling the Palm Coast Arts Foundation at 386-225-4394 or by going online at palmcoastartsfoundation.com/events. Tickets for the opening night performance at 6 p.m. Thursday Feb. 21 are $60 general public, $50 PCAF members and include a reception at 6 p.m. with the performance at 7 p.m.
Performances at 7 p.m. Feb. 22-23 and 2 p.m. Feb. 24 are $30 general public, $25 PCAF members, $10 students with ID (student tickets are not available for opening night).
Here are the details of City Rep's 2018-19 season:
* "The Rocky Horror Show" – 7:30 p.m. Oct. 5-6, 12-13, 19-20 and 26-27, 2 p.m. Oct. 7, 14, 21 and 28. Two midnight performances TBA. $25 adults, $15 students.
* "Proof" – 7:30 p.m. Nov. 9-10 and 16-17, 2 p.m. Nov. 11 and 18. $20 adults, $15 students. David Auburn's 2000 drama tells the story of Catherine, whose father – a brilliant mathematician – has died following a lengthy mental illness. When one of her father's former students discovers a groundbreaking mathematical proof among his papers, Catherine seeks to prove that her father authored the work, even as she fears succumbing to mental illness herself.
* "The Women" – 7:30 p.m. Jan. 11-12, 2 p.m. Jan. 13. $20 adults, $15 students. Clare Boothe Luce's 1936 comedy of manners includes 40 characters, all female – from socialites to manicurists, perfume sales clerks and office workers. When Sylvia hears that the husband of her friend Mary is cheating on her, Sylvia manipulates an unwitting manicurist to reveal the affair to Mary. And so begins a gossipy tale exploring romance, relationships, toxic friendships and the many roles women play in everyday life.
City Repertory will present the play as a staged reading with an all-female cast taking on various roles.
* "The Taming of the Shrew" – 6 p.m. Feb. 21, 7 p.m. Feb. 22-23, 2 p.m. Feb. 24. For opening night on Thursday Feb. 21, tickets are $60 general public, $50 PCAF members, and include a reception at 6 p.m. and the performance at 7 p.m. Performances Feb. 22-24 are $30 general public, $25 PCAF members, $10 students with ID (student tickets are not available opening night). Tickets available by calling 386-225-4394 or online at palmcoastartsfoundation.com/events.
* "Dames at Sea" – 7:30 p.m. April 5-6, 12-13 and 19-20, 2 p.m. April 7, 14 and 21. $25 adults, $15 students. This 1966 musical, with book and lyrics by George Haimsohn and Robin Miller and music by Jim Wise, is a parody of lavish, old-time Hollywood musicals. "Dames" tells the story of naïve Ruby, a young woman who ventures from her small-town home in Utah to New York City to become a Broadway star. After she lands a role in the chorus of a musical, its theater is unexpectedly shut down and Ruby's dream is threatened – until some sailors convince their captain to stage the musical on their ship.
* "Hand to God" – 7:30 p.m. May 3-4 and 10-11, 2 p.m. May 5 and 12.