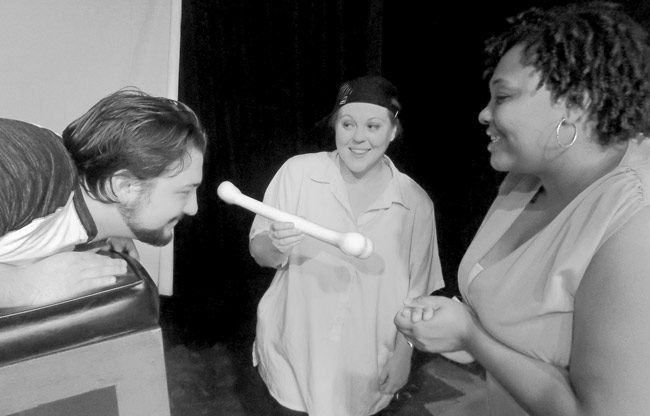 To easily buy tickets online for "You're a Good Man, Charlie Brown," click here.


No, Palm Coast's City Repertory Theatre is not staging "You're a Rat Bastard, Charlie Brown" – that notorious "Saturday Night Live" skit that reimagined Charles Schulz's Peanuts gang as foul-mouthed neurotics. At least not outside rehearsals.
Yes, City Rep is staging "You're a Good Man, Charlie Brown," the 1967 musical comedy that director John Sbordone blissfully dubs "charming" – which may be the first time the feisty theater maven has ever used that word to describe one of his troupe's plays. The musical will open City Rep's sixth season tonight (Sept. 9) in its performance space at City Market Place in Palm Coast.
But one could be forgiven for thinking City Rep might have opted for the Rat Bastard version, which stars such SNL stalwarts as Bill Hader portraying Al Pacino as Charlie Brown, Martin Short portraying Larry David as Linus, and so on. After all, when City Rep has staged plays about or by young people, it's been edgy or heady stuff such as "The Laramie Project," about the real-life murder of a gay college student, or – good grief! – a student workshop production of Homer's "The Odyssey." Mention that "You're a Good Man, Charlie Brown" is rather, well . . . mainstream for City Rep, and Sbordone unleashes a hearty chuckle.
"It's really a charming show," he says, noting that it was suggested by one of City Rep's "anchor" actors, Jamie Irvine, in keeping with the company's tradition of having its performers involved in play selection.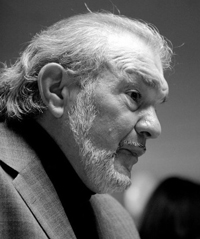 "We're doing the original version," says Sbordone, who last staged the play some 30 years ago during his tenure at the University of Maine. "There was a '90s version (with new songs and scenes) that was more rock 'n' roll, with Kristin Chenoweth (who won a Tony Award as the new character Sally). This is the original version of 1967. It's a much sweeter, closer-to-Peanuts version of the play. That's the one I've always loved. The newer one doesn't strike my sensibilities, although most of the cast is familiar with the newer version."
"You're a Good Man, Charlie Brown" was written not by Schulz but by Clark Gesner, who of course based his "average day in the life of Charlie Brown" on the beloved comic strip characters. That average day, Gesner says on the website tamswitmark.com, veers from "Valentine's Day to the baseball season, from wild optimism to utter despair, all mixed in with the lives of his friends (both human and non-human)."
At City Repertory Theatre:
---
"All in the Timing" by David Ives, directed by Beau Wade, at City Repertory Theatre. CRT will stage "All in the Timing" at 7:30 p.m. Thursday June 17, Friday June 18 and Saturday June 19, and at 3 p.m. Sunday June 20. Performances will be in the black box theater inside Flagler Auditorium, 5500 S.R. 100, Palm Coast (at Flagler-Palm Coast High School). General admission tickets are $20, students $15, and are available by calling 386-585-9415, or going online at crtpalmcoast.com or Eventbrite.  Audiences will be socially distanced and are asked to wear masks.





Click On:
---
Charlie Brown, Lucy, Linus, Snoopy, Schroeder and Patty variously sing such Gesner-penned songs as "My Blanket and Me," "The Kite," "The Baseball Game," "Little Known Facts," "Suppertime" and "Happiness."
Gesner notes the obvious when he says that productions will not feature 6-year-olds and that casts won't physically resemble Schulz's characters. "But this doesn't seem to make that much difference once we are into the play," he says, "because what they are saying to each other is with the openness of that early childhood time, and the obvious fact is that they are all really quite fond of each other."
"The original version is a delightful little show, and different from what we do," Sbordone says. "It's a breath of fresh air for us."
Indeed. After all, this is City Rep, and this is Sbordone, whose director's belt includes notches for David Ives' "Venus in Fur," David Mamet's "Race," Ken Kesey's "One Flew Over the Cuckoo's Nest" and other plays that, if cast into Sunday comics form, would be suitable only for the Rat Subterranean News, Al Goldstein's Screw or other underground newspapers.
And so it's surprising – and amusingly disconcerting — to have witnessed Sbordone, at a recent rehearsal, break into Snoopy's "Sup-sup-sup suppertime" song when a year ago the director was leading his charges through the psycho-sexual pretzel logic of "Venus in Fur."
But it's not surprising that Sborbone reveals two twists involving City Rep's "Charlie Brown," one that came to fruition via serendipity, and a second that was prevented from reaching the stage by serendipity.
Charlie Brown is portrayed by Irvine, the young female City Rep and Flagler Playhouse veteran who suggested the musical.
"Originally Jamie was thinking of the new version," Sbordone says. "She was very interested in  Sally, who's in the new version but not the original. When the cast got changed around at the beginning, when we lost two of our original players, she was the best person for the part. If you watch her do it, you'll see she's terrific as Charlie Brown."
But City Rep patrons will not get to see the Lucy character as a transgender male.
"At one point we were considering casting it with a transgender male Lucy," Sbordone says. "We were going to try to play some different angles just to see what would happen as an experiment. But that didn't work because of work scheduling problems with the person I really wanted to play Lucy.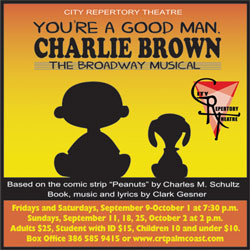 "You know I believe that theater as an art form needs to be explored," he says by way of his willingness to tinker with the iconic Peanuts gang. "One of the reasons we keep going back to Shakespeare is because there's always another way of doing it, always another way of discovering what this brilliant man was all about."
But even a play as mainstream as "Charlie Brown" can have its challenges.
"The major thing we've worked on is getting back to the original script, getting back to not playing it Broadway, which the newest version seems to be," Sbordone says. "So that's the charm of it, the innocence of it, where the sweetness of the characters comes through. That's an interesting problem to deal with."
And not one that City Rep is used to dealing with – exploring the innocence of a show.
"Well, innocence lost," Sbordone says with a hearty chuckle.
Along with Irvine as Charlie Brown, the City Rep cast includes Laniece Fagundes as Lucy (she also serves as music director), her husband Josh Fagundes as Snoopy, Austin Branning as Linus, Paul van de Graaf as Schroeder and Caitlin Eriser as Patty.
–Rick de Yampert for FlaglerLive


City Repertory Theatre will stage the musical comedy "You're a Good Man, Charlie Brown" at 7:30 p.m. Fridays and Saturdays and 2 p.m. Sundays from Sept. 9-Oct. 2 in City Market Place, 160 Cypress Point Parkway, Suite 207B, Palm Coast. Tickets are $25, available by calling 386-585-9415 or online here.