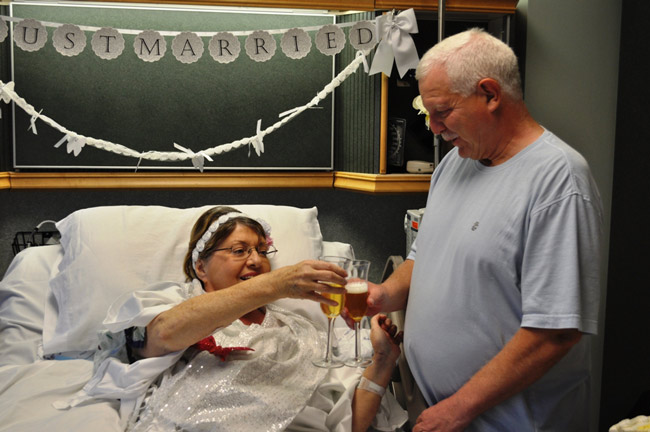 After spending nearly 17 years in love, Terry Adolph and Julia Roberts finally tied the knot–in Roberts' room on the third floor of Florida Hospital Flagler on May 22.
Roberts is a cancer patient who'd been admitted since May 4.
"We had toyed with the idea of getting married before, but never got around to it," Adolph said.
The couple spoke with the hospital's nursing staff of their desire to get married. The staff jumped into action, assisting with wedding logistics and navigating the Flagler County Marriage License Office's approval process.
Coy Harvie, Florida Hospital Flagler Case Manager for Roberts, contacted the county to investigate whether or not it was possible to facilitate the marriage at the hospital. A clerk from the county graciously agreed to come to the hospital and obtain Roberts' signature for the license.
Barbara Johnson from the hospital's Patient Registration department is a notary and licensed to perform weddings. She agreed to officiate the ceremony and marry the couple.
"I didn't know what day we would be able to get married because I knew of the logistical hurdles we'd have to get over," Adolph said.
Once the ceremony was set, Chelle Gilkey and Lorri Lopez, both Patient Care Techs at Florida Hospital Flagler, decorated Roberts' room for the ceremony and did her hair and makeup. Meanwhile, Amanda Jaxon, from the hospital's Food and Nutritional Services department secured the cake, which was decorated with rose petals and a cake topper, and served with sparkling cider.
"They did a bang-up job for some couple getting married with cancer," said Roberts, who, as a long-time employee of the hospitality industry, was impressed by the staff's attention to detail.
"I've planned some big events," she said. "Everything from black-tie affairs at the White House for 15 or 16,000 people. The hospital employees were just as organized, with no attention to detail missing. The only difference was the number of people. Just 16 people attended the wedding, instead of 16,000."
The journey to this joyous milestone was not an easy one.
While attending a series of trade shows for her job last fall, Roberts started to experience a great deal of lower back pain, but did not seek immediate medical care. In March, the pain was so intense, Adolph took Roberts in for medical testing. The tests brought bad news.
Roberts had bone cancer in the lower spine and left femur. The cancer, which originated in her breast, had metastasized; the position and size allowed the cancer to evade detection during her regular, annual mammograms.
The Palm Coast residents, who met in Denver on Christmas Eve nearly 17 years ago, turned to their faith.
"I reached out to God to evaluate my lifestyle and what I wanted to do with it," Roberts said. "I did a lot of praying. We lived together for 16 years and never got married. I asked God what his will was; if getting married was something he would allow and want to happen. I was tranquil and satisfied with whatever His answer was. If the wedding was going to happen, it would. When we finally got the word that it would happen, I just let myself relax and enjoy just becoming a married lady."