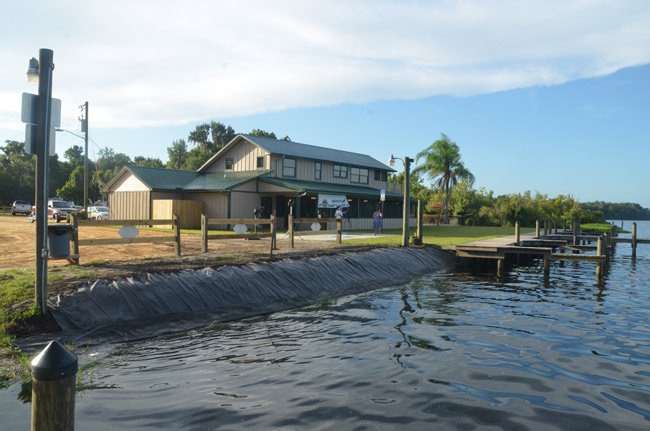 It is an unlikely setting for a restaurant—at the dead end of a miles-long and rarely traveled county road, and against the lapping slaps of a water body called Dead Lake that itself doubles up, with its kidney-shaped cove of cobalt blue and thick-rimmed green, as the dead end of Flagler County's western flank. But there it is, Bull Creek Restaurant, its two-level structure face-lifted from a year and a half of neglect and remade into a breakfast, lunch and dinner destination by the familiar trio that owns and runs Woody's Bar-B-Q in Palm Coast: Joe Rizzo, Matt Crews and Chris Zwirn.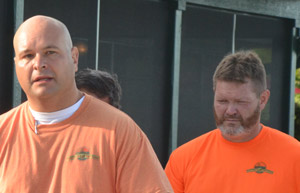 They seized on a shimmering deal with Flagler County government earlier this year: they could have the restaurant, on the county's Bull Creek fish and campground, for just $1,000 a month, as long as they invested at least $20,000 and kept it open all year, minus a handful of holidays. To the trio, it was an appetizing opportunity to double their restaurant ownership on home ground (Rizzo's and Crews's lineage in western Flagler is deeper than most roots there). To residents of that part of the county, including the Mondex, or Daytona North, where amenities are few and the eastern end of the county's contempt is legion, it was the promise of a daily gift they could open whenever they chose. And to the county, it was one less burden of a property that had, like the restaurant at Bings Landing, gone through unreliable stewards until—like Bings Landing's Captain's BBQ—it found its better match.
Early Tuesday morning, under a sun a shade less than punishing and to the equally forgiving humor of County Commission Chairman George Hanns, Bull Creek Restaurant celebrated one of its many re-openings and ribbon-cuttings in the presence of the whole commission, several top members of the county administration, many county staffers whose muscle helped rebuild the place, the sheriff, and a few stray commission candidates. The restaurant actually opened on June 1, if not softly before that, and has another ribbon-cutting, compliments of the county chamber of commerce, still to come.
"This has turned into a blessing in disguise," Rizzo—whose mother Pat, who happens to be the sheriff's executive assistant, was also there—said.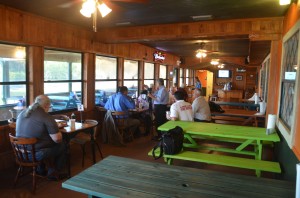 "This was one of those deals," he continued, "where I thought it was going to be a really slow-going project, hard to make happen, all those kinds of things. Working with the county has been phenomenal. They've bent over backward to make this deal happen. The public out here, the local people, have taken to us, they've showed up, they patronize us, they come out, they like it. When asked for stuff we adjust and get it for them, whatever it might be, if they want a different food item or menu item. That's been really neat to cater to them."
The restaurant has itself taken to local produce for its food, from local potatoes to local blueberries. "We're trying to use as many local vendors as we can out here to the west side of the county," Rizzo said, "which has been well received. People like it. So we've been pretty fortunate and pretty happy about the outcome so far. We have not put a lot of advertising dollars into it. We opened the doors and kind of said we're here, and see what happened. It's now starting to roll downhill, and everything is starting to get really good."
About 80 percent of the clientele lives within 10 miles of the restaurant. But Sunday eight boats from Crescent city docked at the campground to eat at the restaurant. A couple of people from Daytona Beach had read an article about the restaurant from weeks ago, and came by to sample the offerings.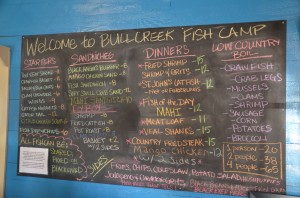 Speaking of which: if it's breakfast you have in mind, it's your all-American fare of biscuits, gravy, home fries, grits, hash and eggs, bacon, sausage. The rest of the day's menu fills a broad black blackboard in mouth-watering chalk, with all sorts of seafood starters, sandwiches, shrimp, catfish, mussels, clams, crab legs and so on. Prices range from $6 to $15. And don't forget the beer, the wine, the joys.
Contending with Woody's on State Road 100 and Bull Creek Restaurant 18 miles away has been challenging, but not quite taxing, Rizzo says. "Really I don't know that we're at any place any less," he said. "We're just probably working about a day more, but our quality of management has not changed because of having another place, just because we have enough people and we have enough man hours that we're not really depriving either place of one of us, so it's been good."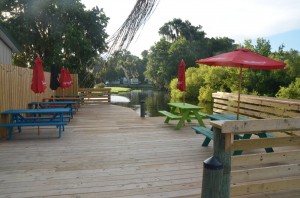 The biggest challenge? Chris Zwirn explains: "We've got a general manager that's very green. As far as the location and the building and guests and everything that goes into that part of the operation, everything has been awesome. But we're going back and coaching and teaching of our brand new general manager, who's still learning. But going through the creative process with all the food has been awesome. It's been a lot of fun."
The morning began with breakfast, with three of the five commissioners joining County Administrator Craig Coffey and (at separate tables) Fire Chief Don Petito and Facilities Manager Heidi Petito, and ended with Hanns delivering his prepared speech and traditional one-liners. Example: "They claim that they called it Dead Lake because this was a dead end. This was the end of the line for the steam boats that ended here. People would get off here. Thus they called it Dead Lake. I don't know if I like that. I'd have something a little more colorful, like they hung someone here or something like that." Someone suggested that a hanging could be arranged. Despite the political season, it wasn't.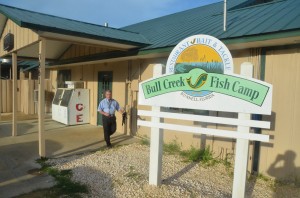 Hanns couldn't linger—not because he feared the noose, but because the commission had a budget workshop scheduled for less than an hour hence in a much duller cell of the county's Emergency Operations Center. The orange ribbon—orange for the restaurant's color, not the Dutch national football team—was cut, and a new era was opened in a region of the county that once was anything but a dead end: one of the guests at the ribbon-cutting today was Sisco Deen, the archivist for the Flagler County Historical Society, and the great-great nephew of George W. Deen, whose arrival in Flagler from Baxley, Ga., in 1908 was soon followed by his acquisition of enough acreage around Dead Lake and the St. Johns Park area to have his own county.
The region was a thriving industrial and tourist hub in the early part of the previous century as Deen and his partners in what would eventually be known as the St. Johns Development Company leased land to logging and turpentine operators, then sold in small lots to farmers almost exactly the way Palm Coast lots would be sold in the 1970s in Manhattan hotels, sight unseen: through advertising in northern newspapers, and clever marketing. The lake was a terminus for boaters and tourists from all over Northeast Florida, who'd stop where Bull Creek is now, and stay at a big hotel on the grounds, now all gone.
Those memories live only in the images George Deen's descendant is preserving at the historical society. The memories ushered today at the ribbon-cutting are just now beginning to percolate through the Bull Creek Restaurant's menu.