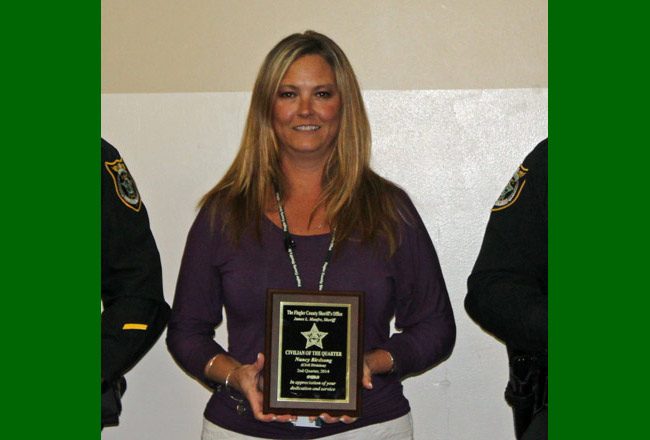 Nancy Birdsong, a 20-year civilian employee with the Flagler County Sheriff's Office and a 2014 Civilian Employee of the Year, was booked this afternoon at the Flagler County jail on a grand theft charge stemming from allegations that she doctored her timesheets enough to take in almost $1,600 she allegedly did not earn. The Sheriffs's Office has just opened an internal affairs investigation in the case, following the criminal investigation.
A few months ago, Birdsong was herself the one who flagged a possible policy violation by another employee who was found to have misused a law enforcement database and was disciplined. This time, her alleged timesheet fraud was flagged by Commander Brian Pasquariello after he noticed discrepancies in the timesheets. Pasquariello was examining the timesheets because Birdsong's usual supervisor at the courthouse, Sgt. John Bray, had been reassigned to a desk job as a disciplinary measure after a series of alleged improprieties involving Bray and another sheriff's deputy at the courthouse came to light in previous internal inquiries.
Birdsong, a clerk in the Civil Process and Fugitive Unit at the Flagler County Courthouse, becomes the third sheriff's employee to be disciplined, reassigned or removed from her job at the courthouse. The fact that Bray was her supervisor, and that the irregularities were not detected under his tenure at the courthouse, strongly suggests that behavioral improprieties are not the only issues involved in an internal investigation that also now includes Bray and others, and that the courthouse shakeup may not be over.
"All of those things are going to be answered along the way here," the Sheriff's Chief Mark Strobridge said.
Birdsong's attorney, however, calls the charge against his client "a witch-hunt."
"We have a 20-year Flagler County Sheriff's employee, started July 1, 1998, and we have an employee of the year, employee of the quarter a few times," Davis said. "This didn't start out as an internal affairs investigation. It started out as a criminal case. The opportunity to come in was basically an interrogation on the record, waiving rights in a criminal case. That was not something that was in her best interest to do." Davis added of Birdsong: "She was never questioned, nobody ever came and said hey, there's a problem here, maybe we should talk about it. Just criminal charges, here's your waiver of rights and it's going to be recorded."
Strobridge said it's normal that the criminal investigation preceded the internal affairs investigation because detectives don't want to mess up the criminal case. "In an internal affairs investigation you can compel people to speak, but if you do that it messes up the criminal investigation because they have due process rights," Strobridge said: Birdsong could have invoked her right to remain silent—a right she nevertheless does not give up even in an internal investigation.
But the sheriff's office was limited on what it could say, now that an internal investigation is proceeding. "He can do whatever he wants to because he's probably talking about the criminal case," Strobridge said of Davis, "but I can't speak to the details of the case because it has gone to an internal investigation now."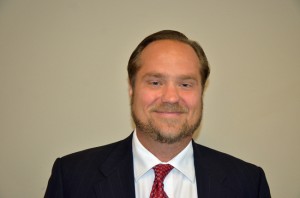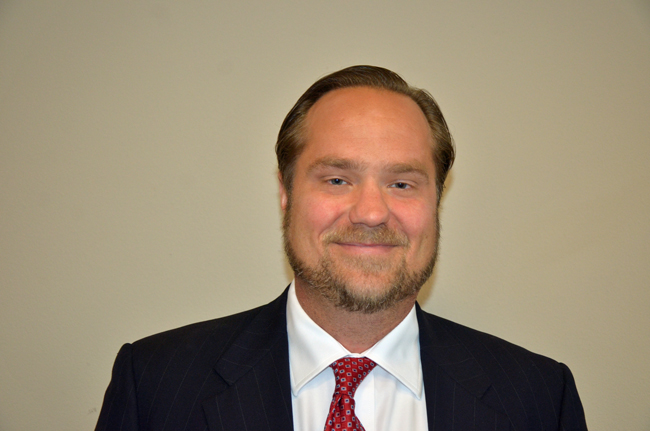 Davis would not say where he or his client stood on the case, saying he had neither the charging affidavit nor knowledge of the actual charge—a grand theft charge, a third-degree felony. Undersheriff Jack Bisland walked into a courtroom this afternoon, where Davis was representing another client in a case, and told Davis that he had until 5 p.m. to bring in Birdsong if she wanted to turn herself in. She did. She was booked and released on her own recognizance. But she has been suspended without pay.
"I have nothing right now, I have zero, I have no records, nothing. I have not a clue," Davis said. But he suggested that the sheriff's office is having issues with its "Executime" system, the software that keeps track of employees' hours, and that Birdsong, who has just adopted her 1-year-old grandchild, has been using a lot of personal and family leave time, not all of it her own: the Sheriff's Office allows employees to donate their personal time to fellow employees. This, Davis said, is what Birdong has done. He was answering a question raised by the details of the investigation: Birdsong recorded herself as working at times when she was not, in fact, on the job, according to the Sheriff's Office.
"The investigation revealed questionable entries, discrepancies and omissions on Birdsong's timesheet related to her use of time off to include sick time, vacation leave, personal leave, comp time and the use of FMLA (Family Medical Leave Act) time," a sheriff's release issued this afternoon about the arrest stated. "After a thorough investigation by a Sheriff's investigator, which determined a total of $1,577.61 had been unlawfully compensated to Birdsong through fraudulent timesheet entries, the State Attorney's Office filed a charge of grand theft on Birdsong."
The investigative report obtained by FlaglerLive outlines an audit conducted on Birdsong's time sheets. While it shows a series of properly documented time sheet entries, it also points to instances where Birdsong recorded herself as having worked without her identification card having been swiped at her office, or else the appropriate leave time was not subtracted from her benefit summary. The problem, according to the investigative report, is documented time and again, making it more difficult to claim that the entries were erroneous or oversights.
"I was elected to restore the professionalism and public trust of the agency," Sheriff Rick Staly is quoted as saying in the release, expressing disappointment that Birdsong was allegedly "stealing from the taxpayers and tarnishing the good reputation of the many dedicated and hardworking employees that serve this community with integrity every day. Criminal activity will not be tolerated regardless of who the suspect is or where they work. We will be asking for full restitution as part of the sentence."
Unlike four previous administrations over 16 years, the sheriff and the agency so far have steered clear of embarrassing or damaging internal issues, isolated and, given the size of the agency, generally inevitable cases aside. Staly has painstakingly attempted to maintain that record. The unraveling at the courthouse has been the first serious challenge to the standards he has set.
Bray, who was Birdsong's supervisor at the time of the time sheet issues, was interviewed as part of the criminal investigation. The interview did not go well, with Bray at one point erupting in obscenities: his use of foul language against her had been one of the claims by Circuit Judge Dennis Craig's assistant at the courthouse that led to Bray's removal from his supervisory role there. Bray in that inquiry denied ever using foul language. But his interview during the criminal investigation was recorded, and his language was captured.
According to the investigative report, detective Nicole Thomas asked Bray who monitored Birdsong as an employee and who monitored her timecard. Bray "indicated it was either him or the corporals," the report states, "but it appeared based on his explanation that no one supervisor closely monitored her while Sgt. Bray was in the courthouse." Bray told Thomas he'd never shown Birdsong specifically how to make timecard entries. Nor did Bray say he had any issues with how Birdsong used her time since he rarely saw her other than in the hallway: he himself was on duty throughout the courthouse.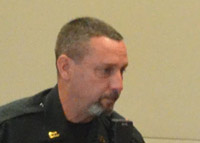 Then Thomas's interview with Bray takes a different turn: "At this point in the interview, this detective told Sgt. Bray I had no further questions," Thomas wrote in her report, referring to herself as "this detective" throughout, as is customary in such investigative reports, "at which point he asked me several questions. Sgt. Bray asked, 'Where is this going to go as far as my involvement?' This detective explained to Sgt. Bray that this was a criminal investigation and he possibly would have to be witness in a criminal investigation. Sgt. Bray asked, 'How did all of this come about?' This detective explained to Sgt. Bray the possible findings of Commander Pasquariello during his time as supervisor in the courthouse. Sgt. Bray asked, 'Has anyone else been put on notice?' This detective reiterated to Sgt. Bray that this was a criminal investigation and there were other witnesses that this detective had to interview. Sgt. Bray continued by stating to this detective, 'I don't like seeing you, in 26 years I never had issues like this, this is weird. The way they yanked me out of the courthouse and put me up here, I wonder where they are going to yank me next. With this administration they can do whatever the fuck they want, they are already doing it.' At this point in the interview Sgt. Bray gets up out of his chair and as he is exiting the room he states 'That's alright seniority don't mean shit around here.'
"It should be noted, Sgt. Bray appeared to be a very hostile witness towards the end of his interview and confronted this detective as I was leaving the office making very aggressive statements about the fact that I recorded the final remarks he made about the Flagler County Sheriff's Office and his discontent with the fact that the recorder was not turned off prior to the statements."
Birdsong is the ex-wife of Steve Birdsong, an ex-deputy who, when on the job in 2012, had been instrumental in reporting time-falsification issues about a supervisor, Jamie Roster. An internal affairs investigation found time-sheet discrepancies, and Roster was demoted, then restored to full rank, then fired, but never faced criminal charges. That was under Sheriff Don Fleming, then Sheriff Jim Manfre (who fired him). Steve Birdsong was pushed out under Manfre.

The Nancy Birdsong Criminal Investigations (2018)