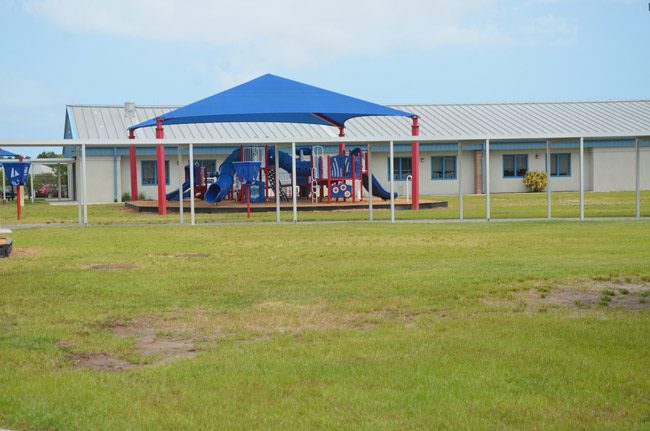 The Edgewater Police Department's four-line release about the incident was terse: "On January 2, 2019 at approximately 5:45 p.m., Edgewater Police responded to 333 West Marion Avenue for a motor vehicle accident. Roland J. Robidoux, 73 of Edgewater, was pulling a drag-style race car into the garage and struck Connor R. Allen, 8, of Palm Coast. Allen was pronounced deceased upon arrival of first responders. Roland Robidoux is Connor Allen's grandfather. Edgewater Police are actively investigating the incident."
Connor was a student at Belle Terre Elementary, whose principal, Terence Culver, was more emotional when he wrote of the tragedy to his school community in a Facebook post this afternoon: "This is a very sad day for the students, faculty, and colleagues of the Bobcat family. Our staff and students are saddened by the news of the death of one of our students," he wrote of the third grader, who was in Mrs. O'Donnell's 3rd grade class.
The school district dispatches its Crisis Response Team in such situations to assist faculty and staff, though in recent years it's had to do so in high schools, not in an elementary school. Schools are still on their Christmas break, but still have small crews. The teams will be present when school resumes next week. "We will have extra staff on campus as long as it is needed," Culver wrote. "We appreciate the outpouring of help we have received during this very difficult time. We also ask that parents take time to talk with their children and understand the grieving process is different for different people. If you have concerns about your child's reaction to this loss, feel free to reach out to us here at Belle Terre."
Accounts of the 911 call reporting the incident, first reported by the News-Journal's Tony Holt, describe a woman, Joanne Garner, hearing a "horrific noise" as she watched from the second floor Robidoux pulling the vehicle into a ground-floor storage unit. Her son went downstairs to investigate and realized Connor had been pinned below the car. "Is the child breathing and conscious?" the 911 operator asked Garner. "I don't think so," she replied.
Donations or items for the family may be brought to the school at 5545 Belle Terre Pkwy, Palm Coast between 8 a.m. and 4 p.m., Monday through Friday. "We will ensure they are delivered to the home," the principal wrote. "I am reminded again how very precious each student, staff member, and BTES family is at this time. Thank you for your understanding, and we love each of you."