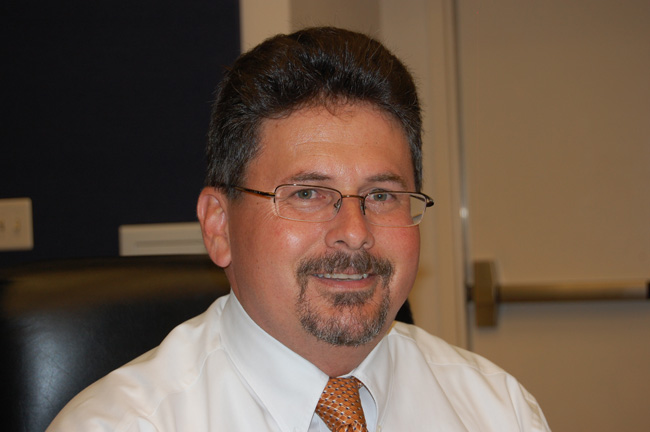 Note: We begin today publishing the Live Interviews of candidates for local government office. The Flagler County School Board interviews will appear over three days, starting with District 1 today.



Andy Dance is one of eight candidates for Flagler County School Board in the Aug. 26 primary election. An incumbent, he is currently the chairman of the school board, and is facing challenger Maria Barbosa. He was first elected in 2008 to complete a two-year term left from the resignation of Jim Guines, and was unopposed in 2010.
The three school board elections–for District 1, 2 and 4–are non-partisan races: all registered voters in Flagler County are eligible to cast a ballot in all three races–whether registered Democratic, Republican, Independent or from a minor party.
You may cast a vote in both races regardless of the district, the town or the subdivision you live in. The election on Aug. 26 will decide the winner in District 1 and District 4, because each of those races have just two candidates (incumbent Andy Dance and Maria Barbosa in District 1, incumbent Trevor Tucker and Michael McElroy in District 4).  So this is it for those two races, but not necessarily for the race for District 2, which features four candidates–incumbent John Fischer, Toni Baker, Lynette Calender and Janet McDonald. The race in this case would be decided only if a candidate wins better than 50 percent of the vote. Short of that, the top two vote-getters will go on to a run-off, to be decided in the general election on Nov. 4. 
FlaglerLive submitted 15 identical questions to the school board candidates, who replied in writing, with the understanding that some follow-up questions may be asked, and that all exchanges would be on the record. Questions appear in bold, follow-up questions, when necessary, appear in bold and italics, and may be awaiting answers. When a candidate fails to answer a question, that's noted in red. The questions and follow-ups attempt to elicit precise answers, but the candidates don't always comply.
School board members serve four-year terms and are paid $31,640 a year.

The Questions in Summary: Quick Links

Place and Date of Birth: East Islip, New York. Family moved to Flagler County in 1972, and I first attended Bunnell Elementary school in 4th grade)
Current job: Self employed; Florida registered landscape architect and owner of Andrew S. Dance & Associates.
Net worth: $407,668. Click here for financial disclosure form.
Political affiliation (keeping in mind that school board races are non-partisan): Republican.
Websites: Campaign Website, Personal Website, Facebook, Twitter.
1.     Why are you running for school board, or running for re-election, and what makes you the best person for this public service job? What is your vision for public education in Flagler County?
I am running for school board because I see this as an excellent opportunity to give back to the community that has given so much to me and my family. I am proud to be a successful product of Flagler County Schools and I want to ensure every child graduates from our school system with unlimited opportunities. No two students are alike, and we need to personalize their education, giving them options to find their passion and stay motivated to move on to college or find a lifelong career.
Flagler Schools is in the midst of an educational transformation, evidenced by six years of continuous increases in student and district performance. Flagler has never experienced this level of success before, and I want to continue to work with our district leadership and our community so that together, we can continue moving Flagler Schools from good to great.
The need for a board member that is a parent and can bring real, day to day student and school experiences to the table is just as strong now as it was six years ago. As a parent of three students and a local business owner, I bring a skill set that serves the district well. Over the past six years we have streamlined operations and reduced expenditures by over $10 millions during the recession. My planning background will be crucial in helping the district properly plan for the additional human and capital resources that will be needed as our student population grows over the next decade.

2.     Tell us who you are as a person—what human qualities and shortcomings you'll bring to the board, what your temperament is like: what would your enemies say is your best quality, and what would your friends say is your worst fault? Give is real-life examples to illustrate your answer.
In my leadership positions with the School Board and the Early Learning Coalition, I've had the opportunity to participate in many personality exercises. They all tell the same story…I am a bit of a data nerd. I analyze everything, I love to scour data and read case studies to improve on our school district processes. The "True Colors" personality test is one that identified me as "Green." Green people are classified as clever, level-headed, logical, competent and visionary. On the down side, Greens will sometimes over-analyze and can be skeptical. In the work setting, Greens…
Are visionary and independent workers
Prefer a work setting with less structure and little bureaucracy
Enjoy taking calculated risks to test innovative ideas
Biggest asset is their drive to be competent, logical and accurate.
Enemies will say my best qualities are level-headedness and patience while friends will say my worst fault is time management.

3.     Describe the scope of your job as school board member as you understand it: what's your primary responsibility? What's in your power to influence on a day-to-day basis? What is not in your power to do?
The primary responsibilities of the Flagler School Board members are:
Set the district wide tone for respect, accountability, and trustworthiness and to lead by example, especially in how the board conducts business during board meetings
Set policy for the district operations and provide a long range strategic plan and five year capital plan
Set the budget priorities and approve a balanced budget yearly, set financial goals, and set the tone for fiscal accountability and transparency
Hire the district superintendent and board attorney
Board members are best served when they support district leadership and teachers by giving them the tools and training to be successful…and then step aside, letting them do their job and not micro-manage the process.
Based on your experience, can you tell us what is not in your power to do, contrasting it with public assumptions?
I believe the public thinks we are involved in the day to day operations of the district. However, that is not true. The Center for Public Education lists eight characteristics that make a successful school board.  Number three states: "Effective school boards are accountability driven, spending less time on operational issues and more time focused on policies to improve student achievement." (Source.)

4. What are the education gaps or weaknesses in the districts—in other words, where and who the district is failing most? What are the brightest successes?
It is easy to brag on the successes the district has achieved recently. We are experiencing a run of educational excellence never before seen in Flagler County.
Ranked 12th in Florida, up from 34th in 2009
US News & World Report ranked both high schools as "Best in the Nation" the last two years
All traditional elementary schools are "A" ranked, with Wadsworth ranked in the top 3 percent of all Title One elementary schools in Florida. Secured district-wide re-accreditation through AdvancED/SACS for another five years, recognizing Flagler's commitment to raising student performance and accountability. In their final report they especially noted that "every dollar was put to the benefit of students in the form of reading teachers, electives, art and music education and various types of academic coaches, all of which have been cut in many other districts" and also praising "Flagler's willingness to take risks."
Launched the Digital Learning Movement, where each student has access to innovative technology that enhances and extends teaching and learning
On the flip side, we know we have to perform better in certain areas:
While our graduation rates are climbing steadily and now exceed the state average, we want to lead the state in this area.
Achievement gaps have narrowed recently, but again, we know there is room for improvement.
Any student that does not feel safe or welcomed in our schools is one too many. We need to be diligent in stamping out bullying and promoting safe environments for all students.
Bullying is a recurring concern among the public. What have you yourself done specifically in the last six years to address and diminish that concern, policy-wise, that has made a difference?
Policy-wise, the district upgrades its bullying and harassment policies annually to reflect changes in state statute governing definitions and penalties. The policy was recently amended to include bullying aboard buses and extended to include bus stops. The policies are sound. Getting students to bring forth bullying complaints is paramount, and goes back to school cultures and how schools proactively establish a safe and secure school environment. Personally, I act as a sounding board and reference for parents on bullying issues via my accessibility throughout the county and in the schools. I have assisted parents with information on what constitutes bullying, how to report it and what the expected outcomes should be.

5.      Common Core has caused a good deal of controversy, much of it invented out of thin air, most if not all of it irrelevant to Flagler County. Define common core as you understand it. Explain your position regarding common core. And understanding that the Florida Standards have rendered it a non-issue for Flagler, tell us whether you are campaigning for or against common core, and if so, why. 
Many Americans don't trust government these days. The federal government has enough scandals already; just Google "National Security Agency spying" or "IRS targeting." The Common Core conspiracy argument centers on distrust of the federal government, and that Common Core is the federal takeover of education. Before Common Core, you should know the federal government already had their hands in state and local districts through ESEA (Elementary and Secondary Education Act), Title One and food nutrition regulations, to name just a few. But when is comes to standards and teaching, the constituents I hear from want the federal government out of the business of teaching our students. They want these decisions to be state and local, and I agree. The state must remain in control of standards and the local school district must remain in control of curriculum and teaching. What is universal is that we all want high standards and expectations for our students.
In Florida, we are deep into the standards and accountability era and Florida is seen as a leader in this area. Florida has moved from mediocre standards to the Sunshine State Standards, to the Next Generation Sunshine State Standards and now the "Florida Standards" that are aligned with the Common Core standards. The Florida Department of Education approved the original Common Core standards back in July of 2010. Local districts have been gradually implementing them over the past three years.
The goal for Common Core was simple enough…raise standards across the nation and have similar standards from state to state, so that no state was left with inferior expectations for children. This is the basic request that our military families have for their children when they have to relocate to a different state. And that's what standards are in simple terms…expectations. Expectations that Johnny will be able to "Use addition and subtraction to solve one and two step word problems" in second grade or that Mary will be able to "demonstrate command of the conventions of standard English capitalization, punctuation, and spelling when writing" by a certain grade. That is an example of the "standard" (source). The standard does not tell the teacher how to teach or what to teach, just the expectation of what the student should learn. The standard is not a lesson plan or an assignment.
Regarding local control, let's remember that the federal government has no constitutional authority to unilaterally set academic standards for Florida, nor any authority to unilaterally direct local school board decisions on curriculum and instruction. The state has the sole authority to set standards, and that is exactly what the Florida Department of Education did back in July of 2010 when the Common Cores State Standards were first adopted. The state again utilized their control when they amended the standards with over 100 changes back in February of this year, and rebranded them the "Florida Standards", as this set of standards is now unique to Florida.
Second, only the local school district has the authority to adopt educational material and craft curriculum to meet and exceed the standards…without Federal intrusion. Each local school district is unique and will independently arrive at local solutions on how to teach students so that at a minimum, they meet the state expectations. Flagler Schools will always focus on exceeding state expectations and will continually push for higher standards and educational excellence.
Additionally, Governor Scott signed executive orders to protect student information from data mining and removed the state from the federally funded testing consortium, PARCC. Florida contracted, without federal government assistance, with a testing company that is not associated with the federally funded consortium, and saved millions of dollars in the process. These are two examples of state control over standards and testing.
Where do we go from here? I am advising our state legislators to be diligent in ensuring that the state must remain the sole authority to set academic standards for Florida. Likewise, the local school board must remain the sole entity with the authority to adopt educational material and craft curriculum to meet and exceed the standards as adopted by the Florida Department of Education.
The Florida Standards are established and we are entering the fourth year of implementation. It will do more harm than good to abandon and reverse course now. These standards are not perfect…they have some flaws but they are also clearer, more concise and more rigorous in many areas. They are also not the cure all for what ails education, but they are a logical next step for Florida as we continue to establish higher standards and higher expectations for our students. In the end, what really matters is what is taught in the classroom…the spark between student and teacher that makes them eager learners. That is my focus. That is my obligation to our parents, students, teachers and the community.

6. School taxes: Do you consider them high, low or just right? How much do you, as a school board member, control the setting of school taxes, and if you've been campaigning against high taxes, explain your position, and how relevant it is given your very limited powers as a school board member in that regard. 
A common misnomer among candidates is that a board member has the ability to influence the Required Local Effort millage (property tax) rate. It should be noted that the state sets the RLE millage rate. It is prudent for the school board to prioritize expenditures based on strategic goals and objectives, and to mandate operational efficiency.
Everyone has a different view on taxes, and it primarily has to do with where a person has relocated from. If you moved from up north, I commonly hear our taxes are low when compared to the northern state's tax rates. If you grew up in Flagler County, then your viewpoint is different, and you would believe that taxes are too high and keep going up!
I can offer my own personal experience with school taxes. I created a chart going back ten years for my residence in Palm Coast. For tax comparison purposes, my house on 13 Evansville Lane is pretty average, with a current taxable value of $111,598.00. My home's value is down 17 percent from 2003, when it had a taxable value of $133,934.00. The year 2003 also happens to be when my school taxes were the highest over this span, at $1,180.90.
In 2014, my proposed taxes are estimated at $830.96. That is $349.94 dollars, or 29.63 percent less than what I paid in 2003. As you can see in the chart, school taxes (-29.63 percent) declined more than property values (-16.68) over this period for my property. This is just one example, and your property values and taxes may be different. Based on this example, school taxes are reasonable for the average homeowner, and the taxpayer is getting an incredible return on their investment, when you consider the high performing schools in this district.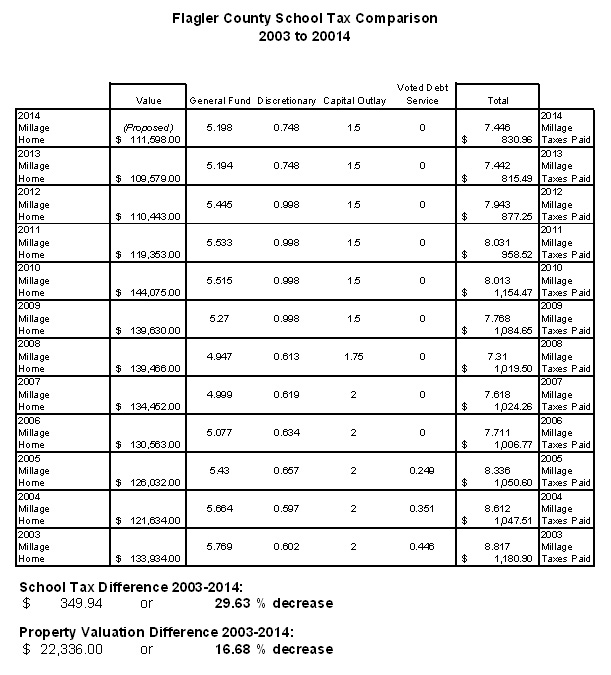 7.      Name your three specific priorities you intend to achieve as a school board members within the scope of the doable—not pie-in-the-sky stuff, not generalities. That is, three priorities you'll be able to say, four years down the line, that you've achieved.
Our challenge as a school board is in aligning human and financial resources to provide safe, innovative, personalized and exceptional learning experiences for all students. Within these challenges are specific areas that need attention, such as continuous improvement in graduation rates among all demographics, closing achievement gaps, and expanding collaboration with parents and the community.
I propose four initiatives that will address these issues and contribute to the district's overall vision of innovation and providing personalized and exceptional learning experiences for all students:
Growing Our Own Teachers – The demand for great teachers is high in Florida! Additionally, we need a greater number of minority teachers so that our educational staff more closely mirrors our student population. I propose that we incentivize a path for education degrees to our own exceptional students. Flagler Schools can provide assistance that is needed for a student to achieve a degree in education.  In return,  the graduates must return to our district to teach. They are then trained in "The Flagler Way" and become "homegrown teachers" that come back to teach in Flagler Schools.
Become Innovation Leaders – I propose we develop "Innovation Teams" at each school and hold a yearly "Innovation Competition." Let's use an entrepreneurial attitude toward developing new ideas and allow our own talent to advance our culture of innovation by looking at new and exciting ways to engage students and promote student success.
Invest in Early Learning – I have been a consistent voice for improvements in our early learning programs, which has lead to moving our VPK programs back to each neighborhood elementary school. Getting more students to participate in early learning programs will get them started on the right path when they enter kindergarten. I am working with the Early Learning Coalition to find gaps in the community where early learning programs are not being taken advantage of or fully utilized. If we can maximize the utilization of current programs and find new, creative ways to augment them, the students and the community will reap the rewards down the road.
Develop a "Parent University" – The goal of a Parent University would be to increase parent involvement in their child's education and empower parents to raise children who are successful in school and in life. Parent University will be an opportunity for parents to focus on child development, what children are learning in schools, advocacy, parent leadership and effective parenting skills.
Those are provocative ideas, but in keeping within the spirit of the question, let's take two of the four: your first idea suggests that the district could underwrite expensive college scholarships is that really the case, or are you referring to Education Foundation scholarships, which so far have been awarded without the sort of strings that would compel a student to commit either to a type of career or to a post-graduate location. Taking into account that the Foundation has its own governing board, how would you make that first proposal concrete? 
First, we would work with our existing partners to bring this to fruition, namely Daytona State College, the Education Foundation and community organizations that focus on the teaching profession and education. If we can identify candidates early enough, students can earn their AA from Daytona State through dual enrollment while in high school. Many students graduate high school with both their HS diploma and their AA, so this is achievable. Once students achieve their AA, they can choose from seven Bachelor degrees in education from Daytona State.
Remember, a BA in education is one of DSC's $10,000 degree programs. We only have to provide assistance for approximately half of that in the form of scholarships and or loans. Coming up with a plan and the funding mechanism for the final two years will require the assistance of our community partners as stated above. This can be a great win-win for all involved.
The fourth proposal, of a Parent University, sounds interesting, but lacks the sort of specificity that would give us an idea of what you are really envisioning. 
First, understand this is not a new idea. However, it will be new for Flagler. This program presented itself when Miami-Dade Superintendent Alberto Carvahlo visited Flagler earlier this year. He talked to us about some of the programs that helped turn his district around. He was very excited to tell us how successful his Parent Academy program was. The Miami-Dade Parent Academy can be found here  and a version in North Carolina here.
The goals of the Parent University would be two-fold…offer a toolkit to assist parents in their home environment and provide a series of information sessions held at various locations to provide one-on-one counseling and information. Joseph Garcia, a spokesperson for the Miami-Dade district superintendent…, was quoted as saying, "Our intention is to offer, throughout the year in a variety of settings, courses that will help parents help us help their children."

8.      The IB program at FPC is the district's most academically rigorous and accomplished program, serving a small but high-performing class of students beginning with the pre-IB program in 9th grade. What is your opinion of the program, how committed are you to its continuation, and would you support its expansion, or an expansion of a similarly themed feeder program, at Buddy Taylor Middle School, as is being considered currently?
The IB program is a valuable component of our vision for providing personalized options for students. High achieving students require programs that challenge and motivate them. Our IB graduates are being accepted into the most prestigious and rigorous college programs in the nation.
The program significantly contributes to the success of Flagler Schools and is the type of rigorous program that helps in our economic development initiatives when courting prospective companies for relocation.
I have two high school students participating in the IB program and I am a personal witness to the high quality teaching and rigorous academic level. I am committed to the program, and would like to investigate a possible expansion into middle school.
9.      Evaluate Superintendent Jacob Oliva, based on what you know, specifying how supportive—or not—you are of his administrative approach. 
Superintendent Oliva is proving to be an excellent choice as chief administrator for Flagler Schools. Each department and program is being evaluated for effectiveness and efficiency. He is reaching out to the community to build partnerships and consensus on issues. His transformational leadership approach is exactly what Flagler Schools needs to be on the forefront of educational innovation, and moving Flagler Schools to be the nation's premier learning organization.

10.      Who on the board currently is the board member most closely aligned with your idea of a school board member and why?
This is my least favorite question, as I believe it adds nothing to the evaluation of the candidates, but only serves to alienate and divide board members and future board members that must rely on teamwork and building consensus to achieve goals.
Each of the existing board members has qualities that make them effective and have certain qualities that I admire and align with.
We don't ask questions to make you comfortable, but to enlighten the voters you serve as transparently as you claim you want to be. The question fairly goes to your philosophy in relation to your colleagues and to the dynamics of the board, which voters have every right and expectation to understand as much as possible in order to make an enlightened choice going into the voting booth. And yes, candidates do their best to evade the question. Please try again.
OK, let's try again. greatschools.org talks about characteristics that make a great school board member. Using these characteristics, I offer the following insights:
1. Great school board members advocate at the local, state and national level for public education. Ms. Conklin is a great example of a board member that advocates at all levels, a characteristic that is in alignment with my beliefs and actions.
2. Great school board members adopt a fiscally sound district budget. Mr. Tucker pays attention to the smallest of finance details and regularly inquires to the fiscal health of the district, a characteristic that is in alignment with my beliefs and actions.
3. Great school board members work as a team. Mr. Fischer consistently advocates for the need for teamwork, he collaborates well with others and is respectful of the other board members and superintendent, characteristics that align with my beliefs and actions.

11.  If you had a choice of running the school district with a teacher union or without one, what would that choice be, and why?
If I was creating a brand new district and was able to set the rules from the onset, I would initially choose to operate a district without a union. I would set clear and concise goals and objectives for all employees, and work collaboratively to achieve them. Managers and administrators would operate transparently and communicate openly with employees to foster positive relationships to maximize success.
In my opinion, the working atmosphere under this type of environment would not result in the need for employees to unionize, but they would have the right to should working conditions deteriorate.

12. Charter schools have had a very checkered history in Flagler, with pronounced failures—Heritage, Outreach Academy—several rejected applications, and sharply contrasting growth and success for Imagine School at Town Center, and this year's remarkable turn-around, from F to A, for Palm Harbor Academy. How do you see charter schools fitting in public-school equation, and what are the most important criteria by which you'd approve (or reject) a charter school application? Also, what's your position on vouchers in public education. 
I am a proponent for school choice options for parents with one caveat…that all schools that receive public money be held to the same accountability requirements and standards. Choice is only viable if parents are given accurate information on the performance of schools in their neighborhood.
I feel that the Charter school movement has been hijacked by corporate interests. I prefer organic, locally managed charter schools. One way to make sure that new charter applications have a high chance of success is for them to demonstrate that they have an existing local base of support. They must demonstrate this with a Board of Directors that has a majority of local residents and school supporters, and that will come before the school board and testify to the need and unique qualities of the proposed charter school that separates if from the available options that exist in the county.

13.  Explain zero tolerance discipline as you understand it. Explain whether it is effective, whether the approach should be reformed, and how. 
First and foremost, parents and students want a safe environment for learning. Zero-tolerance policies for severe and illegal infractions, such as illegal drugs and weapons on campus, have merit and should act as a deterrent for students from bringing unsafe items onto school property.
Zero tolerance penalties for minor offenses prove to be ineffective and overly punitive. Administrators should not be barred from using sound judgment or from evaluating extenuating circumstances in order to administer appropriate discipline.
Concerns regarding perceived excessive school suspensions and expulsions, especially with regard to minority students, should be reviewed proactively with community involvement. I support and will assist Superintendent Oliva's goal for a thorough review of the discipline code and the creation of an advisory group of parents and community partners to assist in this review.

14.   Do you find the Flagler County School Board accountable to the public on student achievement and school performance over time? If not, how should it become so? And how should the district address underperforming schools?
ac·count·able – required to explain actions or decisions to someone
The district continues to make strides to be more accountable to the public. Two initiatives that I proposed and were implemented last year were the "State of Education" Town Hall and the "Connect 2" Citizen's Academy.  These initiatives were specifically created to expand the board's level of accountability to the public and to bring citizen's closer to where the rubber hits the road; inside the schools, classrooms and administrative offices.
Regarding performance and achievement, let's remember that none of the board members taught a single student last year. The accolades for the district's growth and continued focus on student success rests with the teachers in the classroom, the support staff, and school based and district level administrators. The board's contribution to the district's success is in leading by example, setting a professional standard, creating a mission and vision that every employee can get excited and motivated about. Additionally, the Board aligned human and fiscal capital to the strategic plan, identified priorities, and properly supported our superintendent and employees by giving them the tools and training to be successful.

15. Have you ever been charged with a felony or a misdemeanor anywhere in Flagler, Florida or the United States (other than a speeding ticket), or faced a civil action other than a divorce, but including bankruptcies? If so, please explain, including cases where charges did not lead to conviction.
No.

Maria Barbosa has not asked Dance any questions.