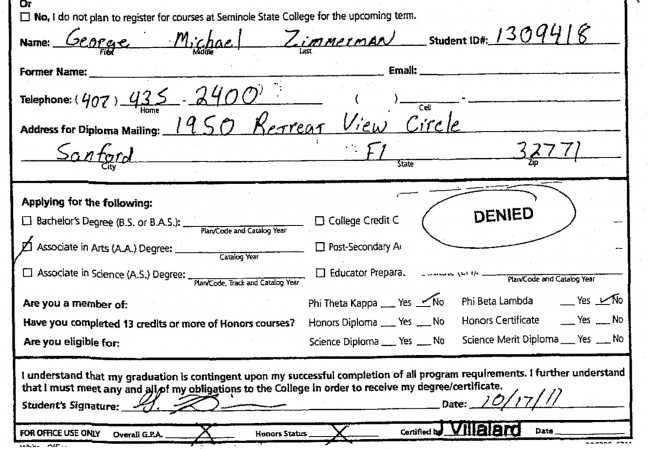 Lawyers for George Zimmerman confirmed Thursday that he will assert a "stand your ground" defense, although a judge would determine in a hearing whether he ultimately can claim to have acted in self defense under the Stand Your Ground law.
That means there could essentially be a "mini-trial" ahead of any possible actual second degree murder trial for Zimmerman's shooting earlier this year of Trayvon Martin, and it could lead to charges being dropped.
The Sanford shooting case, in which Zimmerman has claimed self defense all along, has been watched nationally, in part because of the racial overtones involved, but also because it put the state's relatively new self defense statute under a microscope, even though the defense has been used numerous times.
"Now that the State has released the majority of their discovery, the defense asserts that there is clear support for a strong claim of self-defense," Zimmerman's defense team said on a website set up for it to communicate with the public. "Consistent with this claim of self-defense, there will be a 'Stand Your Ground' hearing."
Many of the arguments and much of the evidence that would be presented at trial could first be aired at such a hearing, in which the judge would decide whether the case fits the "Stand Your Ground" statute, which says that people who feel legitimately threatened have the right to meet force with force. The burden would be on the defense to prove that the case fits the circumstances laid out in that law. If they do prove that, charges against Zimmerman would be dropped.
Mark O'Mara, Zimmerman's attorney, said on the website that it will take time to prepare for such a hearing and urged "everyone to be patient during this process and to reserve judgment until the evidence is presented in the 'Stand Your Ground' hearing."
O'Mara's posting on the website is the first time the defense team has acknowledged that it will use the Stand Your Ground defense.
Ben Crump, the Tallahassee-based attorney for the Martin family, said in a statement that he believed the "stand your ground" claim would be rejected and the matter would be decided in a jury trial.
The case has been messy for both sides almost from the start, whether because the Sanford police botched the original investigation or because Zimmerman was found to have lied to a judge about his financial assets, causing his original bond to be revoked, his brief jailing, and his release on a new bond of $1 million. On Thursday, it was the prosecution's turn to flub evidence: Among a large batch of records it released, it inadvertently made public Zimmerman's student records at Seminole Community College, which showed that Zimmerman failed a class and failed to graduate. Student records are confidential under Florida law. The state attorney's office also released a grainy photograph of the body of Trayvon martin, though the photo contained no recognizable details.
The released information also included Zimmerman's explanation of a 2005 arrest, as explained to the Seminole County Sheriff's Office Academy, to which he was applying in 2008: "I was arrested in July of 2005 for assault on a law enforcement officer and resisting arrest with violence," Zimmerman wrote. "Both charges were immediately dropped to resisting arrest without violence and then dropped all together. I was in an altercation with an undercover officer that was taking part in an ATF sting for underage drinking in UCF. He never told me he was an officer and assaulted me first." He cited his father's status as a retired magistrate in Virginia and his mother serving as a deputy clerk.
He was admitted into the academy. "Your disclosure of the arrest plus the incident involved was 'unusual,'" Roger Larsen wrote Zimmerman, informing him of his admission.
Zimmerman was charged by a special state prosecutor, Angela Corey, who was appointed by Gov. Rick Scott to take on the case after an uproar from the public when charges hadn't been filed in the shooting. Zimmerman, a neighborhood watch volunteer, shot Martin at near point blank range in February after following him in a gated community. Zimmerman said Martin was suspicious – there had been break-ins in the neighborhood, and subsequently said he was attacked by Martin.
Zimmerman's invocation of the Stand Your Ground law is not a surprise, nor is it unusual in Florida, where the law was passed seven years ago, with then-Gov. Jeb Bush's approval. The law, the Tampa Bay Times reported in June, "has allowed drug dealers to avoid murder charges and gang members to walk free. It has stymied prosecutors and confused judges. It has also served its intended purpose, exonerating dozens of people who were deemed to be legitimately acting in self-defense. Among them: a woman who was choked and beaten by an irate tenant and a man who was threatened in his driveway by a felon."
The law may be invoked in a case in Flagler County: that of Paul Miller, the 65-year-old Flagler Beach resident who shot and killed his neighbor, across a fence, during an argument over a dog last spring.
–FlaglerLive and the News Service of Florida