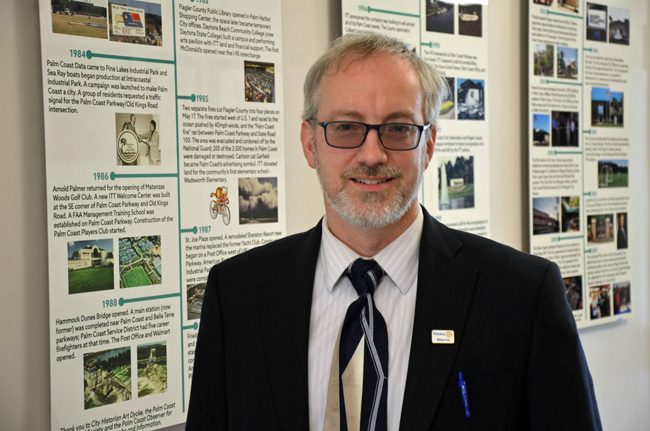 Vincent T. Lyon will have a two minutes' walk between his office at the Chiumento law firm in Town Center and his new, temporary job as Palm Coast City Councilman. The council Tuesday evening appointed him to serve the six months remaining on Steven Nobile's term. Nobile resigned last month to move to Tampa with family.
Lyon, 46, who has a master's degree in museum studies, said he's been practicing law in Palm Coast since late 2013 in probate and guardianship law, "an area that requires a good deal of consideration and care for people who can't care for themselves," Lyon said. "I'd like to take that attitude and focus and apply it in the city position."
But noting the election in just a few months, he said he did not expect to "change the world" in such a small time, but to pay attention to issues "that are immediately pressing," among them the relationship with the county, "environmental consciousness issues" beyond Florida Park Drive. He said he wanted to "add my ears more than my voice" to the council. Lyon completed the city's citizen academy, which puts participants through a multi-week program to inform them about city services and workings.
Speaking of the sacrifice it takes to serve on the council, Holland thanked the applicants and said "we have a short window of opportunity to have somebody represent this district and this seat," giving the district a voice. "My support would be for Mr. Lyon just due to the fact of his experience and his knowledge and understanding of the laws we abide by and certainly our meetings and how they're run, and the fact that he's graduated from the citizen's academy certainly plays a lot in my mind." Lyon was the only one to so graduate.
Three residents applied: Charles Johnson, 66, a former bartender, safety coordinator at Sea Ray Boats, and one-time candidate for Palm Coast mayor, Robert Thomasey, 68, a retired electrician, and Lyon.
The council interviewed the candidates in alphabetical order in the course of its regularly scheduled meeting Tuesday evening, giving each applicant five minutes to introduce himself before being interviewed. The other two applicants were required to stay outside the room during the interview.
With Mayor Milissa Holland leading the way, each applicant was interviewed for a few minutes–nothing extensive: council members asked about the candidates' involvement in civic matters, budgeting, city goals and the like. Lyon will be joining the four other council members in setting Palm Coast government's budget for next year.
Johnson spoke of his years as a safety coordinator at Sea Ray Boats but probably lost points with council members when he said he'd have voted differently from the council did on zoning matters. When Holland asked him to specify, he intimated that he would not have voted to favor multiple-family home zoning–that is, apartments–though he said if he were seated on the council maybe he'd understand the council's reasoning better. He did state that housing was a priority.
Thomasey gave the council a brief sum-up of his career, including 28 years as a volunteer firefighter.
"A lot of people think that we show up four times a month and sit around and vote on stuff," council member Bob Cuff told the applicants, asking them about other events council members are expected to attend. "I'm retired, my wife still works, so I can get out of the house any time," Johnson said, the only moment approaching levity in the 30-minute exercise.
Council member said all three candidates were "great individuals," but said he was "a fan of individuals who participate in their community," giving the nod to Lyon for his involvement in charities. Lyon fosters rescue cats for Community Cats of Palm Coast and is a member of the Flagler County Rotary Club. He's not served in government before but has served on a couple of condominium boards, and is familiar with parliamentary rules. Cuff said he was "impressed with all three candidates." He favored Lyon, but termed his decision difficult because he knows Lyon personally better than the other two candidates.
Council member Heidi Shipley favored Thomasey for his regular attendance of city meetings.
Lyon said his job, while demanding, gives him the flexibility to get the work done on his own schedule, which would then enable him to pay attention to city commitments. He sees no conflicts between his work and city issues, though he acknowledged that his firm represents parties involved in litigation with the city, in which case he would recuse himself.
The appointment drew no public comment.