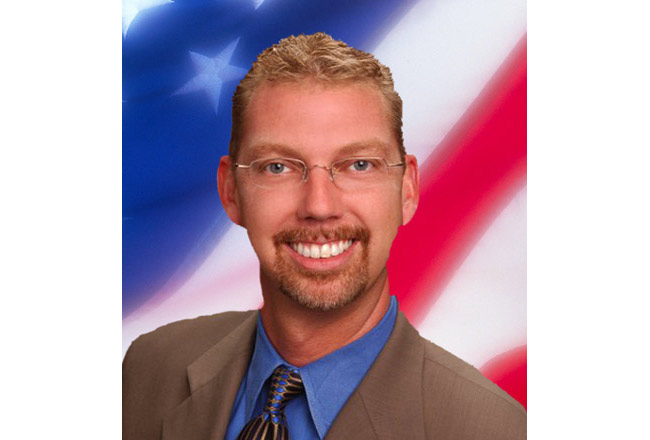 Trey Corbett is a candidate for Flagler County Supervisor of Elections, challenging one-term incumbent Supervisor Kimberle Weeks.
Weeks, a Democrat, is a one-term incumbent who won the position four years ago in a three-way race, defeating Pam Richardson with 49 percent of the vote, to Richardson's 35 percent. Weeks had no primary opposition. Corbett, a Republican, is first-time candidate for public office who won a four-way primary by defeating Richardson by a margin of less than 1 percent (or 80 votes, out of 9,284 cast).
It has been a tough and at times bitter campaign, with each candidate facing up to various issues–Weeks's history of combativeness, and Corbett's occasional missteps.
All registered Flagler County voters may cast a ballot in the supervisor's race, whatever their party, whatever their address.
The supervisor of elections is paid $94,000 a year. The salary is set by state law, based on county population, but paid out of local dollars.
FlaglerLive submitted 13 identical questions to all four commission candidates, who replied in writing, with the understanding that some follow-up questions may be asked, and that all exchanges would be on the record. Each candidate was also given the opportunity to ask his or her opponent three questions, which appear following the FlaglerLive questions. Follow-up questions, when necessary, appear in italics, and may be awaiting answers.

The Questions in Summary: Quick Links

Place and Date of Birth:
Current job:
Party Affiliation:
Website: ElectTreyCorbett.com
1. What qualifies you to be supervisor of elections?
Most of the issues in our Elections Office today are the result of inexperience in a management and leadership position. I have over 20 years' experience managing in multi-million dollar settings with budgets far exceeding that of our Elections Office. For the last eight years I have managed one of the most successful title companies in the area. I have proven leadership skills that result in exceptional levels of service to customers, and a "customer service" culture is definitely lacking in our Elections Office.
Do you see managing a private business in the same terms as you see managing a public, government office with very public responsibilities? What has prepared you for the latter?

2. Describe the essentials of a supervisor's responsibilities—and the limits of those responsibilities.
A supervisor should know and ensure that the Florida Statutes are being followed and complied to, hire and train staff, plan, hold staff accountable, be fiscally responsible, listen and be in-touch with the local community regarding voting and elections, be aware of trends in election changes (i.e. legislation, technology, etc.), ensure that the voter rolls are accurate, and lead by example. Every supervisor is only as good as his or her people, and I have found this awareness to be the drive to ensuring that I hire the best candidates, train, listen to, and hold my employees accountable. This has been the recipe for many years of proven success for me.

3. Until 2008, Flagler County voter turnout was, among Florida's 67 counties, solidly at or near the top of the chart. Turnout has fallen significantly since. To what do you attribute the drop, and what would you do to reverse it?
As I have been out talking to voters and reflecting upon my own experiences over the last four years, we have a lot of communication breakdowns from the Elections Office to voters. My opponent has wasted much of her time focused on carrying out personal "vendettas" towards other county officials while allowing service to the community to deteriorate. In fact, she has waited four years at election time to say she is looking at "creative ideas," but as we look at her own campaign we see that must mean four more years of inconsistent information and costly print mail-outs only. My plan is to improve voter awareness through many channels and many of the same channels I've been using throughout this campaign. I will partner with other government departments for mailings. I will use new communication channels such as social media and mass emailing (more than once a quarter). I will partner with local news media to ensure we are promoting voting in a positive way. I will ensure that accurate and consistent information across all "channels" is getting out to voters in an on-going way and in a timely manner. I will be out at as many local events as possible to promote voting and stay in touch with the local "pulse." I will not wait until election time to try and get the positive message about voting out in the local conversation.
Since you raised the issue, can you give specific examples of where service has deteriorated, and of "inconsistent information" from the supervisor's office? Can you cite examples of where Weeks has not promoted voting positively?

4. How have you (or would you) you reach out to elderly or incapacitated voters who are living in assisted living facilities and nursing homes, or voters who are homebound and may have trouble voting in person?
I've spoken with many elderly voters and access to voting is always a concern. I am committed to making sure that we keep these voters aware of their options such as Absentee Ballots. Also we can look at arranging transportation during Early Voting and Election Days through partnerships with local groups.

5. Would you support making the supervisor's race non-partisan? What will you do to ensure that your own party allegiance does not interfere with the impartiality the job requires?
If the State of Florida decided that the Supervisor's race be non-partisan, I would be in full support of that. I hold myself to very high standards and have always had a strong value system. Being Supervisor of Elections is about ensuring a quality election process for ALL voters and I am committed to performing the Office objectively and impartial.
Weeks raised the issue of your partisan support for specific candidates and membership in the partisan Ronald Reagan club, and asks a related question below. But aside from civic organizations, where participation is not in question, how do your partisan activities with, for example, the Ronald Reagan club, and your explicit campaigning for candidates, square with the non-partisan responsibilities of a supervisor of elections?



6. Supervisor Weeks's tenure was characterized at times by a combative relationship with the county commission. Assess that relationship, and explain how you foresee relations with the commission over the next four years.
The relations with Supervisor Weeks and the County Commission is just that – combative, and a result of Supervisor Weeks' going out of her way to create confrontations. That relationship can not continue as it is a waste of tax payer time, money, and services. I will improve that working relationship and have already spoken with many of the county commissioners as to what their input is in regards to what they would like to see from the Elections Office. In addition, I have already spoken with other officials as to how their offices and the Elections Office can better work together to improve services and communications in joint efforts (at times) for residents which would also result in better service at less cost.

7. How can the public be sure that the machines used to count votes are not rigged or played with to affect the outcome?
Florida Statute 102.141 outlines specific rules for the Canvassing Board and public inspection of voting equipment prior to voting taking place. Again, due to the lack of communication and education of the public from our Elections Office many residents are not even aware that these meetings take place and are open to the public. I will make sure the public is aware. The bottom line is that voters should be able to feel confident their vote is being cast and counted accurately. Voting is our freedom of speech at it's core and I hold that right in the highest regard.

8. Please analyze for us the supervisor's budget: is it adequate for the office's responsibilities? If not, where is it most lacking—what areas of concern must be remedied most—and what will you do to ensure that those areas of concern are remedied, given tight budgets?
I am confident that we can work within the existing budget levels and accomplish even more than we have in the last four years. Supervisor Weeks throughout her campaign highlights having "the lowest budget" (and then later shifted to "the lowest budget amongst comparable counties") as an excuse as to why the Office has deteriorated in communication and service levels since she took Office. I have worked within budget challenges for over two decades and budgets are always dynamic over time. You can achieve a lot even within budget constraints.
Two areas that concern me about our existing expenditures are the high amount budgeted for payroll and related employee expenses, and the lack of financial planning for voting equipment upgrades that are mandatory in 2016. We are currently budgeting for staffing levels that are more in line with counties that are more than double our size. In terms of planning for the future, other counties such as Osceola have made sure to "earmark" funds that have been returned to the county from the Elections Office for the upcoming expense in 2016. Supervisor Weeks speaks of "returning" money but has often asked for additional funds. She has not made any mention of whether there have been agreements for earmarking those funds for future upgrades, and she has paid large bonuses (which she claims were "not bonuses" but "pay withheld") to employees in 2010 in which one employee alone took home $2,257.32 in one pay check. These are examples of how not to be fiscally responsible with tax payer dollars.
9. Please give us an assessment of the current precinct map: Is there room for more precinct consolidation? Do you see a relationship between the contraction of precincts and the drop in turnout?
I agree that we needed to look at and make decisions about the number of voting locations as we are seeing a large percentage of voters now voting during Early Voting times or by Absentee Ballot. But I do not agree with the timing of the decision or the lack of communication. Many voters were frustrated during the Primary Vote because they were not aware of where to go and many showed up to vote at the wrong location. Supervisor Weeks felt that the very expensive mailer should have been enough while voters have been telling her that it wasn't, and she touts a 1 percent gain in voter turnout compared to the 2008 Primary as a positive result. It's not ok to simply blame the voter as Supervisor Weeks has done. The reality is that the result could have been better if the communications were better, on-going, and we had a Supervisor of Elections that is willing to listen to the voters rather than just tell them.

10. We hear plenty of anecdotal tales of voter fraud, but see precious little hard evidence of it, especially in Flagler County, whether under Peggy Border or Kimberle Weeks. Evaluate the issue of voter fraud realistically, in Flagler County: Is it an issue? If so, describe what—if anything—you would do, or have done, to address it.
I am sure you will always have those types of rumors, but as you have stated there is "little hard evidence." So I take those rumors with a "grain of salt." The bottom line is that voters must feel confident that their vote will be counted accurately and, again, I take our right to vote very very seriously. It is my experience that being out in the public listening to voters and being a part of the conversation is a great way to reduce the rumors and be better aware of legitimate issues as well. The voters can be assured that I will run accurate elections, keep them informed of issues, and be accessible to answer their questions or concerns. That includes the being more accessible to the local press.

11. Setting aside statutory restrictions, would you, as a supervisor with a voice that can be heard in Tallahassee, favor lengthening early voting days?
We have seen a growing turnout for Early Voting which would indicate we could look at longer times the polls are open during those days. I agree with Supervisor Weeks that Tallahassee should allow more flexibility as to where Early Voting can be held to provide more convenience to voters. But we also have to keep in mind the expense and assess those costs accurately (i.e. not $300k for an election that only ended up costing less than $100k) to make sure we are not wasting tax payer dollars.

12. One of the Weeks campaign ads states that she was "ranked as one of top Supervisors in the State by the Governor in April 2012." How is that rank achieved? Do you support the governor's method of evaluating supervisors of election within the state that allows each supervisor to self-grade his or her performance. Why, or why not.
Any "ranking" should always assess true performance. This items evaluated were mostly about meeting normal deadlines. Plus, the assessment had to do with an election that had one of the lowest voter turnouts in our County's history mostly to do with confusion among voters. The ranking was obviously not in line with improving results. So I do not support this method as we should always be looking at the important items to assess such as fiscal responsibility, election law compliance, service levels to the community, etc. while identifying the real issues and applying real solutions.

13. On the ballot are 11 verbatim constitutional amendments which are lengthy and worded in legalese. There's not the usual summary to educate voters. What should a supervisor of elections do to ensure informed voter participation?
The first thing is to recognize that this is an issue from a voter's perspective which has not been done. To simply mail out some sample ballots and hope others find the information is not appropriate. Our Supervisor of Elections should be a voice in the community providing more direction as to where to get and even easily download the guide put out by the Division of Elections. This goes back to the solutions I mentioned with voter awareness. Also, because this ballot was larger than normal, Supervisor Weeks should have made sure the printing displayed the correct amount for return postage. Instead in regards to obvious issues with postage she has decided the postage can just be billed to Elections Office at the unnecessary additional expense of tax payers.

14. The following questions were submitted by Kimberle Weeks for Trey Corbett, with his answers:
iii. Do you believe your participation in club politics, responsible for disenfranchising 75 percent of Flagler County voters in the 2012 primary election indicate that you cannot be trusted by the majority of voters to be fair and impartial—which is a requirement of this office?

I am proud of my involvement in multiple civic organizations throughout Flagler County. I believe that my involvement in these civic organizations such as the Flagler County Relay for Life and the Flagler County Realtors Association, among numerous others, has uniquely prepared me to to lead the Supervisor of Elections Office because this involvement and the leadership roles I have been asked to accept within them have shown that I can work with people from all areas of our community to achieve a common goal. When I am elected Supervisor of Elections I will continue to work with ALL of the citizens of Flagler County to ensure that everyone is treated fairly and impartially; further I will work to ensure that elections operate smoothly with the support and cooperation of civic and community leaders and organizations. As these organizations have ALL followed the law, I find the premise of this question inaccurate; although I hope this still answers it to the voters satisfaction.
ii. You are the plaintiff in an injury case that is open with the Flagler Clerks office, where you are seeking substantial funds from an accident where you claim you are suffering from disability, disfigurement, loss of capacity for the enjoyment of life, loss of the ability to earn money and losses that are either permanent or continuing in nature. With these injuries and the trauma that you have sustained, why should the voters elect you into a position where long hours, heavy lifting and constantly being on your feet is a requirement of the job? Are you capable of handling this position physically, mentally and emotionally? If so, are you not being entirely truthful in your lawsuit and if you aren't being truthful, can the voters trust you to conduct honest elections?

First and foremost I thank God for the amazing medical and rehabilitative care available in our community which have helped me recover from the horrific accident I was involved in several years ago. Unfortunately, since this is a pending legal issue I am not able to comment on the ongoing issues that are in dispute in the case. I can assure my opponent and the citizens of Flagler County that I am fully capable of handling the physical, mental and emotional stresses that come with the duties of being Supervisor of Elections. I have demonstrated these capabilities during the primary campaign and during this general election campaign—while managing a local business full time. The voters of Flagler County know my trustworthiness and understand that in auto accidents people are allowed to get better and that the only reason that my opponent is bringing this up is to cover up her dismal record as Supervisor of Elections.
iii. In every forum, your main platform is to scrub the voter rolls. Being a prime example, how would you prevent other residents in Flagler County, from voting in one precinct when they live in another, as you have done, and what do you think the consequences should be for those as yourself that have done so?

My main goals once elected Supervisor of Elections are improving the currently dismal voter turnout, improving the fiscal responsibility and financial management of the Supervisor of Elections office, and running an office focused more on the voter's of Flagler County than on infighting with the County Commission. As for my personal voting history, I have always been in compliance with the laws of the State of Florida and have always acted within the advise of the Florida Division of Elections. My opponent and her supporters have filed numerous complaints against me alleging violations recently but thus far I have been vindicated in all of them. My opponent wants to distract the voters with these non-issues such as a personal injury suit because she hopes that the voters will get distracted and not notice the shortcomings of her office. When elected my goals will be improving the fiscal responsibility and financial management of the Supervisor of Elections office, and running an office focused more on the voter's of Flagler County than on infighting with the County Commission.