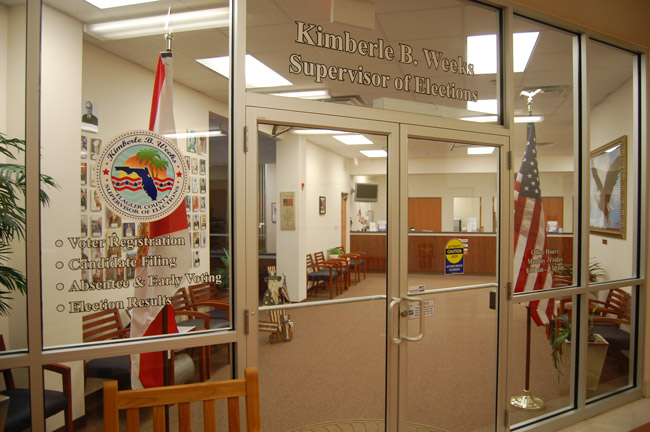 Last Updated: 6:41 p.m.
Democrat Kimberle Weeks may have Republican Gov. Rick Scott to thank for the biggest official boost to her office, and in an election year no less: Weeks's is among 13 supervisors of elections offices across the state that have scored 7's (out of a perfect 8) in a controversial ranking system Scott released on Thursday. Weeks is almost certain to use the results as vindication of her office–and her tenure–after nearly four years of conflict with the Flagler County Commission over her budget and confrontational style.
Weeks's office is shown to have posted January primary election night results early and met six other criteria (including completing the governor's survey) early as well.
But supervisors of Elections from around the state are objecting to the survey, which scored them exclusively based on the January presidential primary, and which was conducted by a branch of government–the governor's office–that has no authority or oversight responsibility over supervisors of elections.
Writing for the Florida State Association of Supervisors of Elections, Escambia County Supervisor of Elections David Stafford, a Republican, said the measurements don't accurately reflect how good the supervisors are at their jobs – and that the supervisors didn't learn the purpose of the questions they were asked until the Division of Elections put out the results.
Stafford said the supervisors had urged Secretary of State Ken Detzner not to publish the results.
Weeks was contacted for comment Friday morning. A reporter was told she had just left the office, but would likely answer questions put in writing: it has been Weeks's habit not to speak to reporters directly, unless they happen to see her in her office, but to answer questions by email. Later Friday, Weeks apologized for not being able to take the call earlier and provided extensive answers to written questions.
"Our office is proud to accept recognition for the recent survey," Weeks wrote. "Despite the controversy surrounding the survey and the methodology that other supervisors are expressing criticism for, I am extremely proud of the elections staff, volunteers, and poll workers for their hard work; not just for the recent Presidential Preference Primary election, but for the nearly dozen other elections that have been conducted flawlessly throughout my term."
Weeks welcomed the rankings as vindication of her office's work. "The exceptional work of our office has often been overshadowed by negative coverage despite our flawless election record," she wrote. "Since taking office in 2009, it appears to me that my office has not always been depicted in the most flattering light, so receiving accolades is a welcomed breath of fresh air. It is hopeful that this "breath of fresh air" will remind the voters of Flagler County why they elected me to this office nearly four years ago, and that I will continue to serve them with the same quality service if reelected this year."
And Weeks echoed the skepticism of fellow-supervisors regarding the survey's methodology: "I cannot speak on behalf of the other supervisors, however I will say that all of our duties and responsibilities cannot be measured by merely by one survey. A survey of this kind has not been administered in years past, and with or without the high praise from the survey results our office has received we would and we will continue to perform at the highest possible level."
Stafford reminded Scott in a sharply-worded letter sent Wednesday that the governor doesn't actually have much control over the supervisors – they're constitutional officers who are elected independently. And the measurements are flawed, he said.
"Unfortunately, the items used in the survey are not, by themselves, true indicators of a supervisor of elections' office," Stafford wrote. "Furthermore, the data is flawed in certain instances, thereby yielding a result which is inaccurate…."
Stafford said the survey – if used to produce a public ranking of each supervisor – "has the potential to undermine confidence in Florida's elections, which we work tirelessly to instill in the public.
"As you are well aware," Stafford wrote, "we are responsible for carrying out our duties and the citizens and voters in our counties are the persons best able to evaluate that performance."
The rankings are hard to decipher, but include seven metrics, such as when results were first uploaded on election night, when early voting dates were announced and when absentee ballots were mailed. An eighth "extra credit" category was for returning the survey early.
The rankings went from 1 point for submitting a particular type of data early to negative 1 for submitting it late, and negative 2 for not submitting it at all. For submitting data "on time," but not early, counties got a 0.
While no county supervisor got the maximum score of eight, several registered a seven. Several supervisors scored at each level all the way down to three counties that received scores of negative 4, the lowest recorded. Those were Brevard, Palm Beach, and Seminole counties.
While the scores made it out – the state sent them to supervisors this week and they were subsequently leaked – Scott's office said they won't be used for the moment.
"Gov. Scott has been briefed on the letter from the supervisors of election and agrees to give this issue additional consideration," Scott spokesman Lane Wright said. "We will wait to post anything online until he's had time to evaluate the concerns."
While the survey came from Detzner's office, Stafford said officials told the supervisors that Scott was driving the measuring effort.
"It was made clear to us that the survey and ranking were initiated out of the governor's office," Stafford said in the letter to Scott. "We have requested a meeting with your office to discuss our serious concerns on this issue on numerous occasions over the past several weeks, but have yet to receive a response."
In addition to the complaints from the supervisors, Democratic lawmakers also criticized Scott on the survey.
"Gov. Scott still hasn't figured out that there are limits to his authority," said Rep. Rick Kriseman, D-St. Petersburg. "Florida's elections supervisors deserve support from statewide officers and they shouldn't have to succumb to meddling by the governor. I am confident that county elections supervisors are willing to participate in meaningful surveys, but I am sure they are opposed to the governor meddling in and undermining both their work and the confidence of voters."
–FlaglerLive and the News Service of Florida