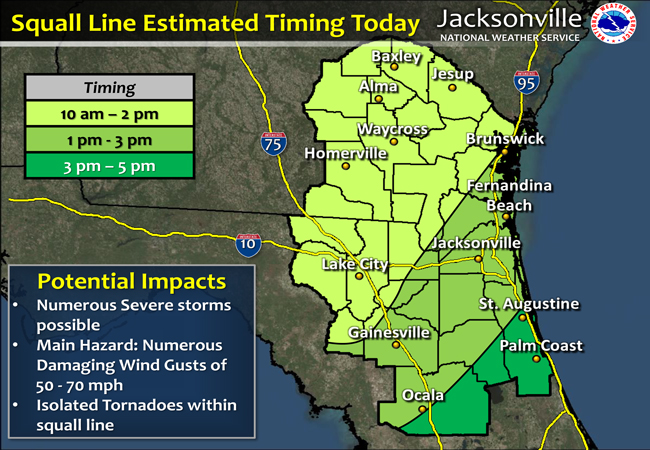 Last Updated: 2:45 p.m.
Update: a severe thunderstorm warning was issued for Flagler effective until 3 p.m. Friday. The storm was moving northeast from Bunnell at 40 mph with 60 mph wind gusts and could cause damage to roofs, siding and trees. The same squall line has been advancing from the west, downing trees in Alachua and Palatka counties.
Expect rain in Flagler until around 6 p.m.

Earlier today:
The Storm Prediction Center is projecting an "enhanced risk" of severe storms for the majority of northeast Florida today, with Flagler County in the squall line mostly between 3 and 6 p.m.
The most severe weather is predicted to hit further inland north and west of Flagler.
"Many areas could see winds of 40-50 mph with the squall line but some localized areas could see winds gust as high as 50-70 mph. There is a lesser risk of the odd tornado," Bob Pickering, Flagler County Emergency Management's weather specialist, said.
Widespread rain totals of about 1 inch with locally higher amounts of 2-3 inches may lead to ponding on roads and localized minor flooding.
Overall Friday will be a breezy to windy day with gusts up to 40 mph possible away from the storms, Pickering said.
The front is part of a larger weather system extending across the eastern part of the United States up the Mid-Atlantic states. Friday morning the storms were severe in parts of Georgia, Alabama and the Florida Panhandle, prompting a few tornado and severe storm warnings and downing trees. On Thursday, the Weather Channel said there were nine reports of tornadoes in Mississippi, but limited destruction. The same weather system had spawned a few tornadoes in the Texas Panhandle and southern Kansas on Wednesday.
A few recommendations locally: Take time to secure any lightweight items that could be blown about. Stay up to date on current forecasts and watches and have a way to get warnings. Organizations with outdoor events should closely monitor the weather and have a plan in case hazardous weather approaches their location.
NWS Coastal Forecast Flagler County: https://forecast.weather.gov/MapClick.php?zoneid=FLZ138
NWS Inland Forecast https://forecast.weather.gov/MapClick.php?zoneid=FLZ038
NWS Jacksonville: https://www.weather.gov/jax/
Latest NWS Update: https://www.weather.gov/media/jax/briefings/nws-jax-briefing.pdf
Storm Prediction Center: https://www.spc.noaa.gov/
Make Sure you are signed up for Alert Flagler: http://www.flaglercounty.org/alertflagler/
Social Media: https://www.facebook.com/FlaglerEOC

The Latest Weather Briefing from the National Weather Service Jacksonville: