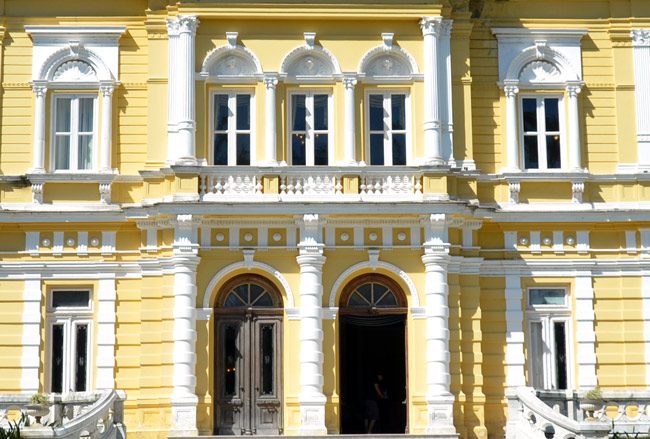 It was barely two years ago that Flagler County government succeeded in returning the authority to regulate short-term vacation rentals to county government. It took the county three years of battling. The state a few years earlier had taken away that authority—"pre-empted" it is the technical term—to the dismay of many residents in the Hammock who felt overrun by vacation-rental tenants.
Now, the state may take away that authority yet again. A pair of identical one-page bills (Senate Bill 188 and House Bill 425) are making their way through the Legislature to essentially scrap much of what the Legislature had approved in 2014. The bills would forbid any local government from "restrict[ing] the use of vacation rentals," or regulate them "based solely on their classification, use or occupancy."
County commissioners are mobilizing to fight again, as are Hammock residents, as are supporters of vacation rentals, among them many local property owners who benefit from using their houses to those ends.
But this time the scene for proponents of local regulations (that is, opponents of state interference) is very different. They're without two key allies, both of whom had worked hard to push through the 2014 legislation favoring Flagler County.
One was Frank Meeker, the late county commissioner who died last July. Fighting to return regulatory authority of short-term rentals to the county was one of Meeker's signal achievements. The other was John Thrasher, who in 2014 was the powerful senator who represented Flagler, and without whom the legislation would likely not have passed. Thrasher is no longer in the Senate. He's president of Florida State University. He's been replaced by Travis Hutson, the St. Johns Republican.
Hutson was a House member when the vacation-rental legislation passed. But Hutson, a friend of the vacation-rental industry weakened the Senate bill as it was reconciled with the House's. And now, Hutson, as a senator, may want to weaken that regulatory authority again. Hutson was once roommate to Rep. Mike La Rosa, the St. Cloud Republican. La Rosa, who chairs the House's Tourism and Gaming Control subcommittee, is sponsoring the House legislation that would thwart local authority of short-term rentals.
Flagler County Commissioner Greg Hansen discussed the bills with Hutson and "told him in no uncertain terms," Hansen said, "that we want this killed. And he said no, that he would try to reach a compromise. And I think that's dangerous."
The county commission was surprised to find ityself in that position again, and to have to let its legislative delegation—Hutson in the Senate, Paul Renner in the House—that it was opposed to the proposed legislation. "We thought it was an understood thing since we fought three or four years ago and were the champions throughout the state," County Administrator Craig Coffey said, "that we wouldn't have to come up and actually tell them our position. They should instinctively know."
Apparently they didn't, or conveyed to the county that they didn't. The county commission approved a resolution reminding them where Flagler stands, to—in Coffey's words–"put an exclamation point on it and to really claim our position again and state it in black and white to them, with no uncertain terms: this is our position."
The resolution calls local regulation "essential for the protection of single family and duplex neighborhoods," where Flagler's regulation prevails, and states that "there has been no demonstration that Flagler County should be deprived of its constitutional home rule powers, or specifically its land use development powers, or its general powers to protect the health, safety and welfare of its citizens."
A pitched battle between two factions of property owners in the Hammock started five years ago. There were those who loved vacation-rental properties and those who hated them. There were those who turned their big mansions into mini-hotels as a way to stave off having to sell the mansions at a loss, after building them during the housing bubble of the 2000s. And there were those who lived next-door, who thought they'd bought their house in a residential neighborhood, only to be faced with noisy revelers.
The Legislature had created the issue when it passed a law forbidding local governments from regulating short-term rentals. The law was intended to help property owners who were on the verge of losing their houses, though in fairness, numerous property owners also built their homes with vacation rentals in mind. It is a business-"a cash cow," as Commissioner Ericksen put it, and one that does contribute handsomely to Flagler's tourism surtax.
Five years ago those who didn't like vacation rentals complained to the county commission, seeking relief. The county commission turned to its representatives in Tallahassee—Thrasher and Hutson—and won relief. The new regulations went in effect in 2015, and subsequently, mostly, survived a court challenge.
Those are the regulations that are now in danger of getting scrapped.
"What these bills would do would be to completely tie our hands," County Attorney Al Hadeed said, even though Flagler's current "regulatory touch is very moderate. We are addressing in single-family neighborhoods and duplex-family neighborhoods. It's not a greater swath than that, and we concentrate it in an area where it would likely have the most deleterious impact on single-family neighborhoods." If the state has its way, Flagler would end up with "unrestrained short-term vacation rentals that could produce nuisance-type problems in a community, and we would have no effective, and no practical means, or an ability to address those problems," Hadeed said.

Legislative Analysis: The Vacation-Rental Bills (2017)