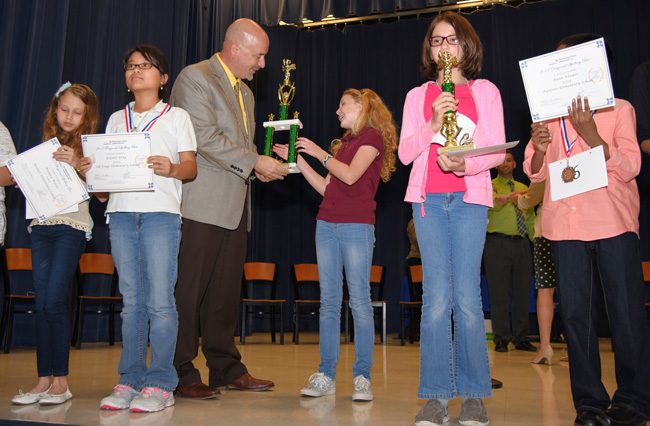 It's looks like a piano but sounds different, more plucky, is a much older instrument and is a little more difficult to spell. But Indian Trails Middle School 8th grader Sarah Flannery had no trouble spelling harpsichord Thursday night (Jan. 19).
After 16 rounds, it was Sarah who earned the title Flagler County Spelling Bee Champion. Madison Bernhauser, a 6th grader at Old Kings Elementary School was the runner-up.
Top spellers from across Flagler County gathered at Wadsworth Elementary School Thursday night to take part in the Spelling Bee. In all, 16 students in grades 5-8 competed (see below), representing the five elementary, two middle schools as well as Imagine School Town Center.
Sarah will now represent Flagler County in the 73rd Annual Regional Spelling Bee hosted by the Florida Times-Union. It will be held in Jacksonville next month. The winner of that competition will then go on to the Scripps National Spelling Bee, held in the Washington area in spring.
The following students, each of whom won or was a runner-up at his or her school's competition, were participating:
1. Maddison Bernhauser, Grade 6, Old Kings Elementary
2. Brayden Bower, Grade 5, Belle Terre Elementary
3. Schneald Castor, Grade 7, Imagine School at Town Center
4. Sebastian Coito-Azevedo, Grade 6, Wadsworth Elementary
5. Sarah Flannery, Grade 8, Indian Trails Middle School
6. Stanley Gatzek, Grade 5, Bunnell Elementary
7. Glynnis Gong, Grade 5, Old Kings Elementary
8. Alisha Jageswar, Grade 6, Rymfire Elementary
9. Ryan Khadoo, Grade 5, Rymfire Elementary
10. Javier Munoz, Grade 8, Buddy Taylor Middle School
11. Kaylee Nevico, Grade 5, Wadsworth Elementary
12. Iysis Nickell, Grade 7, Indian Trails Middle School
13. Lily Puritis, Grade 5, Imagine School at Town Center
14. Kenidee Rabenstein, Grade 7, Buddy Taylor Middle School
15. Brianna Wilson, Grade 6, Bunnell Elementary
16. Shawn Zhudro, Grade 6, Belle Terre Elementary