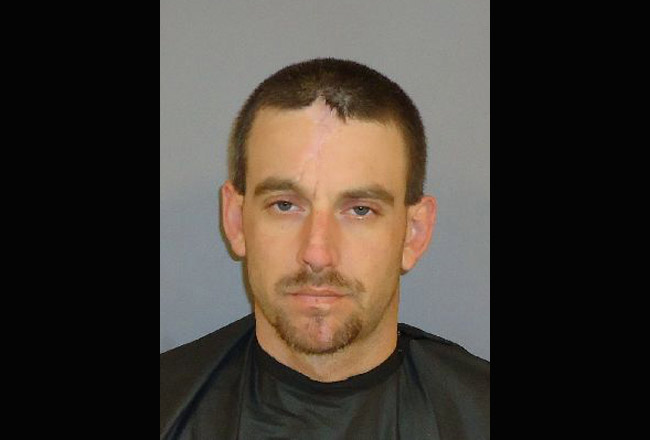 The early morning of Dec. 19, a white man covering his face with his shirt entered the Mobile station's convenience store on Palm Coast Parkway, near the Palm Harbor shopping center, walked up to the counter, and demanded money from the store clerk.
Samantha Baxley, the 38-year-old female clerk, refused. "Don't make me use it," the man said, suggesting that what he was covering under his shirt was a gun. "Use it if you have to," Baxley replied. She did not hand over any money.
The man left the store. Baxley called 911 and went outside to see where the man had gone. She provided a complete description of the man and what he was wearing, down to the light colored cargo shorts, the tattoo on his outer right calf, and the scar on his forehead, near his hairline.
The Flagler County Sheriff's Office announced today that William Cory Hall, 35, of 32 Woodbury Drive in Palm Coast, was arrested Friday morning in connection with that attempted robbery. The arrest took place following a traffic stop on Redmill Lane, shortly after detectives observed Hall driving away from his home. Detective Roger Spires initiated the stop, according to a sheriff's release, after he watched Hall walk out of his house and get into his vehicle.
It's not clear how detectives connected Hall to his address, enabling the surveillance that then led to his arrest, or what the traffic stop was about. There were no independent witnesses to the would-be robbery, but the convenience store had a video surveillance system which showed the man entering the store, and an evidence technician retried a DNA sample from the outside door handle.
Hall's mugshot shows a scar on his forehead, near his hairline. He is charged with robbery, and is being held on$25,000 bond.

In an unrelated incident, 15-year-old Aatif Mims of 2 Webb Place in Palm Coast was arrested and charged with third degree felony arson, loitering and prowling and violation of probation after he was discovered smelling of smoke and possessing a lighter in the same area where four small fires had just been reported.
Mims is the second participant in Flagler County schools' mentor program for at-risk students to be arrested on a felony charge in the last two weeks. On Jan. 15, a student at Matanzas High School was accused of raping a 14-year-old student there.
Deputies began receiving calls about brush fires around 7:24 p.m. in the W Section, the first one near Webster Lane. Firefighters were dispatched and put out what had originally been reported as a brushfire, in the yard of a Webster Lane home. While there, the same firefighters had to respond to two other calls in the same area.
Four hours later, yet another fire was reported in the area of Wellington Drive. At that time, the sheriff's office reports, and based on the number of fires reported, the Safe Neighborhood Unit was mobilized. Around 12:46 a.m., deputies located Mims near the fires.
After questioning by deputies, Mims was charged. "This teenager put the lives and property of people in this neighborhood in jeopardy. We are fortunate these fires were extinguished quickly and that we were able to make this arrest," Flagler County Sheriff Jim Manfre said.
The teen was booked into the Flagler County jail before being transferred to the Division of Youth Services in Daytona Beach.