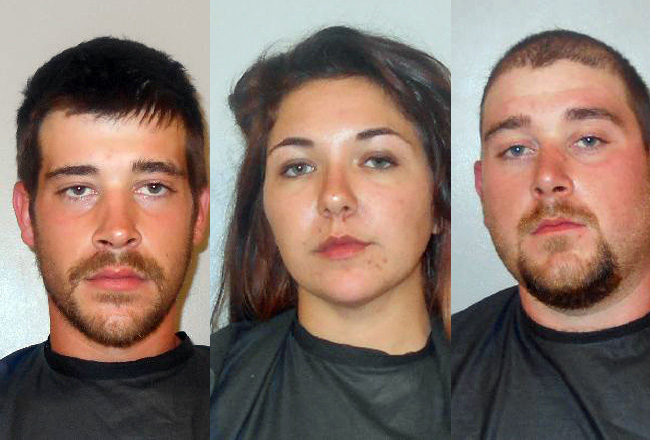 By the time the confrontation over an alleged road rage incident on Belle Terre Parkway was over Sunday evening, three Palm Coast and Bunnell residents in their 20s—Samantha Smith, 25, of Pine Hill Lane, Zachary Parsley, 22, of Ulaturn Trail and Tyler Parsley,23, of Old Moody Blvd.—were at the Flagler County jail on a variety of battery or assault charges.
But based on how sheriff's deputies reported the three white alleged assailants' attack on four black men, the confrontation was as much about racial hatred as road rage.
The four individuals at the receiving end of the alleged attack were a 17-year-old boy, 18-year-old Tyrik Christie, 18-year-old William Wallenberg and 19-year-old Dandley Jean-Louis. All are Palm Coast residents.
According to the account the four related to police, they were all in Jean-Louis's vehicle on Cypress Point Parkway in Palm Coast, a little before 9 p.m. Sunday, when "a white truck swerved in front of them and cut them off." Jean-Louis honked his horn. Both vehicles then turned onto Belle Terre Parkway.
As the two vehicles drove south, the white truck pulled up alongside Jean-Louis's vehicle and the occupants of the white truck allegedly began flicking off Jean-Louis and his friends. Then Smith leaned out of the white truck and allegedly threw a beer can at Jean-Louis' car. The can hit the car. Jean-Louis pulled over. So did the white truck.
Occupants of the white truck first got out, according to the arrest reports, and started yelling epithets such as "Fuck you nigger." The four individuals in Jean-Louis' vehicle then got out, and the two groups started fighting.
Zachary and Tyler Parsley "immediately attacked" the four individuals, the police report states, with each man swinging in attempts to hit the individuals. When the two groups began to separate, Zachary Parsley, the report states, "pulled a blue Kobalt collapsible box cutter out and began swinging it at the four subjects," while allegedly making threats such as "I'll kill you niggers." At the same time, Tyler Parsley reached into his waistband, allegedly threatening, "I'll shoot these niggers." But he never brandished a firearm.
Smith was also involved, allegedly grabbing the glasses off of Jean-Louis' face, striking him in the face and throwing the glasses across the road. Smith then "reentered the truck," the report states, "and began backing it up towards the other vehicle, at which time [Jean-Louis] entered his vehicle and moved it before it was struck." Then  the two other men got back in the white truck and "fled the scene."
Other deputies soon located the white truck. When they pulled it over in a parking lot on East Moody Boulevard, Smith asked a deputy whether they were being stopped because of the fight they were just in. Deputies searched Zachary Parsley and found the box cutter, which matched the description the victims on Belle Terre had provided.
The trio was arrested. Zachary Parsley faces a charge of aggravated assault with a deadly weapon, a third-degree felony. Tyler Parsley was charged with aggravated assault domestic violence, a third degree felony. Smith was charged with battery, a first degree misdemeanor, and throwing a deadly missile into an occupied vehicle, a second-degree felony.
All three were given a notice to appear at a felony arraignment on Dec. 9 at 8:30 a.m. before Circuit Judge J. David Walsh and released without bond. Smith is on pre-trial supervision.
The sequence of events up to the point of confrontation was similar to a road rage incident on U.S. 1 in March 2013 between an ex-Flagler Beach cop and a current Flagler County firefighter, entailing taunts on the highway, the firefighter throwing a jug of water at the ex-cop's car, the two vehicles pulling over—and the ex-cop, Nathaniel Juratovac, shooting the firefighter and wounding him twice. Juratovac is serving four years in prison for attempted murder. The firefighter, Jared Parkey, who recovered and has long been back at work, is on two years' probation  for throwing "a deadly missile."
A Sheriff's Office spokeswoman told the Palm Coast Observer, which first reported the story, that the attack was not racially motivated. "It was just one person getting angry at another person, and they happened to be of a different race," Paula Priester said.
Priester was asked by email how the repeated use of nigger, as threats and insults, not be considered racially motivated, and whether the Sheriff's Office usually accepts the use of hate language as mere expressions of "anger." Priester did not respond.
Bob Weber, Manfre's chief spokesman, did not respond to emails and phone calls referring to the same questions. On Thursday, spoken to in person, Weber gruffly refused to address the matter and, before saying "this conversation is over," said he didn't have to answer any questions, citing advice from Sid Nowell, the sheriff's attorney.