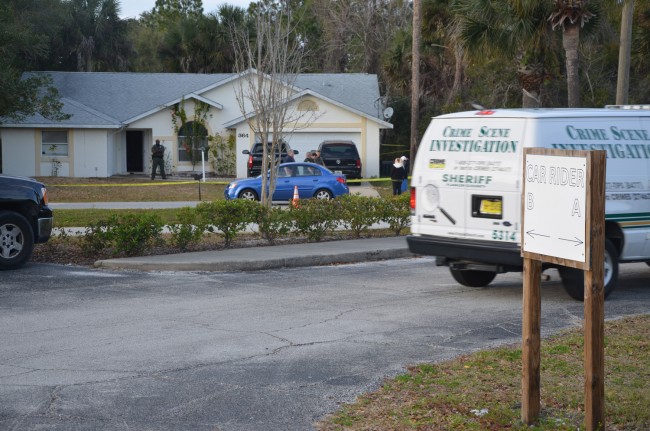 Last Updated: Tuesday, 12:48 p.m.
Note: An account and audio of the 911 call are posted here.
An 18-year-old Palm Coast resident shot in the chest Tuesday afternoon with an AK-47 at a house on Parkview Drive, across the street from Wadsworth Elementary, in an apparent accident. The school by then had let out, though the nearby playing field was cleared of people to enable an emergency helicopter to land and evacuate the victim.
The victim was identified as Shane Huber.
"We transported somebody that was shot in the chest," Don Petito, Flagler County's fire chief, said, noting that as of now the shooting is believed to have happened with a long rifle. The weapon turned out to be an AK-47 the sheriff's office identified as a Romanian-made .762X39 mm rifle. The AK-47 is the world's most popular assault weapon. Bullets have a range of up to 1,000 yards.
Paramedics initially believed Huber was 17. Sheriff's investigators later said he is 18. Huber was stable as he was being evacuated, ranking 15 out of 15 on the GCS, or Glasgow Coma Scale (GCS), with 15 being the better end of the scale. At close to 8 p.m., the sheriff's office was listing his condition as "unknown at this time."
"The victim apparently was in possession of some type of long rifle," Cmdr. Steve Cole, who heads the sheriff's investigative division, said at 6 p.m. in an interview. "He was showing it to his friend, his friend thought it was unloaded and pulled the trigger and shot his friend." The friend is Brandon Williamson, also 18.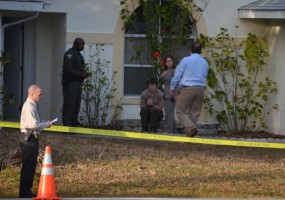 "There's a lot of unanswered questions we're trying to get to the bottom of," he said, such as whether the gun is legal. There were no other weapons in the house, though investigators were still at the scene.
The shooting took place inside the house at 4:11 p.m. at 364 Parkvew, the last house on the north side of the street before it intersects with Belle Terre Parkway. The house is directly across from the car riders' lines in the north parking lot of Wadsworth Elementary. The house is not homesteaded and belongs to owners who live in Pennsylvania.
Tuesday, the sheriff's office released a fuller incident report on the shooting. It indicates that Williamson answered the door when deputies first arrived (and secured a dog that wa sin the house). "Shane Huber was observed to be alert and consci[ous], lying prone on his back on the living room floor. The[] firearm that Brandon advised Shane was shot with was located on the living room floor near Shane, with the magazine next to it. Deputy [Alfonzo] Dillard applied basic medical attention to Shane until medical personnel took over. Brandon was told to be seated against the wall and was later moved into the kitchen area while medical personnel were attending to Shane."
The report continues, referring to the landing zone in the nearby playing field that had been designated for Flagler County Fire Flight, the emergency helicopter, for Huber's evacuation: "I spoke with Shane while enroute to the landing zone and he advised that Brandon and he took the firearm out of Shane's room into the living room to look at 'the internals.' Shane then went back into his bedroom and upon walking back out, he 'heard a bang.' When asked if he saw how Brandon was holding the firearm, he advised that he was looking at his feet. Shane further advised that they had not been arguing and that they are best friends. Shane stated that he smoked marijuana, but Brandon did not."
Huber then asked that his aunt on Palm Coast's Pepperdine Drive be contacted and informed of the incident. Huber's aunt then contacted Huber's father, who said he'd respond directly to the hospital in Daytona Beach.
After the shooting, Williamson sat outside the house, guarded or looked over by one or two deputies, for 20 to 30 minutes until he was driven away in an unmarked law enforcement vehicle at 5 p.m., going north on Belle Terre Parkway. Williamson was not in any form of restraints, but his hands were bloody. Cole said he was taken to a different location for questioning, but was not under arrest.
The house itself was rimmed with yellow crime-scene tape as several detectives and deputies milled about inside and outside the tape perimeter.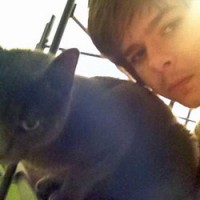 The sheriff's Crime Scene Investigation unit arrived at the scene at 5 p.m. The victim arrived at Halifax hospital in Daytona Beach at 4:53 p.m.
Huber, who has attended Palm Coast High School, had only a single visible "like" on his Facebook page Tuesday: for Mikhail Kalashnikov, the late Soviet general who designed the AK-47, for whom the weapon is named. Williamson's Facebook page features memes derogatory to law enforcement or government, images of weapons or posing with weapons, and numerous memes derogatory of gun control. His profile picture, changed last October, shows Williamson in nature in the foreground with a broad smile while a man is keeled over in the brush, face down, in the background. The image appears to have been taken at a Civil War reenactment battle. Tuesday morning, after a Jonathan Williamson, through a Facebook message, threatened FlaglerLive with a lawsuit over the descriptions of the Facebook page items, most of the page–preserved in a capture here–was removed from public view.
Though no charges have been filed, the sheriff's office says if anyone has information about this incident, please contact Crime Stoppers at 1-888-277-8477. You may remain anonymous and may be eligible for a reward of up to $1,000.