The following incident and arrest information was compiled using official documents, reports and affidavits obtained from government and law enforcement agencies. This feature is not inclusive. It is a sampling of reported incidents in the Flagler County area. Note: The U.S. legal system provides the presumption of innocence to those charged with a crime until guilt is proven in a court of law.
The previous crime report is available here.

String of Car Break-Ins at the Flagler Auditorium, Frieda Zamba Pool, Panera and Other Places
It was a nearly 24-hour spree that targeted a dozen cars in a half dozen places. No suspect was caught.
Three cars parked in front of the Flagler Auditorium were broken into the evening June 16. A leather bag was stolen from one car belonging to a woman who was there for a dance recital. The leather bag was in the back passenger side seat. The back passenger side door's window had been shattered. There were a lot of vehicles in the parking lot as a deputy began investigating. While searching the area, the deputy observed several pieces of paper on the ground and collected five bank transaction receipts from Bank of America and one check for $350.00. Some 20 feet away from the first victim's car, the deputy saw another vehicle that had been broken into, its front passenger side window shattered. The victim's work computer had been sitting on the front passenger seat, the victim believed. No evidence was collected from that vehicle. The deputy received information about yet another car break and that the victim was parked in front of the auditorium along the side of the building. That vehicle, too, had its window shattered. Several Bank of America transaction receipts were sitting in the center console area of the vehicle in plain sight.
The same day–June 16–that break-ins were reported at the Flagler Auditorium parking lot, and within the same time frame, a Buick was broken into–its driver-side window smashed in–and a purse was stolen while the car was parked at Frieda Zamba pool. The victim had arrived at the pool at 2:30 p.m. The purse was left on the passenger side floorboard. At about 5 p.m., the victim's son went to the car and retrieved something from the purse. But when the victim prepared to leave at 7:15 p.m., she noticed the break-in. The purse contained bank cards, a Social Security card, a wallet, a driver's license.
Same day, a bit later, same story, this time at Panera on State Road 100. A couple was having dinner inside. The couple's Chrysler was parked along the side of the building. They went in at 7:15 p.m. When they returned to the car at 8 p.m., they noticed the back passenger side window smashed out, and a safe missing from the car. The safe contained $2,000 in cash, several car titles, and a birth certificate. The safe had been left on the back passenger side floorboard.
Same day, same story at St. Joe's Walkway on Palm Harbor Parkway, where a Toyota's rear passenger side window was smashed in, and a purse, which had been left on that side's passenger seat, was stolen, along with credit cards and health insurance cards. Identical cases were reported earlier that afternoon, around 3:10 p.m., at the Indian Trails Sports Complex parking lot, where a 2008 Toyota Highlander's rear passenger side window was smashed in during a lacrosse game, and a leather purse stolen. And where a Nissan's driver side rear window was smashed out and a purse stolen, with bank cards, a smart phone, a computer access card and other items.
The spree appears to have begun that morning: at 10:55 a.m., a deputy–the same deputy who ended up responding to many of the break-ins the rest of the day–responded to 146 Palm Coast Resort Boulevard where the front passenger window of a Kia Spectra had been smashed in while the car was parked in the first floor parking garage. A leather wallet was stolen.
Same day, almost same story on Jungle Hut Road in the Hammock, where a woman reported her purse was stolen from her car, parked at the Jungle Hut Road beach parking lot, while the victim was at the beach. The car in that case had been left unlocked. No windows were smashed.
The previous day–June 15–the same modus operandi was used at Waterfront Park in Palm Coast, where a Honda's front passenger window was smashed out, and a purse that had been left on the floorboard, under some white plastic bags, was stolen, along with $80 in cash, credit cards, a cell phone and a check book.
An Arrest for Prowling Around an Air Conditioning Unit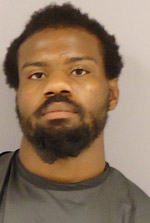 On June 19 a deputy responded to 31 Ryecrest Lane in Palm Coast on a report that two men were attempting to steal an air conditioning unit. The deputy saw a white Toyota pickup truck backed into the driveway at that address. James Pierre-Louis and Gary Pierre-Louis were in the truck. They initially stated they were waiting for their friend Ben who lives at this address. The deputy then spoke with a witness who said that at about 8:15 that evening she was walking her dog on Ryecrest Lane when she saw a black male wearing green shorts, no shirt, with a goatee (a description that fit James Pierre-Louis) on the left side of the vacant home at 31 Ryecrest. She saw that the air conditioner had been taken apart and most of it was gone. She did not actually see him touching the air conditioning unit. The male stopped when he saw her and then began walking across the street to the white Toyota pickup truck. The other black male was sitting in the driver's seat of the Toyota and stayed put. The deputy checked the air conditioning unit, which was found to have been taken apart, though everything was still in place, if in pieces. A black steak knife was found next to the air conditioning unit and was placed into evidence. Tools were observed in the bed of the truck in plain view, though no parts of the air conditioning unit were observed inside the back of the truck. James initially told cops he never left from the driveway and was just standing outside of the truck. He was placed under arrest for loitering and prowling due to a witness "observing him being in a place or manor not usual for law abiding individuals under circumstances that warrant a justifiable and reasonable alarm or immediate concern" for safety or property, according to a police report.
Underage Drinking Party on Brigadoon
Cops responded to an under-age drinking party at 57 Brigadoon Lane in Palm Coast on June 20. About 30 people were in attendance, half of them under age, according to a sheriff's report. "You have no fucking right entering my house without a warrant," the 17-year-old host initially told a deputy. She was taken into custody. All guests were turned over to parents or guardians. The host's mother was out of state. Cops contacted her by phone. She told cops that the 17-year-old was not supposed to be hosting parties. Five counterfeit $20 bills were also located on the kitchen counter.
Threatening to Slash Her Throat
Just after midnight on June 18 a deputy was dispatched to 1200 Madison Green Circle apartment # 1212 in Palm Coast. Someone had made threats to a 24-year-old woman who'd called 911. That someone was the caller's boyfriend, who was on his way, according to the caller, "to slit her throat," according to a police report. The responding deputy reports: "I arrived and saw a white male walking up to the apartment. I identified myself as a deputy sheriff and he walked over to me. He was identified as Andrew Dandurand," a 22-year-old who reported his address as being at Madison Green Circle, too. "I secured him in hand cuffs and he was padded down for weapons. Andrew did not have any weapons on him. I made contact with his girlfriend/complainant [… who] said Andrew has been drinking all day and was coming over to get some money she owed him. He made threats to her. [The caller] did not want to pursue charges for threats. Andrew wanted his $40 dollars and a cell phone charger for work tomorrow. I stood by while [she] put together a bag with Andrew's belongs, she also wrote him a check for $40 dollars. [She] completed a sworn statement saying she did not want to pursue any criminal charges against Andrew. Andrew collected his belongings and left for the night. No further action taken."
Mischief at Mother Seton Again
The morning of June 18 a Flagler County Sheriff's deputy was dispatched to Mother Seton School located at 4600 Belle Terre Parkway in Palm Coast. John Gulley told the deputy that two fire extinguisher cases had been damaged, and the extinguishers stolen. The fire extinguishers are outside and attached to the wall. One of the damaged cases was inside of a fenced-in area. The other was located near the picnic tables. Gulley said he'd checked the school and didn't find the missing extinguishers. He said the damage and theft had to have taken place on Saturday, June 16, or Sunday. There are no cameras located outside of the school and there was no suspect information. The total amount of damage to the school was approximately $20 worth of glass. Each fire extinguisher was worth approximately $50. Damage to a bicycle was estimated at $20. Last April, the cemetery at Mother Seton was vandalized.
Assault, Battery, Ripped Ears and a Broken Apple Laptop
The incident took place in the earliest hours of June 17 at 19 Blare Castle Drive in Palm Coast's Woodlands. It involved David Arellano, 26, and Jonathan Ellis, 26, roommates at the house. A deputy's report relates: "Both David and Jonathan appeared to be under the influence of alcohol and both admitted to consuming alcoholic beverages throughout the evening. Jonathan stated that David invited a friend "Crystal" over to the residence whom Jonathan does not get along with. Jonathan stated that he has asked David several times not to invite "Crystal" to the residence but David still invited 'Crystal" over against his wishes. Jonathan stated that he told "Crystal" to leave the residence at which point "Crystal" left the residence. Jonathan stated that David and he then became involved in a verbal argument at which point Jonathan broke David's Apple Macbook laptop computer. Jonathan stated that David and he then began tussling and wrestling around with both of them involved in a physical altercation. I observed two quarter size abrasions on Jonathan's left forehead. David stated that during the verbal argument that Jonathan grabbed his Apple laptop out of his hands and smashed it on the ground and then began to step on it and punch it. David stated that Jonathan and he then began physically fighting due to him being "disrespected" by having Jonathan break his laptop. I observed that David's left ear was bleeding and David also had an approximate three inch small scratch on his left elbow. It should be noted that David stated that both of his earrings were ripped out of his ears during the fight. David stated several times that "Crystal" was a witness to the entire incident, however, that she had left prior to law enforcement's arrival on scene. David stated that "Crystal" would be able to confirm his version of events but that he did not have a phone number for "Crystal". I observed that David's laptop was broken with the screen cracked."
The deputy continues: "I then made contact with Sam Andolina inside the residence, who also resides with both Jonathan and David. Sam stated that he observed Jonathan and David "wrestling around on the ground" and that "Crystal" was not at the residence during that time. Sam Stated that he did not know who or what started the altercation just that he had witnessed both of them physically fighting. I then asked David again if Crystal had witnessed the incident due to his sober roommate stating that Crystal was not there during the fight and David then changed his story and stated that 'Crystal had left the residence prior to the physical altercation.' Both Jonathan and David were provided with case information cards and advised to contact the Sheriff's Office this evening if they wished to pursue criminal charges against one another due to both of them being intoxicated and neither being able to fill out a voluntary written statement. It should be noted that Jonathan stated to David in front of law enforcement that he would pay to have the laptop fixed. As of 0330 hours on 6/18/12 I had not heard from either Jonathan or David that they wished to proceed any further with this matter or provide a voluntary written statement."

Other Burglaries, Larcenies and Miscellaneous Issues
The resident at 106 Florida Park Drive reported on June 19 that someone cut the retractable leashes on both his dog, who were on the patio, between 8 and 9 a.m.
Cell phone, driver's license, cash and a purple purse stolen from a Ford Focus at Walgreens on Palm Coast Parkway on June 19 in mid-afternoon.
A physical domestic disturbance required a police response at 19 Rose Pedal Lane at 11 p.m. June 19, but there were no arrests.
Battling neighbors–Elizabeth Colomara, 18, of 10 Slatington Place, Unit B, in Palm Coast, and Jessica Sylvia, 23, of Unit A–reportedly got into an argument over a 25-year-old man and required a police response just before midnight June 20. There were no arrests.
Purse stolen from a Ford Escape parked at the Lehigh Trail parking lot on Royal Palms Parkway and Belle Terre Parkway, on June 20. The rear driver side window was shattered.
A 2007 Nissan Altima reported stolen at 22 Patuxtent Lane in Palm Coast on June 20. The car had been left unlocked.
A 2003 gold-colored Kia Spectra was reported stolen on June 20 at 2 Cambell Court in Palm Coast. Residents there told cops that they had let a 28-year-old woman stay overnight because she was homeless. They suspect the woman stole the car. The woman's identity was not released.
The house at 96 Wood Haven Drive in Palm Coast was reported burglarized sometime between June 17 and June 17, and a Samsung flat-screen television reported stolen.
Trailer reported stolen from 14 Utility Drive, on May 31, where it was stored. A surveillance camera at the scene was not functioning.
License plate decal stolen from a Mitsubishi Eclipse at 40 Ponce de Leon Drive. Larceny reported on June 18.
Home at 246 Bird of Paradise Drive in Palm Coast burglarized on June 17. Shotgun, $100 in change, an Nintendo Wii game reported stolen.
Aaron J. Rogers, 25, of 84 Burning Bush Dr. in Palm Coast, arrested for shoplifting a video game, a paper towel, toilet paper and two 24-pack Dr. Pepper batches at Walmart on June 17.
Lawnmower reported stolen at 58 Pebble Stone Lane in Palm Coast on June 16 or June 17.
Stolen car tag reported at 37 Lloyd Trail in Palm Coast on June 17.
Hoover Steamer, 99 hydrocodone pills and other pills reported stolen at 84 Bradmore Lane in Palm Coast on June 17.
An Acer laptop charger, $55 in coins, jewelry and video games reported stolen at 47 Prosperity Lane A in Palm Coast on June 16.
iPad stolen from a car parked at Dunkin Donuts on State Road 100 on June 15, while the car owner was in the shop. The theft was reported at 11:14 a.m.
A 1.75-litre bottle of rum of unknown brand was reported stolen at 80 Surfview Drive #805 in Palm Coast on June 15.

DUI Arrests
Ashleigh D. Barnes, 28, of 372 Whisper Ridge Dr. in St. Augustine, on June 20.
Barbara A. Cirillo, 33, of 11 Bolling Lane in Palm Coast, on June 21.
Ann L. Livingston, 36, of 313 Cypress Street in Flagler Beach, on June 17.
Nancy A. Crehan Shouldice, 55, of 29 Burning View Lane, on June 17.
Bradford K. Neal, 55, of 12 Bannbury Lane in Palm Coast, on June 16.
Mark S. Hickey, 49, of 15 September Place A in Palm Coast, on June 16.
Giuseppa Bologna, 50, of 2 Greeenbriar Court in Palm Coast, on June 16.