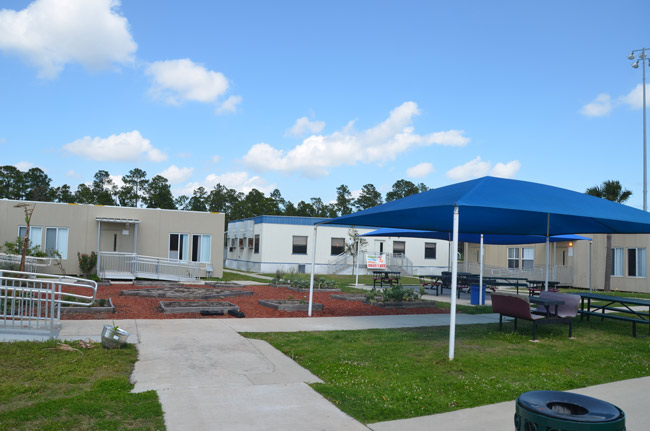 The following incident and arrest information was compiled using official documents, reports and affidavits obtained from government and law enforcement agencies. This feature is not inclusive. It is a sampling of reported incidents in the Flagler County area. Note: The U.S. legal system provides the presumption of innocence to those charged with a crime until guilt is proven in a court of law.
The previous crime report is available here.


A Break-In at Pathways Academy
At 3:30 a.m. on April 14, according to a surveillance video, three unknown white males entered Pathways Academy, the Flagler County school district's school for troubled students, through the area between the Flagler Palm Coast High School softball and baseball fields. The three had covered their faces with their t-shirts, suggesting that they knew the area was under video surveillance, and further suggesting that the three may have been familiar with the campus. The three gained entry to several classrooms. The stolen items–two Mac laptops–were taken from Building #8, Troy Stone's classroom. He stored them in a file cabinet, which was not locked at the time of the theft. The suspects are caught on video removing the screens covering the front windows, then entering through the windows. They did not break the glass, so deputies suspect the windows were unlocked during the school day and not checked by the teacher when he left for the weekend, the police report states. When the three suspects left the room, they made sure they replaced the screens and closed the window to conceal their crime. The combined value of the two computers, which belong to the district, is $1,000. The serial numbers are as follows: 4H64902TWGS and 4H649031WGS. They have Flagler County School Board Property Asset number tags under their batteries. Those numbers are 20782 and 20781, respectively. While deputies were at Pathways, a school radio belonging to Mike Snider, a guidance counselor at Pathways, was located on the FPC campus. Snider could not find it, but did not think it was stolen during the recent burglaries. It was returned to Pathways, then taken to a Florida Department of Law Enforcement crime lab for fingerprinting analysis.
First a Wreck, Now a Burglary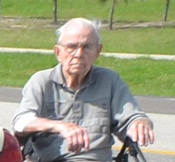 It hasn't been Richard Deeves's month. On April 6, the 88-year-old resident of Bickford Drive in Palm Coast was involved in a wreck when, pulling out of Matanzas Woods Parkway onto U.S. 1, he failed to see an oncoming motorcyclist, who crashed against Deeves's Dodge. The 49-year-old biker, Robert O'Conner, survived, but was flown to Halifax Hospital in critical condition. Eleven days later, Deeves returned a burglarized home after being away several hours. Deeves told cops he'd left in the morning at 8:30. He returned at about 6 p.m. Both the exterior and interior garage doors were ajar. Several items were missing and moved throughout the residence. A SunTrust bank envelope containing approximately $1,036 had been taken from a drawer in the kitchen. A jar filled with pennies had been taken out of another drawer and placed on the counter. Richard's wife, Elinor, had property taken and disturbed in one of the rooms. A copper colored jewelry box was found on the floor and several jewelry items were missing from it, including a pearl bracelet, gold bracelet, and approximately 20 watches. A jewelry chest appeared to have been rummaged through but it did not appear anything was missing. A black wallet containing approximately $500 in cash was removed from a chair inside the bedroom. A silver wallet containing approximately $800 cash in was removed from a black bag that was on the bed. A pocket book was also removed from the bedroom that contained credit cards, Elinor's driver's license, and other miscellaneous paperwork. No prints were located. Neighbors contacted by the deputy neither heard nor saw anything.
Vandalism at Mother Seton Cemetery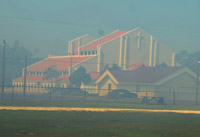 Antonio Valverde at Mother Seton Catholic Church on Belle Terre was notified by one of the priests there that two statues from the cemetery located at the rear of the church were in the front parking lot and one statue in the cemetery was damaged at approximately 7 the morning of April 16. Valverde led a Flagler County Sheriff's deputy to the damaged statue of the Madonna and Child located at the southern entrance to the cemetery. The statue had been broken off at its legs with the base of the statue still atop of the pillar it originally was set on, the deputy's report states. Valverde estimated the value of the broken Madonna and Child statue at approximately $400 to replace. He then led the deputy to the northern entrance of the cemetery, showed the spaces where two statues sat the night before, and led the deputy to the front parking lot where the deputy saw a statue of an apostle and a statue of an angel praying, set atop a pillar on the front sidewalk. The statues were not damaged.
Horse Problems
Flagler County Sheriff's deputy Jennifer Prevatt was on patrol in the area of Coconut Boulevard by Walnut Avenue in Bunnell just before 2 p.m. on April 15 when she saw five horses walking in the roadway in the 2000 block of Coconut Boulevard. Prevatt reports: "It was determined that these horses were being kept at 2036 Coconut Boulevard. I observed that the front gate to this residence was open. I further noticed that that the horses were kept in a fenced area in the back yard as there was a small barn area at this location. I observed that the gate to the fence in the back yard was also opened. All the horses returned back onto the property and I secured the gate to keep them contained. It should be noted that I observed that one horse appeared to have a leg injury as it wasn't putting any weight on its left front leg while it was walking. This horse continued to hold its leg up while walking. I further observed that this horse was very thin as I could see its rib bones and hip bones. No contact could be made with anyone at the residence. I further observed that there was no grain or hay on the property for the horses. The water bucket in the pasture had very little water left in it. I then made contact with the neighbors in the area and they advised me that this is an ongoing issue with the horses getting loose and not being properly cared for. They further advised me that this horse has had an injured leg/foot for over a week." The case was turned over to another deputy for further investigation.
Shades of Stand Your Ground
A deputy responded to 129B Brunswick Lane in Palm Coast the evening of April 13 and made contact with Travis Kaufman, 27, who told the deputy that at about 7 p.m., Rui Frazao, 49, and three other people arrived at his residence and confronted him about his current rental situation within the house. Travis said it turned into a verbal argument as he tried to explain the situation to them. Travis stated that Rui said: "do you see this mother fucker?" as he lifted his shirt and exposed a handgun on his right hip. Travis stated that he did so in a threatening manner and was telling him to move out. Travis described it as a black on black 9mm handgun. Travis stated that they left the area without further incident and he contacted law enforcement. The deputy continues: "I was able to make contact with Rui, from a telephone number that was provided to me. I responded to his residence to make contact with him and to further investigate the incident. Rui advised me that he went over to his residence, which he is currently renting to Travis. Rui stated that he is currently losing his residence and is being forced to move out. Rui stated that he wanted to talk with Travis and see if he could break the lease early and have him move out of the residence, so he could reside there due his current residence issue. Rui stated that they became involved in a verbal argument and Travis took three steps towards him in a threatening manner, with his hands in his pocket. Rui stated that he did expose his firearm; however, it was in self-defense and he thought it would prevent Travis from attacking him. Rui stated that they left the area without further incident. Upon my investigation, I was unable to determine a primary aggressor and both Travis and Rui advised that they were just acting in reaction, with self-defense. Travis and Rui also advised that they would be taking their civil matters to the court house."
Other Burglaries and Larcenies And Losses
42-inch plasma Samsung TV reported stolen at 40 Ramblewood Drive in Palm Coast on April 17.
Portable basketball net reported stolen at 61 Riviere Lane in Palm Coast on April 17.
Lock on sliding glass door at 13 Crampton Court in Palm Coast damaged as a result of a presumed attempted burglary. The damage took place sometime between April 13 and 17.
Vehicle's tag decal at 16 Ferber Lane in Palm Coast reported stolen on April 17.
Two cars' decals reported stolen at 15 Buffalo Bill Drive in Palm Coast on April 16.
Checkbook stolen from a Chevrolet Cobalt at 17 Flamingo Drive in Palm Coast, sometime between April 15 and 16. The Chevrolet was left unlocked.
Two Mac laptops reported stolen
A domestic violence disturbance at 39 Freneau Lane in Palm Coast on April 15 resulted in the arrest and jailing, on battery charges, of Caitlin Saparato, 23, and Michael Shudy, 59.
A Dell laptop, a Compaq laptop and an X-Box reported stolen at 23 Regent Lane in Palm Coast on April 15.
The word "fuck" was scratched on the back tail gate, along with other scratches on the driver's side front and rear door, on a 1999 GMC Jimmy parked at 20 Burnham Lane in Palm Coast the evening of April 15. The damage was estimated at $500. The tool used to make the scratches could not be determined, according to police.
A 2009 Chevy Impala was keyed, resulting in damage of about $500, at 26 Burnham Lane in Palm Coast sometime between April 14 and 15.
A Billy Joel CD and a children's music CD, plus an XM satellite radio, were reported stolen out of a Ford vehicle at 80 Rymshaw Drive in Palm Coast sometime between the afternoons of April 13 and 14. The vehicle was left unlocked.
$70 to $100 stolen from a truck parked at 4220 Walnut Avenue in Bunnell on April 14. A window on the truck had previously been broken and kept together with duct tape. That window was pulled off, enabling the theft.