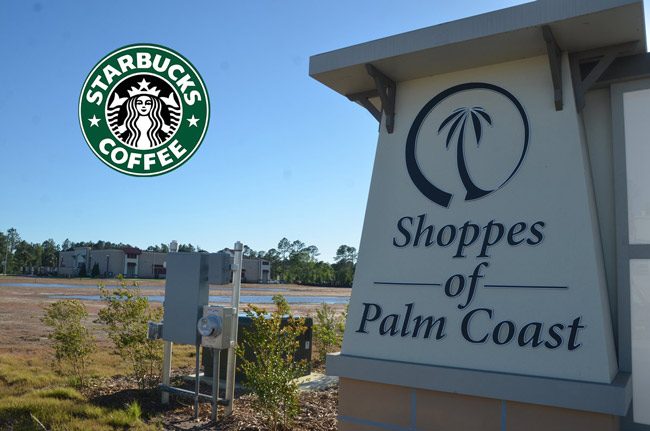 Much attention has focused on the demolition and reconstruction of the Starbucks at Island Walk–the former Palm Harbor Shopping Center–where demolition started at the end of March.
But a Starbucks is in the works at a new location: near the coming Aldi grocery store in the multi-business commercial development taking shape at the southeast corner of Belle Terre Parkway and State Road 100, the development known as the Shoppes of Palm Coast.
The development's Aldi store, at its eastern edge, and its Tractor Supply Co. store, at the western edge, have already been largely built. The tractor store is open, Aldi is a distance yet from opening. The 13-acre development is to have a large Gate gas station as well. The new Starbucks, a Palm Coast spokesperson confirmed today, will be going up to the west of the Aldi store.
A development order was recently approved for the Starbucks, and three permits have been issued to contractors, with work still in its earliest stages. "We don't have an opening date although they will be starting construction soon," the city spokesperson said.
There are minor hiccups: "The existing tree barricades do not agree with the approved plan due to the applicant's desire to save more trees and vegetation than originally planned," one city inspector reported, according to records. There are other minor discrepancies in the paperwork submitted to the city, whose inspectors are notoriously caffeinated sticklers for by-the-book consistency.
The Starbucks will be around 2,200 to 2,300 square feet and will be one of 25,750 stores worldwide, with steady, solid growth over the past several years: the company had net profits iof just over $4 billion on revenue of $21.3 billion last year, with operating margins a shade under 20 percent.
There is another Starbucks on the south side of town, but it's only a small nook inside Target–essentially, across the street from the coming location–and it doesn't offer drive-thru service, Wi-Fi or the more extensive offerings of pastries and other sundry sins at more standard Starbuckses. It doesn't even have fashionably insufferable baristas: those voids should be remedied at the location across the street.
Of course, this week's acquisition of Panera Bread by JAB Holding, a giant in the industry of coffee-creamed restaurants and services (it owns among others, in part or in whole Peet's Coffee & Tea, Caribou Coffee Company, Intelligentsia Coffee & Tea and, well, Krispy Kreme) may result in frothy competition between the stores on State Road 100, assuming JAB throws more coffee-bean choices in Panera's direction.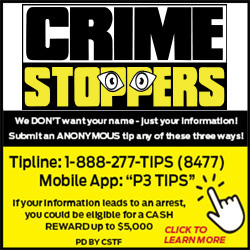 In other related developments, the reconstruction of the Dunkin Donut/Baskin Robbins on Palm Coast Parkway, which burned last June, is just past the halfway mark, according to the city's latest summary of developments around town. So is Aldi.