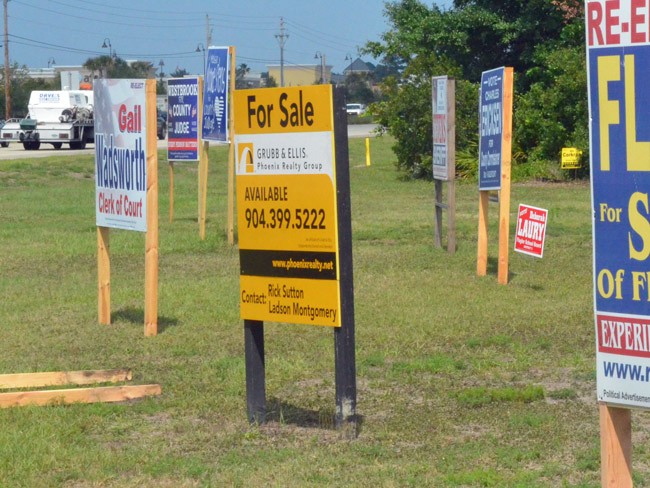 For years, the grassy, knotty southeast corner of Belle Terre Parkway and State Road 100 has been one of the county's favorite recurring forest of political signs every election.
You can soon smack those signs goodbye as the hyper-visible corner lot's 13 acres are about to give way to a commercial development that will ultimately number six businesses, including a gas station and a grocery store. The property will be called the Shoppes of Palm Coast and will give way to buildings, parking lots and a retention pond, but will still be framed in trees and grass.
The Palm Coast City Council this morning approved a re-platting of the property—what amounts to a redrawing of the property map in line with the developer's plans, which split the property into separate lots—ahead of the coming development.
Clear Lake Holdings sold the property to Paradise Ventures Palm Coast LLC of Safety Harbor, Fla., a year ago for $3 million. That June the city's planning board approved a master plan splitting the property into five lots totaling 60,000 square feet for commercial uses. Paradise Ventures plans to sell off all five lots to commercial entities that will be developing the tracts, planning officials told the city council this morning.
Three of the lots are under contract: Lot 2, which is not quite at the corner but fronts SR100, will be a Gate convenience store with 24 gas pumps, finally providing that area of Palm Coast a much-needed filling station. (Another station is planned for the corner of Seminole Woods Boulevard and State Road 100, further east.) Lot 3, to the east of Gate, will be an Aldi grocery store. Lot 4, at the southeast corner of the development, fronting Belle Terre Boulevard past SR100, will be a Tractor Supply Company store. The two other lots are projected to be non-fast food restaurants.(See the rendering below.)
The property will also include a common-area tract used for an internal access road, a stormwater management system and shared signage.
The five lots should generate about $770,000 in transportation impact fees, the one-time tax on new development that helps defray the cost of new "impact" created by that development on roads, parks, and other infrastructure.
The three lots under contract are expected to generate enough revenue to build two improvements: one is a northbound right-turn lane for vehicles traveling north on Belle Terre Boulevard and looking to turn east, or right, onto State Road 100, with pedestrian crosswalk improvements along the south and east side of the intersection. The second improvement is a new turning lane for southbound traffic on Belle Terre Boulevard looking to make a left turn into the development, at the southernmost point of the development.