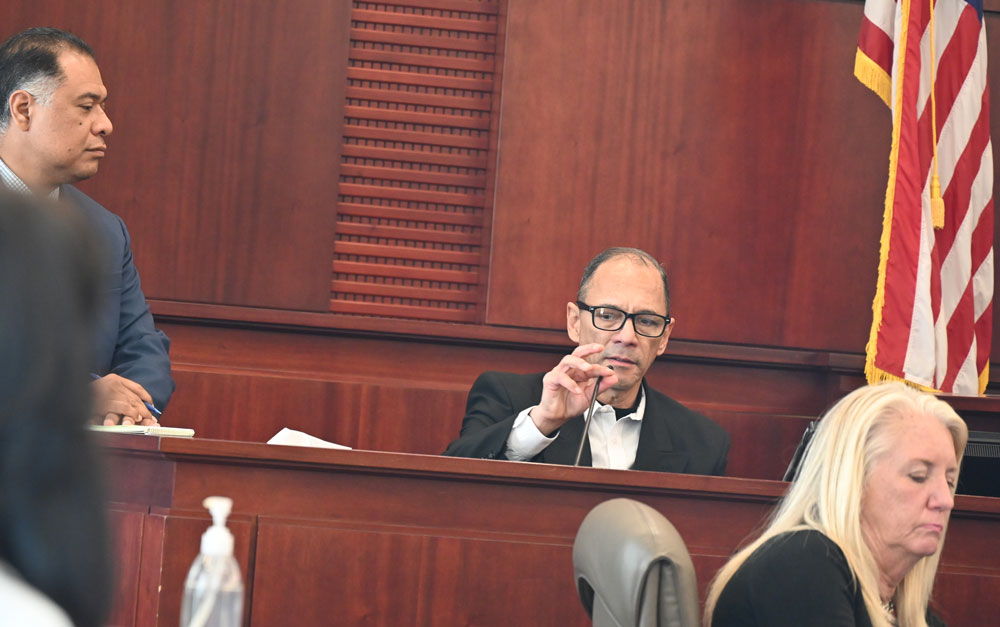 Content warning: The following article contains explicit descriptions of acts or behavior readers may find disturbing.
A 12-member jury this evening deadlocked in Monserrate Teron's trial on charges that he raped his 7-year-old niece at his Palm Coast home in 2019. Absent a plea, which he has previously turned down, or the victim's decision not to testify again, the Army veteran and nurse will be tried again.
Teron was returned to the aFlagler County jail, where he has been held since January. The next trial must by law be done within 90 days.




The jury deliberated for five hours on the fourth day of trial, and on two or three occasions, depending on how one interpreted their messages, declared itself hung. It had questions about watching videotaped testimony over again (and did).
"I'm not prepared to give up on this jury yet, but there are only so many options that we have available," Circuit Judge Terence Perkins told the lawyers, out of view of the jury. "I know both sides have a lot of your time and your effort invested in that and I want to make sure that it's not wasted and we can get a true verdict."
It was not to be. The jury at close to 9 p.m.–it had gone into deliberations at 3:37 p.m.–citing "lack of evidence" in a note said it was irreparably deadlocked before a courtroom that included, among others, the victim's parents on one side and Teron's wife, his daughter and her husband on the other. One of the women who testified that Teron had sexually assaulted her when she was the victim's age, in the 1980s in Puerto Rico, was also in the courtroom, along with her sisters.
Once she overcame his admonitions to keep the secret, Megan (*), the victim, had alleged that Teron had been sexually abusing her since she was around 5, that he had done so at his Palm Coast home, at her home in Massachusetts, and at her family's second home in Maine. He was tried on charges that centered on one incident in Palm Coast in 2019, when Teron, following a habit the two had secretly forged over the years, induced her to give him oral sex and molested her. She and her sister were spending the night at Teron's house, while her parents stayed at the Hammock Beach Resort. Teron's wife was allegedly in the living room.
The jury had made known its deliberations' anguish. It had deadlocked over precise parts of the veracity of Teron's wife and that of Megan. Teron's wife had testified earlier today that the night of the incident, she had been sitting in the living room the whole time, watching TV and tending to her diabetic dog. She said the door to Megan's room was open the 30 or 40 minutes Teron was in there, and that she had eyes on where Teron was sitting, but apparently not on Megan. She saw nothing amiss, heard nothing amiss, therefore, the defense argued, nothing amiss could possibly have happened.
The jury wanted to see that interview again, but it hadn't been video recorded. A transcript could be prepared, but it would take hours. The jury also wanted to see a forensic interview with the child–that one was on video–where she spoke about the incident taking place in Florida.
The jury seemed not to doubt that the girl was being abused, even by Teron. But it questioned whether the abuse had taken place in Palm Coast. By law–the defense and the judge had made that clear–it could only convict if it had no doubt the incident took place in Palm Coast.
Notably, the jury seemed not to doubt that the girl was being abused, even by Teron. But it appeared to questioned whether the abuse had taken place in Palm Coast, as Megan claimed. By law–the defense and the judge had made that clear–it could only convict if it had no doubt the incident took place in Palm Coast, where the charges were filed.
It watched that segment around 7:30 p.m., almost four hours since starting its deliberations, but to no avail. Thirty minutes later, it sent a note to the judge, saying it couldn't reach a unanimous verdict.
Perkins had cautioned the families hours earlier, when the jury initially went in to deliberate. "Some of you may be pleased by the verdict. Some of you may be displeased. Some of you may have very strong feelings about it," he told the two families. "You're family and friends, and I understand that. My job is to make sure that our our law and our decorum of the court are maintained. So I don't want any outbursts. I don't want any crying. I don't want yelling and nothing in that regard." He thanked the families for behaving "absolutely perfectly" up to that point.
Families' composure is as much of an issue with hung juries, and it wasn't in this case. The audience took the judge's declaration in silence, as did Teron, who sat next to his two attorneys–Harley Brook and Derek Maines of Cape Coral-based Musca Law.
The case was investigated by the Flagler County Sheriff's Augustin Rodriguez and prosecuted by Assistant State Attorney Melissa Clark.
Clark portrayed Teron as a man who had skillfully trained the victim into a secret "game" the two shared, and that consisted of her furtively pleasuring him in ways she did not know were inappropriate–let alone criminal–for years: the abuse had started when she was in kindergarten, and "became a habit," in her words. It was her older sister who forced her to reveal the secret when she was 8. Her parents reported the allegation to police the next day.
They lived in Massachusetts, where Teron had visited often with his family, just as the victim and her family would visit Teron a few times in Florida. The trial centered on allegations of assaults at Teron's Palm Coast home on Edwin Lane in November 2019–not on any of the other allegations, which have yet to be pursued by Massachusetts police.
Teron had taken the stand late this morning. It was not a particularly remarkable testimony. Brook asked him if he molested Megan. He said no. Brook asked him if he had her masturbate him. He said no. Brook asked him if he ever did anything inappropriate with her. He said no. And so on.




His denials were clipped, curt, unemotional, inevitably contrasting with the detailed descriptions of the assaults by Megan in three videos and in person, when she took the stand on Tuesday. She had spoken in a child's words of adult acts, acts a child couldn't possibly have fabricated without experiencing them.
Brook in his closing wasn't denying that she had been the subject of "unspeakable" acts. "I'll submit to you that something happened to [Megan.] But I'll also submit to you that my client is not guilty of the offenses for which he is charged," he told the jury, skating closer to the theory he had not been able to elucidate in court: that Megan had been molested by another close family member, and was transferring the accusations to her uncle.
Clark again dismissed the claim. "She's been saying since 2020 that this happened by her uncle, at her uncle's house in that Murphy bed. Nothing has changed with that," Clark told the jury, referring to the November 2019 incident in Palm Coast that led to the present charges against Teron.
Just before lunch, as her final rebuttal witness, Clark recalled Megan for a single question: "Has anyone other than Monserrate Teron ever touched you inappropriately?"
"No," Megan said.




For the jury to find that Teron was not guilty, it would have had to find that Megan had lied not only about what had taken place in Palm Coast, but about her uncle, constructing an entire fantasy around him. The jury had watched her in her Child Protection Team forensic interview: she was not only factual in a detailed way about the acts she was describing regarding Teron, but was also factual in a detailed and verifiable way about her house in Maine, the huge wetlands behind her house in Massachusetts (she used the word accurately), about the snapping turtles that would wander onto her property, about the Halloween festival her school put on, then abrogated, to her chagrin: she had a power of recall that painted a picture in the main, even if some of the details were a bit fuzzy. She was an impressionist, not a fabulist. She even wiped down her teddy bear, after wiping down her hands for the second time during the videotaped interview. (It was in the thick of the pandemic. Her mother is a physician.)
It was with that general sense of precision that she had described the incidents involving Teron, but with markedly less enthusiasm, less pitch, and clearly no heart. Her body, like her voice, would as if collapse on itself when she talked of him. The moment she could, she would speak of anything else–and burgeon again.
Yet it was the method of her storytelling that the defense sought to impeach, describing it as imprecise because she could not say, with 100 percent certainty, that the events she was describing had taken place as she was describing them.
Teron on the stand described the couple of incidents that had been described before–when Megan barged in on him while he was taking a shower, when she grabbed for his private parts when he was waiting, with Megan and her sister, for the rest of the family to do a quick shopping stop at Whole Foods. He was trying to portray Megan as the aggressor.
He was not compelling, certainly not endearing, though he was not unlikable, either. He came across as a sort of everyman with a tendency to self-pity, especially when he enumerated the large numbers of surgeries he's endured for his back and his shoulder, and when he described his impotence, which he overcame, when necessary, with Viagra. The defense implied that he could not have performed as Megan described, since he was impotent.




But he also briefly came across as not entirely honest, if on a matter of sex (for which even the Torah allows a certain amount of lying). He'd told a detective that he never had sex with his wife, but on the stand, said he had sex with her every few months. It wasn't a big lie, but on the stand, a lie is a lie. Clark did not harp on it, nor mention it in her closing arguments. She had to overcome other claims.
The defense had Megan's grandmother testify that the girl acted "inappropriately" toward her husband "on various occasions, trying to pull his pants down," when she was just 2. She did not succeed. The grandmother also mentioned the shower incident.
The defense tried, out of view of the jury, to bring in evidence that Megan was seen masturbating when she was a toddler, and when she was a little older–not overtly so much as obliviously, by rubbing herself against a chair or rubbing a blanket between her legs, as children sometimes do.
Judge Perkins couldn't see what relevance that had with the case, and wasn't going to allow anything that would "victimize the victim," in his words. The defense wanted to imply that she was over-sexualized, again pressing the argument that she may have been molested, but by someone else, and was transferring her accusations to Teron. Clark said masturbation was "normal behavior for toddlers, children, adolescents," as the medical literature confirms, and called the defense's arguments a ploy to make Megan look like the aggressor.
That testimony did not get in, but a few other descriptions of Megan's grabs for Teron's private parts did, as did the heart of the defense's seed of doubt: the testimony of Teron's wife.
It came down to a she-said-she-said between Megan and her aunt, and who then jury would believe. What is certain is that at least some jurors–it only takes one for a hung jury, since a jury verdict must be unanimous–did not believe Megan. Or at least not enough for a conviction in Palm Coast.
(*) The name has been changed.

Abuse Hotline: Report Abuse Online
The Florida Abuse Hotline accepts reports 24 hours a day and 7 days a week of known or suspected child abuse, neglect, or abandonment and reports of known or suspected abuse, neglect, or exploitation of a vulnerable adult. Please use the links below to report a child or adult abuse.
If you suspect or know of a child or vulnerable adult in immediate danger, call 911.
TEL: 1-800-962-2873
TTY: 711 or 1-800-955-8771
FAX: 1-800-914-0004
Any person who knows, or has reasonable cause to suspect, that a child is abused, abandoned, or neglected by a parent, legal custodian, caregiver, or other person responsible for the child's welfare is a mandatory reporter. § 39.201(1)(a), Florida Statutes.
To report an allegation in Spanish or Creole, please call 1-800-962-2873, for TTY use 711 or 1-800-955-8771.  This toll free number is available 24 hours a day, 7 days a week with counselors waiting to assist you.