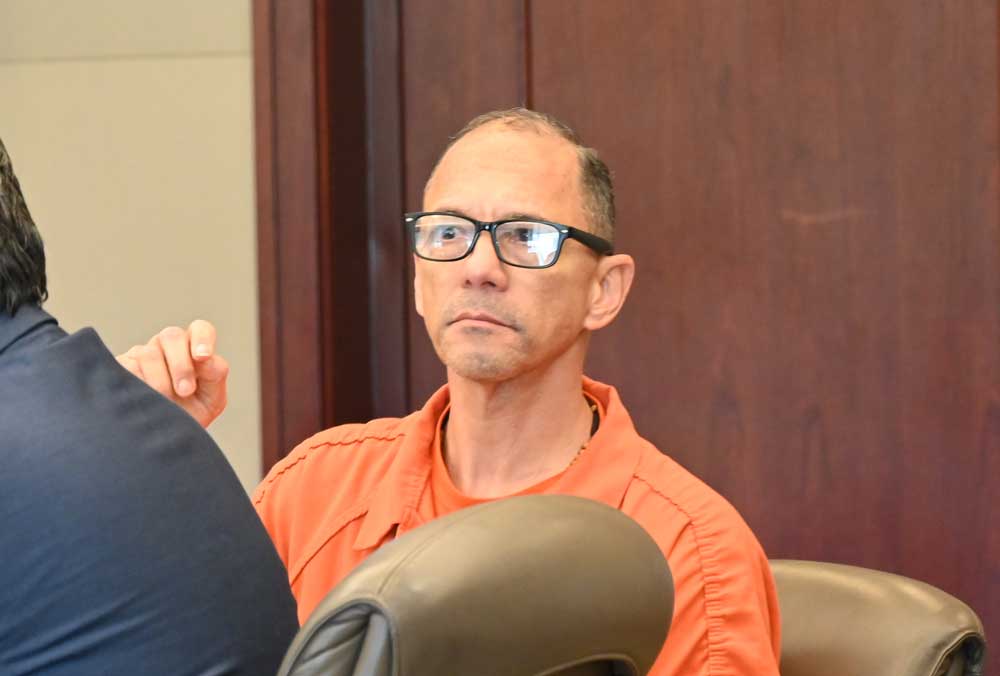 Monserrate Teron, a 59-year-old nurse and Army veteran, was arrested in Palm Coast two years ago. He is charged with two capital felony counts of raping a girl younger than 12, and a first-degree felony count of molesting a girl younger than 12. He goes on trial Monday before Circuit Judge Terence Perkins in Bunnell.
This afternoon, Assistant State Attorney Melissa Clark, who is prosecuting the case, and Defense attorney Harley Brook argued a series of pre-trial motions, as is common before trials. The judge's rulings map out the rules of the trial, what witnesses and testimony may and may not be introduced, what line of questioning may and may not be allowed, and so on. It did not go well for Teron.
He is accused of repeatedly assaulting a niece when she was 7. Today, Perkins reaffirmed an order he issued five weeks ago that will allow the prosecution to question two sisters who were Teron's nieces from a first marriage, and who will testify of being molested by him between 1986 and 1988, when they were around the same age as the alleged victim at the center of the trial.
Though it is hearsay, the prosecution is allowed to introduce such "similar-fact evidence," as it is referred to by the court, as long as it is closely similar to the allegations made by the victim. What is known as the Williams rule of evidence "can be devastating to defend," Brook said as he attempted to challenge the judge's order.
When they were young girls, the two witnesses lived with their parents in a house immediately below that where Teron lived with his then-wife and two children, in Puerto Rico. In one case, one of the women recalled that when she was 6 or 7, Teron invited her to his bedroom, stripped, removed her shirt, and asked him to play with his penis. She got frightened and ran out of the house.
The defense argued that the similarities with the present case are not there. The prosecution disagreed. Clark quoted form the deposition the woman gave: "He wanted me to touch his penis, he was saying that it was a doll, and that I needed to play with the doll." She stopped it, put her shirt back on and ran out. "She stopped it, not Mr. Teron, she did. I would say it's strikingly similar" to the trial case, Clark said. The judge agreed.
The other case was more grave. That witness, already deposed, testified today by zoom as she is expected to testify at trial. She said Teron repeatedly forced himself on her orally, including on the occasion of her ninth birthday, when he took her to an isolated place on a hill near the house and repeated the assault. He also allegedly had her drink his sperm from a glass, an incident the witness recalled today.
The defense is arguing that in the case of the woman who claims she was forced to give Teron oral sex, the claim is inconsistent with statements she gave during a deposition, when she explicitly said that she could not recall such instances. "There's quite a bit of difference between the allegations that she makes," the defense attorney said. He wasn't arguing the similarity between the incidents, but their reliability.
Perkins, explaining his ruling, said that remoteness can be an issue. In this case the similar-fact witnesses are describing events that happened to them some 35 years ago. But the principle underlying the remoteness issue is that testimony can be excluded even if it's merely a five-year-old recollection if it's "incomplete or unreliable," Perkins said, just as it can be foud not to be remote, even if it's from 50 years ago, if the recollection is specific. In this case, Perkins had listened for a lack of specificity, for vagueness in the descriptions of the acts. "I didn't find any of that," he said. "The description given by the witnesses was specific and direct and supported."
The judge conceded the inconsistency in the deposition. "If that were all we had in that regard, I would probably grant a motion to exclude that or I wouldn't grant the state's motion to bring that evidence. That's not all we have."
The inclusion of the two corroborative witnesses for the state will complicate the defense's case, which will try to rely, at least in part, on a curious claim that Brook revealed today.
Brook said the girl behaved toward Teron in a way that victims of abuse at times behave–placing the blame on Teron, but only because she is being abused by someone else closer to her that she does not want to get in trouble. "There may have been something that did in fact happen to that young girl and she's using my client as a scapegoat for someone, or to protect someone," Brook said. The prosecution did not challenge the claim. The judge asked Brook if he had any evidence or research to show that such phenomena are common. Brook did not then and there, but said one of his key witnesses, a doctor, will testify to that.
He also attempted to argue that the girl–the alleged victim–was "oversexualized" for her age, a claim that flirted with accusing the girl of being the instigator (as, in fact, Teron did in his interviews with law enforcement). Clark, the prosecutor, did not let that one pass, and was granted a motion that will prevent any such "shaming" of the victim from taking place during the trial.
Perkins himself seemed outraged by the defense's suggestion. "Let me make sure we're on the same page," he told the defense attorney. "Any of these incidental corollary observations that suggested in some fashion that this was a hypersexual victim, a victim that was looking to have sex despite her young age, all of those kinds of things, I think that's totally improper. And I would not only grant the state's motion in that regard, but sustain any objections." But he was not closing the door on the defense bringing specific evidence in those regards, assuming it exists, "not this innuendo type of evidence that I think is completely improper."
When he was arrested, Teron also told Flagler County Sheriff's detectives that he could not have carried out the acts for which he is accused because, he said, he was impotent, and had gone as far as sending an image of his penis to the victim's parents to prove it. When he offered to do likewise for sheriff's detectives, they declined.
"I had my own emotional reactions to listening to her describe these things in vivid detail that a 7-year-old wouldn't know," one of the detectives said in his deposition, after watching a video recording of the child describing the incidents to her parents. The detective said he must have watched the video 100 times. "And it was evident to me that this is a–this is a genuine experience she had, and this was not something that was fabricated."
A jury of 12 and two alternates will be selected on Monday. The trial is expected to last all week. This spring, the Florida Legislature changed the law, so that those found guilty of a capital sex offense like the ones Teron is facing could be eligible for the death penalty. Teron will not be, however, because he was charged before the law went into effect.
The law is, in fact, a revival of a law that was previously on the books. The law as passed by the Legislature a few weeks ago is unconstitutional: the U.S. Supreme Court in 2008 ruled that states may not impose the death penalty for the rape of a child, unless a child's death is part of the crime. The Florida Legislature is hoping that its new law will be a test case with a more conservative court. The 2008 ruling was by a 5-4 vote. All five justices who voted in the majority are gone. Three of those in dissent–John Roberts, Samuel Alito, Clarence Thomas–are still on the court, and have been joined by three justices to the right of Roberts.