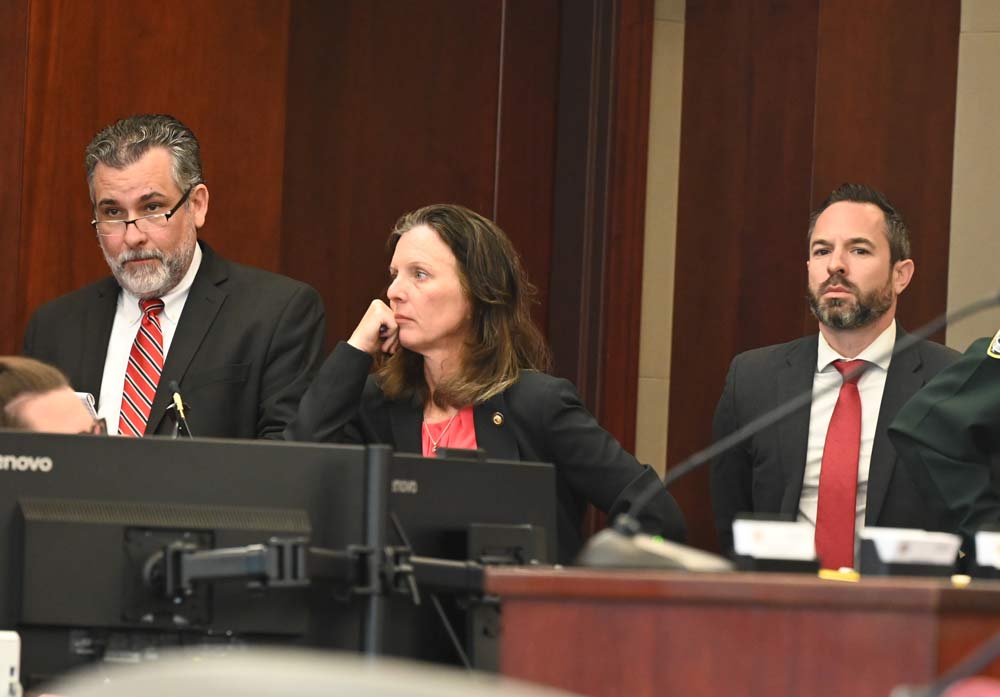 In five weeks, Monserrate Teron will again go on trial on two capital counts of raping a 7-year-old child–his niece–and an additional count of molesting her. A jury late last month deadlocked over the charges, apparently because one or two of its members were not convinced that the assault took Place in Palm Coast.
If convicted, Teron faces mandatory life in prison.




For his defense, Teron relied heavily on the testimony of his wife, O.T. The evening of the alleged incident at the Teron's home on Edwin Place, O.T. testified that she'd been in the living room the entire time that her husband was in the girl's room, and that she could see in as she watched TV or tended to her severely diabetic dog, who alternated between drinking and relieving himself. Teron did spend 30 to 40 minutes in the girl's room. But "He was sitting in the edge of the bed, so I could see he was sitting in the edge of the bed," she said in a deposition, a description she repeated in court.
Teron's defense made much of that: how could Teron have assaulted the girl when his wife was in the living room the whole 30 to 40 minutes Teron was in the girl's bedroom, with the door open?
The prosecution had made a mistake. It had never taken pictures of the interior of the Teron house and checked out whether O.T.'s claim held up–that she could, in fact, see into the bedroom clearly enough to know what was going on in there at all times.
That mistake has been corrected. In the second trial, the prosecution will have 42 pictures of the interior of the Teron house, according to an updated witness list that includes the new evidence. Circuit Judge Terence Perkins on June 6 had signed an order allowing for the taking of pictures inside the house. The defense did not object, perhaps suggesting that it is confident that the images will not substantially affect O.T.'s narrative.




"From where I was in the living room I could see his face and his body," O.T. said on the witness stand. She never said she could see the girl.
"You have a clear line of site into that bedroom," Derek Maines, one of Teron's two defense attorneys, asked her. (Harley Brook was the other.)
"To where Teron was sitting, yes," O.T. replied.
"And during that entire duration did you witness anything inappropriate between Mr. Teron" and the girl.
"No."
"Did he ever move from that position where you first saw him?"
"No."
Assistant State Attorney melissa Clark had nothing to work with other than the dog's diabetes, which implied that O.T. would have to take the dog outside periodically, or that O.T. wasn't really paying that much attention to what was going on in the bedroom. But she fended off those questions, enabling Brook in his closing to stretch the claim: "Well, we know now that [O.T.] was sitting on a couch in the living room with a clear view of the bedroom where my client was with" the girl.
Gone was the distinction between seeing Teron only, and seeing "with a clear view of the bedroom." That's the seeming clarity the prosecution will attempt to question in the second trial.




It will do so with a difference defense attorney in the room. While Maines is still Teron's attorney, Brook, who led the defense, asked the court to allow for a substitution. Maines of the same law firm–Musca Law–will replace him as lead counsel. Brook did not provide an explanation.
Brook on the fourth day of trial, during a proffer–when the two sides go over a witness' testimony out of hearing of the jury, to ensure that nothing inadmissible is said–came close to losing his cool. His strategy was to cast serious doubt–not on whether the girl had been sexually assaulted: he all but conceded that she had. But that Teron was the perpetrator. Again and again, he attempted to introduce evidence that the girl was "hypersexual" (a vague claim that would have had the weight of a charge, and that would have relied more on jurors' prejudices than on evidence), that she masturbated at a young age, that she acted inappropriately.
None of that was admitted, other than some allowance for inappropriate behavior. The prosecutor rejected all the claims as an attempt by the defense to turn the tables–to make the girl look like the aggressor and, in effect, slut-shame her before the Jury.
The judge himself told Brook that the law is clear: "What we all know is the statute says that you can't essentially victimize the victim by going into other sexual behaviors or circumstances in order to show somehow that the victim invited it, deserved it, anything along those lines," Perkins told Brook. The defense wasn't without options, the judge went on to say, but the prosecution was objecting to its approach, and the judge upheld the objection.




"There is one thing that I would like to address because I've heard it multiple times, and frankly, it's demeaning to me, okay?" Brook, who was standing as he addressed the judge, said. "Never at any point would we seek to say that the victim, in light of this behavior, that it's her fault, none of that whatsoever. That is not our intent. And frankly," he said, his voice rising, "I would step away from this courtroom right now if that's what I was trying to do because I am a father, I have a girl. I would never, ever do that, with a girl like that."
He continued, exposing the strategy he was not allowed to introduce: "Our intention was simply to show that she may have been molested by someone else prior to even Mr. Teron, and her experiences may have been placed upon him as a scapegoat, for lack of a better term. Not that she is the perpetrator, not that she invited it. Not that any of that. I would sooner walk away from this courtroom right now, if that what my argument would have been. And I just wanted to make that clear for the court, not only as to what my intentions were, but also to what our defense was going to try to be."
As it turned out, he did walk away.