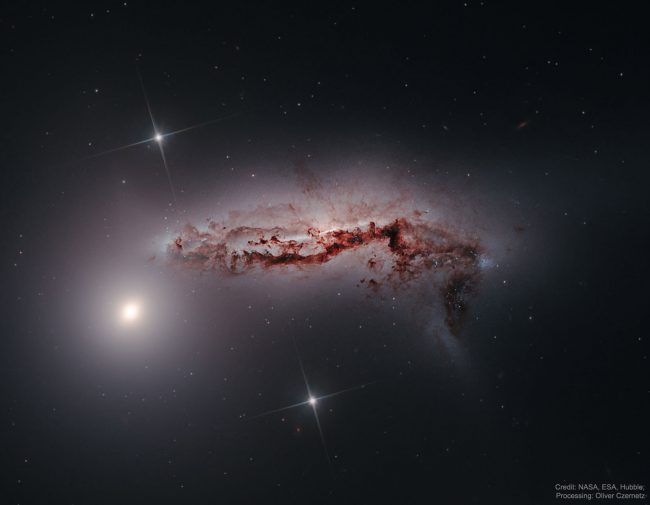 Weekend: Summer's here: partly cloudy with slight chances of thunderstorms throughout, highs in the mid to upper 80s, lows in the lower 70s. Details here.Drought Index is at 482.
Today's tides: at the beaches, at the Intracoastal Waterway.
Today's document from the National Archives.
The OED's Word of the Day: retcon, v..
The Live Community Calendar
Today's jail bookings.
Today's Briefing: Quick Links

"In this second Randy made an important decision. Yesterday, he would have stopped instantly. There would have been no question about it. When there was an accident, and someone was hurt, a man stopped. But yesterday was a past period in history, with laws and rules archaic as ancient Rome's. Today the rules had changed, just as Roman law gave way to atavistic barbarism as the empire fell to Hun and Goth. Today a man saved himself and his family and to hell with everyone else. Already millions must be dead and other millions maimed, or doomed by radiation, for if the enemy was hitting Florida, they would hardly skip SAC bases and missile sites in more densely, populated areas. Certainly they would not spare Washington and New York, the command posts and communication center of the whole nation. And the war was less than a half hour old. So one stranger on the roadside meant nothing, particularly with a blinded child, his blood kin, dependent on his mission. With the use of the hydrogen bomb, the Christian era was dead, and with it must die the tradition of the Good Samaritan."
–Pat Frank, from Alas, Babylon

Note: all government meetings noticed below are free and open to the public unless otherwise indicated. Many can be heard or seen live through each agency's website.
The Sheriff's daily incident reports and jail bookings are posted here.
Reminder: a countywide burn ban is in effect. Details here.
Note: The Daily Briefing will be off next week, from May 22 through May 26.

Free for All Friday On WNZF: Host David Ayres welcomes House Rep. Paul Rennes, Palm Coast Observer Publisher John Walsh, Palm Coast Mayor Milissa Holland, and GoToby's Don Tobin, with a discussion of mosquito control, all starting just after 9 a.m. With a commentary by FlaglerLive editor Pierre Tristam on keeping up with the Trump follies.
Friday: The latest in a series of pre-trial hearings is scheduled in the case of Kimberle Weeks, the former Supervisor of Elections who faces five felony counts (down from 12). The hearing before Circuit Court Judge Margaret Hudson, at 1:30 p.m. in Courtroom 402, is a status hearing to determine where lawyers are in the case, and whether a trial date may be set.
Friday, Saturday, Sunday: Flagler Beach Pirate Invasion, at veterans Park in Flagler Beach each day all day: his here quiet beach town is ripe for plunder, an' will be invaded by the likes of Blackbeard, Calico Jack, Anne Bonney and even the dastardly Jack Sparrow (or maybe several of them) be arriving in grand style! Sure to be close to this rag tag court of piratical royalty will be thar Mermaids, which are never far from stealing a man's soul. The weekend be gettin' underway with a Grand Pirate Ball on Friday night at Tortugas, a fine establishment for an evening of piratical shenanigans! If ye not be the type for grandeur and desire another course for action that evenin', there will be a showin' of a Pirates most beloved movie, 'Cutthroat Island' in Veteran's Park, and best of all, this movie be free. Saturday & Sunday, barter and trade with yer kind at the Thieves Market, open all day, with treasures to plunder for both the salty dog pirate and the scallywags who want to learn the ways of pirate life. After all, we best be bringing in new swabbies, and crews be recruitin' after the last raids! Rest assured loves, where there are pirates, there are sure to be sword fights and black powder pistols and cannons roaring. Admission is free so come out for some Pirate adventures and stay to hear our fantastic lineup of entertainers in the evening. There is plenty of parking along A1A and in neighboring lots. Accommodations are available and hosting hotels and rentals will be posted soon! Many restaurants in Flagler Beach will be serving throughout the weekend so food is readily available within walking distance.
Friday: Kayaking College Waterway, 8:30 a.m. at Long Creek Nature Preserve, 1050 Palm Harbor Pkwy., Palm Coast. As part of the Mayor's Healthy Community Challenge, join Palm Coast Digital Communications Coordinator Jason Giraulo on a kayaking trip along College Waterway. Free, but please sign up at www.palmcoastgov.com/healthy. More info: 386-986-2323.
Friday: Lunch N' Lecture Series, 11 a.m.-12:30 p.m. at Palm Coast City Hall, 160 Lake Ave: Palm Coast Astronomy Club member and volunteer NASA Solar System Ambassador Lee Bentzley will talk about the total solar eclipse coming Aug. 21. Lee will define what an eclipse is and tell how to protect your eyes while viewing this once-in-a-lifetime event. The lecture and lunch are free, but pre-registration is required (while space available) by 11 a.m. May 17: www.palmcoastgov.com/register. More info: 386-986-2323.
Friday: The Flagler Palm Coast High School Starlets are in concert at the Flagler Auditorium, 7 p.m.
Saturday, Sunday: Choral Arts Society May Concert Series, 7 p.m. Saturday, 3 p.m. Sunday, at St Thomas Episcopal Church, 5400 Belle Terre Parkway, Palm Coast. Free admission, donations welcome.
Saturday: Walk with the Mayor, 9 a.m. at Central Park, 975 Central Ave., Palm Coast. As part of the Mayor's Healthy Community Challenge, join Palm Coast Mayor Milissa Holland for a walk around Central Park and Town Center. Meet at the main stage area at the Central Avenue front entrance. Free, but please sign up in advance at www.palmcoastgov.com/healthy. More info: 386-986-2323.
Saturday: First Aid and CPR/AED Class, 9 a.m.-4 p.m. at Frieda Zamba Swimming Pool classroom 339 Parkview Ave., Palm Coast. This class is a 7-hour course (one hour for lunch) designed to meet OSHA regulations and teach administering CPR to children and adults, using an Automated External Defibrillator (AED), using a mask or barrier device, assisting with bleeding, broken bones. $5/person with pre-registration required by 9 a.m. May 18. Sign up at www.palmcoastgov.com/cpr. More info: [email protected] or 386-986-2300.
Sunday: Dance-for-Hope, at the Portuguese American Cultural Center of Palm Coast, 1200 Palm Harbor Parkway, 1 p.m.: Doors open at 1:00 PM with the event starting at 2:00 PM. Dance your heart away with Michaela King and Dalia Irwin of "Baile Explosivo". Come early to browse our raffle tables and take a chance to win one of the awesome raffles prizes we have received from the many local business. Tickets are available at https://danceforhope.ticketbud.com or by calling (386) 264-6571. Minimum donation is $15 per ticket. All proceeds goes to the H2H Foundation. HOPE TO HELP FOUNDATION is a local non-profit organization started by Dr. Karen Toppi helping women in Flagler County diagnosed with Breast and Gynecological Cancer. Our mission is to improve and sustain the health and well-being of a women with cancer by providing emotional support, education and integrating her treatment with holistic services that may provide relief during her recovery and aid in the maintenance of a healthy lifestyle after cancer. For more information on the foundation please visit www.h2hf.org.

The Palm Coast Arts Foundation Blows Past 86% Of Its Fundraising Goal
The Palm Coast Arts Foundation is closing in on its goal to raise $50,000 to add a a roof to its big new stage at its home in Town Center. The deadline is May 19. Help them out here. And listen to an interview with Executive Director Nancy Crouch below:
Adult Basketball League, June 5 Through July
Monday and Wednesday evenings from June 5 through July, games start at 7 p.m., 8 p.m. and 9 p.m. at Buddy Taylor Middle School, 4500 Belle Terre Pkwy., Palm Coast. Register as a team for this 5-a-side style play. Ages 18+ Compete for the title of league champions and free entry into next year's league. The league includes eight regular season games, one game played every hour, single-elimination tournament, three FHSAA certified officials per game, game equipment and prizes. Fees are $360 team/$43 free agent for Super Early Bird Registration through May 7; $400 team/$50 free agent for Early Bird Registration May 8-15; and $440 team/$56 free agent for Regular Registration May 16-June 2. Register at: www.palmcoastgov.com/register or call 386-986-2323.

In Florida and in State Government:
Note: Some proceedings below can be followed live on the Florida Channel. Most legislative proceedings can be followed through the Senate or House websites.

The State Board of Education will take up numerous issues during a meeting in Miami-Dade County, including performance-funding reports related to Pensacola State College and Polk State College. (9 a.m., Miami Senior High School, 2450 S.W. First St., Miami.)
The Medical Care Advisory Committee, which looks at issues in the Medicaid program, will meet after holding subcommittee meetings. (Subcommittees start at 1 p.m., followed by committee, Agency for Health Care Administration, 2727 Mahan Dr., Tallahassee.)
LGBTA Caucus: Sen. Jeff Clemens, D-Lake Worth, is expected to speak to the Rusty Gordon LGBTA Democratic Caucus of Palm Beach County. (Tuesday, 6:45 p.m., Compass GLCC, 201 North Dixie Highway, Lake Worth.)
–Compiled by the News Service of Florida and FlaglerLive

In Coming Days in Palm Coast, Flagler and the Occasional Beyond:
♦ May 23: The The Flagler County NAACP holds its monthly meeting with a special guest speaker, James M. Sharpe Jr., father of Linda Sharpe Matthews, the current president of the NAACP. James M. Sharpe Jr., former Montford Point Marine, a founder of the African American Cultural Society, former AACS chairman of the board and former president, and a former NAACP executive member, will speak on African-American history. 6 p.m. at the African American Cultural Society, 4422 North U.S. 1, Palm Coast. For further details, contact the NAACP at 386-446-7822 or Jeroline D. McCarthy, Chairman, Press and Publicity Committee, 386-437-5142.
♦ May 25: Go Natural Thursday Birding Walk, 8:30 a.m. at Linear Park, 31 Greenway Court, Palm Cosat. As part of the Mayor's Healthy Community Challenge, join Palm Coast Digital Communications Coordinator Jason Giraulo for a guided bird walk. Free, but please sign up at www.palmcoastgov.com/healthy. More info: 386-986-2323.
♦ May 26-28: Country 500 2017, also called "The Great American Music Fest at Daytona," featuring the biggest stars in country music spread over three days and nights, programmed on three huge performance stages-all specially designed and built for the festival. Country 500 will take place on the infield of the world-famous Daytona International Speedway, allowing fans to actually camp out in the infield.
♦ May 27: Wine Walk: Explore interesting wines inside and outside host locations and walk Flagler Avenue in New Smyrna Beach from 1-7 p.m. During the progressive event, taste your choice of more than 100 showcased wines. Wine tasting passports are $25 and are available at the corner of Flagler Avenue and Peninsula Avenue, at the corner of Flagler Avenue and Cooper Street, or at the corner of S. Atlantic and Flagler Avenue. Passports include 20 tasting tickets and a keepsake wine glass. Some locations feature both one- and multi-ticket wines to sample. Those who want to share their 20 tasting tickets with a friend may get an additional wine glass for $5.


♦ June 1: Palm Coast Democratic Club Meeting at the African American Cultural Center on U.S. 1, Palm Coast. Guest speaker is Reverend Harry Parrott. The subject: Separation of Church and State, here in Florida and in America. Rev. Parrott has served on the National Leadership Council and National Advisory Councils of Americans United for many years. He was a plaintiff in at least two cases against the Governor of Florida in lawsuits to protect the separation of church and state. He is an excellent speaker. Meet and greet social is at 6:30, meeting at 7 p.m. Email [email protected] for information.
♦ June 2: A free showing of "Voiceless," a Christian movie in opposition to abortion, is scheduled for showing at 6:30 p.m. at Santa Maria del Mar Church, 915 N. Central Ave, Flagler Beach, in either the Fellowship Hall or the Church, depending on the response. Light refreshments will be served. Please call either Elaine Torma, 407-227-4198, or Duane or Janice Berreth, 386-597-2344, to register or if you have any questions. Caution: the event is organized as a partisan rejection of abortion as a right or an option, not merely as an informational showing, and will feature a "mobile sonogram" unit and the participation of sectarian organizations that provide Christian-based counseling against abortion. Torema, when informed that this caution would be included in the notice, sought to have the item removed from the Briefing. "We do not wish to have any negative publicity as part of this event and running it with that caveat would certainly open us up to that," she wrote. The movie has not been controversial so much as unpopular: Since its release in October, it has grossed just over $400,000. "Voiceless," one reviewer wrote, "may be atypical of evangelical Christian movies in some ways, but it is further evidence of what Saturday Night Live and I have observed, which is that such films have grown positively uninterested in offering anything to audiences who don't already share their beliefs."
♦ June 3: Sample craft beers along historic canal street. in New Smirna Beach from 1 to 7 p.m. Tickets are $20 and include a six-ounce Canal Street souvenir glass and 12 sampling tickets that can be redeemed at 10 locations in the district. The walk is held on the first Saturday of each month. For more information, go here.
♦ June 3: Art Stroll and Gallery Walk, 10 a.m. to 5 p.m.: Artistic vendors set up along the historic Canal Street in New Smyrna Beach. Musical artists play from 11 a.m. – 1 p.m. in Christmas Park, 101 Live Oak Street. Galleries feature solo and group exhibitions and artist talks in the Douglas Avenue area of the district and at the Hub from 4-8 p.m. Admission is free.
♦ June 7: The Flagler County Republican Club is holding a double header event for the June 2017 meeting featuring Florida Representative Paul Renner and Flagler Supervisor of Elections Kaiti Lenhart. Rep. Renner will discuss the recent Florida legislative session and Supervisor of Elections Lenhart will update the community on activities within the Supervisor's office. At Palm Coast City Hall. Doors open at 5:30 p.m., meeting starts at 6 p.m.
♦ August 21: For the first time since 1979, a total eclipse of the sun will cut a path across the center of the contiguous United States. In Florida, you can see the eclipse beginning a little after 5 p.m., and stretching for two a nd a half hours or so, end to end. The next such eclipse will be in 2024 and 2044. Details of the eclipse here.



Palm Coast Construction and Development Progress Reports
The following is an update of ongoing permitting, construction and development projects in Palm Coast, through May 12 (the city administration's full week in review is here):
Click to access week-in-review-may-12-20171.pdf

Road and Interstate Construction:

Introduction to Bullshit
Previous Codas: