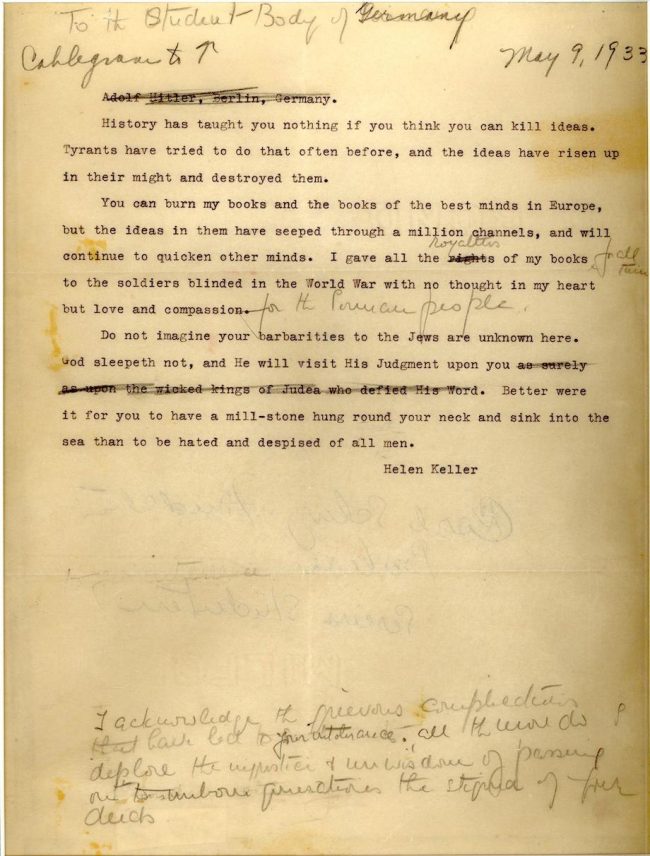 Today: Partly cloudy in the morning then becoming sunny. Highs in the mid 80s inland…in the lower 80s coast. East winds 10 to 15 mph. Tonight: Mostly clear. Lows in the upper 60s. East winds 5 to 10 mph.Details here.
Drought Index is at 482.
Today's tides: at the beaches, at the Intracoastal Waterway.
Today's document from the National Archives.
The OED's Word of the Day: palacsinta, n..
The Live Community Calendar
Today's jail bookings.
Today's Briefing: Quick Links

"What a columnist owes his readers isn't a bid for their constant agreement. It's independent judgment. Opinion journalism is still journalism, not agitprop. The elision of that distinction and the rise of malevolent propaganda outfits such as Breitbart News is one of the most baleful trends of modern life. Serious columnists must resist it."
–Bret Stephens, who joined the New York Times as a columnist in April.

Note: all government meetings noticed below are free and open to the public unless otherwise indicated. Many can be heard or seen live through each agency's website.
The Sheriff's daily incident reports and jail bookings are posted here.
Reminder: a countywide burn ban is in effect. Details here.
The Flagler County Technical Review Committee meets at 9 a.m. on the third Wednesday of the month in the First Floor Conference Room, 1769 E. Moody Blvd., Bldg. 2, Bunnell. The committee with consider a request for a passive park and beach access at 30 Bay Drive by Paul Ina and a special exception for a restaurant at 5115 North Ocean Shore Blvd., to be called Rodie's Place, serving breakfast and lunch for Hammock clients.
The Tourist Development Council meets at 10 a.m. in Board Chambers, Government Services Building, 1769 E. Moody Blvd., Building 2, Bunnell.
The Palm Coast Planning and Development Board meets at 5:30 p.m. at City Hall in Town Center.
Matanzas High School hosts a blood drive to benefit its senior scholarship program, in the Pirate Theater lobby, starting at 8 a.m.
Baccalaureate: Santa Maria del Mar Catholic Church in Flagler Beach holds its annual Baccalaureate Service for graduating seniors from Flagler Palm Coast High School and Matanzas High School, 7 p.m.

The Palm Coast Arts Foundation Blows Past 86% Of Its Fundraising Goal
The Palm Coast Arts Foundation is closing in on its goal to raise $50,000 to add a a roof to its big new stage at its home in Town Center. The deadline is May 19. Help them out here. And listen to an interview with Executive Director Nancy Crouch below:
Flagler Beach Public Library Closed Until Wednesday
The City of Flagler Beach Library will be closed Thursday, May 11, 2017 through Wednesday, May 17, 2017 for repairs.
Adult Basketball League, June 5 Through July
Monday and Wednesday evenings from June 5 through July, games start at 7 p.m., 8 p.m. and 9 p.m. at Buddy Taylor Middle School, 4500 Belle Terre Pkwy., Palm Coast. Register as a team for this 5-a-side style play. Ages 18+ Compete for the title of league champions and free entry into next year's league. The league includes eight regular season games, one game played every hour, single-elimination tournament, three FHSAA certified officials per game, game equipment and prizes. Fees are $360 team/$43 free agent for Super Early Bird Registration through May 7; $400 team/$50 free agent for Early Bird Registration May 8-15; and $440 team/$56 free agent for Regular Registration May 16-June 2. Register at: www.palmcoastgov.com/register or call 386-986-2323.

In Florida and in State Government:
Note: Some proceedings below can be followed live on the Florida Channel. Most legislative proceedings can be followed through the Senate or House websites.

The Florida Elections Commission will meet. (8:30 a.m., Florida State University, Augustus B. Turnbull Conference Center, 555 West Pensacola St., Tallahassee.)
The CareerSource Florida Board of Directors is scheduled to meet in Pinellas County. (8:30 a.m., Hilton St. Petersburg Bayfront, 333 First St. South, St. Petersburg.)
Aides to Gov. Rick Scott and state Cabinet members will meet to discuss issues in preparation for a May 23 Cabinet meeting. (9 a.m., Cabinet meeting room, the Capitol.)
The Florida Citrus Commission is scheduled to meet. (9 a.m., Florida Department of Citrus, 605 East Main St., Bartow.)
The Florida Constitution Revision Commission, which is preparing to put proposed constitutional amendments on the November 2018 ballot, will meet in Hillsborough County. The full commission will hold a public hearing after a meeting of its Rules Working Group. (Rules Working Group at 11 a.m., followed by full commission at 5 p.m., Hillsborough Community College, Dale Mabry Campus, DSTU Auditorium, 4001 West Tampa Bay Blvd., Tampa.)
–Compiled by the News Service of Florida and FlaglerLive

In Coming Days in Palm Coast, Flagler and the Occasional Beyond:
♦ May 18: County Commissioner Nate McLaughlin hosts a town hall meeting at the Hidden Trails Community Center in West Flagler at 5:30 p.m. Overview of issues related to the Daytona North Community. Guest speakers include Debbie Neuman with Focus on Flagler Youth Coalition and Kim Hale with Flagler Sheriff's Police Athletic League (PAL).
♦ May 18: The Flagler County Sheriff's Office holds a candlelight vigil at 7:30 p.m. at the Flagler County courthouse, followed by a walk to the Sheriff's Operations Center at 7:45 p.m.
♦ May 18: Go Natural Thursday Nature Walk – Thursday, May 18, 8:30 a.m. at Long Creek Nature Preserve, 1050 Palm Harbor Pkwy., Palm Coast. As part of the Mayor's Healthy Community Challenge, join Palm Coast Environmental Planner Denise Bevan for a guided nature walk through the nature preserve. Free, but please sign up at www.palmcoastgov.com/healthy. More info: 386-986-2323.
♦ May 19: The latest in a series of pre-trial hearings is scheduled in the case of Kimberle Weeks, the former Supervisor of Elections who faces five felony counts (down from 12). The hearing before Circuit Court Judge Margaret Hudson, in Courtroom 402, is a status hearing to determine where lawyers are in the case, and whether a trial date may be set.
♦ May 19: Kayaking College Waterway, 8:30 a.m. at Long Creek Nature Preserve, 1050 Palm Harbor Pkwy., Palm Coast. As part of the Mayor's Healthy Community Challenge, join Palm Coast Digital Communications Coordinator Jason Giraulo on a kayaking trip along College Waterway. Free, but please sign up at www.palmcoastgov.com/healthy. More info: 386-986-2323.
♦ May 19: Lunch N' Lecture Series, 11 a.m.-12:30 p.m. at Palm Coast City Hall, 160 Lake Ave: Palm Coast Astronomy Club member and volunteer NASA Solar System Ambassador Lee Bentzley will talk about the total solar eclipse coming Aug. 21. Lee will define what an eclipse is and tell how to protect your eyes while viewing this once-in-a-lifetime event. The lecture and lunch are free, but pre-registration is required (while space available) by 11 a.m. May 17: www.palmcoastgov.com/register. More info: 386-986-2323.
♦ May 20: Walk with the Mayor, 9 a.m. at Central Park, 975 Central Ave., Palm Coast. As part of the Mayor's Healthy Community Challenge, join Palm Coast Mayor Milissa Holland for a walk around Central Park and Town Center. Meet at the main stage area at the Central Avenue front entrance. Free, but please sign up in advance at www.palmcoastgov.com/healthy. More info: 386-986-2323.
♦ May 20: First Aid and CPR/AED Class, 9 a.m.-4 p.m. at Frieda Zamba Swimming Pool classroom 339 Parkview Ave., Palm Coast. This class is a 7-hour course (one hour for lunch) designed to meet OSHA regulations and teach administering CPR to children and adults, using an Automated External Defibrillator (AED), using a mask or barrier device, assisting with bleeding, broken bones. $5/person with pre-registration required by 9 a.m. May 18. Sign up at www.palmcoastgov.com/cpr. More info: [email protected] or 386-986-2300.
♦ May 23: The The Flagler County NAACP holds its monthly meeting with a special guest speaker, James M. Sharpe Jr., father of Linda Sharpe Matthews, the current president of the NAACP. James M. Sharpe Jr., former Montford Point Marine, a founder of the African American Cultural Society, former AACS chairman of the board and former president, and a former NAACP executive member, will speak on African-American history. 6 p.m. at the African American Cultural Society, 4422 North U.S. 1, Palm Coast. For further details, contact the NAACP at 386-446-7822 or Jeroline D. McCarthy, Chairman, Press and Publicity Committee, 386-437-5142.
♦ May 25: Go Natural Thursday Birding Walk, 8:30 a.m. at Linear Park, 31 Greenway Court, Palm Cosat. As part of the Mayor's Healthy Community Challenge, join Palm Coast Digital Communications Coordinator Jason Giraulo for a guided bird walk. Free, but please sign up at www.palmcoastgov.com/healthy. More info: 386-986-2323.
♦ May 26-28: Country 500 2017, also called "The Great American Music Fest at Daytona," featuring the biggest stars in country music spread over three days and nights, programmed on three huge performance stages-all specially designed and built for the festival. Country 500 will take place on the infield of the world-famous Daytona International Speedway, allowing fans to actually camp out in the infield.
♦ May 27: Wine Walk: Explore interesting wines inside and outside host locations and walk Flagler Avenue in New Smyrna Beach from 1-7 p.m. During the progressive event, taste your choice of more than 100 showcased wines. Wine tasting passports are $25 and are available at the corner of Flagler Avenue and Peninsula Avenue, at the corner of Flagler Avenue and Cooper Street, or at the corner of S. Atlantic and Flagler Avenue. Passports include 20 tasting tickets and a keepsake wine glass. Some locations feature both one- and multi-ticket wines to sample. Those who want to share their 20 tasting tickets with a friend may get an additional wine glass for $5.


♦ June 1: Palm Coast Democratic Club Meeting at the African American Cultural Center on U.S. 1, Palm Coast. Guest speaker is Reverend Harry Parrott. The subject: Separation of Church and State, here in Florida and in America. Rev. Parrott has served on the National Leadership Council and National Advisory Councils of Americans United for many years. He was a plaintiff in at least two cases against the Governor of Florida in lawsuits to protect the separation of church and state. He is an excellent speaker. Meet and greet social is at 6:30, meeting at 7 p.m. Email [email protected] for information.
♦ June 2: A free showing of "Voiceless," a Christian movie in opposition to abortion, is scheduled for showing at 6:30 p.m. at Santa Maria del Mar Church, 915 N. Central Ave, Flagler Beach, in either the Fellowship Hall or the Church, depending on the response. Light refreshments will be served. Please call either Elaine Torma, 407-227-4198, or Duane or Janice Berreth, 386-597-2344, to register or if you have any questions. Caution: the event is organized as a partisan rejection of abortion as an option, not merely as an informational showing, and will feature a "mobile sonogram" unit and the participation of sectarian organizations that provide Christian-based counseling against abortion. ("We do not wish to have any negative publicity as part of this event and running it with that caveat would certainly open us up to that," Torma wrote.) The movie has not been controversial so much as unpopular: Since its release in October, it has grossed just over $400,000. "Voiceless," one reviewer wrote, "may be atypical of evangelical Christian movies in some ways, but it is further evidence of what Saturday Night Live and I have observed, which is that such films have grown positively uninterested in offering anything to audiences who don't already share their beliefs."
♦ June 3: Sample craft beers along historic canal street. in New Smirna Beach from 1 to 7 p.m. Tickets are $20 and include a six-ounce Canal Street souvenir glass and 12 sampling tickets that can be redeemed at 10 locations in the district. The walk is held on the first Saturday of each month. For more information, go here.
♦ June 3: Art Stroll and Gallery Walk, 10 a.m. to 5 p.m.: Artistic vendors set up along the historic Canal Street in New Smyrna Beach. Musical artists play from 11 a.m. – 1 p.m. in Christmas Park, 101 Live Oak Street. Galleries feature solo and group exhibitions and artist talks in the Douglas Avenue area of the district and at the Hub from 4-8 p.m. Admission is free.



Palm Coast Construction and Development Progress Reports
The following is an update of ongoing permitting, construction and development projects in Palm Coast, through May 12 (the city administration's full week in review is here):
Click to access week-in-review-may-12-20171.pdf

Road and Interstate Construction:

Chopin: 24 Etudes for Piano Op.10 , Op 25, Lukas Genjušas, Piano
Previous Codas: