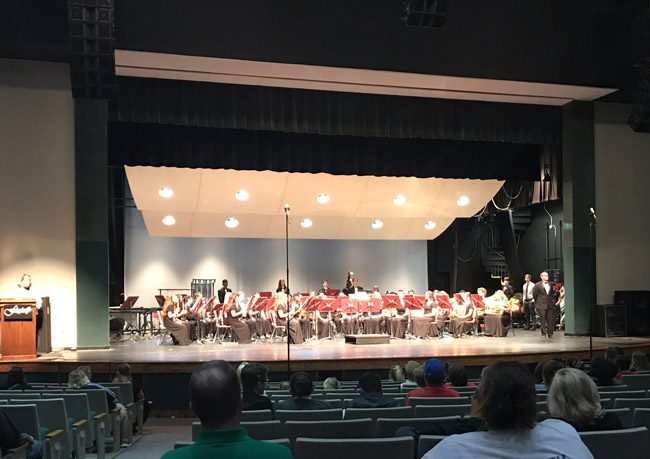 Weekend: Sunny Friday and Saturday morning, cloudier wach of those afternoons, overcast on Sunday, highs in the 80s Friday, 70s Saturday and Sunday, showers likely Sunday, lows in the lower 60s or upper 50s. Details here.
Drought Index is at 376.
Today's tides: at the beaches, at the Intracoastal Waterway.
Today's document from the National Archives.
The OED's Word of the Day: Pendragon, n.1
.
The Live Community Calendar
Today's jail bookings.
Today's Briefing: Quick Links

""If our parliaments are unpopular, it's because we are told too much about them, because there's too much noise made over too little substance. If tomorrow we embraced some dictator, an ardent desire to lie down, to blow out the candle and sleep without care would be the main impetus.".
–Émile Zola, cited in Zola: A Life

Note: all government meetings noticed below are free and open to the public unless otherwise indicated. Many can be heard or seen live through each agency's website.
The Sheriff's daily incident reports and jail bookings are posted here.
Keep in mind: March is Women's History Month, and Bike Week begins Friday, March 10, and runs through Sunday, March 19: Please look both ways, twice, be safe, and look out for the safety of others..
Take the Flagler County School Superintendent Survey: The school district is inviting residents, including students and faculty, to fill out this survey, letting school board members know what kind of superintendent you want to replace Jacob Oliva, who is leaving in June. This survey will be live until early March. It takes about 10 minutes. It's anonymous. Fill it out here.

Free For All Friday on WNZF, 9 a.m.: Host David Ayres welcomes Flagler County Sheriff Rick Staly, Palm Coast City Council member Bob Cuff, and Greg Roman, director of the reactionary Middle East Forum, starting with a commentary by FlaglerLive Editor Pierre Tristam on junk food and food stamps.
Friday: Flagler County Schools are in session today for all students and faculty: the day was originally scheduled as a day off, but it became a make-up day as a result of days lost to Hurricane Matthew last October. Spring Break begins Monday and through March 17.
The Flagler County Airport Advisory Board meets at 4 p.m., 120 Airport Rd., Third Floor. No agenda was posted online.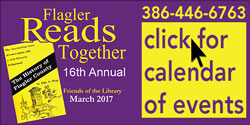 Friday: Flagler Reads Together event (the Friends of the Library's annual communal reading event that focuses on a single book and encourages everyone in the county to read it: the late Jack Clegg's "The History of Flagler County," in conjunction with Flagler County's centennial celebrations). The March 10 event, at 2 p.m. in the Doug Cisney Room at the Flagler County Public Library on Palm Coast Parkway, is a presentation by Bob Stone addressing the Cattle industry in Florida. Folklorist and media producer Bob Stone's multi-media presentation explores and celebrates the history and culture of the nation's oldest cattle ranching state from the colonial period to the 21st century. You will see and hear all aspects of Florida cattle ranching traditions including material culture such as Cracker cow-whips and unique ranch gate designs, swamp cabbage and other foodways, cowboy church and Cracker cowboy funerals, Seminole ranching past and present, occupational skills such as roping and branding, our vibrant rodeo culture, side-splitting cowboy poetry, feisty cow-dogs, and much more.
Friday: Movies in the Park, 7:45 p.m. in Central Park at Town Center, 975 Central Ave., Palm Coast. Families will enjoy a family friendly movie on the park's giant outdoor movie screen. This month's feature: The Jungle Book. Bring your blanket, lawn chairs and snacks and invite your friends and neighbors to join you at this free, monthly family activity offered by Palm Coast Parks & Recreation and Flagler Schools. More info: 386-986-2323 and www.palmcoastgov.com/movies.
Friday-Sunday: 2017 Florida State Scholastic Chess Championship, at the Wyndham Hotel on International Drive in Orlando. This is also the qualifier for the Denker, Barber and National Girls Tournament Champions. This year each of these 3 events are awarding a $5,000 scholarship good for any university or college in the Country to the top finisher in each event. The top finishers will also get qualifying spots in the World Youth Tournament. Online entry and more information are available at www.floridachess.org.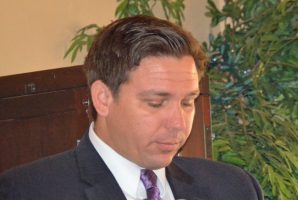 Saturday: Discussions With DeSantis: U.S. Rep. Ron DeSantis, who represents Florida's 6th Congressional District, including all of Flagler County, holds three town halls in the district, though none in Flagler: from 9 to 10:30 a.m. at the Pedro Menendez High School Auditorium, 600 State Road 206, St. Augustine, from 1 to 2:30 p.m. at Bethune-Cookman University's Performing Arts Center, 698 West International Speedway Boulevard in Daytona Beach, and from 5 to 6:30 p.m. at the Mt. Dora Christian Academy Auditorium, 301 West 13th Ave., Mount Dora. No tickets required. All free, all open to the public.
Saturday: First Aid and CPR/AED, 9 a.m.-4 p.m. at Frieda Zamba Swimming Pool classroom 339 Parkview Ave., Palm Coast. This class is a 7-hour course (one hour for lunch) designed to meet OSHA regulations and teach administering CPR to children and adults, using an Automated External Defibrillator (AED), using a mask or barrier device, assisting with bleeding, broken bones. $5/person with pre-registration required by 9 a.m. March 9. Sign up at www.palmcoastgov.com/cpr. More info: [email protected] or 386-986-2300.
Saturday: The Women's Missionary Society of First Church of Palm Coast, pastored by the Rev. Gillard S. Glover, has scheduled the food giveaway from 1 to 3 p.m. at the church, 91 Old Kings Road North, Palm Coast. For further details, call the church at 386-446-5759.
Saturday-Sunday: Seafood Festival in Palm Coast's Town Center. Bill 'Sauce Boss' Wharton will be on stage both days playing his New Orleans style steel guitar while cooking up a huge batch of gumbo. From 10 a.m. to 7 p.m. Musical talent from the local area and across the South East will be on the stage for this event. Everything from Southern Rock and Country to Jazz.
Sunday: The Palm Coast Yacht Club sponsors the annual Blessing of the Fleet in the Cimarron basin at 3 p.m. The Blessing of the Fleet is a centuries old tradition that began in the fishing communities of the Mediterranean. More recently, in the coastal communities of Florida, including Palm Coast, the Blessing of the Fleet marks the opening of a new boating season. All captains are invited to bring their vessels to receive the blessing of Father Al for a safe and bountiful navigational season. Any type of watercraft is welcome.

Open Registration for the 2017 Summer Camp at the Flagler County Youth Center for incoming 6th to 9th grade students is now open. To register, click here. The cost for the 2017 Summer Camp is $160 for the 1st child and $125 for every additional child. All payments must be made within 10 business days of submitting this form or you will have to re register. Please note spaces will be reserved on a first pay, first serve basis. Payment may be in Cash or a Check/Money order made out to FPCHS. Payment can either be dropped off or mailed to:
Flagler County Youth Center
5500 East Highway 100
Palm Coast, FL 32164
Please include a note with who the payment is for. If you have any questions please email [email protected] or call 386-437-7540 Ext.5102
Flagler Palm Coast Kiwanis Special Grant Awards: The final application deadline is March 31. Grants submitted after that date cannot be considered. Non-Profit Organizations and Schools that work with children are eligible to receive a grant for their proposal. Awards are given in amounts up to 5,000 dollars. Due to limited resources, not all projects can expect funding. Applications may be obtained on the FPC Kiwanis. Org website. All applications must be completed on the forms provided, though additional pages may be attached. An important requirement is that the grant not be the primary source of funding for the proposed project. Instructions on where to submit the electronic application are on the application letter with the download. The form is not interactive.

In Florida and in State Government:
Note: Some proceedings below can be followed live on the Florida Channel. Most legislative proceedings can be followed through the Senate or House websites.

The House Education Committee meets. (Friday, 8 a.m.)
The full House is expected to meet. (Friday, 10:30 a.m.)
The Florida Commission on Ethics meets Friday, 8:30 a.m., Florida Commission on Offender Review, 4070 Esplanade Way, Tallahassee.
The Council of Presidents of the Florida College System will meetFriday, 8:30 a.m., Tallahassee Community College Capitol Center, 300 West Pensacola St., Tallahassee.
CAMPAIGN FINANCE REPORTS DUE: State candidates and political committees face a Friday deadline for filing reports showing finance activity through Feb. 28.
•
–Compiled by the News Service of Florida and FlaglerLive

In Coming Days in Palm Coast, Flagler and the Occasional Beyond:
♦ March 17: Lunch N' Lecture Series 11 a.m.-12:30 p.m. at Palm Coast City Hall, 160 Lake Ave. This month's topic: "Can I recycle this?" The lecture and lunch are free, but pre-registration is required (while space available) by 11 a.m. March 15: www.palmcoastgov.com/register. More info: 386-986-2323.
♦ March 17: The Gargiulo Art Foundation's 2016 Artist of the Year, Judi Wormeck, is featured in a month-long show at Ocean Art Gallery in Flagler Beach with an opening reception from 6 to 9 p.m. The event is free and open to all, at 206 Moody Boulevard (State Road 100) in Flagler Beach. Tom Gargiulo will present a Gallery Walk and a Q&A on March 30 at 6 p.m., and Judi Wormeck will have a demonstration on March 30 at 6 p.m. Gallery hours are Tuesday through Sunday, noon to 6 p.m.
♦ March 18: NCCAA Youth Sports Clinic, 9 a.m. check-in, with clinic from 9:30-11:30 a.m. at Indian Trails Sports Complex, 5445 Belle Terre Pkwy. and Palm Harbor Golf Club, 100 Cooper Lane. 6-16 year olds will enjoy free soccer, baseball, volleyball, basketball and golf instruction offered by professional coaches and collegiate athletes representing the National Christian College Athletic Association. Register online at www.palmcoastgov.com/register . More info: 386-986-2323.
♦ March 21: Food Truck Tuesday, 5-8 p.m. at Central Park in Town Center, 975 Central Ave, Palm Coast. Purchase and enjoy delicious cuisine available from food trucks situated along Park Street next to Central Park. Free entertainment is also provided. Proceeds this month will benefit the Parks & Recreation summer camp scholarship fund. More info: www.palmcoast.gov.com/foodtruck or call 386-986-2323.
♦ March 22: The boy Scouts Council holds its Golden Eagle Dinner at 6 p.m. at Hammock Beach Resort, honoring Bob Cuff, now a Palm coast City council member.
♦ March 23: Tom Gargiulo will present a Gallery Walk and a Q&A on the works of 2016 Artist of the Year Judi Wormek, at 6 p.m. at Ocean Art Gallery, 206 Moody Boulevard (State Road 100) in Flagler Beach.
♦ March 28: The Flagler Forum, the discussion group organized by Ed Fuller, hosts a panel discussion featuring Flagler County's local media, including Palm Coast Observer Editor Brian McMillan, Flagler Broadcasting-WNZF General Manager David Ayres, Daytona Beach news-Journal Editor Pat Rice, and FlaglerLive Editor Pierre Tristam, at the Hilton Garden Inn, Palm Coast, at 6:30 p.m.
♦ March 30: The Flagler County Chamber of Commerce's Common Ground Breakfast at 8 a.m. at Grand Haven Country Club features a panel including Palm Coast Observer Editor Brian McMillan, Flagler Broadcasting-WNZF General Manager David Ayres, Daytona Beach news-Journal Editor Pat Rice, and FlaglerLive Editor Pierre Tristam.
♦ March 30: Flagler County schools' summer camps and activities expo, from 5:30 to 7:30 p.m. at the Buddy Taylor Middle School-Wadsworth Elementary cafeteria.
♦ March 30: 2016 Artist of the Year Judi Wormek presents a demonstration of her work at 6 p.m. at Ocean Art Gallery, 206 Moody Boulevard (State Road 100) in Flagler Beach.
♦ April 26: Anyone whose child has died is invited to an informal meeting to consider eventually establishing a local chapter of The Compassionate Friends, a nonprofit self-help bereavement support organization for families that have experienced the death of a child. There are some 650 such chapters across the country. The meeting will be from 6:30 to 8 p.m. at Florida Hospital Flagler in classrooms A&B. for more information, call John Brady at 610/428-3139. To learn more about The Compassionate Friends, visit their national website at www.compassionatefriends.org. The meeting is open to all parents, grandparents, and siblings over age 18 who has suffered the loss of a child of any age.
♦ May 16: The Florida Judicial Qualifications Commission holds a hearing the the case of Circuit Judge Scott DuPont, who faces several charges of misconduct during his 2016 re-election election campaign. He has admitted wrongdoing. The 9 a.m. hearing is taking place in courtroom 406-7 at the Duval County Courthouse, 501 W. Adams Street, Jacksonville, before a six-member panel: Eugene Pettis, Steven P. DeLuca, Robert Morris, Michele Cummings, Harry Duncanson (a lay member of the commission) and Jerome S. Osteryoung.

[PODCAST] WikiLeaks' CIA document dump gives away big intelligence secrets. But have we really learned anything new? https://t.co/uxPOuWz2wg

— Foreign Policy (@ForeignPolicy) March 9, 2017
Jeff Sessions promises more Gitmo and Fast and Furious, and no more legal weed, hippies! https://t.co/wrmp7Y9pyE

— Crooks and Liars (@crooksandliars) March 9, 2017
In the 1920s, oil was discovered under the Osage Indian Nation reservation, in Oklahoma. Then the murders began: https://t.co/iSRGfaALRj pic.twitter.com/nCd7vLL670

— The New Yorker (@NewYorker) March 9, 2017
GE's $30 million streetlamp upgrade illuminates the rewards and risks of smart cities https://t.co/kjVIRNbgEh pic.twitter.com/WZHNBwBdQl

— Fast Company (@FastCompany) March 9, 2017
Kanawha County sues drug firms over 'endless supply' of prescription painkillers https://t.co/zyNmVxY5OM by @EricEyre

— Gazette-Mail (@wvgazettemail) March 9, 2017
How does the Secret Service adapt to different presidents? https://t.co/PMtt1PNwbm pic.twitter.com/FHj5HTRhWa

— Slate (@Slate) March 9, 2017


Palm Coast Construction and Development Progress Reports
The following is an update of ongoing permitting, construction and development projects in Palm Coast, through Feb. 24 (the city administration's full week in review is here):
Click to access development-february-22-2017.pdf

Road and Interstate Construction:

The Well Tempered Clavier, Book 1,HJ Lim, Piano
Previous Codas: