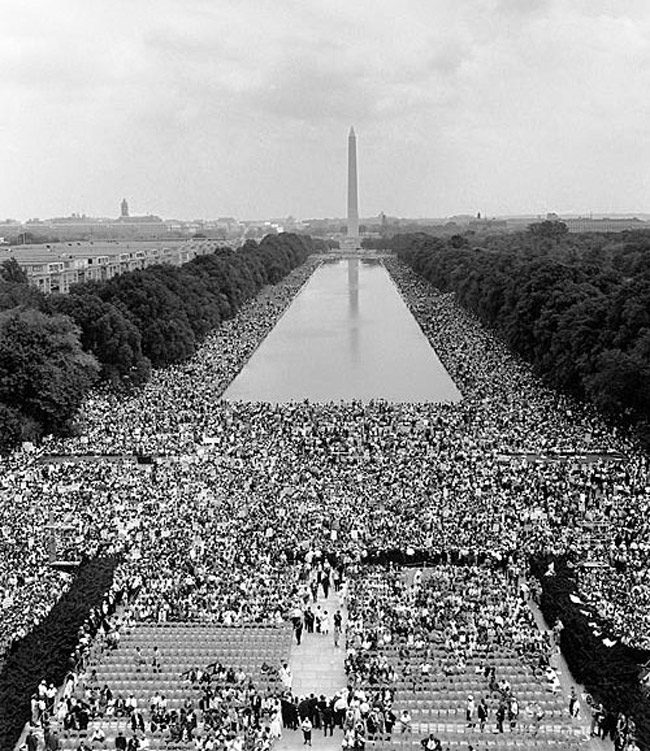 Weekend: Variable cloudiness, not as torridly hot, highs in the upper 80s, lows in the 70s, occasional thunderstorms. Details here.
Today's fire danger is moderate. Flagler County's Drought Index is at 472.
Today's tides: at the beaches, at the wayzgoose, n..
Today's document from the National Archives.
The OED's Word of the Day: No-Mates, n..
The Live Community Calendar
Today's jail bookings.
Today's Briefing: Quick Links


"The epitaph says, for those who can read it, that he is a saint and martyr who shall breathe again and shall in wondrous joy inherit and flourish shall wear a crown and be seated in the kingdom. And I have heard it said that this must be so–if by killing men and shedding blood, by damning souls and causing deaths, by trusting evil counsels, by setting fires, … seizing lands and encouraging pride, by kindling evil and quenching good, by killing women and slaughtering children, a man can in this world win Jesus Christ, certainly Count Simon wears a crown and shines in heaven above."
–An anonymous chronicler of the Cathar wars of the 12th century on the death of Simon de Montfort.
Note: all government meetings noticed below are free and open to the public unless otherwise indicated. Many can be heard or seen live through each agency's website.
Ongoing Early Voting in Flagler County for a slew of local, state and federal offices leading up to the Aug. 30 primary. Early voting is mandated from Aug. 20 through Aug. 27, but county supervisors of election have the discretion to begin sooner. Flagler's is among 24 counties choosing to do so. Though it is a primary, numerous races appear on the ballot in which all registered voters are eligible to cast a ballot, regardless of party affiliation, including for Palm Coast City Council (if you're a Palm Coast resident), for judges, for school board and for Supervisor of Elections. Early voting hours are 10 a.m. to 6 p.m. every day through Saturday, August 27, at the following locations:
1. Flagler County Public Library
At the corner of Belle Terre and Palm Coast Parkway.
2500 Palm Coast Parkway N.W. Palm Coast
View this location on a map
2. Palm Coast Community Center
At the corner of Clubhouse Drive and Palm Coast Parkway.
305 Palm Coast Parkway NE Palm Coast
View this location on a map
3. Supervisor of Elections Office
Located in the Government Services Building.
1769 E. Moody Boulevard, Building 2, Suite 101 Bunnell
View this location on a map
All the information you need is at the Supervisor of Elections' website.
Saturday: Guided Salt Marsh Kayak Tour: Gamble Rogers Memorial State Recreational Area at Flagler Beach (3100 S. Oceanshore Blvd., Flagler Beach), Join us for a guided kayak tour on the Intracoastal Waterway and salt marsh. The tour will last approximately 1.5 hours. Learn about the importance of this dynamic ecosystem while paddling peacefully in one of the park's kayak's. Participants of all levels of experience are welcome and will receive a brief safety demonstration and an introduction to basic kayaking techniques and gear requirements. Bring bug repellent and dress appropriately for the weather. Kids in double kayaks must be at least 12 years old. Kids in single kayaks must be at least 16 years old. Reservations are required. The cost of the tour is $40 per person and must be paid in advance in order to secure a reservation on a first-come-first-serve basis. If you have your own kayak it will be $15 per person. Payment must be made in person in advance of the day of the tour. Park admission is included in tour cost. To reserve your place or request assistance or information, please contact Celena Cline, (386) 517-2086, or email [email protected].
Sunday: Families Faith Fun Festival at St.Thomas Episcopal Church from 1 to 5 p.m. with free food, family-oriented games, lots of prizes, and raffle drawings. All invited, whether members of the church or not. See the website at stthomaspalmcoast.com.

Updated jail bookings and day and night shift incident summary reports are available here.

Nasty, Brutish and Shrill: Flagler Sheriff's Race Tests Edge of the Believable as Attacks Multiply

Two Wednesday Fires in Seminole Woods Now Suspected Acts of Arson By Youths

51 Years Later, Honor Is Resurrected for Flagler Sheriff Homer Brooks's Line-of-Duty Death

Construction workers find possible human remains in Hammock Dunes; deputies investigating:

Castillo de San Marcos among success stories of National Park Service

Two Attorneys Disbarred Over "Unprecedented" DUI Set-Up of Opposing Lawyer in Big Case

Starbucks to Demolish and Rebuild Island Walk Store to Include Drive-thru

[Paywall-protected] Rio police charge Ryan Lochte with false report of robbery

"A Very Good Save": Firefighters Beat Back Wildfire Within Inches of a House in Seminole Woods

From Charlie Brown to Signs of Intelligent Life, City Rep Launches Next to Normal 6th Season

In Florida and in State Government:
Note: Some proceedings below can be followed live on the Florida Channel.

FRIDAY: CAMPAIGN FINANCE REPORTS DUE: State political candidates, parties and committees face a Friday deadline for filing reports showing finance activity through Aug. 25.
Saturday: Former Republican presidential candidate Ben Carson is expected to give the keynote speech during a Florida Family Policy Council awards dinner. (6 p.m., Rosen Centre Hotel, 9840 International Dr., Orlando.)
–Compiled by the News Service of Florida and FlaglerLive

In Coming Days in Palm Coast, Flagler and the Occasional Beyond:
♦ Sept. 3: Plein air artist William Lurcott, a Flagler Beach resident, is featured at Ocean Art Gallery in Flagler Beach from 6 to 8 pm during the opening reception of his month-long show "A Landscape Perspective." The public is invited to this free event. During the reception, the artist will meet with guests and explain his artistic techniques. Light refreshments and live music will be available. The gallery is at 206 Moody Blvd., Flagler Beach.


♦ Sept. 7: The Flagler Youth Orchestra holds its open house for all new or prospective students who'd like to join the county's largest (and free) music program. The open house is at the Indian Trails Middle School cafeteria at 5:30 p.m. Any Flagler student, including homes chooled students, in grades 3-12, are eligible to enroll (must be 8 years old by Sept. 1, 2016.) Students may elect to play violin, viola, cello or doublebass. One-hour classes are held at Indian Trails Middle School Mondays and Wednesdays, from 3 to 6 p.m., with students enrolled in the hour block appropriate to their skill level and schedule. The first class for first-time students is Sept. 19. (Auditions for returning students start on Aug. 22, the first class for returning students is Aug. 31.)
♦ Sept. 8: Meeting of the Flagler school district's Strategic Plan Steering Committee, 5:30 to 7 p.m., Third Floor main conference or training room 3, Government Services Building, Bunnell. Open to the public.
♦ Sept. 10: African Art: Ancient Egypt to the Contemporary World, a pair of presentations by Bertrand Green, former chairman of African American studies at Lehman College, City University of New York. The first session is from 10 a.m. to noon, the second session from 2 to 4 p.m., at the Hilton Garden Inn, Palm Coast. $20 for PCAF members, $25 for general admission. Call 386/225-4394 or email [email protected] to reserve your seat.
♦ Sept. 17-18: Staged Reading of Neil Simon's "Chapter Two," at the Flagler Auditorium's Black Box Theatre, directed by Bruce Heighley, a volunteer production to benefit the auditorium's the Arts in Education Scholarship Fund and Temple Beth Shalom. Performance times are 7 p.m. on Sept. 17, 2 p.m. on Sept. 18. Tickets: $29 for adults, $18 for students. Call the Flagler Auditorium, 437-7547, for tickets, or go to flaglerauditorium.org.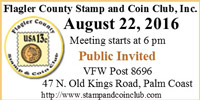 ♦ Sept. 26: The Flagler County Stamp and Coin Club meets at 6 p.m. at the VFW Post 8696, 47 N. Old Kings Road, Palm Coast. The public is welcome.
♦ Feb. 6: The great violinist Itzhak Perlman opens the 2017 season of the Amelia Island Chamber Music Festival with a 7:30 p.m. performance at First Baptist Church, 1600 South 8th Street in Fernandina Beach. Tickets here.

How understanding teen brains leads to better policing https://t.co/si2O0VudwD pic.twitter.com/9iDUHqssRg

— The Atlantic (@TheAtlantic) August 26, 2016
How to make love according to a guide from the 1930s https://t.co/3NJQxBr1Vb pic.twitter.com/NNXciMprdK

— The Independent (@Independent) August 23, 2016
Negative campaign: Votes sought for most disliked English word https://t.co/d3EhJx1y7R

— The Guardian (@guardian) August 24, 2016
Poland Moves to Outlaw 'Polish Death Camp' Phrase: https://t.co/cxmU7KC4UI via @tabletmag pic.twitter.com/9gNAjZ11zv

— CEJI (@cejioffice) August 22, 2016
Was Nero a matricidal villain or the victim of a propaganda campaign? The answer may lie in art https://t.co/14TzKO5faE

— Arts & Letters Daily (@aldaily) August 26, 2016

https://twitter.com/tabletmag/status/768509490333351937

Fact-Checking the Knaves:


Palm Coast Construction and Development Progress Reports
The following is an update of ongoing permitting, construction and development projects in Palm Coast, through August 11 (the city administration's full week in review is here):
Click to access palm-coast-projects-august-11.pdf

Road and Interstate Construction:

Branford Marsalis: A Full Concert at the Newport Jazz Festival, 1999
Previous Codas: