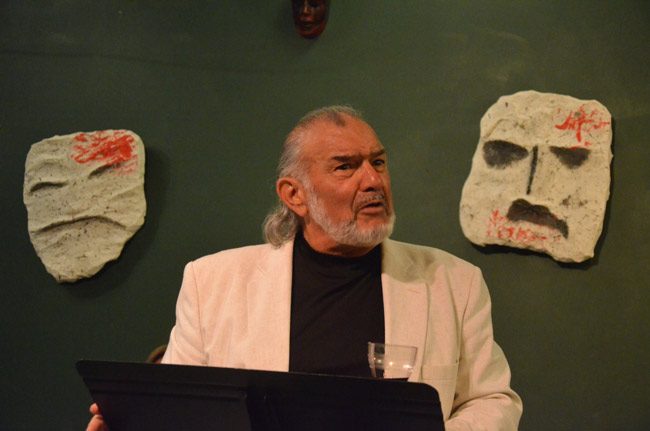 "Next to Normal" might be a good catch-phrase to describe City Repertory Theatre. Or its founder and indefatigable director, John Sbordone, who won't even let the odd knee replacement stop his momentum. The Palm Coast company, which opens its sixth season Sept. 9, doesn't quite do things the normal community theater way. And thank Dionysus for that, among others.
City Rep lets its stable of go-to actors suggest and virtually choose plays to stage. Sbordone isn't afraid to note some of the troupe's offerings didn't produce boffo box office on Broadway. That's not the criteria for what makes it to the company's small storefront stage at City Marketplace, which has always been more Bleecker Street than Broadway anyway.
City Rep lusts after edgy and-or avant-arty plays such as David Mamet's "Race," David Ives' "Venus in Fur" and Yasmina Reza's "God of Carnage" – works that City Rep has staged to squirms and acclaim in relatively even proportions in recent years.
Those trends will continue with various plays during City Rep's upcoming sixth season, chief among them "Next to Normal," the 2008 Tony-winning musical about a mother's battle with bipolar disorder and its effects on her family.
The 2016-17 season also will include such uncommon works as "The Mystery of Irma Vep," the musical "John and Jen," Jean Anouilh's "The Waltz of the Toreadors" and the Lily Tomlin vehicle "The Search for Signs of Intelligent Life in the Universe." Also on the bill is such mainstream fare as "The Rainmaker," A.R. Gurney's "Love Letters" and the season opener, the musical "You're a Good Man, Charlie Brown."
"I think 'Next to Normal' is the most challenging show to tackle," Sbordone said. "It is an extraordinary musical based on a family's life. The mother is depressed and the relationships – not only do you have to have brilliant singers but they have to be very, very fine actors because of the subtleties of the characters.
"It's an absolutely dynamite piece that belongs in a theater like City Repertory Theatre. It's a musical but at the same time there's no dance. It's won all kinds of awards but it will not be one of the all-time popular successes. It's not 'Fiddler on the Roof.' But it should be done."
A test of a different sort will be presented by "The Waltz of the Toreadors," a dark farce about an aging would-be lothario set in 1910 France that may resonate against more than a few dentures in aging Palm Coast.
"That play will pose a very interesting challenge for us because it's a costume drama, which we don't normally do, and it has a bit of a larger cast," says Sbordone, who calls Anouilh "one of my favorite playwrights."
Many of the season's plays have already been cast.
"We try not to pick a play unless we have the strength of the leads," Sbordone says. "Often, because we consider ourselves an actors' theater, we will go to our best people and say, 'Is there something you'd like to do?' And if it falls into our mission, we try to take it on for them."
That was the case with "Next to Normal," which was suggested by three performers in last season's production of "Working": Julia Davidson Truilo, Chelsea Jo Conard and music director Ben Beck. "Charlie Brown" was "suggested by one of our anchors, Jamie Irvine," Sbordone said.
Productions will be staged at City Repertory Theatre, 160 Cypress Point Parkway, Suite 207B, Palm Coast. Shows are at 7:30 p.m. Fridays and Saturdays and 2 p.m. Sundays. Tickets are $25 for musicals and $20 for other shows.
Admission for special-event performances, which serve as fundraisers for CRT, will be determined. Admission to those shows will include a beverage and "choice snacks."
At City Repertory Theatre:
---
"They're Playing Our Song," directed by John Sbordone, at City Repertory Theatre, at 7:30 p.m. Jan. 10, 2 and 7:30 p.m. Jan. 11, 7:30 p.m. Jan 17-18, and 3 p.m. Jan. 12 and 19. Both Jan. 11 performances are sold out. Performances are at CRT's venue in City Market Place, 160 Cypress Point Parkway, Suite B207, Palm Coast. Tickets are $30 for adults, $15 for students. For more information or tickets, call the CRT box office at 386-585-9415 or easily book online here.

Click On:
---
Season tickets are $125 and do not include special-event performances. Special-event tickets for season subscribers are $10. Information: 386-585-9415 or crtpalmcoast.com.
Here's the lineup for City Rep's 2016-17 season:
"You're a Good Man, Charlie Brown" – Sept. 9-Oct. 2. The 1967 musical comedy, with music and lyrics by Clark Gesner, features characters from the beloved "Peanuts" comic strip by Charles M. Schulz.
"The Mystery of Irma Vep" – Oct. 21-30. Fans of word games will note that "Irma Vep" is an anagram of "vampire." Indeed, this 1984 comedy-mystery by Charles Ludlam follows the escapades of a vampire, a werewolf, an Egyptian princess and other characters as the play pokes campy fun at the penny dreadful, those pulp magazines of Victorian Britain that featured sensational fiction about criminals and supernatural creatures. Directed by Julia Davidson Truilo, the play features a two-person cast who will portray all eight characters with more than two dozen costume changes.
"The Rainmaker" – Sunday Nov. 13 (special premiere event) plus Nov. 18-20. A staged reading of N. Richard Nash's 1954 comedy-drama about Lizzie, a plain woman on the edge of spinsterhood, and her family in a Depression-era Texas town. While drought threatens the family's cattle ranch and Lizzie's father and brothers long to find her a husband, a charming stranger arrives with a promise to bring rain – for a fee. Stars Annie Gaybis and Peter Gutierrez.
"The Search for Signs of Intelligent Life in the Universe" – Dec. 2-10. Lily Tomlin won the 1986 Tony Award for Best Actress in a Play for her performance in this comedic one-woman show, which was written by her life partner Jane Wagner (the couple married in January 2014).
City Rep's production will feature a number of actors portraying the 12 characters of "Search," which include Brandy and Tina the prostitutes, an aerobics instructor, a teenage performance artist/punk rocker, a middle-aged farm wife and of course Trudy, a bag lady who dispenses crazy wisdom to extraterrestrials visiting Earth. The play stars Dani Talo, Evelyn Lynam and others.
"Next to Normal" – Sunday Jan. 15 (special premiere event) plus Jan. 20-29. This rock musical, with book and lyrics by Brian Yorkey and music by Tom Kitt, tells the story of a mother's 16-year battle with bipolar disorder and its effects on her husband and two teenage children. Grief and ethics in modern psychiatry are just some of the issues the play brings to light.
The musical opened off-Broadway in 2008 and moved to Broadway in 2009, where it was nominated for eleven Tony Awards and won three, including Best Original Score and Best Performance by a Leading Actress in a Musical for Alice Ripley. The City Rep production stars Julia Davidson Truilo and Chelsea Jo Conard, with pianist Ben Beck as music director.
"Love Letters" – Feb. 10-12 (special Valentine's event, all performances; not included with season ticket package). A.R. Gurney's 1988 drama tells the story of childhood friends Melissa and Andrew, who continue to write letters to each other over the course of 50 years, even after adulthood leads them on separate paths. The play's action consists of each character alternately reading those letters and notes as they explore marriage, divorce, middle age and more.
Each of the three City Rep performances will feature a different cast: Julia Davidson Truilo and Lloyd Bowers on Feb. 10, Sue and John Pope (who are married in real life) on Feb. 11 and Monica McNulty Clark and Everett Clark (also married in real life) on Feb. 12.
"The Waltz of the Toreadors" – Sunday March 19 (special premiere event) plus March 24-April 2. In Jean Anouilh's 1951 farce, at turns comic and bitter, an aging general in 1910 France is despondent at the thought of retirement with his hypochondriac wife. And so the general hopes to rekindle an unconsummated flirtation with a woman he danced with 17 years ago – only to find he must compete for her with a much younger suitor. The play stars Sue and John Pope and Anne Kraft.
"John and Jen" – May 5-14. This 1995 musical, with music by Andrew Lippa, lyrics by Tom Greenwald and a book by the duo, tells the story of Jen and her relationships with the two Johns of her life: her younger brother and his namesake, her son.
Set from 1950 to 1990, the play explores how Jen's hippie 1960s lifestyle led her to become estranged from her brother, who served in the Navy in Vietnam. Later in her life, Jen's suffocating parenting threatens to alienate her son and drive him away. The play stars Chelsea Jo Conard and Anthony Romeo, with musical direction and accompaniment by pianist Ben Beck.
–Rick de Yampert for FlaglerLive