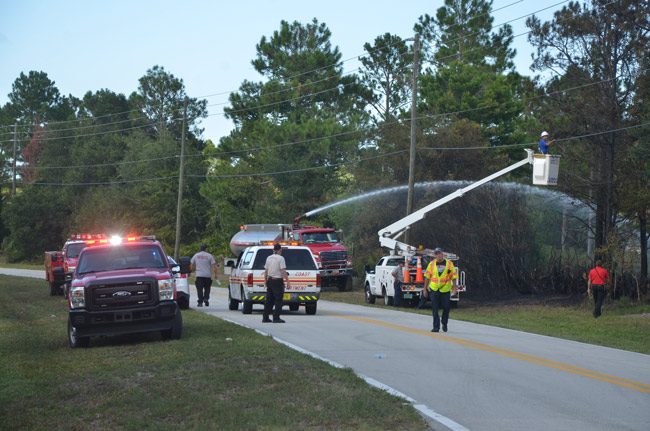 When a fire broke out in the woods immediately adjacent to the house at 7 Sellner Place in Palm Coast's Seminole Woods Wednesday, county and city firefighters responded quickly, put out the flames and saved the house in what turned out to nbe a very close call: the flames were already into the eaves of the house.
That fire broke out at 3 p.m. It was out by 4 p.m. Not long after that, there was smoke across the street at Sergeant Court. That turned out to be a minor emergency in a flowerbed. That fire was put out. Neither fires were thought suspicious at the time, with the second fire blamed on embers from the first fire.
At 8 p.m., however, yet anoither fire broke out in an empty lot at Selma Trail and Sellner Place, four lots down from the original fire at Sellner. That fire spread quickly, and residents in adjacent homes were evacuated. Flagler County Fire Rescue and the Palm Coast Fire Department extinguished that fire as they had the previous ones.
It wasn't long that evening before Flagler County Fire Captain Richard Bennett deemed both Selnner Place fires suspicious, according to a heavily censored Flagler County Sheriff's incident report. The second fire was not a "rekindle," according to the report, meaning it was not sparked from a previous fire.
Rather, authorities spoke with witnesses who saw youths run away from the scenes of the fires on both occasions–youths who in both cases matched descriptions. One resident saw two youths run through her backyard within moments of the fire starting. A wallet was also found at the scene of one of the fires, giving authorities a way to trace back to the owner of the wallet, who may be a suspect in the fire. The sheriff's incident report does list a suspect, but all information pertaining to the individual is censored.
Authorities suspect that a fire two weeks ago on September Trail, which branches off of Selma Trail, not far from Sellner Place, may have been related to Wednesday's fires. The Florida Division of Forestry is also investigating the fires.
Intentionally set wildfires would not take long to spread in the current environment in Flagler County, where the drought index is approaching 500 on an 800 scale, and conditions have been persistently dry.