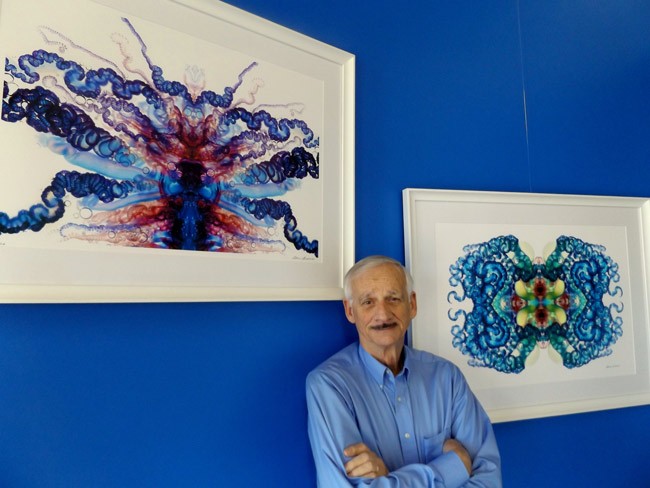 Talk with Frank Gromling about the grand re-opening of his Ocean Art Gallery in Flagler Beach on Sunday (Feb. 21), and such phrases as "business artist" and "point of the spear" may pop up in the conversation, along with a bit of New Age-speak.
The gallery, which he moved in January from State Road A1A to 206 Moody Blvd. a few blocks away, is the ninth business Gromling has founded and operated, "and all except two have been successful," he says matter-of-factly. "I'm not a painter, I'm not an artist. I always call myself a business artist."
As for that "spear," well, Gromling is a former U.S. Air Force special operations officer and instructor, and he later owned an international security services company (occupations the details of which he loves to shroud in muslin hush). So, it's no surprise that military jargon may pepper his speech.
But, when Gromling mentions his belief in the "law of attraction," which became a New Age buzz phrase over the past decade thanks to Oprah Winfrey's touting of the book "The Secret" by Rhonda Byrne, it's as jolting as if Gromling suddenly sprouted Martian antenna. But paradox is part and parcel of the Gromling adventure.
The gallery move from the storefront that had been so close to the beachside as to be a barometer of surf mists was precipitated last November by a 20 percent rent hike at the AIA space, which would have taken Gromling to "three grand a month." Efforts to negotiate a lower amount proved fruitless.
"I hadn't even thought about moving," Gromling says. "Two hours after I was told by the landlord that you have to pay the full tilt or you're out of here, a lady walked into my gallery and said, 'You called me three years ago about space. Are you still looking?'
"Two hours. This is how the universe works – is supposed to work. I said, 'Funny you should ask. Yes I am.' There are basic universal laws in the world: the law of attraction, the law of reciprocity. I did a talk on those two laws last Sunday and the example was what happened to me. When one door closed, another opened."
Yes, Gromling's affinity for the law of attraction may be oriented more toward Isaac Newton's decidedly scientific concept than toward the more mystical New Thought movement of the early 1800s, the ideas of Theosophy founder Madame Blavatsky (who reportedly first used the term in print in her 1877 book "Isis Unveiled"–no relation to ISIS's more veiled contemporaries) or the modern-day phenomenon of "The Secret." But one gets the idea that the affable Gromling would gladly sit down and chat about the law of attraction with Newton, Blavatsky, Oprah, New Age maven Shirley MacLaine or anyone.
As for that law of reciprocity: It's a phenomenon, long recognized by social psychologists–but let's be frank, Frank: not rationalists–in which people respond to kindness by doing something kind in return.
"The good news was I was open to them," Gromling says. "I didn't say no."
Gromling grew up in Cape Cod and Rhode Island, and had been "in and out of Flagler County since 1971, when I first discovered it. I've been on or near the ocean since I was 4 years old." He and his wife, Bibi, moved to Beverly Beach in 1999.
In 2002 Gromling founded Ocean Publishing, a traditional publishing house that specializes in nonfiction books about marine life, nature, the environment and conservation. The company glimmered when it published a four-book series with Jean-Michel Cousteau, the son of Jacques Cousteau, about the National Marine Sanctuaries.
And Gromling didn't say no when the law of attraction came calling on July 8, 2010. ("Being in security for 30 years, you tend to remember certain things," he says of his instant recall of that date. "It goes with the territory.")
The walls of Gromling's publishing office on A1A were bare when artist Rick Cannizzaro walked in that day in 2010.
"He had been away from his art for about 16 years," Gromling says. "He had a portfolio of impressionistic, acrylic marine life — very fine, very colorful. And I was doing my first book with Jean-Michel. I made him an offer: 'I have blank walls, you have art. How about if I hang your hang your art on my walls. I sell it to anybody who comes in, and I give you 70 percent.' So we made a deal. It was a perfect win-win."
Soon the rejuvenated Cannizzaro was in museums and galleries across Central Florida, while Gromling was starting what he jokingly calls his "serial artistic monogamy."
"We started having informal art shows," he says. Next to exhibit in Ocean Publishing's office was Kelly Kryspin, then a 17-year-old student at Flagler Palm Coast High School.
"She had wonderful, colorful stuff, fun stuff – I like fun," Gromling says. "We gave Kelly her first one-person show, and she sold practically everything she had. So here I am — I helped one artist get restarted and I helped a 17-year-old get started, and I'm feeling good about this. I realized serial artistic monogamy is OK, but what if we had serial artistic polygamy? I got three more artists."
And so Ocean Publishing transformed into the storefront Ocean Books and Art, which in turn begat the Ocean Art Gallery when Gromling expanded into the space next door in August 2012.
"When I get involved with something, I do it, I'm committed," Gromling says. "I didn't know anything about publishing before I started it either." He laughs.
That commitment is evident in Gromling's passion for the environment and conservation. After attending a lecture at Marineland's Whitney Lab in 2000, Gromling volunteered for the new Marineland Right Whale Project, which over the years had him organizing and training survey teams, working on research vessels in U.S. and Canadian waters, documenting whale sightings, videotaping whale activity and doing other tasks. He became known as the right-whale guy locally. He's still actively involved with the project.
---
"This art is not sitting here for people to come look at then walk out the door and go have lunch. I want them to buy it."
---
But Gromling's passion for the environment doesn't mean he limits the works in his Ocean Art Gallery to seascapes and marine life.
"The foremost word is quality," Gromling says of choosing the artists he represents. "I'm big enough to recognize it even if I don't like it. I'm not a trained artist — farthest thing from it. But I'm at least smart enough to know 'that's really good, and I bet other people who know more about that will find it really good.' If that's the case, then I bet I can sell that."
Diminishing standards in the publishing industry led Gromling to sell his publishing house to a New York company. He expects the sale to be completed by March.
"Quality is missing in the publishing world," he says. "When that went away, my passion for publishing went down the drain." He ruefully notes that he discovered a typo on page seven of a recent book by one of his favorite novelists, Steve Berry – a work released by Random House, a major publisher (though in fairness to the best of publishers typos have been an occasionally inevitable part of even the grandest publishing projects since the days of Gutenberg: there was the "Thou shalt commit adultery" of the 1631 edition of the King James Bible, three p's in the word stopped in a first edition of Hemingway's "The Sun Also Rises," and a lower-case j for Jay Gatsby on the dust jacket of the first edition of Scott Fitzgerald's 1925 classic. In every case, the typos have made surviving books even dearer collectors' items. FlaglerLive, of course, pays homage to the typo on a near-daily basis.)
Divesting himself of his publishing house means he can now focus on art, Gromling says.
Ocean Art Gallery currently represents 24 artists, most of them local — from Flagler County and neighboring counties. A few, such as Hawaiian seascape painter Roy Tabora and Massachusetts painter Peter C. Stone, are what Gromling calls "international" artists, meaning their works are renowned beyond the local market.
Representing local artists is "terribly, hugely, hugely important," Gromling says. "I would guestimate that 70 percent of the people who come into the gallery who are visiting, and maybe also who are from Palm Coast, want to know how many of our artists are local artists.
"So many people who move here are trying to re-establish themselves, trying to reconnect with the local scene. They've left Ohio and all things Ohio. That barn out in the field with the cows — while we have them here, it's more reminiscent of their Ohio experience. They want different paintings and photographs of their new home in Florida. They're looking for local. Well, who captures the local better than a local artist?"
Gromling has agreements with his artists enabling him to exhibit them in Flagler County exclusively.
"The reason for that is I do a hell of a lot of marketing, I do a lot of promotion," he says. "I really want to be the beneficiary of that promotion and marketing."
However, Gromling has an agreement with photographer Aaron Ansarov to represent him in 17 Florida counties. Since Ansarov retired from the U.S. Navy as a combat photographer, one of his main artistic projects, titled "Zooids," has involved Portuguese man-of-wars. He and his wife collect them from the shore near their Delray Beach home and he photographs the living creatures, using light tables, before returning them to the beach. He then mirror-images his photos, and the results are vivid, colorful "designs" that seem fractal and geometrical as well as organic and biological – which indeed they are.
Ansarov's work has landed him profiles in such magazines as National Geographic, the Smithsonian and others.
"In special operations there's a term called 'point of the spear,' " Gromling says. "The point of the spear is where things first happen in terms of introducing a military force into a new area or situation.
"So that's how I see utilizing Aaron's talent — as kind of the point of the spear to move Ocean Art Gallery into this broader market, not only for his benefit but for Ocean Art Gallery's benefit."
Indeed, Gromling's goal is to make his gallery what he calls an "art destination."
"I want Ocean Art Gallery to be drawing people to come here from Ocala, Gainesville, the Villages," he says. "I'm seeking to create the feeling, the attraction that we have a lot of really cool art, really talented artists, reasonable pricing structure, a fun environment, and this is a cool place to come. Oh and by the way, once you come here you can go to the beach.
"But this is the destination. I want people to think like that. That's an educational process I'm really working at. Will that benefit the rest of the county? Absolutely. First and foremost I want it to benefit here — my artists, my business."
Along with advertising in regional publications, Gromling plans to morph the Flagler Art and Wine Shuttle that he created in 2014 into an Art and Wine Tour. His ambitions include shuttling groups in from neighboring counties to specifically partake in the event.
Meanwhile the gallery stays busy with activities. OAG artist Paulo Jiminez regularly leads BYOB Paint Parties at the new space (the next one is Feb. 26, see flagleroceanartgallery.com for details). And OAG partners with Marineland Dolphin Adventure to offer art workshops and shows as part of the Marineland Art & Culture Series.
"I'm a business man – I'm not a museum director," Gromling says. "This art is not sitting here for people to come look at then walk out the door and go have lunch. I want them to buy it.
"The passion for me in business is seeing people of talent become successful. And their success becomes my success."