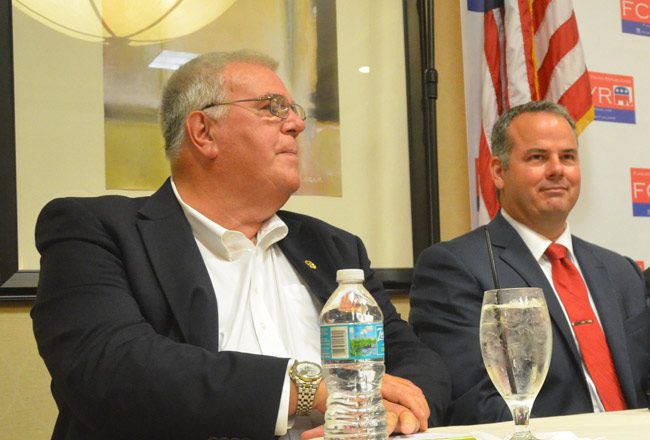 They've been spraying residents' mailboxes like angry, oversize confetti, day after day since last week—11-by-6 cardstock mailers attacking John Lamb, attacking Don Fleming, attacking Jim Manfre, finally culminating with a mailer from the man behind them all: Rick Staly, that one looking brighter and filled with the sort of blurbs fit for an overly flattered paperback.
They're all among the nine candidates for Flagler County Sheriff (Manfre is the incumbent) in a race that was expected to be nasty, brutish and shrill. Staly's money, however, has given him a one-sided advantage he's been riding through the mailer offensive and television ads that his opponents have been unable to counter.
The mailers cost $9,500, a drop in the slosh of money Staly is fronting for his campaign–$121,000 raised so far (at least $50,000 of it his own), or $25,000 more than all five of his Republican opponents combined. He's spent $70,000 so far, $62,500 of it going to a single entity: Dixie Strategies, Brian Graham's political consulting group in St. Augustine, which has conducted internal polls, set Staly's strategy, bought his advertising and crafted those mailers.
It's not at all a given that Staly's money advantage will translate into more votes, especially in a local race: his tactics could be alienating voters and unwittingly re-associating him with the sort of heavy-handed style he was criticized for when he was Manfre's undersheriff the first two years of that administration.
Some of his opponents so far have done what they could through social media, in whisper campaigns, through half-cocked stunts or dismissive dissertations on their websites to discredit each other: many seriously contested and overcrowded political campaigns end up fouled in artless sound and fury. It's the stuff of state and national campaigns. But few local campaigns in recent memory have offered up as sudden and concentrated bile as Staly's against his opponents.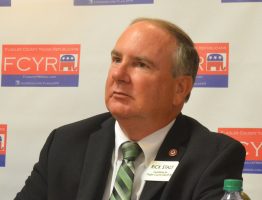 The attacks on Fleming and Manfre are nothing new: the two sheriffs who have toggled leadership of the department for the past 16 years were each blemished by ethics lapses that were bound to figure in their opponents' campaign narratives.
Both Fleming and Manfre were present today at an event at the sheriff's office, and addressed the Staly fliers in separate interviews.
"How do you address something like that? I'll run on my record any time compared to Rick's," Fleming said. "Rick was a 40-year police officer, I'm sure he had a very good, outstanding career, probably had a few bumps in the road as we all do. Fleming said he had no intention of punching back. "You remember my campaign last time. I have broad shoulders. I can take many punches," he said. And he expects to be the winner of the primary, and to face Manfre again for what he calls "Rocky IV."
Manfre was less humorous. "This is Staly at the heart of him, he is deceptive, arrogant, undermining, backstabbing individual," Manfre said. "This is a true reflection of who he is and the person I unfortunately got to know." Manfre then accused Staly of appearing in campaign pictures and videos wearing his sheriff's uniform and badge even though Manfre says he is not authorized to do so: the sheriff's office sent him a letter telling him so.
---
Claims in the shape of a smoking gun turn out to be more gossipy than substantive.
---
Staly said in an interview that he wore a golf shirt while conducting his annual qualification to maintain his status as a law enforcement officer. The shirt was imprinted with ""Rick Staly Undersheriff," but also noted he was retired. He said he posted a Facebook photo when he was in that short. "I blocked out the badge. I blocked out the center seal in the picture," he said. That prompted a certified letter from the sheriff's office's attorney. Manfre also claimed Staly was posing in his Orange County sheriff's uniform (as he does in one of the mailers). Staly says he's complying with an Attorney General opinion and Florida Sheriff's Association guidelines, which he says authorize him to do just that with the proper disclaimer, which appears on the mailer. "I did have authorization to wear that," he said.
The skirmishes between Staly, Manfre and Fleming are white noise compared to what has turned into a bitter feud with Lamb.
The anti-Lamb mailer—the one that stole an image of Lamb from FlaglerLive—makes four claims: that Lamb mis-characterized his "self-demotion" at the Jacksonville Sheriff's Office, that he claims to live in Flagler but is homesteaded in Jacksonville, that he had "three violations which were investigated by Internal Affairs and resulted in disciplinary action," and that he accepted a campaign contribution from a convicted criminal.
On Wednesday, Graham of Dixie Strategies, the Staly consultant, blind-cc'd local media an email restating the points of the so-called "Pull the Wool Over Your Eyes" mailer on Lamb. Graham took the unusual step of attaching a stack of documents in pdf format, public and publicly available records about Lamb from his personnel file at the Jacksonville Sheriff's Office, from his property records, and from domain-name registrations, as footnotes to the claims in the mailer.
Staly defended the mailers' tactic. "The public has the right to make informed decisions," he said. "There are issues on the candidates and this is just getting the information out. I'm running on my record, they seem to be running from theirs."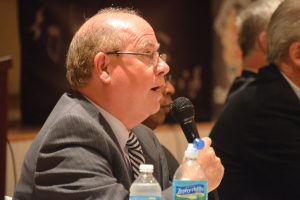 Lamb issued a statement in response countering some of the claims. He spoke in an interview as if he were shaking his head, even terming himself discouraged. "Some of the theories are that he's done some polling and he's not doing well in the poll, the other is he's realized he has the finance to run a campaign like that. I don't have the money, the resources nor the time to combat it," Lamb said. "I'm just disappointed and I'm discouraged by that type of campaigning. It's not indicative of our profession of law enforcement."
The claims against Lamb are more true than false. But as always with attack ads that consider nuance even more of an enemy than the subject being attacked, the claims are not nearly as sinister as they sound, nor are they as grave as the scarlet-and-black layout of the mailers would have voters believe. There's no smoke. There's no gun. And there's more for the gossip page than the news columns. But the Lamb mailer forces the issue. Here's a point by point examination of its claims.
Lamb's homestead: The claim is, in fact, true. Lamb doesn't deny it. He started renting in Flagler after Thanksgiving 2015 but kept commuting to Jacksonville for work and family. His wife kept living in their Jacksonville home as their two children attended school until the end of the 2015-16 school year. (They now attend school in Palm Coast, where his wife also teaches.) "We will not renew our homestead exemption because neither of us lives there anymore." But the wooly mailer phrases it more along the lines of a second-rate horror flick: "John Lamb claims he lives in Flagler County… or does he?"
Lamb's self-demotion: That claim dates back to an interview Lamb gave Brian McMillan of the Observer, resulting in an August 2015 article (before Lamb started renting locally). "Lamb's current position at the Jacksonville Sheriff's Office is lieutenant," McMillan wrote. "He requested a demotion from his position of assistant chief so that he would have a schedule more conducive to running his campaign."
Lamb never actually said he self-demoted. That was McMlillan's simplification of the contorted ways of the Jacksonville Sheriff's Office's routines after a new sheriff takes office: appointed personnel resign and reapply en masse. Some are re-hired, others are "demoted" to other positions. Lamb wasn;t rehired, so he took the lieutenant's position, which he favored anyway as it would give him more time to campaign. "I didn't give it too much thought until I read the article," Lamb said of McMillan's wording, "and I was like, hmm, OK, that's not really the way I said it but that's the way it was written. I guess I should have reached out to Brian and maybe cleared that up with him but it's been so long, I guess it eluded me." McMillan corrected the record, blaming himself for the earlier choice of words. "I feel bad that probably my interview might have stirred this up," McMillan said today in a brief interview. He'd hoped his earlier correction would have ended it. Instead, it ended up as one of Staly's claims in the wooly mailer.
Lamb's "violations": The Staly mailer claims there were "three violations which were investigated by Internal Affairs and resulted in disciplinary action." That statement is mostly false. According to the only remaining record the Staly campaign issued in that email to media, there were three instances in Lamb's career where Internal Affairs was involved, or at least where an Internal Affairs case number was issued (which one way or another means Internal Affairs was involved, even if it did not conduct a full-fledged investigation). But only in one of those cases was an actual policy violation sustained (Lamb violated the pursuit policy), and he was issued formal counseling (in January 2005). Lamb states correctly that formal counseling under JSO policy is not disciplinary action or a reprimand. It's counseling.
Staly calls that "semantics." To most people not privy to the arcana of internal policy rationales, "formal counseling" is a form of discipline. Staly referred to the Live Interview question that asked candidates whether they'd ever been "the subject of one or more Internal Affairs investigation or its equivalent." "I could have answered the question, 'no,' but I didn't think that was straightforward and factual, so I answered it yes. I didn't play games," Staly said, referring to one written reprimand and one oral counseling. Lamb replied to the same question with "No." He's not lying. But he's sticking to the letter of the question, not its spirit, at least in the case of the violation of the pursuit policy.
Regarding the two other issues, the anti-Lamb mailer is flatly wrong: there were allegations of improper action that resulted in a referral letter, but nothing was sustained, no violation found, no disciplinary action taken.
Accepting a campaign contribution from a criminal: True, Lamb accepted $100 from former Flagler Beach cop Robert Milstead, who was convicted of a third-degree felony for abusing a disabled adult. Lamb said he didn't know of the contribution until he read about it in the flier, and plans to return the money. "Maybe if you lived here and you know this community he would have known that," Staly said of Lamb.
One item was not mentioned in the anti-Lamb mailer: on Sept. 2, 2015, after Lamb had launched his campaign, his campaign manager, Mark Bialkoski bought the domain name staly4sheriff.com, presumably to pre-empt Staly from using it or to use it in ways that would benefit the Lamb campaign. It was never actually used, though it disturbed Staly, who would have used that very url for his purposes. Lamb says he wasn't clued in about the site name purchase until about two weeks later, and that Bialkoski had done it "with his own money." It had not been declared on the Lamb campaign's financial expenditures, as far as Lamb knew. "There's some things that he's done I regret that being one of them," Lamb said.
Bialkoski had previously been a fan of Staly, too, and his ethics. In a comment on the FlaglerLive story about Staly's resignation from the Flagler County Sheriff's Office in March 2015, Bialkoski  had written: "I am sorry to see him go. My guess is Staly no longer wanted to be around Manfre and all of his lawsuits as he is a truly ethical man."