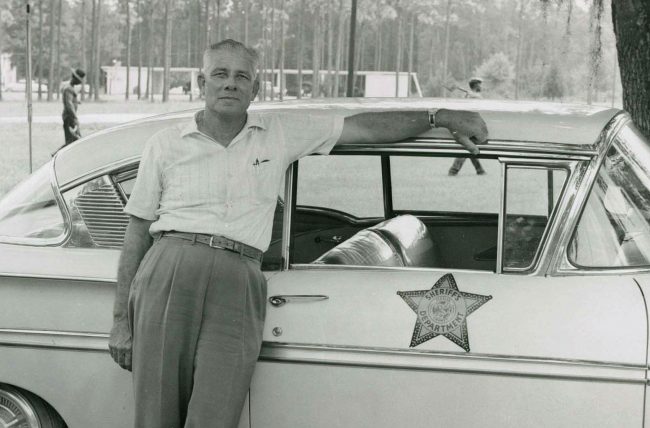 When the sheriff—whoever that may be by then—holds the annual fallen officers ceremony in front of Flagler County Sheriff's headquarters next May, a fifth name will be read during the solemn enumeration of cops who fell in the line of duty: that of Homer William Brooks, the thrice-elected sheriff who died of a heart attack as he was leaving the county courthouse on March 23, 1965.
The sheriff's office this morning unveiled the inscription of Brooks's name on the black granite monument in front of headquarters in a brief ceremony that several members of Brooks's family attended, including two nieces Brooks and his wife had raised after their parents died: Isabelle Green (now Ballard), who was 13 when she moved to Bunnell to live in the Brooks household, and Diane Green (now Yelvington), 16 at the time. The brooks had no children of their own.
"I'm going to try to get through this without getting too emotional," Yelvington said this morning, thanking all who had a part in her uncle's recognition. "After our parents died, Isabelle and I came to live with Uncle Homer and Aunt Mabel, and having lived with him we saw first-hand what a great man he was and the hard work and dedication he had as sheriff of Flagler County.  As we went on a tour today Isabelle and I both couldn't help but comment on the difference in what we had back in the 60s with the old jail right there and what this nice facility is now. But when you first walked into the jail, there was just a desk and where they brought the prisoners in and the radio. We even at times operated the radio when the dispatcher wasn't there."
She described hers and her sister's life as teens all but growing up in the county jail, where even their friends would visit and spend the night. It was a different time then, different enough that the sheriff's triumphant photo-ops had him emptying jugs of moonshine. "He is smiling down on us today and very well pleased," Yelvington said of Uncle Homer.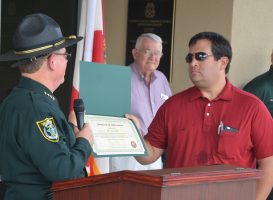 Brooks's name would have continued to be forgotten had it not been for Tony Holt, the News-Journal reporter, who came across the story of Brooks's death while researching an extensive history of Flagler sheriffs going back to 1917. (One of the details he discovered about Brooks was that he'd run over a 10-year-old girl with his car as the girl was chasing her dog, reducing the girl to a body cast. That girl, Lila Pontius, came up to Holt today to introduce herself just before the ceremony. The incident was not mentioned during the unveiling.)
Holt brought his findings to the sheriff's office's attention. The Flagler County Historical Society's Sisco Deen filled in the blanks of Brooks's history. And today's ceremony was scheduled—without an eye to the political calendar, Sheriff Jim Manfre insisted.
Manfre is in a primary battle against ex-sheriff Sgt. Larry Jones, who was at the ceremony today, early voting is still taking place, Election Day is five days away: the ceremony's timing appeared less than coincidental. "It was just the time to do it," Manfre said. "No political implications." He was indignant that the question of timing was posed. "You would have accused us of this regardless of when we did it. This is the election season. I could not do it next week, I'm away." He said the ceremony was exclusively about honoring Brooks.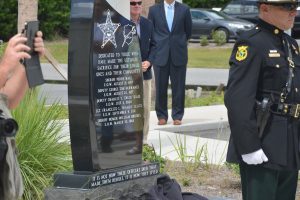 Homer William Brooks was the eight sheriff of Flagler County. He was 61 when he was the victim of a heart attack "just after he entered his automobile," Deen told the assembled crowd, "which he had parked in front of the courthouse. After starting his car and traveling a few feet, he stopped the car and slumped over the steering wheel." Two deputies rushed him to Bunnell General Hospital four blocks away, but he was dead before getting there. His parents were both from Putnam County. They moved to the St. Johns Park area in 1890, raising a son who would become a member of the U.S. Navy Seabees during World War II, and in Flagler, a president of the local Rotary Club and the Flagler County Shrine Club and a Mason. Mabel Isabel Green.
For as long as the ceremonies have been taking place, various sheriffs have neglected to remember Brooks because in the past on-duty deaths were associated with more violent law-enforcement incidents. It's now been recognized that on-the-job deaths from causes such as heart attacks, car crashes and accidental gunfire are still part of a cop's on-duty hazards. Of the 77 officers who have died in the line of duty so far this year, for example, four died of heart attacks and 15 were killed in vehicle crashes. Flagler County's last in-the-line-of-duty death, that of Frank Celico in 2011, was also the result of a heart episode.
"We need to do more to acknowledge this event, these heart events and these health issues among our depouties and try to prevent these tragic events from happening again.," Manfre said in his remarks today, citing the high incidence of high blood pressure among law enforcement officers. "We honor sheriff Brooks's dedication, courage and commitment to the Flagler County community and the ultimate sacrifice that he made to keep his promise to those he swore to protect and serve."