So far this year, 35 law enforcement officers have been killed in the line of duty, 17 of them by gunfire, 14 of them in vehicle-related deaths, two of them by heart attacks.
Two of those deaths took place in Florida. On May 1, Sgt. Jorge Ramos, a 39-year-old Florida prisons corrections officer, died of a heart attack two days after collapsing during a Correctional Emergency Response Team competition. The nine-year veteran had a young daughter. On March 12, Hillsborough County Sheriff's deputy John Kotfila, 30, was returning to his station after investigating a traffic crash when a drunk driver crossed the yellow line and struck him head on. The drunk driver also died.
In the last 10 years, 1,545 law enforcement officers have been killed or have died in the line of duty, an average of 155 each year. Gunfire is always the leading cause, with vehicular accidents second.
Flagler County's last line-of-duty death was that of Sgt. Frank Celico, who died in 2011 of heart failure at 33. Before that, it was Chuck Sease, who was killed by a fleeing suspect on I-95 as Sease, just two months on the job at the Flagler County Sheriff's Office, was deploying stop sticks. The county went many years without a line-of-duty death, back to 1927, when Sheriff Perry Hall was killed on Aug. 21, 1927 and Deputy Gregory Durrance was  killed on Aug. 25, 1927.
Every year the nation recognizes fallen and active law enforcement officers during National Police Week, and every year local agencies such as the Flagler County Sheriff's Office devote a day to remembering the fallen, with a modest, always moving ceremony that culminates with the solemn, ritual placement of roses at the foot of a black-granite memorial by law enforcement officers and family members of the fallen.
Among those family members at today's ceremony in front of the new sheriff's operations center in Bunnell, beneath palm trees not yet mature enough to provide shade, were Joyce Wallace, the Durrance's great grandniece, Sophia Antonio, mother-in-law of Chuck Sease, and Celico's parents, who also donated the garden around the memorial that bears their son's name.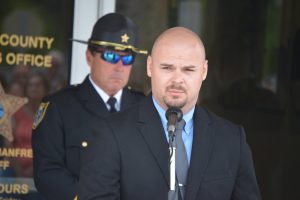 Speaking to an audience of about 50 of the occasion as always bittersweet, sheriff's detective Jon Dopp spoke of a heavy heart for the fallen and for their families. "But I also take this time to reflect on what it means for me to be a police officer," he said. "I think back to when I first pinned a badge on, the undeniable sense of pride that I felt. Over the years, many of us, myself included, let our sense of pride in our profession sway and dwindle. But this week I choose to honor those lost by rekindling that spirit in my own heart. Law enforcement is often a difficult and thankless profession, though we have much to be proud of. We're the ones that people call in their time of need. We bring light to the dark and we stand face to face with the worst that humanity has to offer. We stand vigilant so that others may rest, and we run towards their cries for help when others flee in fear."
Dopp then challenged people in law enforcement to use the week "as a time of memory but also as a time of self-reflection. Each of us is part of a long tradition of community service, bravery and selflessness. Each of us plays a part in forming the thin blue line that stands between the peaceful and the violent. Each of us should be very proud of that tradition."
He spoke just after Cmdr. Chris Sepe had recited the Police Officer's Prayer.
Sheriff Jim Manfre ended the brief ceremony with acknowledgments for the county administration and employees for bringing over the two monuments from the old grounds at the edge of Bunnell and doing "a great job of making them look the way they look right now." (The second monument is to the K-9s that have served with the sheriff's office.) No county officials were present: a budget workshop was in progress just then.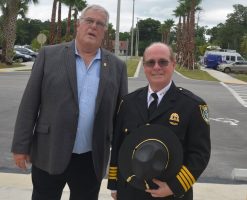 Citing the Gospel of Matthew (5:9), Manfre said law enforcement officers are the modern equivalent of the New Testament's peacemakers. "As we look out over all of our deputies and police officers here today and think of all our brother and sister police officers throughout the country and the world," he said, "let us pray for their well-being and express [our] gratitude for their vigilance to our community and country's protection."
He also acknowledged former Sheriff Don Fleming for being present. Fleming, who is running for sheriff again, does not miss the ceremony, whether in or out of office.  "It's something in our blood, we've been in the business a long time," he said. He later shook hands with Manfre and had a brief conversation with him.
"This day is an opportunity to unify us and not talk about our differences," Manfre said. "Anyone who's ever worn the badge, it's a fraternity, it's a group of people who have dedicated their lives and the support of their family to something larger than themselves. This day we're all brothers or sisters, both law enforcement community and the community itself."