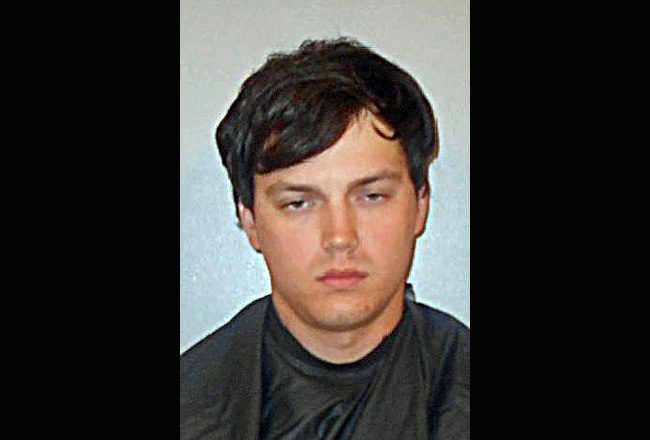 Today: Mostly sunny. Highs in the mid 80s. Southeast winds 10 to 15 mph. Tonight: Mostly clear in the evening then becoming partly cloudy. Lows in the upper 60s. Southeast winds 10 to 15 mph. Details here.
Today's fire danger is moderate. Flagler County's Drought Index is at 207.
Today's tides: at the beaches, at the Intracoastal Waterway.
Today's document from the National Archives.
The OED's Word of the Day: antelope, n..
The Live Community Calendar
Today's jail bookings.
Today's Briefing: Quick Links
Hey, Repubs: It's like they say in the antiques stores–you broke ot, you own it.

— Stephen King (@StephenKing) May 7, 2016

Note: all government meetings noticed below are free and open to the public unless otherwise indicated. Many can be heard or seen live through each agency's website.
In Court: Circuit Judge Matthew Foxman holds a series of sentencing or plea hearings starting at 9 a.m. in Courtroom 401. Cases include that of James Russell Brink, a 25-year-old resident of Dale City, Virginia, charged in October 2014 of lewd and lascivious battery on a 15-year-old girl—that is, statutory rape—after traveling from Virginia to see the girl in Palm Coast's W Section. Brink's charge was reduced to felony child abuse and adjudication was withheld on Dec. 9, 2014. He was rearrested on Feb. 4 for violating probation, and has been in jail without bond since. Dacotah W. Clarke, 19, arrested last September on an armed robbery charge, will be sentenced. He faces two third-degree felony counts and has agreed to a plea. Jerrad Moore, arrested after a chase on I-95 last October and charged with possession of a concealed weapon without a permit, will be sentenced. Several other cases involve drugs.
The Flagler County Land Acquisition Committee meets at 3:30 p.m. in the first floor conference room of the Government Services Building.
The Library Board of Trustees meets at 4:30 p.m. in the Doug Cisney Room at the public library off Palm Coast Parkway.
The St. Johns River Water Management District Governing Board holds a workshop followed by a meeting that will include discussions with potential inspector general candidates. (3 p.m., district headquarters, 4049 Reid St., Palatka.)
The Bunnell City Commission meets at 7 p.m. at City Hall, 201 West Moody Blvd. The commission is asked to re-appoint Jan Reeger–who just ran unsuccessfully for the city commission–to the city's planning board for another three-year term. The commission will also consider adopting amendments to the city's ordinances regarding the storage and parking of commercial vehicles, and overnight parking. Both issues are on first reading. The full agenda and background materials are here.
The All Flagler Democratic Club meets for its Demochat from 1 to 2 p.m. at the African American Cultural Society, 4422 US 1 North, Palm Coast, for "a very informal get-together and chat about Flagler County Democrats, what we stand for, what we do, how we can get more Democrats elected and, frankly, whatever is on your mind," in the words of club leader Merrill Shapiro. All welcome regardless of party affiliation.

Updated jail bookings and day and night shift incident summary reports are available here.
Child Among Three Killed, 4 Injured, "Multiple Ejections" in I-95 Wreck Just South of Flagler-St. Johns County Line: The year's deadliest crash in Flagler County killed three people and injured four just after 2 p.m. in the northbound lanes of I-95, north of the newly-opened Matanzas Woods Parkways interchange. The wreck briefly shut down I-95 in both directions. I-95 northbound remains closed north of the Matanzas Woods interchange, causing traffic to back up for several miles south of the wreck.
Behind Palm Coast's Inspired Mic, A King With Nine Lives Defies Dreads, Death and Taboos: The inspiration on display at the Inspired Mic – an eclectic, monthly Palm Coast open mic – has included writers, poetic rappers, a mentalist, the magician Mystic Mel and his banana trick, and local writer Jim Farrell, who read from his semi-autobiographical novel about the fall of Saigon during the Vietnam War.
Flagler's African American Mentor Program Honors Its Own Weeks After Earning Unsung Hero Award: The African American Mentoring Program is the creation of former school board member Jim Guines and John Winston, who 10 years ago saw a broad need in the county for mentors to guide young, black students who, for one reason or another, lacked direction.
Frequent-Flying Miscreants Bill Westervelt And Jerry Falls Back in Jail on Grand Theft: On Thursday, both 27-year-old men were charged with fresh charges, though only Westervelt was arrested: Falls was already in jail on previous charges, so the burglary and dealing in stolen property charges were merely tacked on to what the latest he already faced.
Suicide, Now 2nd-Leading Cause of Death for Young Floridians, Seen as Public Health Threat: While suicide is increasing for nearly every age group, it's now the second-leading cause of death for Floridians aged 25 to 34, according to the state Department of Health Vital Statistics, and the third-leading cause of death among youths aged 10 to 24. (Flagler County has been grappling with its own suicide crisis.)
Housing Restrictions on Sex Offenders Spread Even as Evidence Shows They Don't Work: Cities and states continue to enact laws that restrict where convicted sex offenders can live, applying the rules to violent offenders such as pedophiles and rapists, and, in some cases, those convicted of nonviolent sex crimes, such as indecent exposure. Palm Coast, Ormond Beach, Deltona and Daytona Beach, among others locally, all enacted 2,500-foot restrictions in the late 2000s.
Flagler Cares takes lead on health survey: "Flagler Cares, which began as a discussion group aiming to connect social and health care services in the county," the News-Journal reports, "completed the election of its board of directors in July 2015 and shortly after became facilitator for the Community Health Needs Assessment and Community Health Improvement Plan." (Story paywall-protected)
Call To Action: A Very Personal Appeal To Toby Tobin's Readers: "My 14-year old granddaughter, Faith, has Cystic Fibrosis and faces an inevitable double-lung transplant," Toby Tobin writes. "Her story is compelling. Please read it and help her story go viral.
On Eric Drive, No Recourse After a Dog Is Maimed in Hit-and-Run and Near-Miss for Owner: Hit-and-run laws are clear and penalties severe when a collision involves damage to property or injury or death to human beings. But the same does not apply when an animal is struck or even killed.
I asked a question of @VoteforMedley on her FB page. This was the message I got from her team. #palmcoast pic.twitter.com/zdhYaQqUIa

— Brad West (@bradmwest) May 7, 2016

In Florida and in State Government:
Note: Most proceedings below can be followed live on the Florida Channel.

No events of note.
–Compiled by the News Service of Florida and FlaglerLive

In Coming Days in Palm Coast and Flagler:
Click on the links for more details:
♦ May 10: Pegine Echevarria, a motivational speaker, headlines the Flagler Chamber of Commerce's "Fearless and Focused Women in Business" lunch at the Hilton Garden Inn, 55 Town Center Parkway in Palm Coast. Echevarria, according to a chamber release, "is CEO of Team Pegine, a think tank, training and consulting, event management firm that specializes in leadership, team building, inclusion engagement and situational training." The chamber took over the lunch series that was previously hosted by Palm Coast's Business Assistance Center. Registration 11:30 to 11:45 a.m., $35 for chamber members with advance registration and payment, $40 the day of the event. Guests: $40 with advance registration and payment, $45 the day of the event. Reservations are due by May 5 by 5 p.m. Please call to reserve your seat or with questions, 386/437.0106.
♦ May 11: The Public Safety Coordinating Council meets at 8:45 a.m. at the Emergency Operations Center in Bunnell. The meeting will feature a discussion on the decriminalization of pot, with potential guests including the mayors, police chiefs and city managers from around the county.
♦ May 11: Palm Coast City Manager Jim Landon is the guest speaker at the free Lunch N' Lecture at the Palm Coast Community Center, 11 a.m. to 12:30 p.m. The presentation, "Preparing for the Future, Improving our Past," will include plenty of time for questions, so take the time to pre-register by calling the Parks and Recreation Department at 386-986-2323. Attendance includes a free lunch, if you reserve in advance. (space is limited).
♦ May 128-29: Flagler Palm Coast High School Class of 1996's 20-Year Reunion. The event combines a fundraising event for the Josh Crews Writing Project through the Education Foundation and two events, one for the graduates and a family picnic. A dinner for alumni and guests at Oceanside Country Club is planned for Saturday and a family picnic is planned for Sunday at Herschel King Park. Graduates are asked to provide gift certificates, goods and products or a donation to be part of a silent auction towards the Writing Project and to register for the celebrations. For more information go to www.fpc1996.com or call Magda at 386-986-9300 or Carl Laundrie III at 386/237-4845.


♦ June 4: Flagler County's Democratic Executive Committee holds a potluck picnic at Hershel King Park at 1000 Grady Prather Jr. Cove in Palm Coast starting at noon, with honorary guest James Canfield, first mayor of Palm Coast. Plenty of children's activities, a dunk tank, ice cream truck, and a chance to meet Democratic candidates. Free admission includes hot dogs, baked beans and coleslaw.
♦ June 7: A 1:30 p.m. hearing is scheduled in the case of Anna Pehota, accused of second-degree murder in the shooting death of her husband on Sept. 23, 2015, in the Hammock. Her trial was scheduled for April 18, but her attorney, Ray Warren, was granted a delay so he could explore Pehota's memory issues, which could play a deciding role in the handling of her case. The results of that inquiry are to be the subject of this hearing.
♦ June 14: Dr. Bill Mefford, Faith Outreach Specialist for Americans United for Separation of Church and State, leads a discussion entitled "Religion and Partisan Politics Don't Mix," hosted by the All Flagler Democratic Club at 7 p.m. at the African American Cultural Society, 4422 US 1 North, Palm Coast. Call 386-447-7030 for best directions. This program is free, open to the public, all are welcome, no advance arrangements are necessary.
Survey Request: The River to Sea Transportation Planning Organization (TPO), which includes Palm Coast, is seeking input from residents of Palm Coast as it plans transportation improvements for the Metropolitan Planning Area (MPA) that includes Volusia County and portions of Flagler County. The TPO has launched a "Tell the TPO" campaign to survey people who live or work in Volusia and/or Flagler counties, as well as visitors. The 11-question survey can be accessed here. All responses received by May 31, 2016, will be placed in a drawing for a chance to win a free iPad Mini.

A very thoughtful and compassionate article about the unfolding human tragedy in Fort McMurray. https://t.co/LMfBgBq2Jp

— Leslie Fieger (@LeslieFieger) May 7, 2016
Obama: Students Need to Stop Shutting Down Speech of People They Disagree With https://t.co/QpqnccJI7I (VIDEO) pic.twitter.com/rP2qH5ewhh

— Mediaite (@Mediaite) May 7, 2016
What does Donald Trump really think about healthcare? More on his changing views: https://t.co/eGVk7r9DWA pic.twitter.com/BOqRuupQZq

— NYT Opinion (@nytopinion) May 7, 2016
Watch: Florida Officer Beat Woman in Parking Lot Prior to Beating Her in Jail – PINAC News https://t.co/KsEMUAGO6N

— Florida Cop Watch (@FloridaCopWatch) May 7, 2016
The exhilarating peace of freediving: https://t.co/KkwvsuItdv @guillaumenery pic.twitter.com/zhcAHehBO9

— TED Talks (@TEDTalks) May 7, 2016

Fact-Checking the Knaves:

Palm Coast Construction and Development Progress Reports
The following is an update of ongoing permitting, construction and development projects in Palm Coast, through April 27:
Click to access progress-report-april21-27-2016.pdf

Florida Agricultural Museum Summer Camps: Become a junior farmer at the Florida Agricultural Museum this summer! Junior farmers will learn about farm life, forestry, and Florida history. Participate in arts & crafts, farm animal care, Florida fauna/flora education, fun and games. Sessions are all 10 a.m. to 4 p.m., $175 per session and are as follows:
1st) June 7-9
2nd) June 14-16
3rd) June 21-23
4th) June 28-30
5th) July 5-7
6th) July 12-14

Road and Interstate Construction:
Moody Boat Launch to close April 6 through May 20 for improvements: Flagler County's Moody Boat Launch will be closed April 6 through May 20 for improvements. "The scheduled upgrade will enhance the launch's usability in a number of ways," said Heidi Petito, Director of General Services. "The new system provides for ADA (Americans with Disabilities Act) compliance, minimizes docking difficulties caused by fluctuating tides, and new lighting will promote boater safety and security." The closure includes the Moody Boat Launch– located at 825 Moody Lane in Flagler Beach– the parking area, restroom, and dockage on the Matanzas River. It does not affect Betty Steflik Preserve and boardwalk. The scope of work includes dredging 1,650 yards of silt from the launch basin, thus improving navigability. The adjacent wooden docks will be replaced with an aluminum floating dock and gangway system. Additionally, the existing restroom will be replaced with an ADA compliant facility. Moody Boat Launch provides public access to the Intracoastal on the east shore, just south of SR100. The closest alternative boat launches are located at Herschel King Park on the west side of the river at 1000 Grady Prather Jr. Cove, Palm Coast, and Bing's Landing on the east shore at 5862 N. Oceanshore Blvd. in Palm Coast.

Mozart at His Most Bach-Like: The Piano Suite in C Major, K 399

Previous Codas: