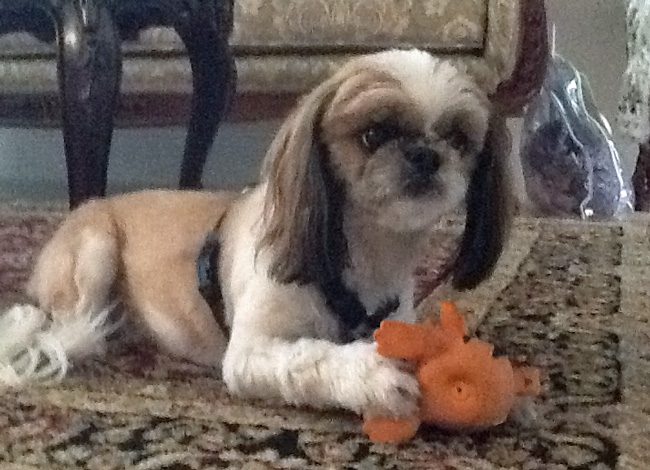 The evening of April 28 Angela DiBella did what she's done about three times a day for years: she took her two dogs, Max and Rooster, for a walk on Evans drive in Palm Coat's E Section. They were leashed, as always. As an extra treat she decided to walk them for a little longer, and walked along Eric Drive, not far from the corner-lot house where DiBella and her husband have lived for 11 years.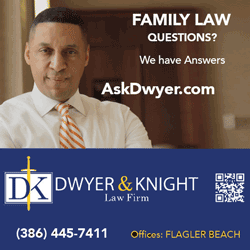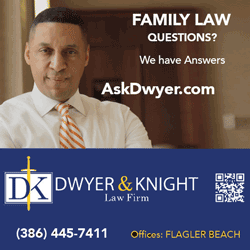 "As we passed my second driveway going toward the woods," DiBella, 59, said, "it was like all of a sudden I hear this thump. I'm walking, I hear this thump and before I know it, there was Max being thrown to the side by the trees in the grassy part, and I hear him screaming, and I could hear because the front of the car hit him."
Max was a Shih Tzu, about 10 years old, in the family for he past four. "So as I'm looking at him flying toward the grass, I feel—I almost felt the car next to me. As I'm looking, it was just inches away from me, and I mean literally inches away from me. I went into the grass because Max was already in the grass and I'm screaming and screaming and the car just kept going. Didn't even stop, didn't even see the brake lights go on or off, nothing. So there I am, just screaming my head off. I pick him up, and I start running inside in the driveway. My husband heard me screaming, had no idea what was going on."
Max was dead 90 minutes later. Right after DiBella's husband called 911 she took him to Flagler Animal Hospital—Max bit her on the face when she tried to pick him up, he was in so much pain—only to learn that his spine was broken, and he was partly paralyzed. The veterinarian gave DiBella the option of waiting 'till morning, but there was little sense in it: Max was agonizing, and he would be paralyzed for life, if he lived. "I had to have him put to sleep," DiBella said. "By 10 o'clock, we were back home. It was just so quick. Unbelievable, unbelievable."
Hit-and-run laws are clear and penalties severe when a collision involves damage to property or injury or death to human beings. But the same does not apply when an animal is struck or even killed. Animal cruelty laws may kick in, but only if there is a demonstrable intent to harm an animal. In this case, from DiBella's description of the collision, the driver may not even have known that he or she had struck a dog—or had come within inches of striking DiBela. But, she says, drivers going too fast and paying little attention to pedestrians has been a recurring problem on Eric Drive.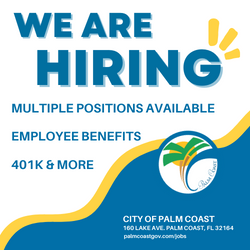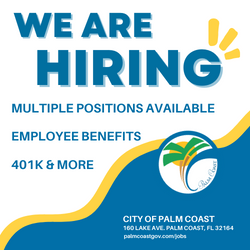 "If they were paying attention and they were actually driving the way you're supposed to drive in the neighborhood," DiBella said of the driver who struck Max, "he would have seen me on this side of the road." It was dusk, but she was wearing a white shirt. Her account echoes similar complaints about racing traffic on residential arteries around town, Florida Park Drive being a common one. "That's the way it is. It's like a stretch of road that everybody thinks that they can just go 50, 60 miles an hour, and he's not the only one. I mean, we see that every single day, every day. Then if you say hey or something, they give you the finger. They've had cops here. Every time we've made complaints about this road, they put some cops around for a few days. Everybody is going down slowly, slower, but once the cops are gone, they're back to the same old thing."
DiBella and her husband Rosario, better known as Rocky, have been Palm Coast residents for three decades. They ran Flagler Beach's LaBella Restaurant for years, then Rocky's Pizzeria a few blocks up from the old place until they sold it in 2010. They raised three children in the B Section before moving to the corner of Eric and Evans. They've watched Palm Coast grow rapidly, and been aware of driver inattention's consequences: DiBella has sharp memories of how roles were reversed in a 2011 case, when a woman who was walking her dog in Palm Coast's C Section was struck by a driver who kept going. The woman, Francoise Pecqueur, was left in a ditch before a resident in the neighborhood noticed her—and her white poodle, who was spared. Pecqueur died two days later. (The woman who struck Pecqueur was eventually arrested and served nearly two years in prison. She remains on probation.)
"I was like, oh my god, that's exactly the same feeling that I had," DiBella said. "You get hit, you're in the ditch, the person doesn't stop, nobody knows that you're in that ditch. I do remember that story very, very well. That poor woman, and the dog."
DiBella hasn't walked Rooster in the neighborhood since. She takes him in the yard. She can't walk the streets. Rooster didn't eat for days after Max's disappearance. He kept looking around for his old companion. The DiBellas put up a marker where the collision took place, in hopes that if someone in the neighborhood reads it and has a change of heart, they could find out the identity of the driver. They hold out little hope. "My dog is gone. My fear is not going to go away. But at least if they're aware of this, of what's going on for everybody, who knows. Maybe a life or another dog will be saved," DiBella said.
"There is nothing we can do to bring Max back," the DiBellas' son Joey, a P-Section resident, said, "but I hope that someone reading this might think twice about speeding, put down their phone while their driving, pay closer attention to their surroundings and save someone's life in the process. It's very disheartening to me that the person who nearly killed my mother and killed Max couldn't even stop to see if they were okay."