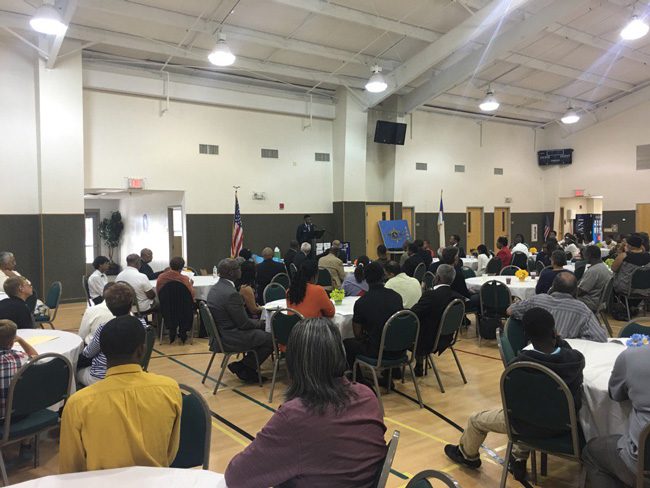 On April 22 the Bethune­-Cookman Women's Advisory Board named the African American Mentoring Program (AAMP) of the Flagler County School District an "Unsung Hero Award" recipient. The award is given to service organizations that, through their tireless efforts, remain steadfast in their dedication to improving the quality of life of the citizens in Flagler and Volusia counties.
The African American Mentoring Program is the creation of former school board member Jim Guines and John Winston, who 10 years ago saw a broad need in the county for mentors to guide young, black students who, for one reason or another, lacked direction. The Flagler district has an unflattering history of inattention, indifference or discrimination toward black students, particularly with disproportionate disciplining of black students, a history it has only recently been addressing with more willful attention to its gaps. Embracing the mentor program was one step toward that improving climate. The program was created 10 years ago.
Thursday night, nearly 200 people gathered to celebrate AAMP's success. The program included recognizing a dozen seniors, five of whom had previously been presented scholarships, as well as 10 outstanding mentors.
Montgomery Russell (Flagler Palm Coast High School) was awarded the Dr. Jim and Laverne Guines Scholarship. Matthew Mills (First Baptist Christian Acad), Antoin Lee­Harriston Spann (FPC), Avery Jackson (FPC) and Brandon Connolly (Matanzas High School) were presented
The AAMP Young Men of Distinction Scholarships.
The program depends entirely on adult mentors, many of them parents and grandparents, a few of them great-grandparents, who give their time unstintingly to the student (or students) assigned to them. It's not a big-brother type relationship, but a far more demanding one that has at times entailed the mentor counseling his charge through serious disciplinary issues up to, and including, jail. A few years after the mentor program for male students began, a similar program for girls was established.
The following mentors who volunteer their time were honored:
Mentor of the Year: Joe Matthews.
One on One Group Mentoring Award: Carl Jones and Bert Green (Indian Trails Middle School), Bob Gary and Milton Richards (Belle Terre Middle School), Shelley Ragsdale (Rymfire Elementary School), Walter Sarden and Richard Frazier (Bunnell Elementary School).
Meritorious Service Award: Dr. Terrence Culver, principal of Belle Terre Elementary School.
Career Achievement in Mentoring Award: Allen Harrell.
More than 100 mentors work with approximately 180 students in grades 3 through 12 across the nine public schools in the district. The program has many success stories and is always in need of volunteers to mentor additional students. If you can help, contact Sabrina Crosby with Flagler Schools at 386­/437­-7526, extension 3116.