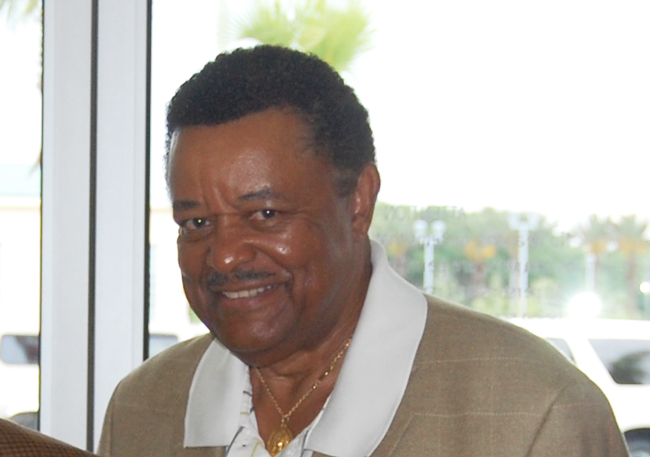 There's something superhuman about John Winston. He's supposed to be living in retirement in Palm Coast. But retirement isn't his game. At 76, he is the patriarch of a family of seven children and three dozen grandchildren (at last count), many of whom have him jetting around the country to care for them when they falter, when they get ill, when they run into one obstacle or another that a father feels compelled to help remove.
It's that same quality that made him a natural leader of an organization that essentially provides father figures to boys and young men in the Flagler County school district who have a few strikes against them. Being young and black in an insistently white culture that tries but still has a distance to go to really learn the meaning of racial equality is challenge enough. Being born into dysfunctional families only compounds the challenges.
A decade ago, Winston, with then-School Board member Jim Guines, devised the African American Mentor Program for Flagler schools. They would recruit adults, most of them black, to be mentors to students in middle and high schools, students who needed father figures—not someone to take them to the movies, but someone to show them the right way, to straighten up when they falter, to love them and to be tough on them, but mostly to be there for them. The program has thrived and become a pillar of support for the district, despite the fact that most mentors are in their 60s, 70s and 80s, and six years ago expanded to include girls, mentored by women.
All under Winston's leadership.
Earlier this week, the Flagler County School Board honored Winston with the Power of One Award, designed to "celebrating individuals throughout our school district and community who exemplify the meaning of the power of one." It was an emotional 23 minutes of tributes and praise attended by many mentors, and by Winston's wife of 45 years, Fanchon Winston. The honors were started by board member John Fischer—himself immersed in the mentor program over the past year. Fischer was almost overcome with emotions by the occasion as he spoke of his experience with mentors.
"What a team of winners they are, of building character of young men, making them into adults, going through obstacles in life. It's just been a wonderful, wonderful opportunity," Fischer said. "Mr. Winston to me is a positive role model to all. He makes a positive difference in the life of many," and dos so despite "trials and tribulations in his own life." Fischer concluded: "I am proud to call John Winston my friend."
Guines and his wife LaVerne wanted to be there, but couldn't: Jim Guines has been ailing, though he's kept up with district issues and the mentor program from a distance, and had Fischer read a statement for him. Guines's words: "John Winston is a man who wears many hats. He serves many people in this community by giving leadership to the African-American Mentoring Program. This program was envisioned by a retired school board member and a former school superintendent. But John Winston has been the motivator and implementor of the program, giving leadership to many dedicated men in the city. This program benefits many students from Flagler Palm Coast High School and Matanzas High School. John's spirituality helps him carry out his many commitments."
Winston made sure to remind the audience what Guines's founding role was. "Those who don't know it, Jim Guines is the father of this program," Winston said. "He was the second African-American member of the school board, and 11 years ago started this program, and impressed me enough that it got me off the golf course and told me what God wanted me to do, and I've been doing it since. He is the father."
He then held up his award, and pointed at the mentors in the audience. "This is not about me," Winston said. "It's about the men in this room, many of whom can't even travel at night. Our age group runs between 70 and 80, and we're doing the best we can with what we have. I am a true senior citizen, and I'm trying to do the best I can with what little bit is left." He asked those who could make it that evening to stand in the board room, calling them "the gentlemen of the AAMP."
"For the last ten and a half years of my life," Winston continued, his trademark baritone voice and baroque prose beginning to fill the room, "I've devoted to trying to piece together little pieces of human cloth that we could somehow build together into a big quilt of education and moral development and good human beings to place back out on the streets of America. There are some tremendous young people in this country, but they have parents who are not so tremendous. I have to tell you that. They come from homes that are at best dysfunctional, they need just a helping hand, someone to touch them, someone to lift them up. They're white, black, yellow, brown, they're all over the place. They need us. And if there's a man or woman in this room who will step forward, we need you, we need you to come help us. The call is tremendous, the work is needed everywhere."
Winston also recognized the women of the AAMP who mentor young women and have been doing so after Winston remarked to Katrina Townsend, the director of student services, that girls had as much need as boys of mentors.
"Mr. Winston, he's been with me since 6th grade I think," Chris McCall, a student at FPC, said. "He's put up with a lot from me and all the other mentees, because we didn't all start out, you know, so great, and we just needed somebody to point us in the right direction."
Jacob Oliva, the acting superintendent—and possibly, soon-to-be superintendent: Winston serves on the committee that will make the recommendation for the next leader—said: "I can say first-hand, I have experience working with Mr. Winston, being from the high school." Oliva was at one point the principal at FPC. "I know the impact that his program and dedication makes on the students when our students feel connected to adults, they're going to do better in school. I can't commend the mentoring group and folks that participate in that program enough." Winston, Oliva said, "is not afraid to call me any time he hears something, and he's been a mentor to me personally. I don't know when he sleeps, because sometimes the phone rings after midnight."
Andy Dance, who chairs the school board, was the liaison with the mentor program two years ago, before Fischer took over. Dance recalled Winston's impact on his own leadership style, and on the district as a whole: "We can measure impacts, we can watch student progression, we can look at grade point averages," Dance said. "But the real effect and the impact is immeasurable with what you've done, and your mentors, those that are here and those that couldn't make it. That's something we couldn't measure. But we know the impact is tremendous to the district and to the students."
Board member Colleen Conklin had launched the idea of a Power of One Award. She was not in the audience in person, but she participated by phone, and she summed up the district's tribute to Winston this way: "Mr. Winston, you completely embody what the power of one award was always intended to be, and I cannot tell you how proud and appreciative I am for you and all the individuals that you work with, for everything that you do. I read in a book recently, when God places a child in front of us, it's like a divine appointment. Those of us can choose to accept that appointment and share some kindness and possibly change a life. And others simply choose not to keep that appointment. You sir, I thank you from the bottom of my heart for always keeping the appointment with the children of Flagler County."