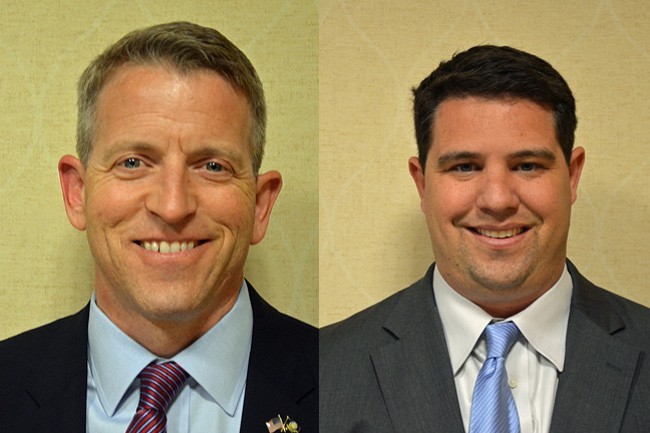 Today: high in upper 70s, low in mid-50s. Details here.
Today's fire danger is moderate. Flagler County's Drought Index is at 281.
Today's tides: at the beaches, at the Intracoastal Waterway.
Today's document from the National Archives.
The OED's Word of the Day: Sadie Hawkins, n..
The Live Community Calendar
Today's jail bookings.
Today's Briefing: Quick Links

Note: all government meetings noticed below are free and open to the public unless otherwise indicated. Many can be heard or seen live through each agency's website.
Friday: The Flagler County Legislative Delegation will hear public testimony on general issues, legislation, local bills and appropriations. Anyone wishing information on procedures to file a local bill or to be placed on the November 13, 2015 agenda must contact Danielle Curbow with Senator Travis Hutson's office at 386-446-7610, prior to November 9, 2015. The session takes place at Board Chambers, Government Services Building, from 4 to 6 p.m.
Friday, 4 p.m., Ribbon-Cutting at Sevyn, Flagler's newest jazz and music club and arts venue: The venue's 9,000-square-foot space includes seating for 200 at dining room tables and a large horseshoe-shaped bar. Sevyn also includes a large dance floor, band stage and deejay booth, a few pool tables and a pinball machine. The menu, prepared by Chef Dan Testa, features much more than barbeque and includes rib eye steak, chicken marsala and more. 4701 E Moody Blvd, Bunnell.
Friday: To Raise the Roof for Palm Coast Arts Foundation, A Bimbo Is "Born Yesterday": City Repertory Theatre will present a staged reading of the surprisingly still-relevant — and surprisingly gritty — romantic comedy as a benefit for arts foundation's Raise the Roof campaign. The organization is raising money to build an arts and cultural pavilion in Palm Coast's Town Center. That would be just the first segment of a multi-phase, multi-staged arts facility. The benefit performance will be at 6 p.m. Nov. 13 at the Lohman Auditorium in Marineland–a one-night only engagement, with tickets priced at $75 and $85.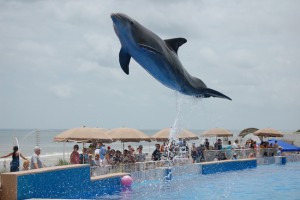 All weekend: Marineland's 75th Anniversary Celebration: Anniversary activities are too many to list (see them all below). But in brief, on Friday Nov. 13 activities will be held from 5 p.m. to midnight and will highlight the town's past. Activities on Saturday Nov. 14 will be 10 a.m. to midnight and will highlight the present. Activities will include a seafood and music festival, river-to-sea nature walks, volleyball and corn hole tournaments, fireworks and a lot more. Activities on Sunday Nov. 15 will be 10 a.m. to 5 p.m. and will feature a "looking to the future" and green themes. Details here and here.
All weekend, Flagler Playhouse presents Greetings!, by Tom Dudzick, A beautiful comedy about a young man who brings home his Jewish atheist fiancé to meet his very Catholic parents on Christmas Eve. With the inevitable family explosion comes an out-of-left –field miracle that propels the family into a wild exploration of love, religion, personal truth and the nature of earthly reality. November 6, 7, 8, 12, 13, 14, 15, 20, 21 and 22, Flagler Playhouse, 301 E. Moody Blvd. (located 2 blocks east of US 1 on State Road 100). Reserve tickets online or call the Box Office: 386-586-0773.

Steven Nobile, Professed Conservative, Wants a 324% Pay Increase for Palm Coast Council: The council's two rookie members–Steven Nobile and Heidi Shipley–want a considerable pay increase. Nobile wants the pay to be equivalent to 80 percent of what county commissioners make, because Palm Coast's population of 80,000 is 80 percent of the county's. Commissioners this year make $50,916, a figure set by state law. So Nobile is asking for a salary of $40,732 for city council members. That would equate to a 324 percent salary increase. Shipley is not set on a base salary. She wants a raise, but she's not specifying the amount. Rather, she'd like the council salaries to be indexed to inflation, so–like Florida's minimum wage–they increase every year accordingly. But she is asking for a more substantial raise in another way: she wants council members to be provided, or at least offered, participation in the city's benefits plan, which includes health insurance and a 401-k retirement plan.
On Marineland's 75th Anniversary, Celebration of More Than Dolphins or a Storied Past: Over the years the town has transformed itself from a B-movie facility and a dog-and-pony . . . er, dog-and-dolphin show into an eco haven.
That transformation will be highlighted as the town of Marineland celebrates its 75th anniversary with a free, three-day event starting Friday and running through Sunday (Nov. 13-15). The celebration will include movie screenings, live music, a seafood fest, nature hikes, the Squawk the Parrot Show and numerous other activities centered at 9507 N. Oceanshore Blvd. (For anyone using Google maps, that address technically is considered to be in St. Augustine.)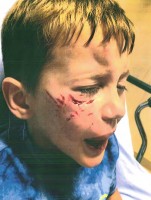 Dangerous Dog appeal remanded to county commission: a county judge returned to the county commission the case of the dog's bite of Rickey Westfall, 8, in July. The county commission had voted to declare the dog dangerous. The dog's owner's attorney appealed to county court. "Flagler County Judge Melissa Moore Stens signed an order Nov. 3 agreeing to return jurisdiction for appeal proceedings in the case back to the County Commission," for a mediated solution, the News-Journal reports. (Story paywall-protected.)
Palm Coast Sheriff's Precinct Cmdr. Mark Carman T-Boned in Cypress Edge Collision: The long-time captain–now commander–of the Flagler County Sheriff's Office's Palm Coast Precinct, was t-boned but not seriously injured in a crash as he drove on Cypress Edge Drive last week. Carman was not at fault.

Note: Most proceedings below can be followed live on the Florida Channel.

Senate President Andy Gardiner, R-Orlando, will discuss the SUNTrail System, a network of bicycle and pedestrian trails, during the Share the Road Celebration of Cycling event. (10 a.m., Clermont City Center, 620 West Montrose St., Clermont.)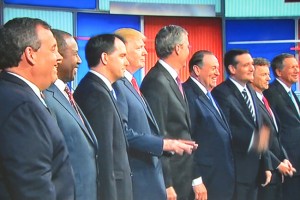 Seven presidential candidates, including Florida Sen. Marco Rubio and former Florida Gov. Jeb Bush, are slated to speak at the Republican Party of Florida's "Sunshine Summit." The other scheduled candidates are Texas Sen. Ted Cruz, South Carolina Sen. Lindsey Graham, former Arkansas Gov. Mike Huckabee, developer Donald Trump and retired neurosurgeon Ben Carson. (10:30 a.m., Rosen Shingle Creek, 9939 Universal Blvd., Orlando.)
Republican presidential candidate Ted Cruz is expected to take part in a campaign rally in Central Florida. (2:30 p.m., Faith Assembly of God, 9307 Curry Ford Road, Orlando.)
–Compiled by the News Service of Florida and FlaglerLive

In Coming Days in Palm Coast and Flagler:
Click on the links for more details:
Nov. 17: The NAACP meeting will be held a week earlier this month, on Nov. 17, 6 p.m., at the African American Cultural Society, 4422 U.S. 1 North, Palm Coast. The meeting is held earlier to accommodate the Thanksgiving holiday. For further details, contact the NAACP at 386-446-7822.

Click on the link for more details.
At Stetson, Hatters Celebrate Homecoming Week 2015
Rotary Club of Flagler Beach Seeks Volunteers to Pack 10,000 meals again for Stop Hunger Now
Stewart Marchman-Act Foundation Launches Bouquets of Hope Campaign for Thanksgiving
Preferred Management Services adds Two Associations to their management portfolio
Palm Coast Data Hires Andrea Kenney as VP of Sales, Memberships and Associations
David I. Alfin graduates from Florida Realtors Eighth Annual Leadership Academy
Hatters Celebrate Homecoming Week 2015: A week of Hatter festivities has begun as Stetson University celebrates Homecoming 2015. From the Greenfeather competition, to the Homecoming football game at Spec Martin Memorial Stadium, Saturday, Nov. 14, plus everything else in between, the campus is wrapped up in a whirlwind of grand traditions and exciting new events for the enjoyment of all. A series of major events have been planned for current students and returning alumni. The full schedule of events can be found at Homecoming 2015, on the Alumni website. Two of the most popular events, as described in the Homecoming video, include the Greenfeather competition and Airwaves. This especially rings true for two individuals: Dani Barnes '16, vice president of the Stetson Homecoming Committee, and Associate Director for Alumni Engagement Amy Dedes '04. "As of right now, we have just over 500 alumni who are registered through our office to return to Stetson next week," said Dedes. "That's actually about 150 more than were registered at this time last year. We have nine classes celebrating reunions this year." Classes that will celebrate reunions include the Class of 1955, which is celebrating 60 years, Class of 1960 celebrating its 55th anniversary, and so on, with reunions celebrated in intervals of five years until the Class of 2005, celebrating its 10th anniversary. All of these reunions will be occurring on Friday and Saturday, Nov. 13, 14. The President's Champagne Breakfast will be celebrated Saturday morning, Nov. 14, at 9 a.m. There will be two ceremonies honoring Stetson alumni who have served in the Armed Forces. Friday night's IGNITE!, which will feature comedian and former SNL alumna Nasim Perdad. On Saturday, Nov. 14, at 11 a.m., in the space just north of Griffith Hall, everyone is welcome to attend the dedication of the recently constructed Vietnam Remembrance Site that honors all Stetson alumni who served in the military during the Vietnam era to show support for these veterans. This event is open to the public, free of charge. (Click here to read the release in full on Stetson Today.) For more information, contact Tanner Vickers, associate director for Student Development and Campus Vibrancy at Stetson University, at 386-822-8784.

A majority of Christians have left homophobia behind. Will journalists keep up? https://t.co/OCOPrN0EuX pic.twitter.com/lYhyBNeNGC

— Media Matters (@mmfa) November 13, 2015
Social Security and Medicare changes are coming. Here's what you need to know: https://t.co/Yh4TRK5sXq

— USA TODAY (@USATODAY) November 13, 2015
The problems at the University of Missouri run so much deeper than a poop swastika https://t.co/jY2LPcGgBR pic.twitter.com/IJ3JuX2zlF

— Salon.com (@Salon) November 13, 2015
Has 9/11 become 'ancient history'? https://t.co/5fAz6Qjvtb pic.twitter.com/CR583pFJ68

— TheAtlanticPolitics (@TheAtlPolitics) November 13, 2015
John Butt says Bach was a 'tasteless and chaotic composer'. Really? https://t.co/xukeFl0N7o @BBCRadio3 pic.twitter.com/iLg6O28jha

— Spectator Culture (@CultureHouse) November 13, 2015


Palm Coast Construction and Development Progress Reports
The following is an update of ongoing construction and development projects in Palm Coast, through Oct. 30:
Palm Coast Parkway Six-Laning is 97 percent done: Final lift of paving has begun. Median work is completed. Landscaping irrigation is ongoing. Performed a substantial inspection on the Utility portion with as-built and created
punch list for Contractor.
Holland Park, 36 percent done: Dewatering of retention pond ceased when excavation and forming of pond completed. Six concrete stormwater mitered end sections poured. 20 cubic yards of concrete sidewalks poured. Installation of water main continued. Removal of unsuitable material from the jobsite. Electrical trenching and conduit installation continues.
Palm Coast City Hall at Town Center, 99 percent done: Building's grand opening is on Tuesday, Nov. 3.
County's I-95 Interchange Matanzas Woods Reclaim Water, 76 percent done: Retention ponds are being excavated and fill continues for
the ramps.
Palm Harbor Parkway Roadway Extension, 28 percent done: Clearing and underground stormwater work continues. Reconstruction of Old Kings Rd and Matanzas Road to have occur this past weekend.
North Old Kings Road Extension to Matanzas Woods Parkway, 17 percent done: Fill dirt has been brought in and road was raised to grade.
Island Walk Shopping Center Phase 1, 93 percent done: Water mains behind the Island Doctor and Bealls have been chlorinated for 2nd day bacteriological samples.
Old Kings Road Force Main 50 percent done:: Contractor is working on Force main at the entrance north of spray field.

Road and Interstate Construction:

George Szell in rehearsal: Beethoven's Symphony No. 5