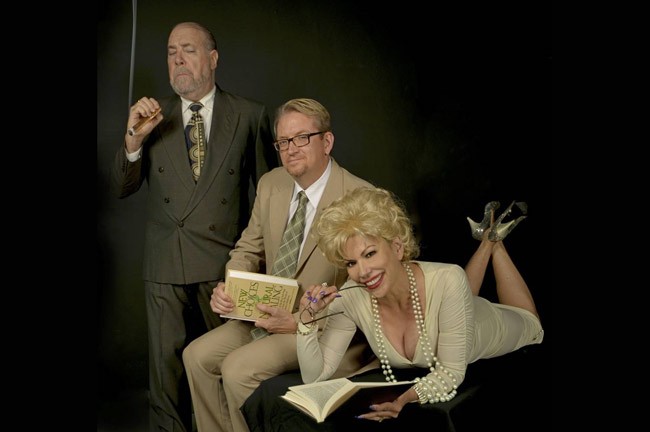 A bimbo will help the Palm Coast Arts Foundation raise the roof.
That bimbo — the sweet but ditzy Billie Dawn — is the character at the heart of Garson Kanin's 1946 Broadway play, "Born Yesterday."
City Repertory Theatre will present a staged reading of the surprisingly still-relevant — and surprisingly gritty — romantic comedy as a benefit for arts foundation's Raise the Roof campaign. The organization is raising money to build an arts and cultural pavilion in Palm Coast's Town Center. That would be just the first segment of a multi-phase, multi-staged arts facility.
The benefit performance will be at 6 p.m. Nov. 13 at the Lohman Auditorium in Marineland–a one-night only engagement, with tickets priced at $75 and $85.
"The politics of the late '40s could be the politics of 2015 or 2016," said Annie Gaybis, a City Rep veteran who stars as the Betty Boop-voiced Billie. "Listen to what's going on with the Benghazi hearings and the Republican and Democratic debates. It's amazing — Garson Kanin could have been writing this play about today instead of the late 1940s.
"It's not a love story so much as it's about Washington, D.C. It could be 2015."
And Kanin also takes a cue from George Bernard Shaw's "Pygmalion" (and that play's subsequent musical adaptation, "My Fair Lady") — except that, instead of proper speech, it's Billie's exposure to books, arts and culture that hold the promise of lifting her from bimbo-hood. (Gaybis starred in CRT's "Pygmalion" three years ago.)
And what better metaphor for an arts foundation to present as a fund-raising performance?
In "Born Yesterday," Billie is the arm candy of the sleazy, brutish but sly scrap metal importer Harry Brock (played by veteran area actor Robert Dimsey). The Jersey-bred Brock unabashedly proclaims he's a "junk man" instead of an importer, and plots with his lawyer (Robert Weaver) to bribe senators into passing legislation favorable to his business.
"You can be one of the men who runs the country," Brock's lawyer assures him. "Better yet, you can run the men who run the country."
But Brock, a man who pulls no punches in his relationship with Billie, has come to view her lack of smarts as a liability (she doesn't even know what the Supreme Court is, though that's generally indicative of being a citizen in good standing of the United States of Amnesia rather than a necessarily unintelligent person). When journalist Paul Verrall (Terence Van Auken) comes sniffing after Brock's shady business dealings, the junk king crudely tells him that Billie "is on the stupid side" and hires Verrall to tutor her.
And so Billie becomes Verrall's quite willing, and capable, student.
Kanin's play is "a great coming-of-age story," says City Rep director John Sbordone, who also is directing the staged reading of "Born Yesterday." Sbordone adapted the play with Gaybis in mind during his pre-City Rep days in 2009, when the twosome presented it for another benefit.
"The irony is, as you sit and listen to it, nothing has changed in Washington," Sbordone said.
The Palm Coast Arts Foundation, however, is on the cusp of changes during the coming year.
"We are at about $18,000 so far for the Raise the Roof campaign, and that's from a rather informal launch," said foundation executive director Nancy Crouch. "Our goal is $150,000. We plan to market the campaign after the first of the year." (Gaybis headlined a similar fundraiser for the foundation last year when she starred in CRT's production of "Suddenly last Summer," the Tennessee Williams play.)
The organization's website, thepcaf.org, cites its goal to "construct our new Town Center outdoor stage (and pavilion) to be completed by fall 2015."
"A few revisions to our plans are now requiring re-permitting, but those revisions will save us money, thus the delay," Crouch said. "We should be breaking ground in December or January."
The arts facility is slated to be built on PCAF property on Central Avenue just east of the Epic Theatres of Palm Coast.
"Part of that groundbreaking will include moving our offices to the site in a 2100-square-foot temporary modular office unit," Crouch said. "We're calling the site PCAF Park until someone else wants to name it," she added with a laugh.
Phase II of the arts center calls for a roof to be added to the pavilion's stage in 2016, as well as a "common back wall to be shared with the events center."
The Phase III events center is targeted for 2020, and the Phase IV Center for the Arts for 2025. The latter is slated to house a performing arts theater with three auditoriums with a total seating capacity of 2,200. The facility also will include dressing rooms, rehearsal space, art galleries, studios, classrooms, offices and VIP lounges.


"Born Yesterday," a staged reading to benefit the Palm Coast Arts Foundation's Raise the Roof campaign, Friday Nov. 13: reception with cocktails and heavy hors d'oeuvres plus a silent auction at 6 p.m., performance at 7:30 p.m., at the Lohman Auditorium, in the Center for Marine Studies Building at the UF Whitney Laboratory, 9505 Ocean Shore Blvd., St. Augustine (directly across from Marineland). Tickets are $75 for PCAF members, $85 for the general public, available online at thepcaf.org or by calling 386/263-2991.