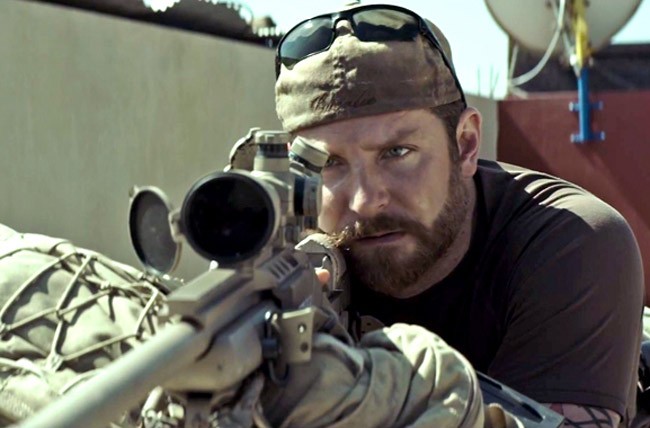 Today's weather: partly cloudy, high 82, low 71. Details here.
Today's fire danger is Low. Flagler County's Drought Index is at 525
The weather in Tacloban City, Philippines: high 88, low 77. Details.
The OED's Word of the Day: scintillate, v.
The Live Community Calendar
Today's jail bookings.
Today's Briefing: Quick Links

Note: all government meetings noticed below are free and open to the public unless otherwise indicated.
Today is an early dismissal day for all students bin Flagler County public schools.
The Palm Coast Code Enforcement Board meets at 9 a.m. at the Palm Coast Community Center. The agenda is available here.

The Palm Coast Planning and Land Development Regulation Board meets at 5:30 p.m. at the Palm Coast Community Center. The board will consider approval of a site-development application for Shoppes of Palm Coast, a 13-acre tract, currently vacant, at the southeast corner of Belle Terre Boulevard and State Road 100. The site is undeveloped and vacant. The applicant, PV-Palm Coast, LLC of Safe Harbor, Fla;., intends to develop the site into six commercial lots. Lots 1 and 5 will be offered to future users while the other three lots are under contract to retailers. Lot 2 will be for a 6,000 square foot convenience store having 24 fueling stations, Lot 3 a 17,825 square foot grocery store, and Lot 4 a 19,097 square foot tractor supply company. See Palm Coast Shoppes's full staff report. The board will also consider a land development code amendment amending standards for bars, fences and walls.
Bunnell's Volunteer Firefighters Retirement System board meets at 5:30 p.m. at the Bunnell Fire Department, 1601 Old Moody Blvd., Bunnell. The agenda.
Texting and Driving Public Service Announcement Unveiling: Chiumento Selis Dwyer, the Palm Coast law firm, has been working with Flagler Sheriff's PAL, Florida Hospital Flagler, Flagler County Schools, the Flagler County Sheriff's Office, Flagler County Fire Rescue and a group of local Matanzas High School students on a "No Texting & Driving Campaign." Over the past few weeks the group has been working on a No Texting & Driving PSA and will host a PSA Premiere event of this video from 6 p.m. to 7 p.m. at Matanzas High School Pirates Theatre.
The Flagler Chamber hosts a ribbon-cutting at Brookdale Senior Living, 3 Clubhouse Drive, Palm Coast, at 4 p.m. The assisted living facility used to be known as Sterling House. Contact Corie Robbins for information: (386) 447-3333.
Opera: The Pirates of Penzance, at Epic Movie Theatres, Town Center, Palm Coast, 6 p.m., $18 a ticket. With stylish designs from Alison Chitty, this vibrant production is conducted by David Parry. The superb cast includes the ever-versatile Andrew Shore as the very model of a modern Major-General, Jonathan Lemalu as the affectionate parody of the British bobby, Robert Murray as the innocent pirate-apprentice Frederic, and Rebecca de Pont Davies as the older woman who has designs on him.
"American Sniper" at Adult Movie Night at the Public Library's Meeting Room, 4:45 p.m., Flagler County Public Library, 2500 Palm Coast Parkway. The county's blurb on the movie notes that "Navy SEAL sniper Chris Kyle's pinpoint accuracy saves countless lives on the battlfield and turns him into a legend." Kyle wrote a best-selling autobiography, on which the movie is based. His writing, the Washington Post reported, is drenched in braggadocio. "People ask me all the time, 'How many people have you killed?'" he wrote in "American Sniper." "My standard response is, 'Does the answer make me less, or more, of a man? The number is not important to me. I only wish I had killed more. … The Navy credits me with more kills as a sniper than any other American service member, past or present. I guess that's true." Kyle claims he killed 255. He also reportedly made up many stories.
The Young Professional Group Flagler County holds its monthly social starting at 6 p.m. at Tony's Pizza, 428 Beach Village Dr, Flagler Beach. Admission is free for YPG Members and all guests under 40. Over 40 guests are welcome with a $20 admission fee. YPG members receive two free drink tickets. The group may include young lawyers who specialize in age-discrimination lawsuits.
Closure note: Matanzas Parkway Bridge at I-95 will close on June 5 at 7 p.m. for the I-95 interchange project and will remain closed until Aug. 9. Detour will be via Old Kings Road. Details here.

Property Values in Flagler Go Up 7 Percent, and 6 Percent in Palm Coast: But improvements are a double-edged sword. With more value comes more revenue for local governments, and more expectations from various agencies and the public. "It actually was somewhat easier when you were able to say no to everything," County Administrator Craig Coffey said. Now, the county, which every year has contended with budget gaps it had to close, is facing a gap again, of roughly $1 million, and is seeing big budgetary demands from constitutional officers, including a budget increase of $2.4 million from the Sheriff's Office alone.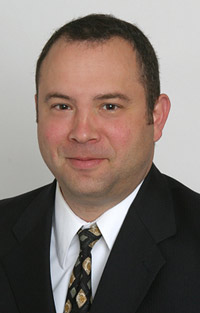 Tom LoBasso gets 12-month contract as president of Daytona State College: LoBasso had been the college's interim president as the board conducted a search. The board opted to abandon its search and stick with LoBasso, who had previously been chief operating officer and provost at the college. He'd been interim since January, after the departure of Kent Sharples. LoBasso, his bio page states, first joined Daytona State in 2001 as director of admissions and recruitment. Over the years, he took on greater leadership roles, serving as dean of enrollment development, vice president for enrollment and student development, and senior vice president for student development and institutional effectiveness. He earned his associate of arts degree from Keystone College, La Plume, Pa., in 1985. He also holds a Doctor of Education in Educational Leadership from the University of Central Florida, a Master of Science in Public Administration from Sage Graduate School, N.Y.; and a Bachelor of Arts in Communications Studies from East Stroudsburg University, Pa.
Flagler Beach restaurant's tartar sauce raising money for charities: News 13's Jason Wheeler reports on the Golden Lion's key lime tartar sauce, selling at central Florida Publix stores. The restaurant owners "take half of the profits of the tartar sauce sales and give it to the Flagler County Resource Center, which is the second busiest food pantry in the county."
Volusia County School Board Chairwoman Linda Costello apologizes after telling two-thirds of a graduating class that they "underperformed." Parents and graduates were insulted Sunday during Seabreeze High School's graduation ceremony, when she spoke of a third of the class graduating with "distinguished honors," then seemingly attempted a joke about the rest. "Whatever I meant is so lost in the way it came out, there is nothing I can say to defend it," Costello told the News-Journal (paywall-protected).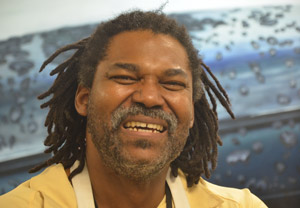 Weldon Ryan, the 2011 Flagler County Artist of the Year, is profiled is profiled by the News-Journal's Barbara Salter. His "Carnival at the Peabody" exhibit is at the Rose Room Art Gallery at the Peabody Auditorium through June 15. "I never gave up on my art," Ryan tells Salter. "I've found that with my artistic skills, things happen. I fully believe your art won't disappoint you. I tell that to my students. Art will find a way for you. If you continue your art, it leads to other people seeing your art and then, before you know it, the doors open up for you."
Palm Coast's Reilly Opelka has been cruising in Paris: The 17-year-old Palm Coast native continued his strong run at the French Open Boys Tournament on Tuesday, scoring his second consecutive impressive win at Roland Garros. Wednesday, he faces world No.1 ranked junior, and the tournament's No. 1 seed, Orlando Luz of Brazil.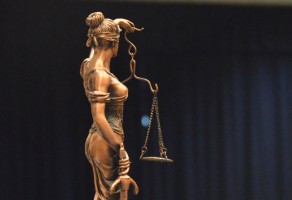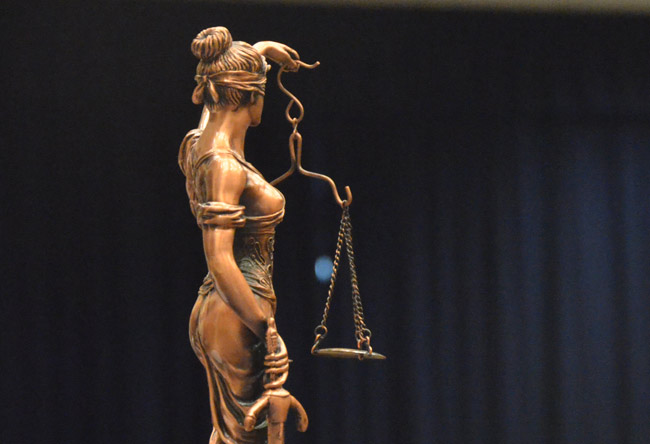 Circuit Judge J. David Walsh holds pre-trial hearings starting at 8:30 a.m., including the case of William Pedersen, accused of raping a victim younger than 12. The judge is again in pre-trials starting at 1:30 p.m., including the cases of Robert Zetrouer, accused of molesting his girlfriend's 13-year0old daughter, Anthony Dibella, accused of selling marijuana and owning a firearm as a convicted felon, Daniel Noble, the European Village alleged attacker–who was found competent to stand trial in December–and Roodlyn Mompremier, accused of soliciting to commit murder.

Note: Most proceedings below can be followed live on the Florida Channel.

Senate's Health Plan: The Senate is expected to hold a floor session and take up the proposed "Florida Health Insurance Affordability Exchange," or FHIX, program (SB 2-A), which would extend health-care coverage to about 800,000 uninsured Floridians. (10 a.m.)
The Florida Commission on Hurricane Loss Projection Methodology will continue meetings to review computer models. (8:30 a.m.)
Circuit Judge Jessica Recksiedler of Seminole Reprimanded: The Florida Supreme Court will take up four issues, including offering a public reprimand to Seminole County Circuit Judge Jessica Recksiedler for not being candid about a traffic ticket she received on the way to an interview with a judicial nominating commission. (9 a.m.)
The Florida Commission on Offender Review will consider numerous parole cases involving crimes committed in the 1970s and 1980s. (9 a.m., 4070 Esplanade Way, Tallahassee.)
Duke Energy Wants to Buy a Power Plant: The Florida Public Service Commission will start a hearing about Duke Energy Florida's proposal to buy a Polk County power plant from a subsidiary of Calpine Corp. If Duke cannot purchase the plant, it has proposed a fallback plan of building a new plant in Suwannee County. (9:30 a.m.)
–Compiled by the News Service of Florida

Former Rhode Island Governor Lincoln Chafee is expected to announce a bid for the Democratic presidential nomination.
The winner of the 2015 Baileys Women's Prize for Fiction will be announced today at 1:45 p.m., Palm Coast time, 6:45 p.m. London time. Watch it live here. The shortlist:
Rachel Cusk – Outline
Laline Paull – The Bees
Kamila Shamsie – A God in Every Stone
Ali Smith – How to be Both
Anne Tyler – A Spool of Blue Thread
Sarah Waters – The Paying Guests
Jerry Seinfeld's new season of "Comedians in Cars Getting Coffee" begins, with guests this season including Stephen Colbert, who's taking over the Letterman show, Bill Maher and Trevor Noah, who's taking over the Daily Show. The sitehttp://comediansincarsgettingcoffee.com/.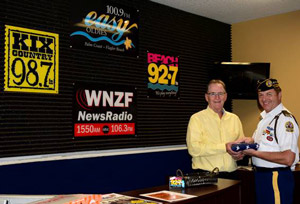 WNZF Accepts Inaugural Replacement Flag from DAV Chapter 86: In appreciation of their unconditional support in "getting the word out" about the Flagler County Disabled American Veterans (DAV) flag replacement program, WNZF Vice President and General Manager David L. Ayres accepted the program's first flag from DAV Chapter 86 Commander Raymond A. Parker in the radio station's studios in Bunnell. The Disabled American Veterans flag replacement program for homes in Flagler County began with a press release to local media on May 28, 2015, and a discussion of flag etiquette by DAV Chapter 86 Commander Parker on the 9 AM May 29 "Free for All Friday" live talk show on WNZF. A public service announcement about the flag program was recorded on the same day by DAVA Auxiliary member Claudia Parker, and is currently being broadcast over WNZF NewsRadio106.3 FM, KIX Country 98.7 FM, Beach 92.7 FM and EasyOldies 100.9 FM. In response to the impromptu gift to the station, Ayres commented, "WNZF is proud to be partnering with the Disabled American Veterans to get the word out about their flag replacement program to the local community." If you are interested in a replacement flag for your Flagler County home, call DAV headquarters at 439-2122 or email at [email protected] with your name, address, phone number and size of your old flag. A member of the DAV chapter will contact you and set up a convenient time for replacement, distribute and set up the new flag, and collect the old flag for an appropriate retirement ceremony. New flag recipients also will be given an informational brochure of flag etiquette. Flags are also available at the DAV headquarters at 208 South 6th Street in Flagler Beach. Distribution and set-up of the flags is free. The only charge to the requestor will be the low cost of the new flag.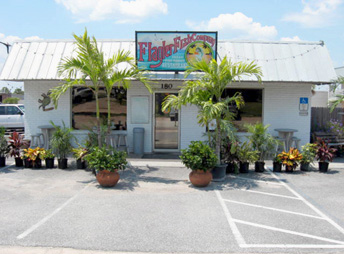 Flagler Fish Company earned a fifth Certificate of Excellence award from TripAdvisor, the world's largest travel site. This award puts the company in the Certificate of Excellence Hall of Fame. Flagler Fish Company has won the award since the is the world's largest travel site launched the awards five years ago. The award celebrates hospitality excellence and is given only to establishments that consistently achieve outstanding traveler reviews on TripAdvisor. Winners of the Certificate of Excellence are located all over the world and represent the upper echelon of businesses listed on the website, with only the top 10 percent receiving the prestigious award. "TripAdvisor only gives the Hall of Fame award to restaurants that have earned the Certificate of Excellence award five years in a row so we are very excited," said owner Chris Casper. "We are grateful to our loyal customers and our dedicated team that is always working hard to make everyone's dining experience the best it can be," Casper added. Additional criteria of the award include the volume of reviews received within the last 12 months. TripAdvisor® branded sites make up the largest travel community in the world, with more than 250 million unique monthly visitors, and over 225 million reviews and opinions covering more than 4.9 million accommodations, restaurants, and attractions. The sites operate in 45 countries worldwide. Flagler Fish Company opened their doors in Flagler Beach in 2005. They offer a wide selection of fresh fish and shellfish. The selection varies on a daily basis including fish such as cobia, grouper, flounder, cod, triggerfish, local shrimp, salmon, tuna and more. They also carry USDA Prime hand cut rib-eye, filet mignon, and New York strip. They are a Slow Foods recognized restaurant, meaning that they source and use a good deal of local products. They are also registered with the "Fresh from Florida" program as a restaurant that uses Florida fish, shellfish, and produce. They offer approximately 30 different wines that are constantly evolving, as well as a selection of premium and domestic beers. FFC prides themselves on being 'green'. They recycle daily, pay more to be able to use recyclable take out containers (no Styrofoam), and carry only recyclable straws, to-go containers, drink cups, and cutlery. Flagler Fish Company continually supports local charities such as The Tommy Tant Scholarship Fund, The Turtle Patrol, Rally for a Cure, Friends of A1A, church organizations and many more. They continually strive to live up to their slogan – "Food To Knock Your Flops Off." They are located at 180 South Daytona Avenue in Flagler Beach. They are open Monday – Thursday and Saturday from 11 am to 9 pm, Friday's from 10 am to 9 pm. They can be reached at 386-439-0000 or online, and on Facebook.
Flagler County Senior Citizens Enjoy Memorial Day Event: 100-year-old Mabel Dunbar propped up a small American flag knocked over by a warm wind that swept by an annual Memorial Day picnic for senior citizens at Herschel King Park. Dunbar, who will be 101 years old in September, has vivaciously participated in activities like this one, organized by the Flagler County Senior Services Division, since 2000. "Ms. Dunbar is the first one up to dance and exercise at the George Wickline Senior Center, where we serve lunch and have weekly workouts and games such as Bingo," Senior Services Program Manager Joanne Hinkel said. "We also shuttle seniors to go shopping or to locations for events like we did on Friday, May 22, for the Memorial Day celebration at Herschel King Park, which is such a wonderful setting." A federal grant under the Older Americans Act (OAA), along with money from the county and client donations, funds Wickline center programming and field trips, like the picnic. During the outing Dunbar socialized with Birdie Hanson, 82, and her son Richard Afflick, 50, before hearing a presentation about how to avoid scams from Sgt. Mike Lutz with the Flagler County Sherriff's Office. After Lutz suggested senior citizens never open the door for strangers and guard their pocketbooks while shopping, among other safety recommendations, lunch from Subway was served. Dunbar told Hanson that she feels lucky her daughter does her grocery shopping for her and the two shared stories of friends deceived by fraud. "Mabel is my best friend and I met her at the center," Hanson said while they chatted. "That's why these events are great and everyone enjoys them."

Palm Coast Construction and Development Progress Reports: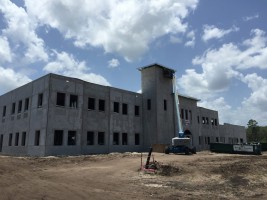 The following is an update of ongoing construction and development projects in Palm Coast, through May 29:
Island Walk Shopping Center (Former Palm Harbor Shopping Center), 80 percent done: A 3rd Grease Interceptor has been installed behind the new buildings on the west end of the project. Three sewer wyes have been installed to serve the Grease Interceptors.
Palm Coast Parkway Six-Laning is 76 percent done: Widening on the north side of the parkway continues. Landscape irrigation work continues. Fence installation on north side of bridge is complete. Fire hydrant at Florida Park Drive has been relocated. Hydrants installed at Palm Coast
Parkway on water main heading North and East. Contractor continues with dig locates in areas of tie in points for the new 12″ and 16″ water mains.
Royal Palms Parkway Improvements, 96 percent done: Finished remainder of paving. Grading for sod at roadway edge. Sodding at Rickenbacker and seeding on south side of Royal Palms.
Holland Park, 18 percent done: Demolition of remainder of park roadway.
Palm Coast City Hall at Town Center, 47 percent done: Installation of drywall of interior walls has begun. Mechanical duct work installation and electrical conduit rough-in and fire sprinkler piping continues. Installation of exterior windows and exterior wall trim has begun. See ongoing images of construction here.
Shops at Pine Lakes Convenience Store, 65 percent done: The package Pump Station has been set and plumbing continues. Contractor has installed the Force main into the existing manhole on Wynnfield Drive. The road lane closure for the manhole core to install the force main was completed
and the road has been repaired.

Harley is a 75-pound dog who broke away from its owner at Linear Park on Thursday, May 28, at 10:15 a.m. and ran down Sabal Trail, with owner calling and running after him. "He exited out the other end where the two joggers that had stopped to admire him (which caused the bolting) had tried to cut him off but he was too fast. He went left towards the Jehovah Witness complex and was gone," Harley's owner says. At 11:30 a woman driving along Palm Coast Parkway Westbound almost hit him and blew her horn to warn cars. He still had the retractable blue leash on him at that time and was heading toward the fairways condos and the palm harbor golf course. On Monday, a resident who was at Lowe's reports spotting a dog matching Harley's colors around 7 p.m. Harley is timid with strangers, not a barker. He is due for his flea meds and heartgard within the next two days.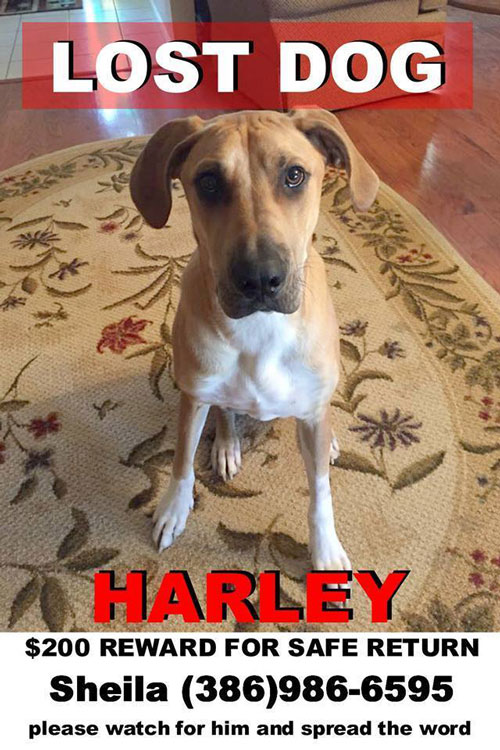 "U.S. Surveillance in Place Since 9/11 Is Sharply Limited: In a significant scaling back of national security policy formed after the Sept. 11, 2001, terrorist attacks, the Senate on Tuesday approved legislation curtailing the federal government's sweeping surveillance of American phone records, and President Obama signed the measure hours later. The passage of the bill — achieved over the fierce opposition of the Senate majority leader — will allow the government to restart surveillance operations, but with new restrictions. The legislation signaled a cultural turning point for the nation, almost 14 years after the Sept. 11 attacks heralded the construction of a powerful national security apparatus. The shift against the security state began with the revelation by Edward J. Snowden, a former National Security Agency contractor, about the bulk collection of phone records. The backlash was aided by the growth of interconnected communication networks run by companies that have felt manhandled by government prying. The storage of those records now shifts to the phone companies, and the government must petition a special federal court for permission to search them." From The Times.
Are Republicans scared of Florida? "Florida's March 15 primary could be more important than ever – but it could also be a complete dud. This murkiness provided the backdrop for Tuesday's cattle call in Orlando, an invitation-only event organized by Rick Scott, Florida's Republican governor. Scott wants to play a major role in next year's presidential primary, but it's a complicated matter because two of the top candidates – former Gov. Jeb Bush and Sen. Marco Rubio – are Floridians and enjoy obvious built-in advantages. (Actually, a total of four candidates are officially residents of the state, with former Arkansas Gov. Mike Huckabee and retired neurosurgeon Ben Carson now claiming it as their home, though neither has ever run for office here.) […] The scenario that Florida's political class salivates over involves a defining showdown in next March's primary between Bush and Rubio, with the nomination settled by the people who know them best. It would be a dogfight; the two men start out locked in a virtual tie in their home state. And it could happen. Say Rubio were to win Iowa and South Carolina, with Bush taking New Hampshire and Nevada. That would establish them as the clear front-runners and would thin the field dramatically. In this situation, the verdict of their home state's voters would then loom large. And in this situation, it would be futile for any of the other surviving candidates to spend time and resources in the state." From MSNBC.
Los Angeles Lifts Its Minimum Wage to $15 Per Hour: The nation's second-largest city voted Tuesday to increase its minimum wage from $9 an hour to $15 an hour by 2020, in what is perhaps the most significant victory so far for labor groups and their allies who are engaged in a national push to raise the minimum wage. The increase, which the City Council passed in a 14-to-1 vote, comes as workers across the country are rallying for higher wages and several large companies, including Facebook and Walmart, have moved to raise their lowest wages. Several other cities, including San Francisco, Chicago, Seattle and Oakland, Calif., have already approved increases, and dozens more are considering doing the same. In 2014, a number of Republican-leaning states like Alaska and South Dakota also raised their state-level minimum wages by ballot initiative. […] The 67 percent increase from the current state minimum will be phased in over five years, first to $10.50 in July 2016, then to $12 in 2017, $13.25 in 2018 and $14.25 in 2019. Businesses with fewer than 25 employees will have an extra year to carry out the plan. Starting in 2022, annual increases will be based on the Consumer Price Index average of the last 20 years. The City Council's vote will instruct the city attorney to draft the language of the law, which will then come back to the Council for final approval." From The Times.
Florida toddler dies in hot car while mother teaches school indoors: "Jamie Buckley from Panama City, Fla., arrived at Cedar Grove Elementary School just before 7:30 a.m., parked her car and forgot her toddler was still in her car seat when she went into the building, the Bay County Sheriff's Office said in a statement. She discovered the child at the end of the school day about 3:15 p.m. when she returned to her car. […] The child, Reagan Buckley, was pronounced dead at the scene. King said the Bay County Sheriff's Office has launched a full investigation. By Tuesday afternoon, temperatures in Panama City hit 83 degrees, according to data from Weather Underground. Once outside temperatures reach 80 to 100 degrees, temperatures inside a car can climb up to 131 to 172 degrees, according to a 1998 case study from the Centers for Disease Control and Prevention." From the Washington Post.

Road and Interstate Construction: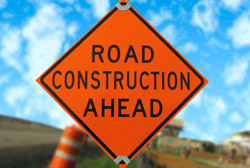 Palm Coast:
Lane closure planned for Palm Coast Parkway June 3 through June 5: Beginning Wednesday, June 3 motorists and other travelers should expect a lane closure along Palm Coast Parkway at Boulder Rock Drive. From 8 p.m. Wednesday, June 3 through 7 a.m. Friday, June 5 the northbound thru lane on Boulder Rock Drive from Palm Coast Parkway will be closed and traffic will be shifted into the southbound lane of Boulder Rock Drive. Additionally there will be only one left turn lane open from Palm Coast Parkway eastbound onto Boulder Rock Drive. A uniformed law enforcement officer will be on-site to direct traffic into the southbound lane on to Boulder Rock Drive. The existing two left turn lanes from Boulder Rock Drive will modified to allow one thru lane and one left turn lane.
Palm Coast Parkway between Cypress Point Parkway and Florida Park Drive. IMPACTS: Lane shifts and closures will occur and this may cause traffic congestion on this already busy roadway. Most construction work will occur between 9 p.m. and 7 a.m. though weather and unforeseen issues may adjust the schedules. This project will be complete by December 2015."
Matanzas Parkway Bridge at I-95 Matanazas Parkway at the I-95 bridge will close on June 5 at 7 p.m. for the I-95 interchange project and will remain closed until Aug. 9. Detour will be via Old Kings Road. Details here.
Volusia: I-4 Widening from SR 44 to east of I-95, Monday and Friday, 7:00 a.m. – 5:00 p.m., Eastbound/Westbound shoulder closing. Sunday through Thursday, Eastbound and Westbound lane closures as needed from 8 p.m. to 6 a.m. Thursday, 9:00 p.m. – 5:30 a.m. EB road closure between Canal St./SR 44 and I-95 with detour at US 92 exit ramp.Motorists should be aware of traffic shifts near Canal St./SR 44.
County Road 304 Project Map and Description

June 4: Flagler County Youth Center is sponsoring the fourth annual "Spotlight on Flagler Youth" Variety Show, Thursday, June 4th, 7 p.m. at the Flagler Auditorium. Once again, all proceeds from this year's show will be donated to the George Washington Carver Foundation, an organization responsible for supporting the development of the Carver Center in Bunnell. We will be the crowning "Flagler County's Youth Entertainer of the Year" in the Senior Division, 9th -12th Grade, and Junior Division 6th -8th Grade, and Elementary Division for K-5th grades. Mark your calendars today, and see everything that is right with Flagler County youth. Show tickets are available at the door and on sale at the Flagler Auditorium Box Office, $6 per person. Additional information can be obtained by calling Cheryl Massaro, Director Flagler County Youth Center, at 386/437-7540 extension 5101.
The Flagler County Sheriff's Office and Starbucks is hosting "Coffee with a Cop" Friday, June 5 from 9:30 a.m. until 10:30 a.m. at Starbucks located at 216 Palm Coast Parkway NE, Palm Coast. Coffee with a Cop offers the public the opportunity to openly talk with Sheriff Jim Manfre and members of the Sheriff's Office in a relaxed and neutral environment. This program allows citizens to sit down, one-on-one with Manfre and discuss law enforcement concerns they find important while enjoying their favorite cup of coffee. "I wanted to give the public the opportunity to get to know me and my employees that serve the community where they live. It will give us a chance to become acquainted with one another while discussing law enforcement issues," Manfre said. Coffee with a Cop provides "distraction free" time with Sheriff Manfre and his employees without pending radio calls or cellular phone interruptions. For questions or additional information, please contact Deputy Paula Priester at [email protected] or call 386-586-4813.

For the Poor, Access Flagler First: The overarching message coming from the many social services agencies that participate in Access Flagler First is that there is help available for those who need it. ElderSource brings a motor home for the every-other-month event, which is held at Cattlemen's Hall at the Fairgrounds, to provide individual counseling. SHINE (Serving Health Insurance Needs of Elders) volunteers provide the "crown jewel" of services offered – advice about all of the insurance options for those who are turning 65. "There is help out there," said volunteer Vivian Rowe. "We also help people do thing like apply for assistance if they need it. We are willing to do the secretarial work. We don't make the decisions and we think that everyone who needs help should apply." Access Flagler First was started four years ago by Janet Nickels, program manager for Flagler County Human Services, and Pastor Charles Silano, of Grace Tabernacle Ministries. About 40 social services agencies have agreed to provide information and assistance. "That says something about all of the social services agencies here in Flagler County," Nickels said. "There is a need here and they have committed to do this." TRAIL, which stands for Transitioning youth with disabilities into Real vocational opportunities through Action planning and Individual Learning, was given the spotlight in April. TRAIL is part of the Flagler County School District and serves 18- through 21-year-olds with disabilities who are looking for employment. Nutritious food and "gently used" clothing is given out at each Access Flagler First. "We provide food for about 350 families," Silano said in April. "This time we had dry goods for them, a whole frozen chicken, bread and fresh vegetables." The next event will be held from 1 to 4 p.m. on Friday, June 5. For more information and to access a full list of participants, visit the website.

Free Breakfast and Lunch for All Flagler County Children Through Seamless Summer Freeding:  The Flagler County Schools, Food & Nutrition Services Department is please to announce that free breakfast and lunch meals will be made available at no charge to all children in the community who are 18 years of age and under. Free meals will be available at the following sites from June 8th – August 14th and closed on July 3rd. Closed site means it's just for children who are attending camp through the school location. An open site means anyone can come in and have a meal. Menus available online at FlaglerSchools.Nutrislice.com.
Bunnell Elementary – Closed Site: 800 East Howe Street Bunnell, Breakfast from 8:30 a.m. to 9:30 a.m., Lunch from  11 a.m. to 12:30 p.m. 
Imagine School – Open Site:  775 Town Center Blvd Palm Coast,  Breakfast from 9 to 9:30 a.m., lunch 12:30 p.m. 
Versie Lee Mitchell Community Center – Open Site: 405 E Drain Street,  Bunnell, Breakfast, 8:45 a.m. to 9:15 a.m., Lunch, 12:30 p.m.
Wadsworth Elementary School – Open Site: 4550 Belle Terre Parkway Palm Coast, Breakfast, 8 a.m to 9:45 a.m. , Lunch, 11 a.m. to 12:30 p.m.
Reverse Church – Open Site: 4601 East Moody Blvd. Bunnell, Breakfast, 8:30 to 9:30 a.m., Lunch, 11:30 a.m. to 12:30 p.m.
For more information call or email Amy Holstein, Food Service S Specialist for Flagler County Schools, 386-437-7526 x1305 or by email, [email protected]
"The Art of Selling", a business seminar, will be offered by the Palm Coast Business Assistance Center from 6-8 p.m. Wednesday, June 17. Registration is now under way. The seminar will be held at City of Palm Coast offices, 160 Cypress Point Pkwy., Suite B106. A $10 early-bird, reduced registration fee is available now through May 31. From June 1 to 17, the registration cost is $15. For enrollment information, contact the Palm Coast BAC at 386-986-2499 or log onto www.PalmCoastBAC.com. Seminar Topics will include: The 7 steps of the sales process, how to improve the odds of making quota, preparation approach and discovery, and so on. The seminar will be taught by Ray Peter, Area Manager of the Florida Small Business Development Center. The Palm Coast BAC is a partnership between the City and the SBDC hosted by the University of Central Florida.


Blood donations are urgently needed. Patients in our local hospitals are in need of blood transfusions, and the need for blood does not take a holiday. That's why OneBlood is asking people to donate immediately.
Big Red Bus schedule in Flagler-Palm Coast:
None provided so far this month.

Cultural Coda:
Charles-Valentin Alkan, Wikipedia tells us, "was a French composer and pianist. At the height of his fame in the 1830s and 1840s he was, alongside his friends and colleagues Frédéric Chopin and Franz Liszt, among the leading virtuoso pianists in Paris, a city in which he spent virtually his entire life." Here's Marc-André Hamelin playing the 1st movement from Alkan's "Concerto for Solo Piano." The second movement is here, the third is here.