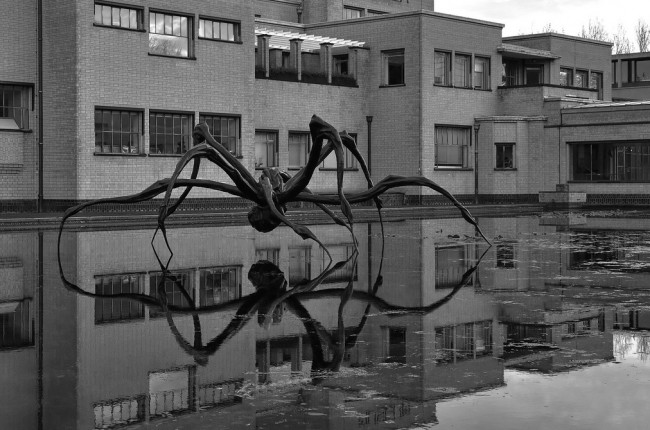 You're welcome to send your Live Wire news tips or suggestions to [email protected].
Today's Live Wire: Quick Links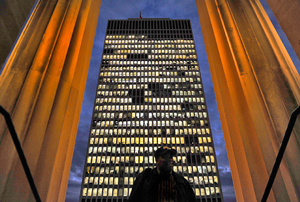 And you thought the CIA was intrusive in the 1970s. Dana Priest and William Arkin of the Washington Post today publish an investigative report that should have you rolling in your constitutional rights' grave, but won't, because you've spent the last couple of decades accepting and even applauding the ever-intrusive policing and surveillance powers of the state. Powers never granted constitutionally, but gradually grabbed over the years with the complicity of a public as pliant and cowardly as those submissive proles who made the Soviet Union such a cozily repressive place to be. From the Post: "Nine years after the terrorist attacks of 2001, the United States is assembling a vast domestic intelligence apparatus to collect information about Americans, using the FBI, local police, state homeland security offices and military criminal investigators. The system, by far the largest and most technologically sophisticated in the nation's history, collects, stores and analyzes information about thousands of U.S. citizens and residents, many of whom have not been accused of any wrongdoing. The government's goal is to have every state and local law enforcement agency in the country feed information to Washington to buttress the work of the FBI, which is in charge of terrorism investigations in the United States. […] The months-long investigation, based on nearly 100 interviews and 1,000 documents, found that:
* Technologies and techniques honed for use on the battlefields of Iraq and Afghanistan have migrated into the hands of law enforcement agencies in America.
* The FBI is building a database with the names and certain personal information, such as employment history, of thousands of U.S. citizens and residents whom a local police officer or a fellow citizen believed to be acting suspiciously. It is accessible to an increasing number of local law enforcement and military criminal investigators, increasing concerns that it could somehow end up in the public domain.
* Seeking to learn more about Islam and terrorism, some law enforcement agencies have hired as trainers self-described experts whose extremist views on Islam and terrorism are considered inaccurate and counterproductive by the FBI and U.S. intelligence agencies.
* The Department of Homeland Security sends its state and local partners intelligence reports with little meaningful guidance, and state reports have sometimes inappropriately reported on lawful meetings.
[…] The Obama administration heralds this local approach as a much-needed evolution in the way the country confronts terrorism. Top Secret America is a project two years in the making that describes the huge security buildup in the United States after the Sept. 11, 2001, attacks. […] The total cost of the localized system is also hard to gauge. The DHS has given $31 billion in grants since 2003 to state and local governments for homeland security and to improve their ability to find and protect against terrorists, including $3.8 billion in 2010. At least four other federal departments also contribute to local efforts. But the bulk of the spending every year comes from state and local budgets that are too disparately recorded to aggregate into an overall total. The Post findings paint a picture of a country at a crossroads, where long-standing privacy principles are under challenge by these new efforts to keep the nation safe." The full story.
See Also:

Facebook More Dangerous to Soldiers Than Wikileaks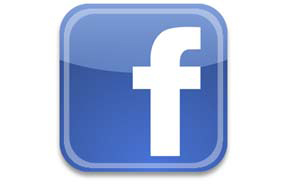 The Pentagon has been making a very big and so far entirely unproven deal over how Wikileaks' document dumps are endangering troops in Iraq and Afghanistan. But there's something far more dangerous lurking in soldiers' pants and backpacks. Their apps. The Wall Street Journal just ran a chilling investigation into the degree to which the applications on your cell phones are tracking you, without your knowledge. "An examination of 101 popular smartphone "apps"—games and other software applications for iPhone and Android phones—showed that 56 transmitted the phone's unique device ID to other companies without users' awareness or consent. Forty-seven apps transmitted the phone's location in some way. Five sent age, gender and other personal details to outsiders," the paper reports. "The findings reveal the intrusive effort by online-tracking companies to gather personal data about people in order to flesh out detailed dossiers on them."
And today the Pentagon got worried. From Military Times: "The Army is warning troops to be careful when using Facebook and other popular social networking sites because their geo-tagging features may show where U.S. forces are located in war zones. In a 20-slide presentation posted on various Army websites in recent weeks, the Army said that "exposing specific geographic location could be disastrous to Army operations." The presentation was created by the Army Social Media Division and distributed to alert public affairs officials around the service. The applications highlighted in the slides include Facebook, Flickr, Foursquare and Gowalla, which can show a person's location. […] The main concern is that enemies can use geo-location services to track troops in the war zone. The Army warns these features could also be used to determine potential targets by exposing where troops live and work, and establishing their habits. Deployed soldiers, and soldiers in classified areas and in training, are cautioned not to enable location-based social networking, which could "bring the enemy right to the Army's doorstep," the presentation states." The full story.

From Space.com: "A rare event not seen in 372 years will occur early Tuesday morning, when a total lunar eclipse coincides with the winter solstice. While you can't see the solstice, the eclipse promises to be an amazing spectacle. And if that's not enough, a minor meteor shower is expected to send a few shooting stars through the darkened sky during the height of the eclipse. Weather permitting, viewers in North and South America, as well as the northern and western parts of Europe, and a small area of northeast Asia should get a great view of the total eclipse of the moon. On the East Coast of North America, the lunar eclipse begins half an hour after midnight on Tuesday; on the West Coast, it begins around 9:30 p.m. PST Monday. In all cases, the lunar eclipse will be observable before the moon sets in the west just as the sun is rising in the east. Maximum eclipse – the really cool part when the moon is totally in shadow – is at 3:17 a.m. EST/12:17 a.m. PST." The full story.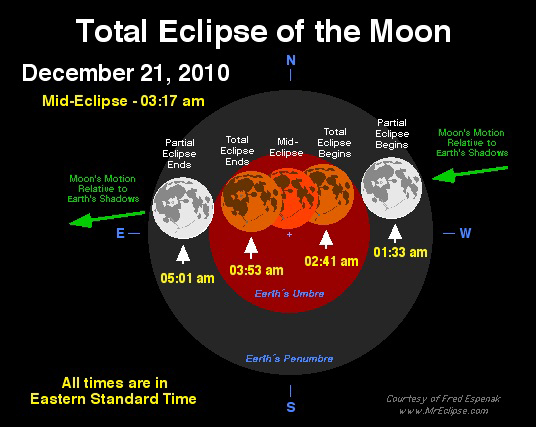 See Also:

WNZF Radio, our partner in crime, grime and smiles, is going up in the world. The station, on the air at 1550 AM since September 2008 as Flagler county's first commercial radio station (also the owner of WBHQ 92.7 FM, better known as Beach FM) sends in this release: Signal improvements for both the FM 106.3 and AM 1550 have been approved by the Federal Communications Commission and were implemented on Dec. 16, according to David Ayres, the station's vice president and general manager. The FM signal has been improved by moving the antenna higher, using a higher microwave path link from the WNZF studios, and placing a new antenna closer to the county's population center. "The new FM signal now delivers a sound significantly improved and achieved without building a new tower," Ayers said. "By working with SBA Tower Company we have been able use their existing structure without impacting the environment or ascetics of our sensitive area." The new antenna site is on U.S. 1 just south of Palm Coast Parkway and is equipped with a back-up generator for emergencies. The AM station increased its daytime powerby 26% to 11,000 watts, enabling WNZF to extend its "protected contour" over Daytona Beach, Saint Augustine, and Palatka, while giving Flagler listeners better reception. "These improvements represent our continuing investment and
confidence in Flagler County's future," Ayres said.
Naturally, with increased power, you may have to make more liberal use of the volume controls when Rush takes to shouting, Hannity to whining and Beck to sobbing.
See Also:

Blast from George Hanns's Past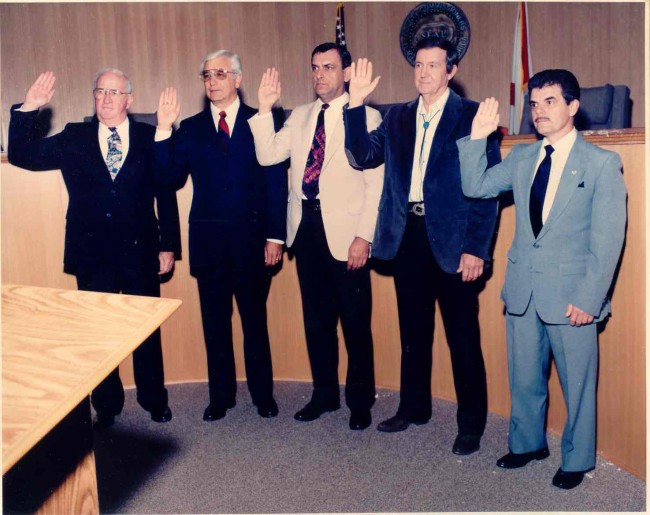 Who ever thought that George Hanns could pull off shades of that Burt Reynolds look, or that Jim Darby could ever look silent, or that the Flagler County Commission was ever the all-white, all-male club it tries so hard to still be (the Revels-Holland rivalry notwithstanding)? Here they are both, Hanns and Darby, in a shot from 18 years ago, back when the first George Bush was still president, when the Internet was a weird thing only obsessive techies talked about, and when virtually every student at Flagler Palm Coast and Matanzas high schools wasn't yet born (though many were being conceived). Hanns has been a bit on the melancholy side in the last couple of weeks. He loved being chairman of the County Commission, a role he gave up this month so Alan Peterson could have a crack at the gavel. At least this commission embraces the idea of rotating that post as previous commissions didn't: Darby was not just Flagler County's Castro with his rhetorically heroic orations. He had aspirations to outdo old Fidel at his own little helm. Voters finally had other ideas. Hanns sent in these two hots above and below as part of his holiday wishes, and perhaps a reminder of his own that an 18-year tenure on that commission, going on at least 20, is no small achievement. And yes George, we not only heartily say Merry Christmas, we also believe in Santa, though to this day have yet to figure put why those three kings couldn't keep a schedule. Here's George and his beloved Sophie.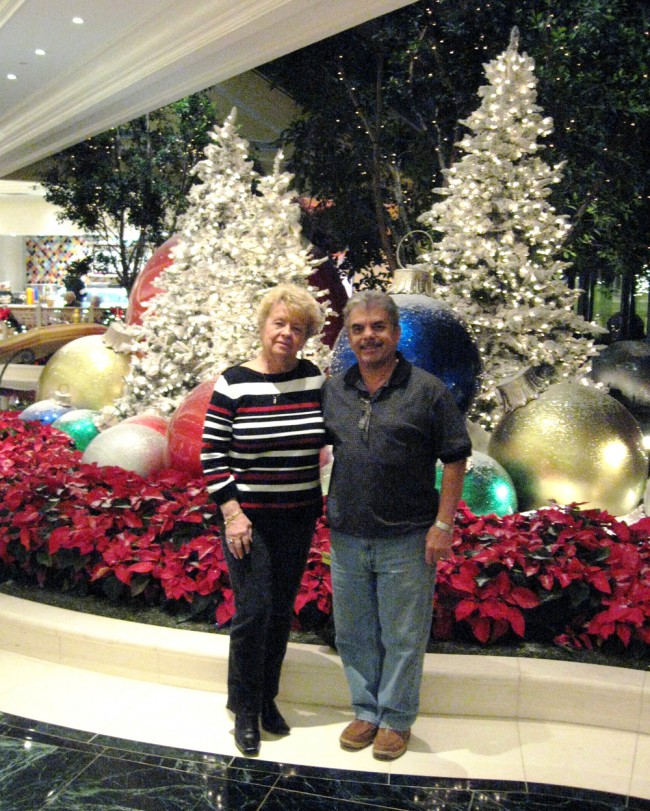 See Also:

Flagler Palm Coast High School's Singers at EPCOT
Amy Fulmer's Formality Singers at Flagler Palm Coast High School have been getting around lately, and on Dec. 17, they were at EPCOT (what's turned into an annual tradition of their own), taking part in the candlelight vigil. Here are a few shots, courtesy of school board member Colleen Conklin, who was there with her family cheering on FPC: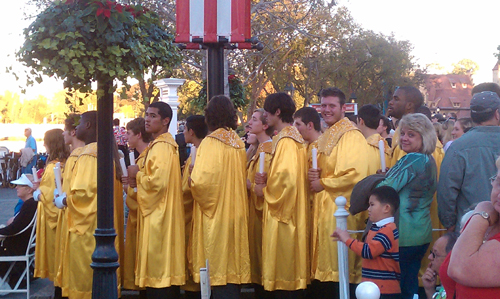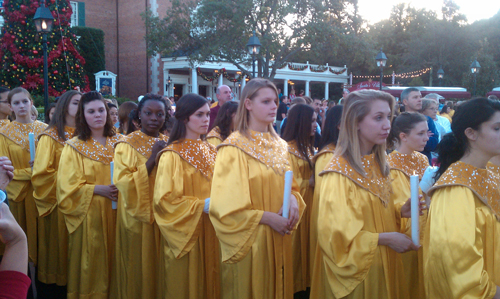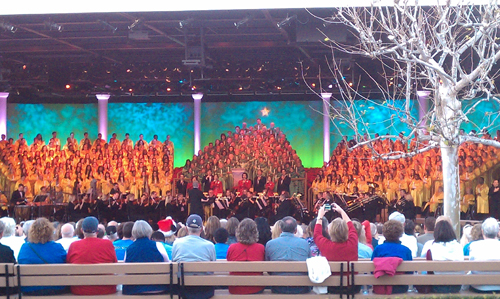 See Also:

From The Economist: "CHINA jumped ahead of Japan in 2010 to become the world's second-biggest economy, but when will it grab the number-one slot? The Economist's interactive chart allows you to make your own predictions. The relative paths of GDP in dollar terms in China and America depend not only on real growth rates but also on inflation and the yuan's exchange rate against the dollar. Over the past decade real GDP growth averaged 10.5% a year in China and 1.7% in America; inflation averaged 3.8% and 2.2% respectively. Since Beijing scrapped its dollar peg in 2005, the yuan has risen by an annual average of 4.2%. Our best guess for the next decade is that annual real GDP growth averages 7.75% in China and 2.5% in America, inflation rates average 4% and 1.5%, and the yuan appreciates by 3% a year. Plug in these numbers and China will overtake America in 2019. But if China's real growth rate slows to an annual average of only 5%, then (leaving the other assumptions unchanged) China would become number one in 2022. Please place your own bets."

From the Congressional Budget Office: "Today CBO released an update to its February 2006 paper Immigration Policy in the United States. The publication is a collection of tables and figures with descriptive text (shown below). The update presents data through 2009 and makes comparisons with 2004, the most recent year for which most data were reported in the earlier paper. […] In 2009, the United States granted legal permanent resident status to more than 1.1 million people. About two-thirds of those people were admitted to the United States on the basis of family connections to current U.S. citizens or residents. LPRs are eligible to live and work in the United States, and eventually, they may apply to become naturalized citizens." The full report is below:
See Also:

The Daily Show at Its Best: 9/11 Responders Address GOP Madness
9/11 first responders express their thoughts on Mitch McConnell's tearful sendoff of a retiring friend and Jon Kyl's reasons for why the Senate can't work after Christmas"

Your Weather Report, from 1978
See Also:

Tiger Woods Announces Return to Sex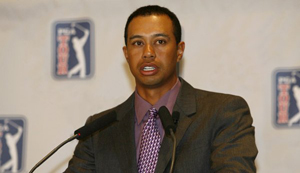 From the Onion: "In an announcement highly anticipated by sex fans around the world, Tiger Woods told a small gathering of reporters, family, and lovers Friday that the most dominant fornicator on the planet would soon return to sex. "Not being able to get out there and have sex has really been tough on me," Woods said. "I've missed it. I love fucking with all my heart." Woods said that during his brief time away from sex, he couldn't stop thinking about one day resuming his daily regimen of sexual intercourse with random women who look vaguely like his wife, only skankier. "When I am out there having sex, I am in complete control," said Woods, an acknowledged master of the long game who claims he is only truly at peace when he is between the legs of a woman. "It's just me and my thoughts. And a high-end escort. And the lounge dancer. And sometimes [caddie] Stevie. And probably some stewardess I just met." […] During his announcement, Woods released an aggressive touring schedule that reaffirmed his commitment to sex. He is slated to take part in a three-day lovemaking session in March at the Clarion Hotel in Orlando. […] Woods said he will not renege on his annual stop in Dubai, and said he looked forward to boning a prostitute on the roof of this year's venue, the Burj Al Arab Hotel. […] Woods believes that his long game, which relies on innate strength and stamina, has probably suffered the least from his hiatus, but that his finesse, iron control, and deft touch around the hole are aspects of his game that may be slow to come back. "I just have to take my time, visualize the line, and read the grain and the slope of the vulva correctly," Woods said. "It's really all mental at that point." The full story.