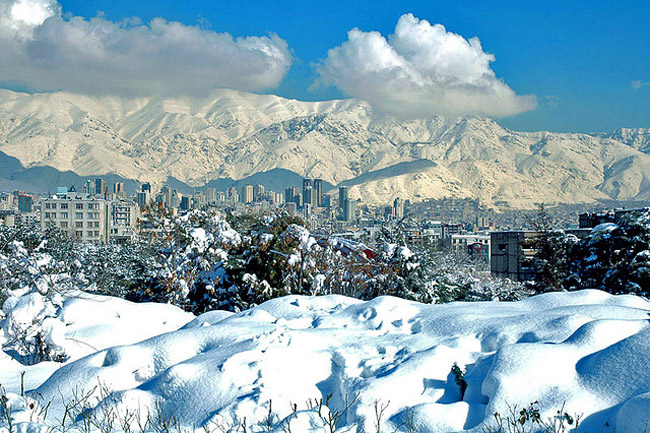 You're welcome to send your Live Wire news tips or suggestions to [email protected].
Today's Live Wire: Quick Links


Crash Snarls Traffic at Belle Terre Elementary
March 1, 4 p.m.A woman who may have been having a seizure crashed through fences near Belle Terre Elementary just after 2 p.m., snarling traffic just before school let out. There were no other passengers in the vehicle and the Flagler County Sheriff's Office is reporting no other injuries, but traffic in the area was slow.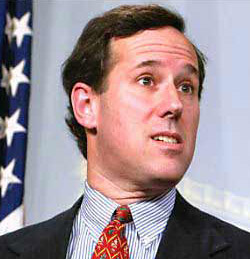 Kathleen Parker on Rick Santorum: "While Mitt Romney is merely guilty of saying things that make him seem disconnected from the lives of most Americans, Rick Santorum makes ideological statements that make him appear to be disconnected from the present tense. Google could create a new translation mechanism just for the former Pennsylvania senator, not for language but for meaning. For example, one could type in: "President Obama once said he wants everybody in America to go to college. What a snob. There are good, decent men and women who go out and work hard every day and put their skills to [the] test that aren't taught by some liberal college professor trying to indoctrinate them. Oh, I understand why he wants you to go to college. He wants to remake you in his image." […] So why didn't Santorum say that? Or, why didn't he talk about legitimate concerns that colleges too often prepare young people for services rather than for building the products that made this nation great? Why ostracize the president for saying that he wanted more Americans to have better opportunities through higher education? Why, indeed, distort what Obama actually did say? […] Why, even Santorum went to college and earned advanced degrees in law and business, and look how he turned out! […] The lack of intellectual diversity on most campus faculties deserves to be examined. He could have talked about that. Instead, Santorum elected to pander to the idea that ignorance beats an education that might lead one to become an elite. His words, in addition to being false, were, dare we say, rather snobbish." The full column.
And here's a Funny or Die coda on the Santorum saga:
See Also:

Jacksonville's No Meat March Movement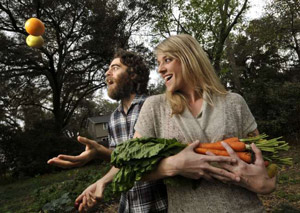 From the Times-Union: "No Meat March, which begins Thursday, was started by [Keith] Marks, one of the co-owners of Ananda Kula, a healing center, and Julie Watkins, a meteorologist with Action News, who founded The Girls Gone Green. Marks met Watkins when he went to the first Northeast Florida Veg Fest, organized by The Girls Gone Green and held in Riverside Park in November 2010. […] He had been toying with the idea of some sort of public event to encourage people to try living without meat. So he asked Watkins to help organize last year's No Meat March. He picked March because he liked the alliteration and the potential double meaning of the phrase. Besides, spring, a time of nature's renewal, begins in March. Marks said he personally gave up meat mainly because of his belief that a meat-based diet is an unhealthful diet. […] Watkins, who started The Girls Gone Green while working in Orlando, said the aim of the organization is "to bring environmental issues, animal issues and health issues" to people's attention. The Girls Gone Green are vegans. Vegans eschew all animal products in their diets including eggs and dairy products and many vegans also avoid any products tested on animals, as well as animal-derived non-food products, such as leather, fur and wool. […] Watkins is also enlisting the help of some local celebrities to publicize No Meat March. Her Action News colleague Tera Barz, WJCT's Melissa Ross and Jazoo Lion, the Jacksonville zoo mascot, have all agreed to take the no meat pledge (participants sign up on the web site). Those who do sign up will be part of a growing national trend, according to a recent story by The New York Times food columnist Mark Bittman. While Americans still eat more meat than any other population, the Department of Agriculture is projecting that meat and poultry consumption will decline again this year and will be down to about 12.2 percent less in 2012 than in 2007." The full story.
See Also:

Atheists, Muslims, Satire, Free Speech

An editorial in the Alligator: "In last year's Mechanicsburg, Pa., Halloween parade, two members of The Atheists of Central Pennsylvania walked in the parade dressed as a zombie pope and a zombie Muhammad. Around the neck of Ernie Perce, the zombie Muhammad, was a sign identifying him as the undead prophet of Islam. In a YouTube video, filmed from the perspective of Perce, viewers can faintly make out what sounds like an altercation. The angry observer was a Muslim man who was offended by this depiction of Muhammad. Perce told WHTM the man "grabbed me, choked me from the back and spun me around to try to get my sign off that was wrapped around my neck." After Perce walked a few blocks, he found Sgt. Brian Curtis and reported the harassment. Curtis agreed that Talaag Elbayomy, the Muslim man, "was wrong in confronting" Perce, and charged Elbayomy with harassment. A few days ago, the case was brought before District Judge Mark Martin, who threw out the charge for lack of evidence. While the video indicates that an altercation occurred, it would be hard to determine the nature of the conflict from the dark and shaky video. Convictions should be based on evidence, indicating beyond a reasonable doubt that a crime occurred, there is arguably nothing wrong with the ruling. However, what was unacceptable was the lecture the judge gave Perce, the plaintiff, regarding the limitations of the First Amendment on free speech. The judge explained how, while in the military, he spent time in "predominantly Muslim" countries. Nothing in the Quran says that Muhammad rose from the dead, he said. So because the atheist was not 100 percent factual in his depiction of Muhammad, this form of expression should not be considered free speech? If that is the case, then the implication that satire is not a protected form of speech represents a gross misinterpretation of the First Amendment. The judge went on to say that Perce's costume made him "look like a doofus." By this statement, the judge implies that atheists should not be able to make fun of other religions if others are offended by their views. To top it off, the judge rambled about how, in Muslim countries, these actions would be punishable by death. What in the hell does this have to do with the laws in our country? Why is this relevant to bring up in this case? He went on to imply that, by offending the prophet Muhammad, Perce violates the rights of Muslims. Martin said, "We're so concerned about our own rights, we don't care about other people's rights." Where in the Bill of Rights does it say that we have a right to NOT be offended? This ruling is a serious affront to free speech and the First Amendment."
See Also:

A sign in Lakewood, reprinted in an ad and unearthed by Jim Romenesko's blog: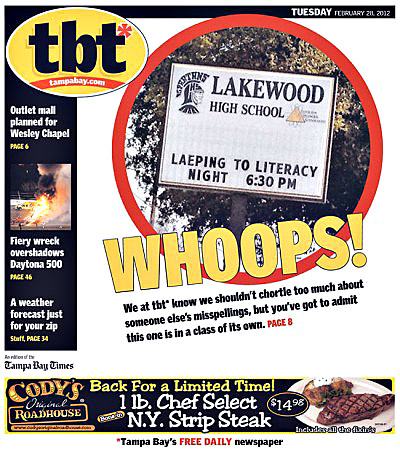 See Also:

John Steinbeck was born on Feb. 27, 1902. Feb. 27th was his 110th birthday. He'd once laid out six writing tips as follows:
1. Abandon the idea that you are ever going to finish. Lose track of the 400 pages and write just one page for each day, it helps. Then when it gets finished, you are always surprised.
2. Write freely and as rapidly as possible and throw the whole thing on paper. Never correct or rewrite until the whole thing is down. Rewrite in process is usually found to be an excuse for not going on. It also interferes with flow and rhythm which can only come from a kind of unconscious association with the material.
3. Forget your generalized audience. In the first place, the nameless, faceless audience will scare you to death and in the second place, unlike the theater, it doesn't exist. In writing, your audience is one single reader. I have found that sometimes it helps to pick out one person–a real person you know, or an imagined person and write to that one.
4. If a scene or a section gets the better of you and you still think you want it–bypass it and go on. When you have finished the whole you can come back to it and then you may find that the reason it gave trouble is because it didn't belong there.
5. Beware of a scene that becomes too dear to you, dearer than the rest. It will usually be found that it is out of drawing.
6. If you are using dialogue–say it aloud as you write it. Only then will it have the sound of speech.
Here's Steinbeck's brief speech to the Swedish Academy on winning the Nobel Prize for literature in 1962:
See Also:

The Fantastic Flying Books of Mr. Morris Lessmore
The Fantastic Flying Books of Mr. Morris Lessmore won the 2012 Oscar for best animated short film. It "offers a modern tribute to an old world," Open Culture writes. "Made with an animation style that blends stop motion with computer animation and traditional hand-drawing, the silent film pays homage to a bygone era when elegantly printed books inhabited our world." Watch:
See Also: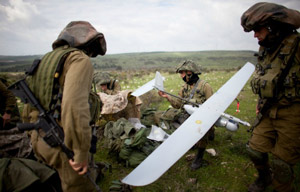 Foreign Policy has a piece called "10 Things You Didn't Know About Drones" worth knowing, now that drones are becoming an everyday presence, in American skies as much as in Afghanistan, if for different reasons. A couple of excerpts: "2. So far, drones tend to crash. On Dec. 4, an RQ-170 Sentinel surveillance drone crashed in Iran; a U.S. official involved in the program blamed a lost data link and another unspecific malfunction. Two weeks later, an unarmed Reaper drone crashed at the end of a runway in the Seychelles. "This should not be a surprise," a defense official told Aviation Week & Space Technology, saying the United States had already lost more than 50 drones. As of July 2010, the Air Force had identified 79 drone accidents costing at least $1 million each. The primary reasons for the crashes: bad weather, loss or disruption of communications links, and "human error factors," according to the Air Force. As Lt. Gen. David Deptula, former Air Force deputy chief of staff for intelligence, has noted with refreshing honesty, "Some of the [drones] that we have today, you put in a high-threat environment, and they'll start falling from the sky like rain." 3. Drones are coming to America. Worried about the militarization of U.S. airspace by unmanned aerial vehicles? As of October, the Federal Aviation Administration (FAA) had reportedly issued 285 active certificates for 85 users, covering 82 drone types. The FAA has refused to say who received the clearances, but it was estimated over a year ago that 35 percent were held by the Pentagon, 11 percent by NASA, and 5 percent by the Department of Homeland Security (DHS). And it's growing. U.S. Customs and Border Protection already operates eight Predator drones. Under pressure from the congressional Unmanned Systems Caucus — yes, there's already a drone lobby, with 50 members — two additional Predators were sent to Texas in the fall, though a DHS official noted: "We didn't ask for them." Last June, a Predator drone intended to patrol the U.S.-Canada border helped locate three suspected cattle rustlers in North Dakota in what was the first reported use of a drone to arrest U.S. citizens. […] 8. Drones are becoming a lethal weapon of choice, but nobody's in charge. Over the past decade, there have been some 300 drone strikes outside the battlefields of Iraq, Afghanistan, and Libya. Of these attacks, 95 percent occurred in Pakistan, with the rest in Yemen and Somalia; cumulatively, they have killed more than 2,000 suspected militants and an unknown number of civilians. Although U.S. President Barack Obama recently acknowledged that "a lot of these strikes" have been in Pakistan's tribal areas, who can be targeted and under what authority can only be guessed from a few speeches and statements by anonymous U.S. officials. There are believed to be multiple drone-target "kill lists" among government agencies. The 2011 book Top Secret America revealed "three separate 'kill lists' of individuals" kept by the National Security Council, the CIA, and the military's Joint Special Operations Command. In Yemen, the Pentagon is the lead executive authority for some drone strikes (which are reported to the congressional armed services committees), while the CIA is in charge for others (reported to the intelligence committees). As for the Obama administration's claimed power to assassinate U.S. citizens, such as Yemeni-American cleric Anwar al-Awlaki, the Justice Department refuses to declassify the memo that provided the legal authority to kill him with a drone. So, although 85 percent of non-battlefield drone strikes have occurred under Obama, we have little understanding of their use." The full drone.
See Also: