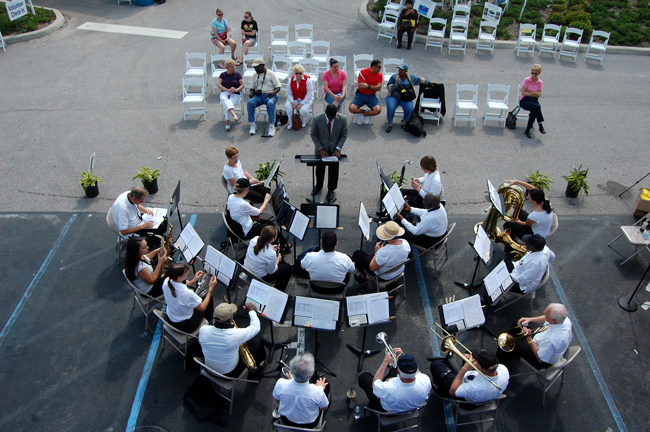 You're welcome to send your Live Wire news tips or suggestions to [email protected].
Today's Live Wire: Quick Links


Hiaasen: The Best Legislature Money Can But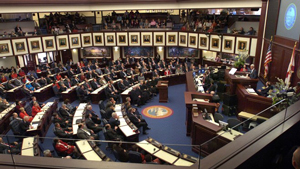 Carl Hiaasen in the Miami Herald: "I once referred to a past Legislature as a festival of whores, which in retrospect was a vile insult to the world's oldest profession. Today's lackluster assemblage in Tallahassee is possibly the worst in modern times, and cannot fairly be compared to anything except a rodeo of phonies and pimps. It's impossible to remember a governor and lawmakers who were more virulently anti-consumer, and more slavishly submissive to big business. The list of who's getting screwed in the state budget battle is long and sadly familiar: the schools, college students, foster children, the poor, the elderly, the sick and the jobless. The happiest faces, of course. belong to lobbyists for corporations, insurance companies and utilities, who are getting almost everything they want. It's astounding that so many voters were suckered into thinking that this new generation of Republicans was going to fight for the common man instead of the fats cats and their special interests. What a joke. The so-called leadership was plainly bought and paid for by the time their shoes hit the steps of the Capitol. […] You might be wondering what the new Legislature has accomplished so far for the greater public good. The answer is not much. But to benefit themselves, lawmakers resurrected and decriminalized a scummy little gimmick called "leadership funds," which allow special interest groups to give gobs of money to special campaign accounts controlled by the leaders of both political parties, who can spread it around as they see fit." The full column.
See Also:

Rick Scott Booed at Rays Opener
From the St. Petersburg Times: "The line of protesters leading to the Trop was about 125 strong Friday, and they had one sentiment for Gov. Rick Scott. BOOOO!!! If Scott missed them as he made his way into the stadium, it's unlikely he missed the chorus of hecklers who serenaded his ceremonial first pitch at 6:45 p.m. "I heard it through thick glass windows," said Perry Banse, 53, of Largo, who was inside the Everglades BBQ Smokehouse restaurant in the centerfield concession area. […] it seemed like more than half of the stadium booed. Their jeer was a continuous drone that lasted for most of the time Scott was on the mound. The protesters organized on Facebook, where nearly 1,200 people had signed up to "Boo Rick Scott on Opening Day" before the game. […] At the press level, Kayla Jimenez, 12, hoisted a neon green anti-Scott poster long after Scott slipped away to the owner's suite behind home plate. Her mom, Amanda Jimenez, 30, is a teacher at Ridgecrest Elementary in Largo. Kayla's sign read: "We love you Rick Scott — April Fool's!"" Watch:

Troxler: Florida's Deregulation Follies
Howard Troxler in the St. Petersburg Times: "Auto repair shops would not have to give customers a written estimate, nor to call for permission to exceed it. Neither would mechanics be required, even if the customer asks, to show them the parts that were replaced. In-state moving companies would not be regulated. They would not be registered. They would be able to jack up the price en route and refuse to turn over your furniture. Our law now says that movers must release a customer's possessions if a law enforcement officer determines (1) the bill was paid or (2) the mover did not give a proper signed estimate. But that is Big Government regulation. It is to be repealed. A charity that solicits money in Florida would not be regulated by the state. State law now makes it illegal for a charity to use "deception, false pretense, misrepresentation or false promise" to get a contribution. That will be repealed. Gyms and health studios, which sell contracts to the public — why should they be regulated? Travel agents. Auctioneers. Telemarketers, too. […] Let's get Big Government out of the way, and let's put Floridians back to work. This is, after all, about "creating jobs." If some of those new "jobs" in Florida involving bilking widows, running shady auto-repair shops or hijacking people's furniture — who cares?" The full column.
See Also: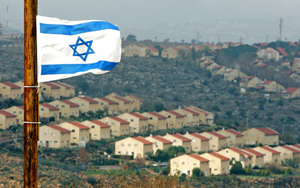 Daniel Blatman in Haaretz: "Hitler declared after the Nuremberg Race Laws were passed in 1935 that they would create a suitable basis for a separate but worthy existence for Jews in Germany alongside German society. The race laws in South Africa established that people of different colors cannot exist when mixed with each other – only in separate, protected spaces. The tsunami of racist laws passed by the Knesset in recent months is also being explained by reasoned and worthy arguments: the right of small communities to preserve their own character (the Acceptance Committees Law ); the state's right to prevent hostile use of the funds it allocates to education and culture (the Nakba Law ); and the right to deny citizenship to persons convicted of espionage or treason (the Citizenship Law ). But I believe that as in other historical instances, the aim of this legislation is the gradual establishment of an apartheid state in Israel, and the future separation on a racial basis of Jews and non-Jews. […] The historical background of the Israeli apartheid state-in-the-making that is emerging before our eyes should be sought in 1967. It is part of a process that has been going on for about 44 years: What started as rule over another people has gradually ripened – especially since the latter part of the 1970s – into a colonialism that is nurturing a regime of oppression and discrimination with regard to the Palestinian population. It is robbing that population of its land and of its basic civil rights, and is encouraging a minority group (the settlers ) to develop a crude, violent attitude toward the Arabs in the territories. This was exactly the reality that, after many years, led to the establishment of the apartheid state in South Africa. […] Israeli racism, whose natural "hothouse" is the colonialist project in the territories, has long since spilled over into Israeli society and has been legitimized in the series of laws recently passed in the Knesset. Only people who avoid looking at the broad historical context of such a process are still able to believe it is possible to stop the emergence of an Israeli apartheid state without getting rid of the colonialist-racist grip on the territories." The full column.
See Also:

The Civil War at 150: Census Notes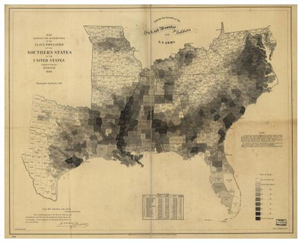 From the Census Blog: "his month begins the sesquicentennial – the 150th anniversary – of the Civil War. The war began on April 12, 1861, when Confederate troops opened fire on Fort Sumter, near Charleston, SC. Data collected by the US Census Bureau help paint a portrait of our nation during 1861. For example: The censuses of 1850 and 1860 asked questions about freed and escaped slaves, and revealed that more slaves were freed in 1860 than in 1850. In addition, the number of slaves who escaped from Mississippi, Missouri, and Virginia increased in 1860, compared to 1850. The 1860 Census, taken before the start of the Civil War, recorded nearly 4 million slaves in the nation. The 1890 Census counted over 1 million surviving Union soldiers, sailors, and marines, and 432,000 surviving Confederate soldiers and sailors. Based on data from the 1860 census, this map was the Census Bureau's first attempt to map population density. It is a precursor to population density maps that have been produced since the 1870 census and in the Statistical Atlas, first published in 1874.
See Also: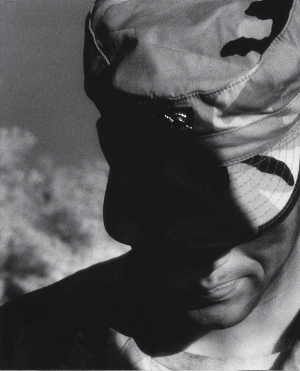 From Newsweek: "When men in the military rape other men in the ranks, no one wants to talk about it. Why the sexual assault of males in the service is finally being confronted. […] In the staunchly traditional military culture, it's an ugly secret, kept hidden by layers of personal shame and official denial. Last year nearly 50,000 male veterans screened positive for "military sexual trauma" at the Department of Veterans Affairs, up from just over 30,000 in 2003. For the victims, the experience is a special kind of hell—a soldier can't just quit his job to get away from his abusers. But now, as the Pentagon has begun to acknowledge the rampant problem of sexual violence for both genders, men are coming forward in unprecedented numbers, telling their stories and hoping that speaking up will help them, and others, put their lives back together. […] In fact, it is the high victimization rate of female soldiers—women in the armed forces are now more likely to be assaulted by a fellow soldier than killed in combat—that has helped cast light on men assaulting other men. For most of military history, there was neither a system nor language in place to deal with incidents of soldier-on-soldier sexual assault. It wasn't until 1992 that the Defense Department even acknowledged such incidents as an offense, and initially only female victims were recognized. But last year more than 110 men made confidential reports of sexual assault by other men, nearly three times as many as in 2007. The real number of victims is surely much higher. Even among civilians, sexual assault is a vastly underreported crime. In the military the silence is nearly complete. By the Pentagon's own estimate, figures for assaults on women likely represent less than 20 percent of actual incidents. Another study released in March found that just one in 15 men in the Air Force would report being sexually assaulted, compared with one in five women." The full story.
See Also: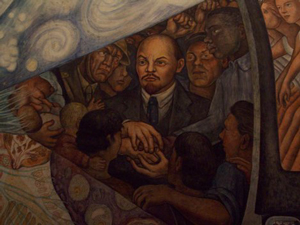 Gary Wills in the New York Review: "The newly elected governor of Maine, Paul LePage, is outspoken. He said that after his election readers could expect to see in their newspapers, "LePage tells Obama to go to hell." When he refused to attend a Martin Luther King Day event, he said of the NAACP, "Tell them they can kiss my butt." Not to be outdone by other Republican governors who are attacking unions, over the weekend he ordered the removal of a 36-foot mural celebrating labor from the lobby of the state Labor Department building in Augusta, and is retitling its conference rooms to remove the names of past labor leaders. His reason? They might make businessmen uncomfortable. How many such businessmen visit the Labor Department? And how many faint with panic at the sight of a mural that depicts historical scenes from Maine's labor movement, like women building ships during World War II, and a 1986 paper strike? This ranks with the most famous removal of a mural from a public building in America, when John D. and Nelson Rockefeller destroyed a large painting they had themselves commissioned in 1932 from the famous Mexican painter Diego Rivera for their new Rockefeller Center building. Rivera called the painting "Man at the Crossroads," and he included in the choices facing workers during the Depression a portrait of Lenin. When told he must remove the portrait, he refused, saying the commissioners knew his leftist record when they asked him to do the painting. He said he would balance the portrait with one of Lincoln. After the Rockefellers destroyed his art work in 1934, he recreated it in the Palace of Fine Arts in Mexico City, adding a portrait of John D. Rockefeller in a nightclub. The fracas inspired the best satirical poem of the century, by E. B. White. Can anyone match this for the dumb Maine governor?" See the full poem.

National Archives: Trotsky and His US Admirers
From the US National Archives: "From the court records of United States v. Vincent Raymond Dunne and Grant Dunne, the note for this photo states: "Trotsky posed with American Trotskyites Harry De Boer and James H. Bartlett and their spouses; print autographed by Trotsky, April 5, 1940." Click on the image for larger view.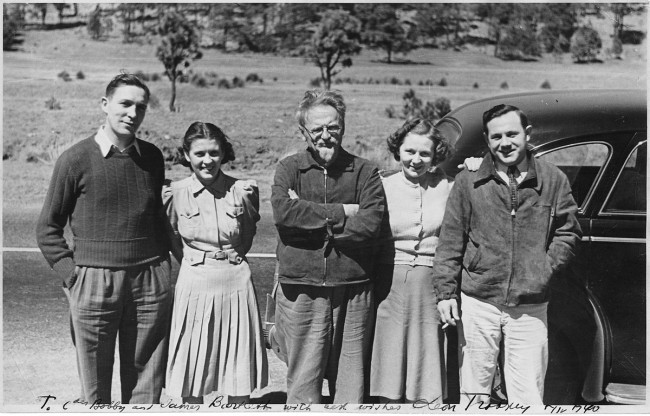 See Also:

Hammock Conservation Coalition Meeting April 5
The 7:30 PM, Tuesday, April 5 Hammock Conservation Coalition meeting will feature Washington Oaks Gardens State Park Ranger Joe Woodbury, speaking on the history of the park; Friends President Bob Bouck on Friends' Activities; and Melissa Kafel on Schedule of Events. Business will consist of a report on the $1 million federal Hammock drainage master plan grant correspondence and the Flagler County Commission's actions on the proposed Malacompra Mountain Bike Trail Memorandum of Understanding with SORBA, a biking organization. Come early at 7 PM for visiting and refreshments.
See Also:

Indian Trails's Donna Saponaro
From our friends at Indian Trails Middle School: "Congratulations to one of the Flagler County Volunteers of the Year – our very own Donna Saponaro. She has been a volunteer at OKES for 7 years and still volunteers there weekly. This year we were lucky to have her also join ITMS and provide help in keeping the library organized and helping in our Band and Art programs. Donna clocks 25 hours per week in volunteer time in our schools and we are so grateful! Thanks to all the volunteers in this county for all you do. You ARE appreciated."

Video: Writing Tips from Kurt Vonnegut
The great Vonnegut on the shape of a story:

Video: Father and Daughter: An Oscar-Winning Animated Short Film

Video: James Earl Jones Does Othello at the White House

Rick de Yampert's Sound of God in DeLand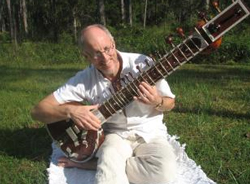 "In the beginning was the noise . . . So say the Hindus, whose sacred cosmology proclaims that sound begat the gods and goddesses, not vice-versa. The Nada Brahma — the first sound, the eternal vibration . . . 'Sound is God.' Ever since the Big Bang, the Universe has been making noise, making music." So says Rick de Yampert.

Rick de Yampert presents a program on the Nada Brahma — the ancient Hindu concept that "Sound is God." As part of the UU service, Rick will perform on sitar, talk about the various meanings of the sacred Om chant and symbol, explore the thousand-year-old tradition of raga and read from the ancient Hindu sacred texts known as the Upanishads. "Nada Brahma — Sound Is God," is schedueld for 10:30 a.m. Sunday, April 10, at the First Unitarian Universalist Church of West Volusia, 116 S. Clara Ave., DeLand. It is open to the public. For information, call 386/837-3959.
From Rick's bio: "Inspired by the "quiet" Beatle rather than Indian master musician Ravi Shankar (who soon would become a new music hero), Rick took up sitar, the better to woo his new muse . . . a muse who dances to sacred sounds . . . a muse who seeks music that opens doors to the spirit and the soul. […] When Rick is not playing music, he works as the entertainment writer at the daily newspaper in Daytona Beach — a position he has held for 17 years. Along with interviewing rock artists, pop stars, writers and poets (including Kurt Vonnegut, Janet Jackson and many others), he also has profiled folk musicians from Ireland, Africa and Native American nations."
See Also: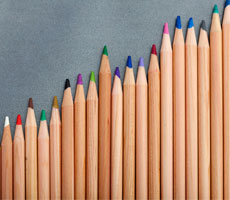 From Scrapbook Update: "So what is the difference between a journal and an art journal? Journals become art journals when you add depth, color, and creativity through illustrations (such as photographs and embellishments of any kind) to your journal. That sounds like scrapbooking, card making and crafting, doesn't it? Art journaling is not about creative talent – it is about allowing self-communication through more than just words. Combining both expressive writing and creative art expression allows for taking an in-depth look into your own soul. You can see what you already know, and begin to learn and address what you still need to discover. This can be a very rewarding journey of self-discovery. To derive the greatest benefit from your art journal experience, don't hold back when expressing yourself. Don't worry about your creative skills (or lack of them). Ignore the negative voices telling you that you're not an artist. Give yourself permission to explore, to play, to create, and most of all, to listen. The creative process is a healing process. Words alone can be limiting, and thus using writing and art together provides a place for pent-up traumatic emotions such as anger, hurt and grief to be expressed when they are much too painful or buried too deeply to express verbally." The full post.