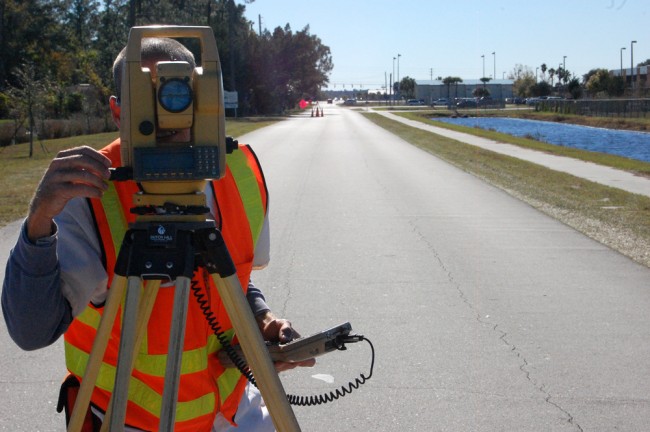 You're welcome to send your Live Wire news tips or suggestions to [email protected].
Today's Live Wire: Quick Links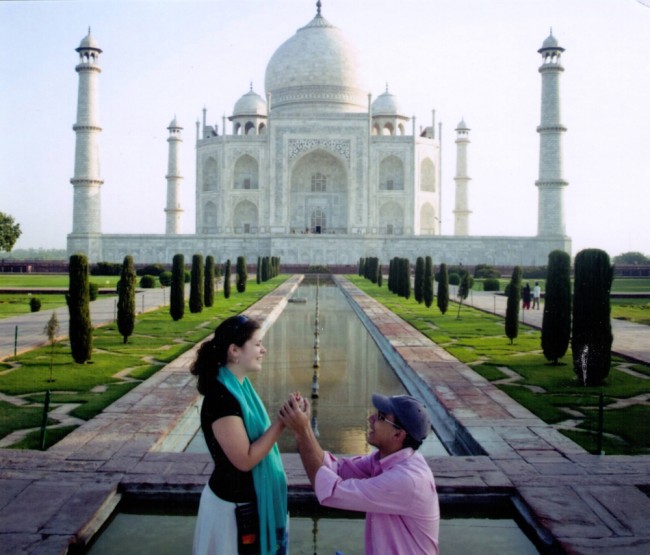 Catherine Manffre, the 23-year-old graduate of Flagler Palm Coast High School and New York University and daughter of former Flagler County Sheriff Jim Manfre, has been living in Egypt for a few years (along with a growing contingent of former Flagler residents, drained there by former Superintendent Bill Delbrugge). Manfre's boyfriend, Mohamed Boraie, is Egyptian. The pair works at the World Bank–she in communications, he in finance. Back in summer the couple traveled to India for a conference. They took the obligatory trip to the Taj Mahal (the real one). That's all it was supposed to be. As was supposed to be the shot in front of the Taj. Mohamed passed his camera to a British tourist to take the classic shot of the couple in front of the building. And just then he got on his knees and proposed–to Catherine, obviously, not to the British tourist. The ring he's presenting belonged to his mother. It's a temporary ring until a more permanent rock is mined.
In a Christmas message to friends and family, Jim Manfre wrote: "It's true, my little girl Catherine, now 23, has forsaken a life in the nunnery that I tried to indoctrinate from the time she was four to get married on March 12th of next year. The relationship between a father and his daughter as those of us who have been on either end, is very special. From the time you hold your daughter for the first time an incredible urge to protect her from harm and the male libido that you are intimately familiar with overcomes all reason. The best part of being Sheriff was intimidating my daughter's suitors during her teenage years. I suspect that her move to Egypt was in part to avoid my instinct to run off all potential suspects. I mean boyfriends. Well she seems to have chosen a nice guy who shares my love, of all things, Pink Floyd. We are now in the process of organizing a wedding from Egypt during the calm holiday period. Say a prayer."
See Also: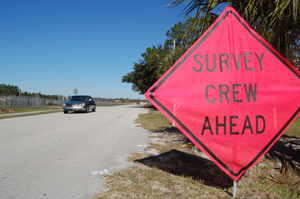 The Palm Coast city government's long hope to widen Bulldog Drive and turn it into one of the principal entrances to Town Center–and, more particularly, the main entrance to the planned city hall–is moving closer to realization. Survey crews were tripoding around the road all week. The timing is not entirely coincidental: City Manager Jim Landon's big dream is not just to have a new $10 million city hall in Town Center, but to have a road leading to it wide enough to accommodate the city's growing infatuation with itself, along with its double-wide egos. The city bought all the properties along Bulldog Drive to secure its right of way–all but those of Gus Ajram, the auto dealer whose two properties there the city refuses to buy at Ajram's price, though it paid a small fortune for the many other properties along the way. The city is moving with condemnation procedures against a portion of Ajram's properties, ensuring that tens of thousands, or hundreds of thousands, of additional taxpayer dollars will be spent trying to secure the land. When it's all said and spent, the city will have very likely spent far more than Ajram's asking price of a little over $1 million.
See Also: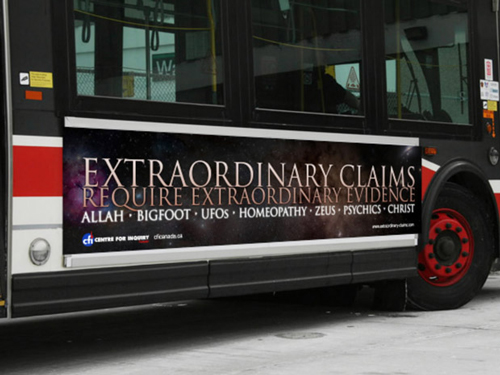 From the Calgary Herald: "Bus billboards with an atheist message similar to one that spurred controversy across the country last year could be in Calgary and other cities in 2011. The premise this time would be that belief in God, Ogopogo or fairies needs to be questioned. The slogan is "Extraordinary Claims Require Extraordinary Evidence," and below it lists "Allah, Bigfoot, UFOs, Homeopathy, Zeus, Psychics, Christ and God." "Why is belief in Bigfoot dismissed as delusional while belief in Allah and Christ is respected and revered? All of these claims are equally extraordinary and demand critical examination," says the campaign's website. Justin Trottier, executive director of the Centre for Inquiry — the non-profit organization behind the campaign — said his group wants to raise more money to bring the campaign across Canada. […] "It's not for the sake of debunking, or suggesting none of these things exist. But we feel that our society has progressed because of the methods of science, because we have looked at things rigorously and demanded evidence," Trottier said. "Some extraordinary claims have produced extraordinary evidence. And those claims have ended up bettering our world. For example, quantum mechanics." He said the campaign is not disrespectful of organized religion. On the contrary, Trottier said real esteem is displayed through forthright debate. "That's a more sincere form of respect," he said. But the move is unwelcomed by Syed Soharwardy, lead imam at the Al-Madinah Calgary Islamic Centre, who said he relishes the discussion, but not the format. "I would love to debate with these people," Soharwardy said. "If they want to start a debate, why are they starting a debate from a bus ad?" The full story.
See Also: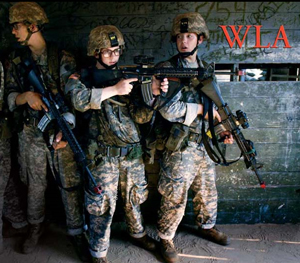 From Common Review: "I have an idea. What if every soldier and politician were required to be a lit major? It sounds far fetched, I know. Textual critics would run the Pentagon. Generals and colonels commanding the tanks, Predator drones, and Green Berets would all be required to carry well-worn copies of Homer, Virgil, Wilfred Owen, Norman Mailer, Tim O'Brien, and maybe even Jacques Derrida in their briefcase next to the loaded Glock 9-millimeter pistol. In the case of our current nine-year-long struggle in Afghanistan, the required reading would be Kipling. Specifically, it would be his tale about two adventurers, Daniel Dravot and Peachy Carnehan, who journey to a remote part of Afghanistan named Kafiristan in search of power and treasure. They vow to make a nation out of that region's ragtag bunch of tribes. […] "Madness," you say. "Lit crit, the requirement for soldiering?" Actually, not so long ago in the British Empire, every university lad studied Latin and Greek. The reading of literature was primary. In fact, literature pretty much dominated the curriculum. Paul Fussell's magisterial The Great War and Modern Memory (1975) makes a strong case that the young men gassed and machine-gunned to death in World War I, many of whom chose to write about their combat experience, were a relatively well-educated group. The result was eloquent literature. Wilfred Owen, the most celebrated poet of that generation, knew his Virgil and Tennyson, as anyone who has read "Dulce et Decorum Est" can testify. […] I have no doubt that some great literature will come out of this war. That's a horrible thing to say, but that's the truth of the way war works. Those experiencing the mayhem will be compelled to give testimony about the things that human beings are capable of doing to one another. And those of us who care will read their accounts, trembling in fear and fascination."
See Also:

Information Overload Then and Now
From the Chronicle of Higher Education: "Information overload was experienced long before the appearance of today's digital gadgets. Complaints about "too many books" echo across the centuries, from when books were papyrus rolls, parchment manuscripts, or hand printed. The complaint is also common in other cultural traditions, like the Chinese, built on textual accumulation around a canon of classics. single mind could master, even a mind trained to memorize Homer or biblical texts. Writing on durable surfaces (like parchment or paper), with a high level of redundancy (when multiple copies were produced, whether manuscript or printed), also made it possible to recover texts after they had fallen into oblivion, so that being in continuous active use was no longer essential to a text's transmission, as is the case in an oral culture. […] It's important to remember that information overload is not unique to our time, lest we fall into doomsaying. At the same time, we need to proceed carefully in the transition to electronic media, lest we lose crucial methods of working that rely on and foster thoughtful decision making. Like generations before us, we need all the tools for gathering and assessing information that we can muster—some inherited from the past, others new to the present. Many of our technologies will no doubt rapidly seem obsolete, but, we can hope, not human attention and judgment, which should continue to be the central components of thoughtful information management." The full essay.
See Also:

The Middle East's Shock of the Nude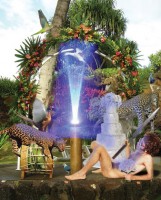 From ARTnews: "Although the nude is widely considered a foundation of Western art history, this is clearly not the case in many other cultures around the world, where religious and social traditions often prohibit ­depictions of the body. Nevertheless, contemporary artists from many countries in the Middle East and Asia are now exploring nudity, sometimes to connect with erotic themes in pre-Islamic periods and sometimes as an act of open rebellion against social and political conditions. There has recently been a growing acceptance of work ­involving nudity, as many of these countries have developed their own contemporary-art markets. But in some places, especially Iran, the penalties can be formidable and frightening. Challenging the censors is Ramin Haerizadeh, who, in his digital photo series "Men of Allah," casts himself as a performer in a harem, cavorting naked in configurations reminiscent of Persian tapestries. Until 2009, he was able to make these works while living in his native Tehran. But when they were featured in "Unveiled: New Art from the Middle East" at the Saatchi Gallery in London that year, Iran's Ministry of ­Intelligence and National Security began harassing local galleries to determine the artist's whereabouts. They even raided a collector's home, seizing several of Haerizadeh's works and threatening the collector with four months in prison. Friends warned the artist, who was in Paris with his brother Rokni, a painter, for the opening of their show at Galerie Thaddeus Ropac. They never returned to Iran, fleeing to Dubai, where they now live and show with Gallery Isabelle van den Eynde. […] The most notorious instance of religious backlash in response to a painting did not take place in Iran, but in India, when M. F. Hussain, the country's most famous painter and a Muslim, portrayed nude Hindu female deities. After a decade of being under attack by Hindu fundamentalists, subject to lawsuits and death threats, he left the country in 2006 to live in Dubai and London. Last February he was granted citizenship by Qatar. […] But there are signs, even in the Middle East, of liberalization. In 2008, Lebanese poet Joumana Haddad founded Jasad, a magazine that, according to its website, "aims to ­reflect the body in all its representations, symbols and ­projections in our culture, time and societies, and hopes, by doing so, to contribute in breaking the obscurantist taboos." Its most recent issue featured the oil paintings of Dina El Gharib and Halim Jurdak, explicit photo portraits by Tariq Dajani and works by Western photographers Herb List and Rudolph Lehnert." The full article.
See Also:

The Titanic's only existing footage–above water and free of James Cameron's molestations–as it was being built in Belfast. If you can forgive the music.


From the BBC: "In the 1930s and 40s, novelist HG Wells (1866-1946) made regular radio broadcasts from the BBC to the nation. Some have survived the passage of time and they reveal just a hint of the creative mind that gave us such science-fiction classics as 'The Time Machine', 'The War of the Worlds' and 'The First Men in the Moon'. Hear Wells in his own words as he discusses topics as diverse as world politics, the history of the printing press, the possibilities of technology and the shape of things to come…
The full recordings.

Click On

Spy Thrillers as CIA Materials
From the CIA's Studies in Intelligence, a Journal (yes, they have a journal at the CIA): "In recent years, intelligence historians have become increasingly interested in spy fiction. […] We are not […] of the opinion that the spy thriller is mimetic of real-life spying. While generally true-to-life when it comes to the "period details" of intelligence (disguises, sketch-books, etc.), spy novels are affected by commercial concerns such as the need for dramatic impact. As the best-selling spy writer Graham Greene concedes: "A novel based on life in Secret Service must necessarily contain a large element of fantasy." As outsiders, moreover, how can we hope to distinguish, with any certainty, the authentic intrigue narratives from the apocryphal yarns dressed up as "real"? The words of Allen Dulles, former director of the CIA, seem apposite: "The operations of an intelligence service and the plots of most spy stories part company, never to meet again."
Rather than appraising fin de siècle spy novels as documentation for the scholar of intelligence (and then immediately finding them wanting), we will consider the historical context within which they were produced and received. What interests us about these texts is that they reflected real geopolitical anxieties that existed at the time. Set against the backdrop of the "Great Game," the protracted strategic conflict between Britain, France, and Tsarist Russia in Central Asia, Kim is dark meditation on Russian imperial expansion and intrigues toward India. Brewed within the atmosphere of national soul-searching at the end of the Boer War, The Riddle is a prophetic vision of the Great War, making graspable the growing capacity of Germany as an adversarial sea power. Spies of the Kaiser, meanwhile, ostensibly chronicled the discovery of foreign espionage networks at a time when minds were increasingly centered on the actual machinations of German intelligence. We contend in this article that early 20th century spy fiction was designed, above all else, to alert both the government and the people of England to the vulnerabilities of the British Empire." Read the full essay, "In the Service of Empire: Imperialism and the British Spy Thriller 1901–1914."

Americans Don't Hate the Rich
Anti-Semitism and Ignorance