You're welcome to send your Live Wire news tips or suggestions to [email protected].
Today's Live Wire: Quick Links


We've had a fantastic weekend, an even better week, and now we're almost there: just $20 short of our goal of raising $1,000 for Feed Flagler. Thank you all, and today a big thank you to Kathleen Tomlinson for bringing us so close with a generous $100 donation.
Remember: every penny is going to either the Grace Tabernacle food pantry, behind Flagler Palm Coast High School, which is serving close to 1,000 families per month, or to the Bunnell's First United Methodist Church's food pantry.
Feed Flagler is designed to raise thousands of dollars and thousands of pounds of food for Flagler County's food pantries and to pay for today's Thanksgiving meal for some 2,000 people in the second annual Feed Flagler celebration. The effort is also designed to stock families' and food pantries' shelves well beyond Thanksgiving, which is what makes this necessary and particularly worthy.
We started our own fund-raising through FlaglerLive, seeding it with an initial contribution of $100 and further contributions from the following:
Hollingsworth Gallery's JJ Graham
David Millonig in Pensacola
Nancy Nally in Palm Coast
Darrell Smith in Flagler Beach
Palm Coast Bible Church ($100)
Inna & John Hardison
Anthony Mike Kales
Kendall Clark
Jim Guines
Lynn Snyder
Anonymous
Anonymous
Ann DeLucia (thank you for pushing us over the half-way mark)
Anonymous ($100)
Phyllis Jenkins
Sharon Hennessey Pinard
Charlie Ericksen
Mario diGirolamo
Neal Ecker
Timothy McCue
Kathleen Tomlinson ($100)
If you'd like to donate but would prefer to remain anonymous, just send us a note here and we'll leave your name out of it. Thank you all. Keep it coming.
Here's the list of monetary donors through the county's efforts:
Bug Guard Services, Inc. ($1,000)
Acme Trophies
Biblical Truth Ministries ($505)
Phyllis Carmel
First Coast Community Credit Union
Grace Tabernacle Ministries
Prosperity Bank
Temple Beth Shalom
University Women of Flagler, Inc.
Jean MacAllister
New Beginnings Church, Inc.
Cornelius & Ruth Van De Weert
P. Hassid
Flagler County's three Rotary groups
Tax Collector Suzanne Johnston
John's Auto Parts of Bunnell ($1,000)
Adella Latus
Michael and Patricia Danforth
Rev. Elizabeth & Charles Gardner
Helio Creative
Hijackers Restaurant
ITT TDS
Johnson Orthodontics
Microhose
Palm Coast Lions Charities
Pepsi Co.
Philippine American Association
Rocky's Pizza (Flagler Beach)
Rotary Club of Flagler County Foundation ($500)
Rotary Meeting (Single-Meeting Donation, $425)
Cornelius & Ruth Van De Weert
N.D. Walsh
Waste Pro ($500)
Winn Dixie
FlaglerLive
Here are the members of Team Flagler's Food Drive Challenge, coordinated by the county's Joe Mayer and Christie Mayer (313-4094):
Flagler County Board of County Commissioners
Flagler County Tax Collector
Flagler County Property Appraiser
Flagler County Schools
Flagler County Health Department
Flagler County Clerk of Court
Flagler County Sheriff's Department
Flagler County Supervisor of Elections
City of Bunnell
City of Flagler Beach
City of Palm Coast
Chicks With Cans
Waste Pro
Hammock Dunes Club
Pop-a-Lock
See Also:

You read right: ice skating in Palm Coast's Town Center, but at a cost: $8 for adults, $5 for children.
On Saturday, Dec. 11, Palm Coast will host a special Christmas (or winter, if you're secularly inclined) celebration in Central Park in Town Center. Families can enjoy photos with Santa ($5 a pop), food (varying costs), music, exhibitor booths, arts and crafts and the annual Christmas Starlight Parade, starting at dusk. In an astounding show of generosity, the city is not charging money to watch the parade. (So far, anyway.)
The ice skating rink will open at noon, through 10 p.m. It's open to adults and children. The rink will will also be available to the public in December at the following hours:
Mondays through Thursdays – 5:30 to 9:00 p.m.
Fridays – 6:00 to 10:00 p.m.
Saturdays – Noon to 10:00 p.m.
Sundays – 1:00 to 9:00 p.m.
Throughout the month of December, the Rotary of Flagler County's Annual Fantasy Lights around the lake in Central Park will continue to delight the crowds with sparkling lighted holiday displays scattered across Central Park. Unlike the city's treats, that one is free.
Information about each event is available if you log onto the City of Palm Coast website You may also call the Parks & Recreation Department, 386/986-2323 for more details.
See Also:

North Korea, Madness and M*A*S*H
It's not news that Kim Jong Il, the North Korean leader, is mad. It's a bit more newsy when he decides to shell a South Korean island to get his rocks off, as he did on Tuesday. A Thanksgiving war? Not likely: Kim is into provocation, but he pulls back. Then again, men aren't known for controlling events that are inherently hysterical. "President Obama and South Korea's president agreed Tuesday night," the Times reports, "to hold joint military exercises as a first response to North Korea's deadly shelling of a South Korean military installation, as both countries struggled for the second time this year to keep a North Korean provocation from escalating into war. The exercise will include sending the aircraft carrier George Washington and a number of accompanying ships into the region, both to deter further attacks by the North and to signal to China that unless it reins in its unruly ally it will see an even larger American presence in the vicinity."
Obama, keep in mind, may suffer from JFK syndrome: he wants, unnecessarily, to show the world that he has balls. JFK got the Bay of Pigs fiasco in return. Obama already has Afghanistan to contend with. Korea will make matters worse. Suicide, in this case, would not be painless.
Let's pull back at a slightly different angle.
Here's Alan Alda discussing M*A*S*H:

And who can forget Robert Altman's original?
See Also: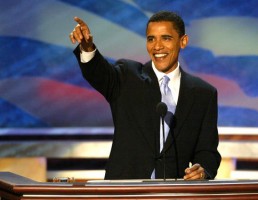 Michael Lerner in Tikkun: "Sometime in mid-September 2010, President Obama suddenly discovered that twenty months of governing by capitulation to the very mainstream ideas he campaigned against in 2008 was a losing strategy. But instead of acknowledging his errors, he acted as though his liberal and progressive base were betraying him. […] The reason progressives are upset with Obama and the Dems is not that we held a naive belief about how much he or the Democratic Congress could accomplish, given the fact that the Democratic majority in Congress was in fact filled with corporate-oriented "centrists." We knew the limitations of this reality — a reality that was created by Rahm Emanuel and Nancy Pelosi, whose supposedly brilliant strategy in 2006 of backing the most conservative possible candidates in Democratic primaries in "swing districts" worked in the sense of giving the Democrats formal control of the House. Emanuel and Pelosi were more interested in securing political power than in changing the direction of the country. Not trusting the growing anti-war sentiment in 2006, they supported candidates who were ideologically pro-business and pro-war, constructing a Democratic majority in Congress that would back neither anti-war efforts nor the pro-working-and-middle-class measures that Democrats had promised. […] Obama may be able to slip into office a second time in 2012 if the Republicans nominate one of their more horrendous leaders, but until the Democrats and Obama really atone for the directions they've taken, and embrace a spiritual progressive worldview, they are unintentionally but powerfully helping to build the kind of resentment and humiliation that has in the past become the psychological underpinning for the emergence of powerful fascistic movements from the right." The full column.
See Also:

From The Liberal: "It is not just the lending of money that is in crisis. A variety of business models are emerging which look set to challenge the previously unquestioned role of monetary prices in the relationship between retailers and consumers. Where products are intangible or experiential in nature, it is these models that look set to survive the current bout of creative destruction sweeping the high street. […] 'Free' products have existed for some time, thanks to various forms of cross-subsidy, either through certain consumers being subsidised by others or certain products being subsidised by others. […] Marketing specialists are now seeking to extend this model in all directions. When Anderson's book on the topic comes out later in the year, expect a surge in idealistic declarations that post-recession businesses will be virtually philanthropic in their generosity to customers. If we are not paying for this blizzard of gifts out of our pockets, what are the costs? The problem is that they may not be economic at all. […] The neo-liberal response is adamant that there is a trade-off. According to the critique outlined by Hayek and Milton Friedman, societies that pursue socialist economic goals gradually lose political freedoms. If we want to safeguard 'free as in speech', we must abandon the pursuit of 'free as in beer'. Of course prices prohibit those who can't afford them, but the price system is guaranteed to preserve some element of choice, even for the poor. […] If a zero price really is "the future of business", then now might be the time to appreciate what is culturally and ethically important about money. This is more than a little ironic, at a time when Hayek, Friedman and their valorisation of homo economicus are roundly dismissed as having led us to the brink of financial ruin. And yet the liberal defence of money needn't be the neo-liberal one, which seeks to implant calculation to the heart of all social and political relations. What's needed is a culturally attuned understanding of the precise areas where money needs to be conserved." The full article.

Writing in the UK Independent, Arifa Akbar wonders if it's ever possible to simultaneously combine good fiction and good sex scenes: "Howard Jacobson, who last month won the Man Booker prize for The Finkler Question, believes it is the discussion of sex that is the intriguing part, not its depiction. "The only point in writing a 'he puts that in there and she puts this in here' scene is to arouse, and I'm not interested in doing that. Some critics who should have known better complained that my last novel, The Act of Love, didn't arouse them. It wasn't meant to. It was a book 'about' compulsive jealousy. It wasn't intended to make them jealous or otherwise titillate them. "To a novelist – to me, anyway – the 'about' is more interesting than the thing. Explicitness almost invariably takes you to bathos. The great sex scenes in literature for me don't show sex at all – Dorothea in Middlemarch, for example, registering the sexual horror of her marriage through her revulsion from Roman art… It isn't morality that determines this preference in me, but aesthetics."
"[…]Do we even need these graphic interludes in an era which has made sex and its availability in all forms not only permissive, but pedestrian? asks [Rhoda] Koenig. Modern literary battles are no fought by publishers over sex, as they were by Penguin in 1960. One wonders whether DH Lawrence would see sex, such a disposable currency today, as the same potent gift to literary fiction. The most interesting writing about sex in the past two decades has arguably come from gay and lesbian novelists – Hollinghurst, Jeanette Winterson, Edmund White – who have touched ground where there has still been sensibilities to disturb and imaginative barriers to break down. […] Yesterday's sex might be today's schmaltz, but [Doris] Lessing appears to present a simple yet convincing argument in its favour. What such scenes capture so vividly is a kind of social history of the bedroom that deserves a rightful place in literary fiction. "The description of what happens in the bedroom, between the sexes with all the power-play between the genders is a vital and valid documentation in literature," she says. Bad sex, for this purpose, could be just as enlightening as good."
See Also:
How Gratuitous Is Anne Hathaway's Nudity in Love and Other Drugs?

Not to overdo it on sex the day before Thanksgiving (you don't want to be worn out before the big feast), but this really was deliciously irresistible: Nerve, the online magazine, asked several poets for their best advice about sex. Some examples: "What technique do you recommend for delaying ejaculation? Recite poems in your head. Maybe Auden or Lewis Carroll, because they're rhythmic. You don't want to lose the flow, but it's just enough to distract you a little. […] Is the word "pussy" ever inappropriate or offensive? When it's being called "my man-pussy," that's a problem. […] What's the best passage to read aloud to get you and/or your partner in the mood? "A Squeeze of the Hand." It's a chapter in Moby Dick, and it's really hot. In Moby Dick? It's the dirtiest thing I've ever read. It's about the men squeezing the whale sperm into oil. They're all in this huge vat of oil, sort of touching and squeezing each other. I don't know if it translates if you're straight. […] What technique do you recommend for delaying ejaculation? Check your email. […] What's the best film to get someone in the mood? I like The Unbearable Lightness of Being. You have a long time to sit and touch knees with somebody. […] Do you have a favorite passage for getting yourself/your partner in the mood? There's this poem by Pat Parker that kind of makes me laugh, but also gets me in the mood. It's called "For Willis," and she's describing the sounds her lover makes when he's coming — ?Oh God, Oh Jesus! Oh God, Oh Jesus!' — and then she says, "Once again, some dude is getting credit for something a woman has done." Don't cheat yourself: Read the full bit, and by all means: give us your own answers below.
See Also:

Obama Outlines Moral, Philosophical Justifications For Turkey Pardon
Click On

From Reason: "Over and over again, fear-mongering officials and hyperbolic reporters cited two incidents—one at Ramapo College in New Jersey, the other at Central Washington University—in which students who drank Four Loko were taken to the hospital. These 15 students, most of whom seem to have been drinking other alcoholic beverages in addition to Four Loko, represent something like 0.015 percent of the 100,000 or so 18-to-20-year-olds who make alcohol-related visits to American emergency rooms each year. Yet their drunken stupidity was repeatedly presented as evidence of Four Loko's unique dangers. […] The New York Times reports that Four Loko, which features a drug combination familiar to fans of Irish coffee or rum and cola, "has been blamed" for causing a 20-year-old Florida college student to shoot himself in the head. […] Despite such alarming reports, the FDA did not conclude that alcoholic beverages containing caffeine, which are made by dozens of companies, are inherently unsafe. Instead it focused on Four Loko's manufacturer and three other companies that "seemingly target the young adult user," who is "especially vulnerable" to "combined ingestion of caffeine and alcohol"—and too dumb, apparently, to mix vodka with Red Bull." The full story.

Holiday Trash Pickup in Palm Coast
Palm Coast released the following trash and recycling pick-up schedules for Thanksgiving, Christmas and News Year's holidays:
Thanksgiving:
There will be no trash/recycling pick up on Thanksgiving Day, Thursday, November 25th. Instead, customers regularly scheduled on Thursdays will have service on Friday, November 26th and customers regularly scheduled on Fridays will have service on Saturday, November 27th.
Christmas and New Year's Day: As both Christmas and New Years fall on Saturdays this year, the trash pick up schedule will not be affected on these holidays. For additional information, please contact Dianne Torino at 386/986-2339.