You're welcome to send your Live Wire news tips or suggestions to [email protected].
Today's Live Wire: Quick Links


Politico gives the guiding bytes: "All the outstanding questions of the 2010 campaign boil down to this: How big is the wave? Republicans appear to be on the cusp of a historic victory, potentially extending into every level of state and federal government. Beyond the race-by-race polling — across 435 House districts, 37 Senate races and 37 gubernatorial races — all the large-scale signals point toward the GOP. […] The first polls begin closing at 6 p.m. Eastern time in Indiana and Kentucky, where a handful of House and Senate races could signal just how ugly the night is likely to be for Democrats. The GOP is expected to take the Senate seats in both states. If tea party favorite Rand Paul wins Kentucky going away — as polls suggest he will — that's a bad sign for Democrats hoping that voters will recoil from hard-core conservative candidates elsewhere. […] This vote isn't just about 2010. About a dozen important presidential swing states are electing new governors, with potentially serious implications for Obama's reelection prospects. Strong governors mean strong state parties, and strong state parties mean a strong political machine to help national candidates." The full guide.
See Also:

From Pew: "There will be far more nonvoters than voters this year. Turnout in midterm elections typically is less than 40% of the voting age population (in 2006 it was 37%). […] Who are these likely nonvoters who constitute a majority of the American public this year? […] nonvoters are younger, less educated and more financially stressed than likely voters. Nonvoters are significantly less Republican in their party affiliation than are likely voters, and more supportive of an activist federal government. Despite their more difficult economic circumstances, nonvoters express greater satisfaction with national conditions than do likely voters, and are more likely to approve of Barack Obama's job performance. As is typical in U.S. elections, nonvoters are significantly younger, less educated and less affluent than are likely voters. […] Across a range of topics, nonvoters generally express more liberal views than do likely voters, though there are some exceptions." The full report.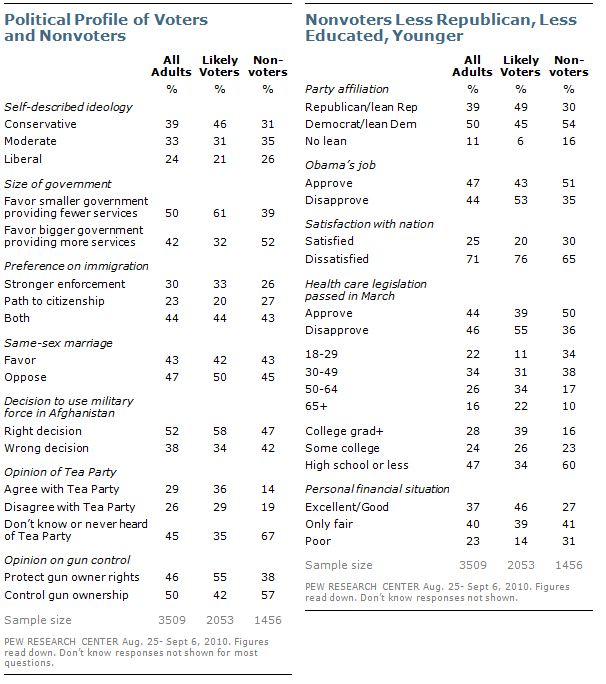 See Also:

In Southwest Florida, Black Coaches Need Not Apply
From the Fort Myers News-Press: "There are about 500 African-American high school football players in Lee and Collier counties. They have zero men of their race in varsity head coaching positions. The thousands before them, who've played over the previous 40 years, have had four such role models. Transforming high school demographics, an estimated 40 percent African-American player base and a flood of prominent black assistant football coaches have hardly changed the demographics of head coaching positions since 1969 and 1994. Those years stand out for two reasons: Area schools were integrated in '69; North Fort Myers High School graduate Larry Gary became the area's first black head varsity football coach in '94 at Lehigh Senior High School. Since 1969, there have been 101 varsity head football coaching hires in Lee County. Four times those hires have gone to African-Americans; Gary was hired twice, and counts as two. […] The NFL has the Rooney Rule, named for Pittsburgh Steelers owner Art Rooney, which requires teams to interview at least one minority candidate for every vacant coaching job. Former Lee County Superintendent James Browder said such a rule would not be viable at the high school level because coaches are usually hired as teachers first. Lee County teachers association president Mark Castellano concurred. "This is not a business," Castellano said. "This is an educational situation. As long as they're not discriminating, I'm not going to have an issue with that."" The full story.

From New Geography: "In recent decades, an unprecedented variation has developed in the price of new tract housing on the fringe of US metropolitan markets. Nearly all of this difference is in costs other than site preparation and construction, which indicates rising land and regulation costs. […] More restrictive land use regulation is variously referred to as "smart growth," "growth management" and other terms. More restrictive land use regulation is estimated to have added from nearly $30,000 (in Minneapolis-St. Paul) to more than $220,000 (In San Diego) to the price of a new home." The full story.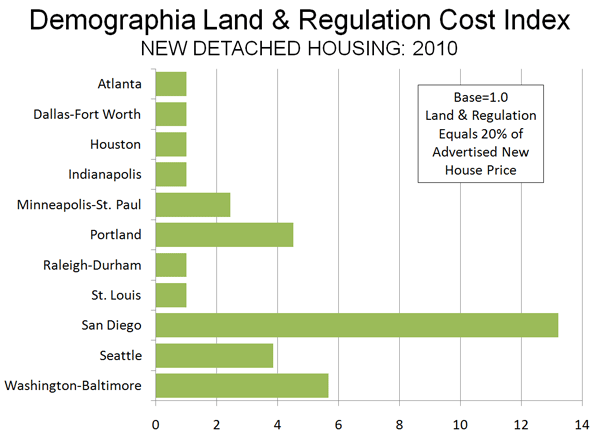 See Also: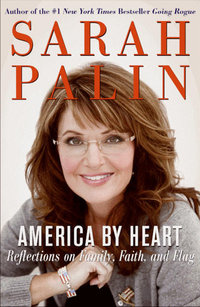 Andrew Sullivan gives Palin a facial: "I believe the press should relentlessly hammer Palin on her lies, policy vacuity and rhetorical meanness and excess. But they refuse even to find out if a 3,000 mile "motor-home" trip happened or didn't – for fear of losing market share, or seeming to be anti-Palin. (I emailed both John Heilemann and Adam Moss about their decision not to find out if a story Palin has been telling they reported as "possibly fictitious" was "actually fictitious", and have received no response from either.) And now the press has another story, guaranteed to spike pageviews and ratings: the GOP establishment vs Palin. This one will run and run. How many old, white guys can take her on at once? And who, after all, benefited most from Politico's story? Palin or Politico? Tough call, no? Palin is a political version of Snooki. The only thing that can destroy her is ignoring her. And it's way too late for that." The full post.
See Also: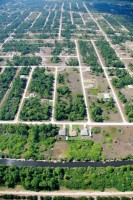 From Germany's Der Spiegel: "Apple Blossom Drive, on the outskirts of Fort Myers, Florida, is a road to nowhere. The retirees, all the dreamers who wanted to claim their slice of the American dream in return for all the years they had worked in a Michigan factory or a New York City office, won't be coming. Not to Apple Blossom Drive and not to any of the other deserted streets which, with their pretty names and neat landscaping, were supposed to herald freedom and prosperity as the ultimate destination of the American journey, and now exude the same feeling of sadness as the industrial ruins of Detroit. Florida was the finale of the American dream, a promise, a symbol, an American heaven on earth, because Florida held out the prospect of spending 10, perhaps 20 and hopefully 30 years living in one's own house. For decades, anywhere from 200,000 to 400,000 people moved to the state each year. The population grew and grew — and so too did real estate prices and the assets of those who were already there and wanted bigger houses and even bigger dreams. Florida was a seemingly never-ending boom machine.
"Until it all ended. Now people are leaving the state. Florida's population decreased by 58,000 in 2009. Some members of the same American middle class who had once planned to spend their golden years lying under palm trees are now lined up in front of soup kitchens. In Lee County on Florida's southwest coast, 80,000 people need government food stamps to make ends meet — four times as many as in 2006. Unemployment figures are sharply on the rise in the state, which has now come to symbolize the decline of the America Dream, or perhaps even its total failure, its naïveté. Could the dream, in fact, be over?" The full story.
See Also:

Miranda Rights and High School
From SCOTUSblog: "The Supreme Court, taking on a second case this Term on the rights of youths facing police questioning, agreed on Monday to decide whether a minor has a right to "Miranda" warnings before any questions may be asked. The new case focuses on whether a suspect's age counts as a factor in determining when to warn a suspect about the right to silence and the right to a lawyer. This was one of five cases granted review Monday. […] Last month, in the other case involving a youth, the Court agreed to decide whether police must obtain a warrant before interviewing a child while at school during a sexual assault investigation. […] In the new case, J.D.B. v. North Carolina (09-11121), the Court will be reviewing a North Carolina Supreme Court decision that courts are barred from considering age as a factor in the Miranda v. Arizona context." The full post.

Fear and Loathing in Manhattan
From Britain's New Statesman: "It is difficult to dispute that the opposition has been characterised by a mixture of hysteria, misinformation and ignorance. "The monument would consist of a mosque for the ­worship of the terrorists' monkey-god and a 'cultural centre' to propagandise for the ex­termination of all things not approved by their cult," wrote Mark Williams, a spokesman for the right-wing Tea Party movement, on his blog. The former Republican vice-presidential candidate and darling of the Tea Party, Sarah Palin, tweeted that moderate Muslims should "refudiate" the proposed "mosque" because it "stabs hearts". […] Listening to such incendiary and Islamophobic rhetoric from across the Atlantic over the past few months, I could not help but think back to my own visit to Ground Zero in 2002, in the run-up to the first anniversary of the attacks. Flags and wreaths lined the streets around the 16-acre hole in the ground. One particular image stands out in my mind: a navy-blue T-shirt, emblazoned with the logo of the New York City Fire Department, on which a mourner had written: "We will never forget the brave firefighters who were killed by terrorists on September 11". Someone had crossed out the word "terrorists" and replaced it with "Muslims". […] But is the debate over Park51 truly motivated by sensitivities about the 11 September attacks and Ground Zero? Or is it a manifestation of a wider fear of "the Other", of a Muslim-American "bogeyman"?" The full story.
See Also:

William Faulkner at the University of Virginia
See Also: