Today's Live Wire: Quick Links


I can't wait.

Jury Picking in Gregory Wood Murder Trial
William Gregory is accused of murdering Skyler Meekins, 17, who was the mother of Gregory's now-4-year-old daughter Kyla, and Skyler's boyfriend Daniel Dyer, who was 22. The murder took place Aug. 21, 2007, when Gregory allegedly went to Skyler's grandparents' home, where she and her boyfriend were sleeping, and used a shotgun he found there to kill them. A dozen of the 60 potential jurors were dismissed on Monday for various reasons (including, oddly, being against the death penalty, which Gregory may face if found guilty). Gregory caused a minor issue when he spent much of his time looking behind him at the pool of jurors, causing a deputy to tell him to stop–and his attorney to complain to Circuit Judge Kim C. Hammond that Gregory had every right to look at his jurors. From the News-Journal: "Prosecutor Chris France said the deputies were merely doing their jobs and making sure the courtroom was secure. After lunch, Hammond announced that the issue had been resolved, essentially saying the deputies had to keep the courtroom secure but that Gregory was free to look within limits. Gregory then continued to swivel back in his chair to look at the people who will decide his fate. Jury selection continues today."

Killer SeaWorld: Another Whale and a Tourist Die
Not a very good day at SeaWorld. A 68-year-old man was found dead after going through the park's Roa's Rapids ("Get ready for an awesome adventure through a roaring sea of high tides, swirling whirlies, and gushing geysers- all at speeds that leave ordinary river rides eating this one's wake," is how SeaWorld described it.) The same day, SeaWorld released news of the death of another killer whale, the second in four months. Kalina was the mother of Baby Shamu: "SeaWorld officials report that Kalina, a 25-year-old killer whale at the Orlando theme park, died Monday, Oct. 4, after a sudden illness. A necropsy will be performed, but the cause of her unexpected death likely will not be known for as long as six weeks. According to park veterinarians, Kalina showed no signs of illness as recently as Friday and had good appetite on Sunday, Oct. 3. She began showing signs of discomfort Monday afternoon and died suddenly in the early evening. Kalina was SeaWorld's first successful birth in the park's breeding program; she was born Sept. 26, 1985, to Katina. In 2004, Kalina gave birth to her fourth calf."
See Also:
SeaWorld Resumes 'Believe' Shows After Orca Dies
Whale Kills Female Trainer At SeaWorld's Shamu Stadium

"Experience love. Experience peace. Experience joy." That's how the Holy Land Experience welcomes you. And today, experience traffic tie-ups and likely rejection at the inn, just like Christ in Bethlehem. Today is the annual free-admission day at Orlando's Holy Land Experience. Keep in mind, the Holy Land folks aren't doing this out of the goodness of their hearts: they wouldn't forgo their pieces of silver if they didn't have to. But they have to, one day a year, to comply with state law so they can manage to swindle the state of its due taxes under a religious exemption. By providing the free admission day, the park doesn't have to pay property taxes because then it's considered a religious entity. From the Sentinel: "On last year's free day, more than 7,000 guests flooded the attraction. The turnout backed up traffic on I-4 as well as on Vineland and Conroy roads. Holy Land reached its 1,700-person capacity moments after it opened that day. Last year, the park provided overflow guests with a voucher to return another day, but it was not clear Monday whether Holy Land planned to do that again this year." The full story.
See Also:

Who Benefits Most from "Middle Class" Tax Cut
It's "middle class" in name only. Here are the beneficiaries of the Bush tax cuts by income bracket, according to the Center on Budget and Policy Priorities: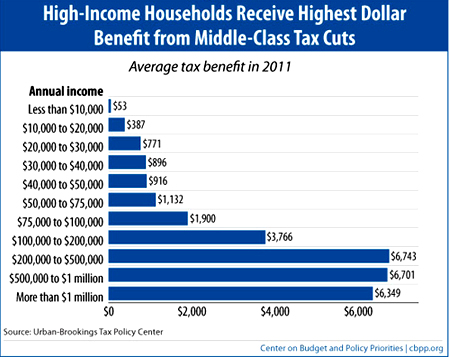 See Also: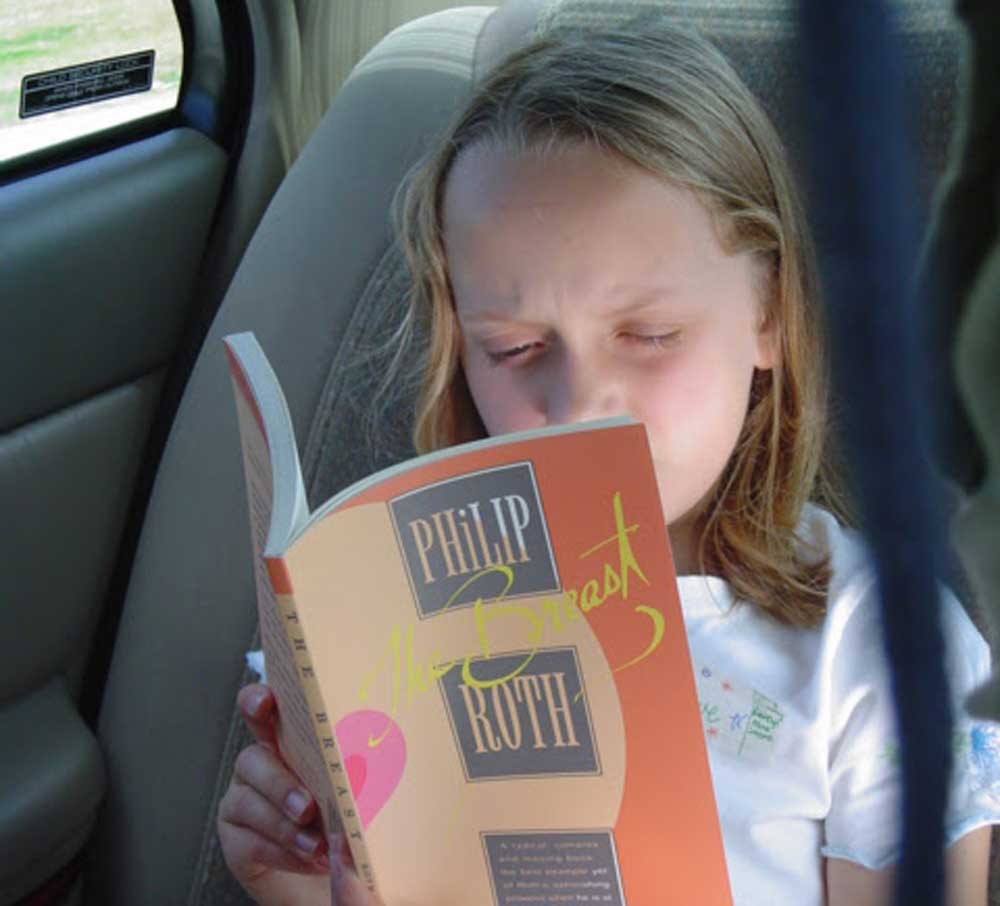 Philip Roth's 31st book, Nemesis, the fourth in a quartet of short novels — Everyman, Indignation and last year's The Humbling — was published on Monday. It's set in the Newark of 1944 during a polio epidemic. 23 year old Bucky Cantor can't join the military because of his poor eyesight. So he goes about being an unusually earnest, good man for a Roth novel. Michiko Kakutani, the New York Times' Antonin Scalia of book reviewers, is more respectful than impressed:
"That Bucky is such a one-dimensional character makes for a pallid, predictable story line in which the random workings of fate and the fate of temperament — rather than genuine free choice — are the narrative drivers. It's all a bit by the numbers, though Mr. Roth executes Bucky's story with professionalism and lots of granular period detail. As he did in "The Plot Against America" (2004) — a novel with much bigger ambitions and a sweeping historical canvas — Mr. Roth conjures up World War II-era Newark and a Jewish neighborhood, where the routines of daily life are suddenly ruptured by fear. This time it's not anti-Semitism that's arrived, but polio, which has abruptly stricken two boys from the playground." The full review.
See Also:

Retreat for Genetically Modified Foods
From the UK Independent: "Fifteen years ago, many governments thought GM crops and food would become the norm, but it has not happened because of rising public resistance around the world.
"America is where we're told GM is a huge success, and where everyone from farmers to consumers loves GM, but it's simply not true," Lord Melchett, the former director of Greenpeace and campaigner for organic farming and food, said at the Sustainable Planet forum in Lyon, France. "If anybody tells you this, ask them, where is GM wheat? Monsanto had it ready to go but it was stopped by American farmers. Ask them, where is the GM version of alfalfa, the fourth most commonly grown crop in the world? American farmers went to court to stop it being commercialised."
See Also:
Soil Association Website
The National Science Foundation on GM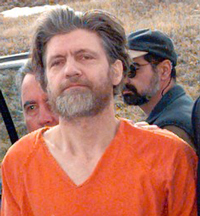 He couldn't resist milking the Deepwater Horizon oil spill. From the LATimes: "Theodore Kaczynski, whose murderous, 17-year revolution against technology as the Unabomber got him sentenced to life in prison, couldn't resist pointing out the calamitous collision between man's elaborate inventions and the natural world." "As long as modern technology continues to progress, there will be human-caused disasters of one kind or another," he said in a letter from prison. "The greater the powers unleashed by technology, the bigger the disasters get." Here's what Adam Parfrey, who runs a small publishing house in rural Washington state, thought when he got the letter in June: There is very little about that statement that isn't true. Next question: Is Kaczynski not crazy after all? Or are lunatics — in this case, Kaczynski, the iconic madman of the technological age — our most fearless soothsayers, unchained by moral equivocation and doubt?
"More than 14 years after he was arrested at his cabin in western Montana and convicted of the wave of mail bombs that killed three people and injured 23, Kaczynski believes the time is ripe for his apocalyptic message — that no good can come from the converging paths of humanity, biotechnology, deforestation, chemical pollution, advanced computer intelligence, nuclear weapons and climate change." The full story.

Even it it's merely the trailer. Go get' em Ripley. Hard to believe it was released during the Carter administration. But accurate, too: that's when all those alien eggs hatched that we've been living with since. Watch:

Stetson lecture on the Death penalty, Oct. 18
Attorney and Professor Todd Peppers, co-author of a book following the case of a juvenile offender executed in Virginia in 2000, will talk about the death penalty in the first lecture of the 2010-11 Stetson University Values Council Lecture Series. The theme for this year's lecture series is "Change: What? Why? How?"
Dr. Peppers' lecture, "The Death Penalty in Modern America," will be at 7 p.m. Monday, Oct. 18, in the Stetson Room of the Carlton Union Building, 131 E. Minnesota Ave., DeLand. It is free and open to the public.
Peppers is an associate professor of public affairs and the Henry H. and Trudye H. Fowler Chair in Public Affairs at Roanoke College and a lecturer in law at Washington and Lee University School of Law. Prior to joining the faculty at Roanoke College in 2002, he was an attorney in private practice in Atlanta and served as a law clerk to two judges in Virginia. Peppers earned his law degree from the University of Virginia School of Law and his doctorate in political science from Emory University in Atlanta, Ga.
His book, Anatomy of an Execution: The Life and Death of Douglas Christopher Thomas, co-authored with Laura Trevvett Anderson, will serve as the basis for his Stetson lecture. Anatomy of an Execution was published in 2009 by Northeastern University Press and follows the story of Chris Thomas, who was convicted of killing his girlfriend's parents in 1990 and sentenced to death in 1991. He was one of the last juvenile offenders put to death before the U.S. Supreme Court ruled the execution of those under the age of 18 at the time of their crime to be unconstitutional in 2005 (Roper v. Simmons). The book provides insight into the legal workings of the modern death penalty system and explores the details of the Thomas case.
See Also:

Gainesville gunman kills one, wounds 5 others before killing himself