The Live Wire is an experiment. Think of it as a cross between a book of hours and a web version of the doors of perception. You contributions are welcome, in the comments or by email. The previous edition of the Live Wire is available here.

Today's Live Wire: Quick Links

Remember: It's Banned Books Week
From the American Library Association: "Intellectual freedom—the freedom to access information and express ideas, even if the information and ideas might be considered unorthodox or unpopular—provides the foundation for Banned Books Week. BBW stresses the importance of ensuring the availability of unorthodox or unpopular viewpoints for all who wish to read and access them."
A few recent examples of book-banning in Florida:
In 2007: Sarah Dessen's Just Listen was challenged at Armwood High School by parents who objected to the book's sexual themes and language. ABFFE and NCAC sent a letter to the Tampa Tribune and the Hillsborough County School Board in support of the book. A review committee of teachers, parents and students voted unanimously to keep the book in the library.
In 2007 in Jacksonville: Carolyn Mackler's Vegan Virgin Valentine, Eddie de Oliveira's Lucky, Robert Cormier's Beyond the Chocolate War, Judy Blume's Tiger Eyes and Kevin Henkes' Olive's Ocean were all challenged at various middle and high schools for themes such as language and sexuality. ABFFE, PEN American Center and NCAC joined in writing letters to principals and superintendents urging them to retain the books and to follow through on a review policy.
In 2009: Lisa John-Clough's Me, Penelope was challenged at the Tavares Middle School library. Objections centered on depictions of a teenager dealing with a brother's death and references to sexual experimentation. The book is already part of a collection from which permission from the school library is required to check out.
In 2009: Maureen Johnson's The Bermudez Triangle was challenged at the Leesburg, FL Public Library because of sexual innuendo, drug references, and other adult topics.
Watch the American Library Association's 2009 Banned Books Week video:
See Also:

It's the Era of the Tapped Internet
The Bush administration's secret wiretapping of electronic communications, including email and the Internet, was illegal and remains un-prosecuted. The Obama administration never said that it had ended those programs. Now it's going to formalize them. It'll portray it as "doing things more legally." Maybe. But snooping is about to get a whole new blank check.
From The Times: "Federal law enforcement and national security officials are preparing to seek sweeping new regulations for the Internet, arguing that their ability to wiretap criminal and terrorism suspects is "going dark" as people increasingly communicate online instead of by telephone. Essentially, officials want Congress to require all services that enable communications — including encrypted e-mail transmitters like BlackBerry, social networking Web sites like Facebook and software that allows direct "peer to peer" messaging like Skype — to be technically capable of complying if served with a wiretap order. The mandate would include being able to intercept and unscramble encrypted messages. The bill, which the Obama administration plans to submit to lawmakers next year, raises fresh questions about how to balance security needs with protecting privacy and fostering innovation. And because security services around the world face the same problem, it could set an example that is copied globally."
One analyst describes their aim as ""They basically want to turn back the clock and make Internet services function the way that the telephone system used to function."
The government's defense: "We're talking about lawfully authorized intercepts," said Valerie E. Caproni, general counsel for the Federal Bureau of Investigation. "We're not talking expanding authority. We're talking about preserving our ability to execute our existing authority in order to protect the public safety and national security." The full story.

Before ABC Liquor. Before Palm Coast.
The Flagler County Historical Society's Sisco Deen sends in this photograph of the corner of Old Kings Road and Palm Coast Parkway, looking north, he says, because of the utility lines on the east side of Old Kings. This is where the new ABC liquor store is preparing to inebriate us all with low-price bliss come November, when Thanksgiving's meaning will be fulfilled.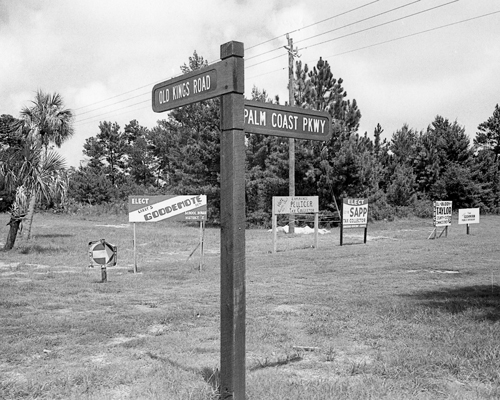 A Special Session on Energy Rebates?
From Bruce Richie: "House Republican leaders on Thursday said a special session could be held in November — possibly during the Legislature's organizational session — to approve using federal economic stimulus money for state energy rebate programs. Gov. Charlie Crist got into a flap with House and Senate leaders last week when he said in a letter he was disappointed that the Legislative Budget Commission on Sept. 14 did not authorize spending $51 million in federal stimulus dollars on energy rebates. But Republican legislative leaders said they didn't have legal authority to approve the spending because there were no budget appropriations associated with the rebate programs. On Thursday, the House Majority Office sent a memo to reporters saying that the Legislature could take up the issue in November or during the 2011 regular session."

Yes Virginia, Kendrick Meek Does Exist in Flagler
We were beginning to wonder. But the Democratic candidate for U.S. Senate, the third wheel in the Crist-Rubio race, does apparently have campaign signs, and one of them was finally spotted the other day in Flagler County–on US 1, on the property just north of the Baliker Gallery's, although not in the most symbolically appealing place: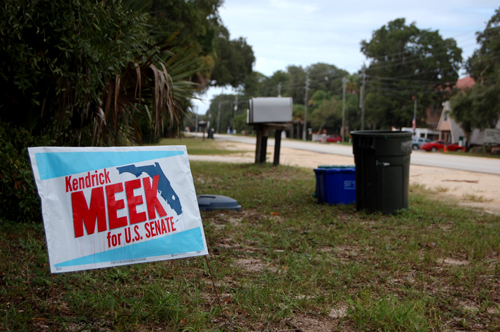 And there was this from the Miami Herald: "On paper, the 44-year-old Meek appears to be a dream candidate for the Democratic party. A loyal disciple in Congress and the Florida Legislature known for scuffling with former Gov. Jeb Bush, a Republican. The first statewide candidate to qualify for the Florida ballot by gathering voter signatures, about 125,000 in all. The victorious underdog in last month's Democratic primary against a hard-charging billionaire. Still, Crist — who cast off his lifelong Republican affiliation just five months ago to avert a drubbing by Marco Rubio in the GOP primary — continues to peel away enough Democrats to keep Meek at bay. But the tide is turning, according to a Mason-Dixon poll released Saturday that showed Meek within striking distance of Crist."
That poll "showed Republican Marco Rubio with 40 percent of the vote. Independent Gov. Charlie Crist has dropped from 33 percent to 28 percent, and Democrat Kendrick Meek is gaining with 23 percent."
See Also:

New Homes: Lowest median Price Since 2003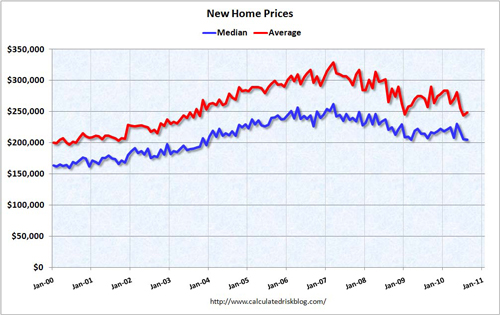 From Calculated Risk: "Some analysts pointed to the slight recovery in the median and average new home prices last year and into 2010 as evidence of the beginning of a recovery. However in August, new home prices fell to the lowest level since 2003. […] Over 52% of all home sales were under $200K in August – the highest percentage since 2003. […] And 82.6% of new home sales were under $300K – the highest percentage under $300K since August 2002. Only 17.4% of new homes sales were over $300K in August." The full post.
See Also:

Carter: "I've got a big cabinet in my office, it's about as long as this table. And I opened it one day and I found this diary that I kept, 5,000 pages, 16 volumes this thick that I dictated when I was president, and I said golly, who did this? And I found out I did it." Watch the interview on the Daily Show:

Happy Birthday, Mark Rothko (1903-1970)
The Guggenheim's brief biography of the great one: "Mark Rothko was born Marcus Rothkowitz on September 25, 1903, in Dvinsk, Russia (now Latvia). In 1913 he left Russia and settled with the rest of his family in Portland, Oregon. Rothko attended Yale University, New Haven, on a scholarship from 1921 to 1923. That year he left Yale without receiving a degree and moved to New York. In 1925 he studied under Max Weber at the Art Students League. He participated in his first group exhibition at the Opportunity Galleries, New York, in 1928. During the early 1930s Rothko became a close friend of Milton Avery and Adolph Gottlieb. His first solo show took place at the Portland Art Museum in 1933." And so on and so forth, until: "The Museum of Modern Art, New York, gave Rothko an important solo exhibition in 1961. He completed murals for Harvard University in 1962 and in 1964 accepted a mural commission for an interdenominational chapel in Houston. Rothko took his own life on February 25, 1970, in his New York studio. A year later the Rothko Chapel in Houston was dedicated. Click on the image to the left for a larger view."
Here's a Rothko gallery:
[nggallery id=28]

A girl named Alice in Dallas
Had never felt a phallus.
She remained virgo intacto,
Because, ipso facto,
No phallus in Dallas fit Alice.