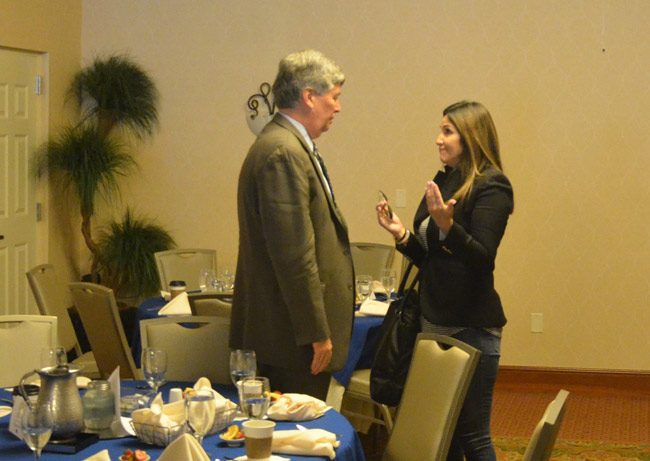 Urged on by Mayor Milissa Holland, the Palm Coast City Council on Tuesday killed a $100,000 plan to imagine what a "multi-generational" recreation center would look like near and around the city's tennis center off Belle Terre Parkway.
City Manager Jim Landon had put forth the plan at a workshop a week earlier, portraying it as part of the council's goals, even though there is no plan for an actual recreation center beyond that design phase, no money for it, and not even any agreement among council members as to when, how or even where it would be built.
"This is the beginning of the design for the recreation center that the city council talked about and asked that we look into during the strategic action process," Landon told the council Tuesday. "This was one of your priorities."
As always with Landon, it depends on how you define the word this.
By unanimously rejecting the $100,000 project, the council was rebuking Landon's approach and omissions, an approach that had obfuscated key questions of cost and timelines in previous weeks and the city manager was crafting the project, all the while framing it as a city council priority. It was not, except in its most general and unspecified outlines.
It is the second time in nine months that a costly project of Landon's devising was rejected by the council after a public backlash: Last October, Landon had proposed erecting a large "Palm Coast" sign on an I-95 overpass for $200,000, a plan he also portrayed as a council initiative though it had been thought up by his administration. A torrent of public criticism Landon had not banked on forced the council to scrap the plan.
Likewise, the way the plan for a "multi-generational" community and recreation center at the tennis center went from general talk to an actual $100,000 contract with a design firm the council was asked to approve, illustrates to what extent Landon choreographs meeting presentations and cherry-picks council discussions to make it seem as if the council is driving the train he, in fact, is piloting: since the community center idea at the tennis center has been discussed at meetings in March, Landon never once told the council that it would leap to anything like a $100,000 design contract this year. But that's the proposal he placed before the council at a workshop last week, framing it as the council's priority.
Holland was not at that meeting (she was at a conference on innovative entrepreneurship, in line with a different city priority), though she had attended meetings in March and April when the idea of a recreation center at the south end of town was talked about, and she was at Tuesday's meeting.
Back at a March meeting of the council, Palm Coast Construction Manager Carl Cote had outlined the update to the city's parks and recreation master plan, in place since 2008. The recreation center on the grounds of the tennis center was not part of the funded plans that Cote outlined–not in the next five years, not in the next 10.
The five-year plan includes further renovations at Holland Park including a "splash park" and a fitness station, building a nature center at Long Creek Nature Preserve (an overdue plan required by a state grant), improvements to Central Park, adding amenities and signs to the city's popular trailheads, with $2.76 million in planned spending over the next five years on renovations–sod replacement and "shading" at Indian Trails Sports Complex, resurfacing of basketball courts, playground equipment replacement, pickleball courts, surveillance cameras.
The 10-year plan includes the $2.75 million addition of neighborhood parks (sites have yet to be determined), replacing lights at the Indian Trails Sports Complex for $800,000, and various projects at the city-owned Palm Harbor Golf Course, for $300,000.
The plan included numerous unfunded very long-range ideas. The "satellite" community and recreation center at the south end of town was among those, but so was the development of a new park near Indian Trails at Belle Terre Parkway, adjacent to Fire Station 23, those "pocket parks" in neighborhoods, and vaguely imagined projects such as an additional sports complex, an "aquatic center," a "multi-generational activity center," an expanded tennis center with a clubhouse, a cultural arts center and a city marina.
Holland at the March meeting spoke of the tennis center as needing additional amenities: "The tennis center having a prime location, it represents the southern part of our community," she said, "we have the property, we also have unbelievable tennis courts without a facility, so this would add value to that amenity, but like we have on our golf course. It's a place of socializing for those that go out and play golf. It's similar when our residents are utilizing our tennis facility, not to have that base when we have tournaments over there: there's no locker rooms, no showers. Those kind of things are really missing from that full amenity that we're looking [for], so that idea of having that multi-generational indoor rec facility I think would be a win-win."
None of the other council members said a word. And Holland, clearly, was speaking of a facility that would complement the tennis center–not a maga facility that would turn into a giant recreation center in need of, say, a $100,000 design immediately.
Landon for his part never spoke of the costs associated with the unfunded projects, including the recreation center. None of the council members referred to a single project that should be incorporated into the city's capital improvement plan. None of them spoke of developing or identifying new funding sources. If anything, Holland gave more specific direction to look at the safety of the city Marina.
Yet this is what Landon then said: "What you're telling us that I think fits very nicely in the master plan and the vision is that multi-generational, multi-use kind of facility that we'd put together, that's where we just need to–I'm hearing support when you talk SAP," he said, using the acronym for "strategic action plan." But aside from Holland speaking of needed amenities at the tennis center, Landon was inventing that support. "Now we need to put together some plans and thing to come back to you. That's why I said it's really way cool to see your priorities fit very nicely with things we're already working on."
That was a key revelation: Landon and his administration were already pushing in the direction of the rec center design. He was now pushing the council to formally fill in the blanks for him, so he could then come back and say what he said on Tuesday: "This was one of your priorities."
The April 3 council meeting included a presentation on the strategic plan (another term for council goals). The city staff had included this in the plan: "Incorporate a future premier multi-purpose recreation center into the Tennis Center area and the long-range plan. Ensure all generations are served." But again, there was no talk of timeline, costs, or $100,000 design plans.
There was resistance from the council to being tied down to such a recreation plan at the tennis center. Council member Bob Cuff and then-council member Steven Nobile raised the objections, saying the council should still have the option to look at Town Center as an option. Cufff again renewed his objection at a related discussion on April 17, this time more specifically noting that the rec center was a concept at best: "I just don't want to be thinking that we're on a 10-year path to building something and we've already got the stakes in the ground for where it's going to go if our staff hasn't done thorough analysis" about where it would be located, Cuff said.
"This isn't intended to tie anybody down to anything specific, this is just to get the process started on all of this," Landon said. Once again, with a chance to specify what his administration was doing–by then it was in the process of collecting design proposals, and knew the cost–he said nothing.
Last week, Landon presented the $100,000 design contract to the council for the first time, with the design firm already picked and the contract ready for the council to sign on the dotted line: it was par for Landon's course of putting the council behind a done deal and calling it the council's doing. Council member Heidi Shipley raised objections about the potential costs implied, but the rest of the council silently seemed to go along.
The public reaction to the plan was merciless.
Then came the Tuesday meeting. Landon had another obfuscation for the council: he'd slipped the item on the "consent" portion of the agenda, that portion of the agenda that masses numerous items for the council to adopt in bulk, without discussion. It's a way to keep meetings from being bogged down by routine items. It's also often a way for city and county managers to try to slip things through unnoticed, unless a member of the public or an council member asks to pull an item for discussion. Holland did.
"It should not have been on the consent agenda," Holland said, echoing Shipley's concern. But that was the least of it.
"A project of this scale and magnitude is going to take a tremendous amount of capital dollars up front," Holland said, in line with the city's pay-as-you-go policies. "I think frankly this is very premature as far as spending $100,000 for a facility that possibly, when we do have the amount of money that it would take to construct, we would have perhaps a different thought process on what would be wise to be placed in that type of facility. I don't necessarily understand the logic of presenting it and doing it this way and spending money to sit on a shelf maybe for a few years, maybe for several years, before we have the funding to do that." She also spoke of the operational costs that would be generated, and that would recur, should such a facility be built.
"I'm not in favor of spending $100,00 of our money today without having a true understanding of how we would generate enough revenue to build a facility and pay for it in cash," Holland said. At least not before coming up with more clarity on revenue sources.
The rest of the commission concurred.
Council member Vincent Lyon noted the absence of a timeline for the project. "Do we have that information?" he asked. The answer is no.
"We have really big priorities that we need to address in this community," Holland said, starting with stormwater issues, among others. "We need to understand all of these issues collectively and then have a discussion as a council on how we prioritize the spending and where those resources are going to go. So I'm not sure that sitting here today that I feel comfortable with spending $100,000 without an actual timeline" of how the project would be built.
By then it was clear to Landon that his project was lost. "I concur 100 percent," he told the council. "If you're not totally committed to this and need more information we need to put this on hold and provide you with more information."
It's not clear why he had not provided that information at meetings in March and April, and last week.